AOC Monitors has been a leading figure in the Philippine market for monitors in recent years. In the first quarter of 2019, AOC is ranked #1 in the PC monitor market in the Philippines in terms of unit shipments. AOC's 18.5" displays are the most popular products in its portfolio, but AOC continues to innovate with new products. Recently, AOC launched the G1 series, along with the G2590PX and G2790PX to cater to the esports market. This continuous drive for innovation allows AOC to keep ahead of the competition in the monitor market.
Soon, AOC will be bringing in its own commercial display for the first time in the market. This most recent commercial display will be rolling out very soon. Be one of the first to offer our new product in your stores and outlets nationwide.
Our commercial display will bring a slew of new features not present elsewhere. With our new commercial display, we promise convenience and simplicity in the set up of digital signages, resulting to excellent exhibits of graphic advertisements and similar images. Customers will be able to appreciate the immersive and seamless displays that will surely capture their attention.
We will be releasing more details very soon, including the technical specifications and price range. Please stay tuned within the next couple of weeks for the official reveal of our newest product.
Unveiling the new AOC Public Display
AOC Monitors is one of the biggest names in the Philippine market for monitors and displays. AOC is ranked #1 in the PC monitor market in terms of unit shipments in the country for this year's first quarter, according to the International Data Corporation (IDC), the world's premiere global marketing intelligence firm. Innovating to cater to more and more customers, AOC recently released the G1 series for the esports market. The desire to continuously improve its portfolio is what keeps AOC on top, and this only continues with this most recent addition to AOC's growing portfolio.
AOC is expanding its portfolio to serve an even wider market with its newest product, and it will set a new standard in performance signages.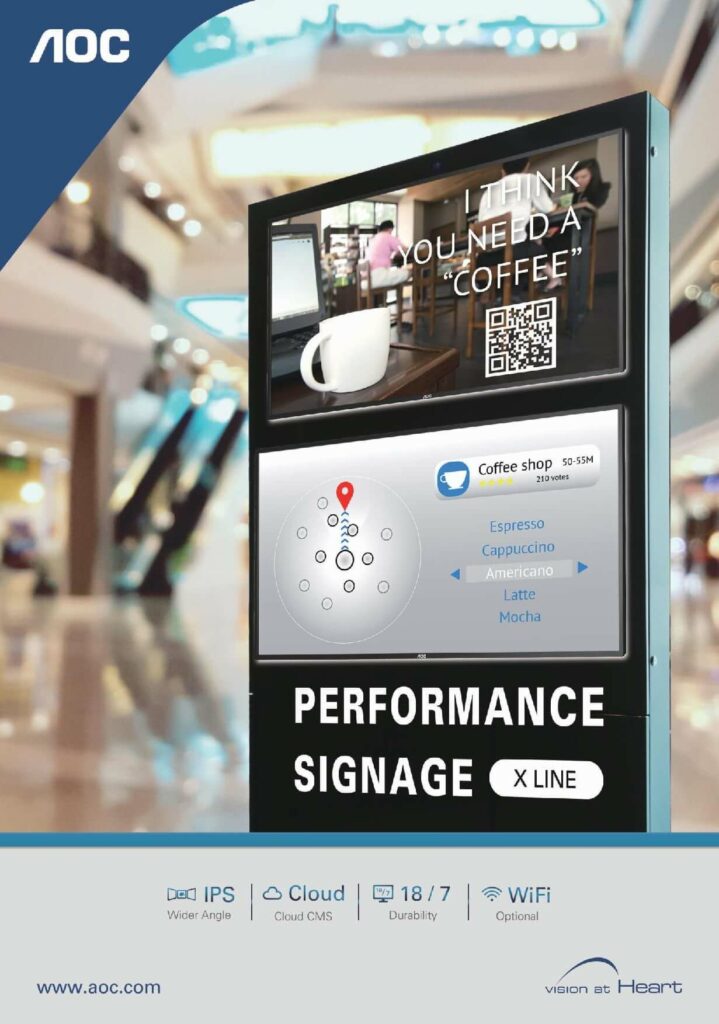 Making brands visible is now easy thanks to a lot of options in digital signages. But in this digital age, only the best visuals could capture the attention and enamor customers away from their own devices. Introducing the AOC Commercial Display, the newest product in AOC's range of monitors.
The AOC CD stands for quality, convenience, simplicity, consistency and immersion. Even as a new challenger in the market, AOC CD will be leading ahead of its competition with features not available anywhere else.
AOC CD stands out with it Full HD LED Technology that gives its display crisp detail, realistic colors, incredible contrast and brilliant brightness. IPS panels present color more accurately and delivers vivid and natural color transitions from any angle the display is viewed from.
Setting up your graphics on the CD is as simple as it could get. It utilizes AOC's Cloud Content Management System (CMS), allowing users to create, manage, and publish content from their own personal computers, updating all monitors connected to the system remotely. SmartPlayer allows plug-and-play of content from a USB device straight to the commercial display. The AOC CD also supports almost all, if not all, of the available connections, from HDMI to USB 3.0 and the traditional VGA.
AOC Commercial Display is built to perform consistently, reliable for continuous use 18 hours a day, 7 days a week. There should be no fears from outages, breakage, or overheating as the AOC CD will present vivid images and clear messaging in most public environments with consistent stability.
AOC CD is also distraction-free thanks to its very slim, 4-sided bezels. One monitor seamlessly connects to another monitor at any side, giving the most immersive viewing experience. At 3.5mm narrow bezels, they are practically invisible and unnoticeable.
Price and availability
The AOC CD is available in two variants: D-Line (46 inches) and X-Line (55 inches). The D-Line will cost PHP 69,800 while the X-Line one will be sold at PHP 50,750. They will be both available soon via orders. For interested buyers, send an email to [email protected]
To find out more, visit the AOC website
For constant updates and promotions, follow AOC on their official social media pages at facebook or instagram