Summer is approaching real fast and the sun is shining extra strong! That means on top of everyone's list is none other than SUNSCREEN! One of the most common misconceptions in buying sunscreen is "the higher the SPF, the stronger the sun protection." More often than not, people with dark skin tend to buy sunscreen with SPF 50 or more, just because they think it provides higher skin protection. In reality, the correct SPF is based on your own skin tone. The darker your skin tone, the lower the SPF needed; and the lighter your skin tone, the higher the SPF needed. Diana Stalder's skin analyzer gives you safe and credible results with respect to the right sunscreen products fit for your kind of skin. So most likely, for Asian skin, the correct SPF would be SPF 24-35; for darker skin, SPF 2-15; and for lighter skin, SPF 30-50+. If you want to make the most of the summer heat, Diana Stalder's got you covered! Our varieties of Sunscreen Cream, Gel, Lotion, and Foundation caters all skin types.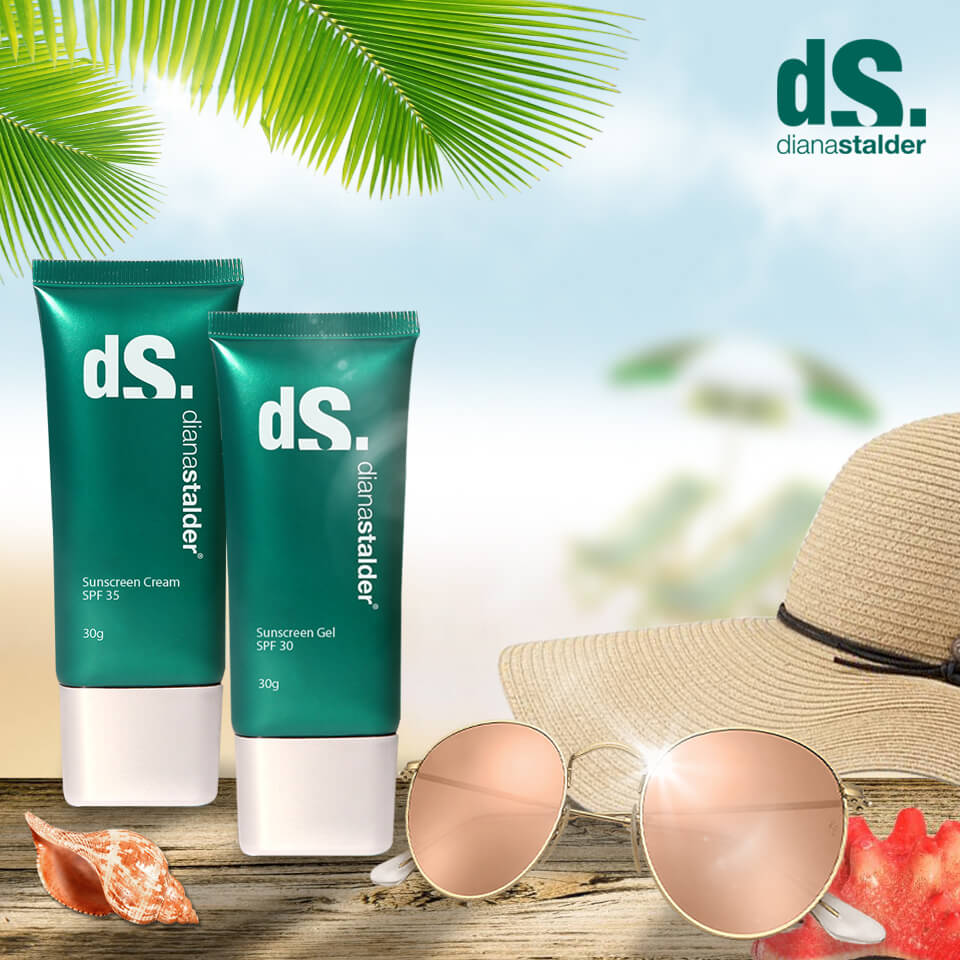 After confidently enjoying under the sun with the correct SPF, you'd better keep that protection high! Having an after-sun lotion is a must. Dermablend's Colloidal Oatmeal Lotion is the perfect product for helping your skin stay hydrated even after extreme exposure from those UV Rays. It exhibits direct antioxidant and anti-inflammatory properties that can help treat itching associated with dry and irritated skin, removes dead skin cells, and acts as a natural moisturizer.

But of course, those aren't the only essentials. To maximize the summer fun while still being able to take care of your skin, you'll be needing more than just sunscreen and after-sun lotion. Diana Stalder's Tea Tree Soap, Hand Sanitizer, and Deo Roll-on are the way to go! Our Tea Tree Soap is a natural antiseptic. It helps heal acne and other skin ailments. Pair it with the Deo Roll-on that's a lasting deodorant providing all day protection from wetness and odor caused by perspiration. And, never forget to keep those hands clean. It's important to always have a sanitizer where ever you go. Just grab our Kiwi-scented Hand Sanitizer whenever you're on the go!
C40 Bi Phase Soya Mask
This latest generation face mask combines on eye mask.
Eye Mask – is especially formulated to treat delicate skin in the eye contour area. It contains algae extract with high moisturizing and nourishing power, along with dry bilberry extract which contains anthocyanins. It has antiseptic and decongestant properties, and also contains vitamin P factor that protects capillaries and veins, enhancing relaxation both lymphatic and blood drainage.
Soya Face Mask – It has been developed for the application on face and neck. Apart from algae extract it contains dehydrated soya seeds, which produces a regenerating and nourishing action, increasing the elasticity and firmness of the skin. Its formula includes oily constituents that form a nourishing, protective and moisturizing film over the skin making the skin luminous.
Casmara Nature Ampoule – EQUILIBRIUM
Absorbs impurities, fat and catabolic substances from cellular functioning.

It enhances skin hydration and balance
Read More: The Secret to Youthful Glowing Skin
All these products are a perfect combination for the best summer vacation! So visit Diana Stalder Branches NOW and check these summer combos off that holiday checklist!
HURRY AND BOOK YOUR APPOINTMENTS NOW!
Gateway Mall, Basement 2, Araneta Center Cubao
(02)351.0299 | +63 917 6218468
SM Megamall, 5/F Bldg A, Mandaluyong City
(02)984.8188 | +63 917 6265362
SM Calamba, 3/F, Calamba Laguna
(049)306.0602 | +63 917 6276523