The expansive and award-winning 360-degree digital immersive art experience made its Southeast Asian debut earlier this year, opening in Singapore for the first time at Resorts World Sentosa (RWS), B1 Forum. This highly Instagram-worthy and stunning digital art experience is organized by H&B in partnership with Exhibition Hub, Fever, and RWS.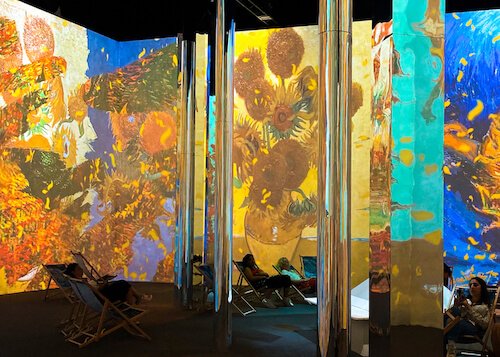 This 360-degree digital art experience is housed within various individualistic galleries in the expansive space of over 17,000 square feet. The exhibition invites visitors to step into more than 300 of Vincent Van Gogh's sketches, drawings, and paintings, immersing one in his world and life works by using floor-to-ceiling, wall-to-wall large scale digital projections. One of the core highlights of this exhibition is an expansive central projection area where the digital projections are the most prominent, creating a mesmerizing space where visitors can sit and absorb the wonders of one of the most well-loved Dutch influential artists all around them at every turn.
The Singapore edition of this exhibition further boasts the inaugural debut of two unique segments. This is the first time in the world that Van Gogh: The Immersive Experience will be featuring a showcase of the traditional Japanese art style of woodblock stamps and prints. In another homage to Japanese culture, there will also be an authentic matcha tea ceremony on display, with guests being able to enjoy a taste of fresh matcha right after. For the first time worldwide, Van Gogh: The Immersive Experience is bringing this experience to guests, focusing on the Japanese hospitality and art form of the process.
In the drawing studio, guests' work becomes a part of the show, where visitors can become artists themselves through unique creations, or recreating an art piece that inspired them the most from the exhibition. Not only can they create the artwork themselves, they can also scan it onsite and transform it into a larger-than-life digital representation which they can use as their exclusive photo backdrop.
Van Gogh: The Immersive Experience tickets are available from S$15 (around PHP630) for children and S$24 (around PHP1,050) for adults. Visit www.vangoghexpo.com/singapore for more information.