Rural health units all over the Philippines have become increasingly important now that hospitals are overwhelmed with COVID-19 cases. The support of health centers and their medical frontliners has been instrumental in helping local government units conduct tests and provide patient care. To help health workers in the fight tcontain COVID-19, BDO Foundation has sustained its efforts to rehabilitate rural health units across the country.
Slowly but surely, the foundation is inching closer to a major milestone. In a matter of months, the corporate social responsibility arm of BDO Unibank is set to rehabilitate its 100th rural health unit as part of efforts to help improve the healthcare delivery system in the Philippines. The initiative–which contributes to the achievement of the United Nations Sustainable Development Goal no. 3 to ensure healthy lives and promote the well-being of people of all ages–is critical as the country comes to grips with the pandemic.
Since the rehabilitation program's inception in 2012, BDO Foundation has been renovating rural health units particularly in economically disadvantaged and disaster-affected communities. To date, 89 rural health units have been successfully rehabilitated and turned over. The undertaking was made possible with the support of BDO and BDO Network Bank branches, whose officers recommend health centers that need support.
Most recently, the foundation completed the rehabilitation of two health centers: Magallanes Rural Health Unit in Agusan del Norte and Calatrava Rural Health Unit and Birthing Facility in Negros Occidental. Improvements included their layout and interior design, lobby and waiting areas, offices, clinics, consultation rooms, treatment rooms, facilities and spaces for health workers and patients. Play areas for children complete with books and toys as well as waiting lounges for the comfortable use of the elderly were also constructed.
With these projects completed, doctors, nurses and midwives are now better equipped to provide primary healthcare services more effectively to their constituents. The corporate citizenship initiative is expected to help improve the health and well-being of more than 104,000 people from the 48 barangays of Magallanes and Calatrava.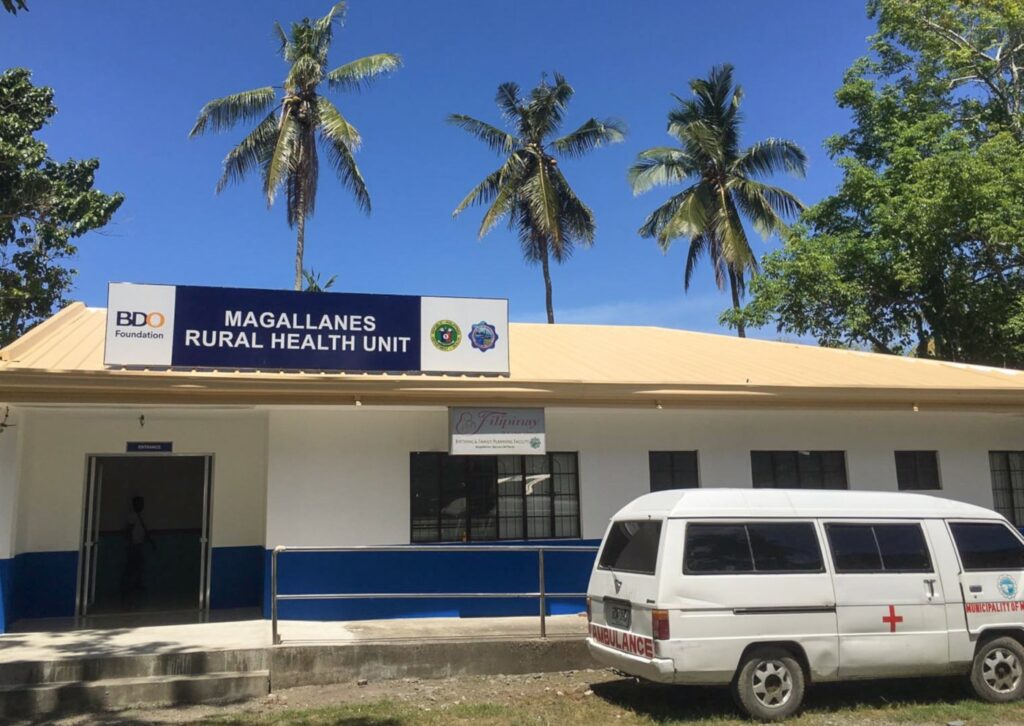 The newly renovated Magallanes Rural Health Unit and Calatrava Rural Health Unit were turned over to local government officials by BDO Foundation president Mario Deriquito, BDO Foundation program director Rose Espinosa, BDO Negros Occidental-San Carlos branch head Karen Maypa and BDO Butuan-J.C. Aquino Avenue branch head Janice Arapan. The facilities were graciously accepted by local health officials.
"Our patients benefit from the new areas constructed in the rural health unit–the senior citizens' area, kids' area, pharmacy, breastfeeding station and midwives' office, among many others," said Calatrava municipal health officer Dr. Karl Bonifacio. "Also, the expanded floor area of the laboratory can now qualify for Department of Health accreditation. On behalf of the people of Calatrava, I would like to thank BDO Foundation. Your support helps us improve the quality of our services especially for the poor and vulnerable members of our community."