FLEEK makes its way to the technology world with its first product: the Intelligent Bluetooth Audio Sunglasses, with its goal of providing easier audio access from your phone.
The Intelligent Bluetooth Audio Driving Sunglasses will serve as FLEEK's first offering as it makes its debut as the Philippines' brand new, high-end lifestyle technology company, aiming for a more convenient and suitable digital experience for Filipinos.
This product, which combines state-of-the-art technology with high-end fashion, allows users to call and listen to music with just a Bluetooth connection and just a button press away.
With the Intelligent Bluetooth Audio Driving Sunglasses, FLEEK aims to solidify itself as the fastest-growing technology company in the country while aiming for digital convenience among Filipinos.
Sleek product details and specifications
Upon first look, FLEEK's Intelligent Bluetooth Audio Driving Sunglasses catches attention with their acetate frames that are light and do not press onto the nose.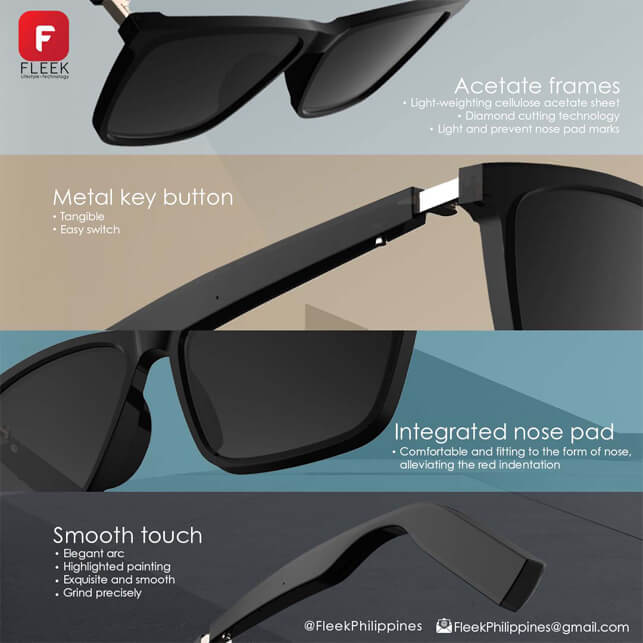 It has an integrated nose pad that feels comfortable and fitting to the form of the nose, alleviating the red indentation usual sunglasses leaves upon being worn for a long time.
The glasses' temple length measures 167 mm, while the left and right eye size measure 55 mm and 53.4 mm, respectively. The bridge, on the other hand, measures 167.8 mm.
Fashion frontier precision technology
The Intelligent Bluetooth Audio Driving Sunglasses wows with a precise design with built-in touch control, containing many functions on the glasses' temples.
The functions include two power buttons on the left and right upper temples, a nylon lens with high hardness, strong scraping resistance that has a black glare or UVA/UVB irradiation.
Also, when you charge it, you can insert the charger into its magnetic charging contact on the left and right temple, which easily connects and charges the glasses' battery.
Speaking of, a large battery is built-in the glasses, giving the product an ultra-long battery life and an experience upgrade.
Lastly, dual loudspeakers are placed inside the glasses, giving great oriented sound emission while maintaining privacy. This part accurately transmits the sounds to the ears.
Enjoy quality sound and connection with Bluetooth 5.0
FLEEK's Intelligent Bluetooth Audio Driving Sunglasses comes with the latest version of the Bluetooth wireless communication standard (Bluetooth 5.0).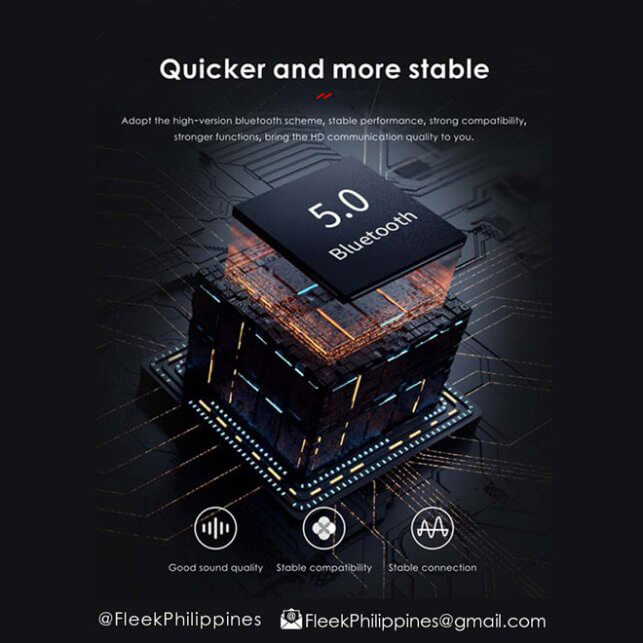 Take a listen or a call with crystal clear audio and stable connections to your phone, providing you with zero interruptions and 100% perceptible sounds.
Take calls and listen to music with just a click
Upon connecting the Intelligent Bluetooth Audio Driving Sunglasses through your phone via Bluetooth, you can conveniently answer an incoming call with just one click.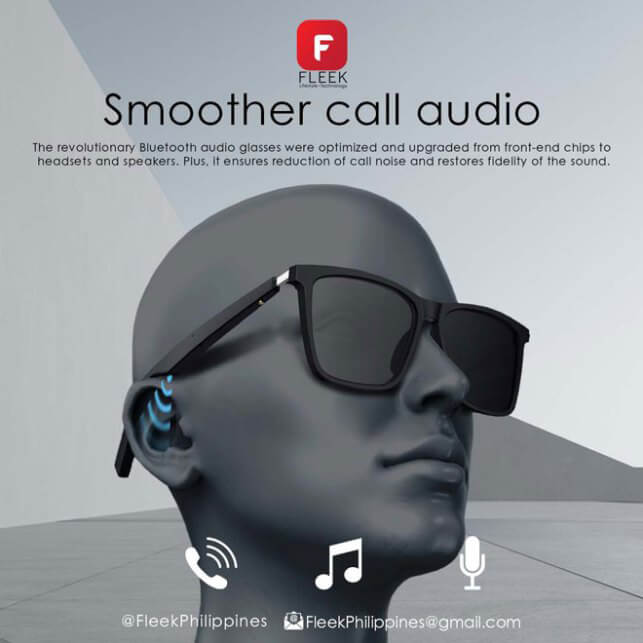 The glasses have power buttons on both the left and right temple which you can either click once to answer your call.
For music, on the other hand, once you play your favorite song on your phone, you can efficiently pause it with one click and play the next song with three.
Be sensible of your surroundings with open ear audio
The Intelligent Bluetooth Audio Driving Sunglasses allows you to be aware of your surroundings, despite taking calls or listening to music, with its open ear audio.
The glasses do not block your ear, giving you sound from the dual loudspeakers implanted inside its temples, which makes you conscious of outside noise. At the same time, you can focus on your calls or blast your favorite song.
Do workouts and water activities worry-free with its water and sweat-resistance quality
With a waterproof rating of IP67, you can exercise and do water activities while wearing FLEEKPH's Intelligent Bluetooth Audio Driving Sunglasses as it is resistant to professional level water and sweat.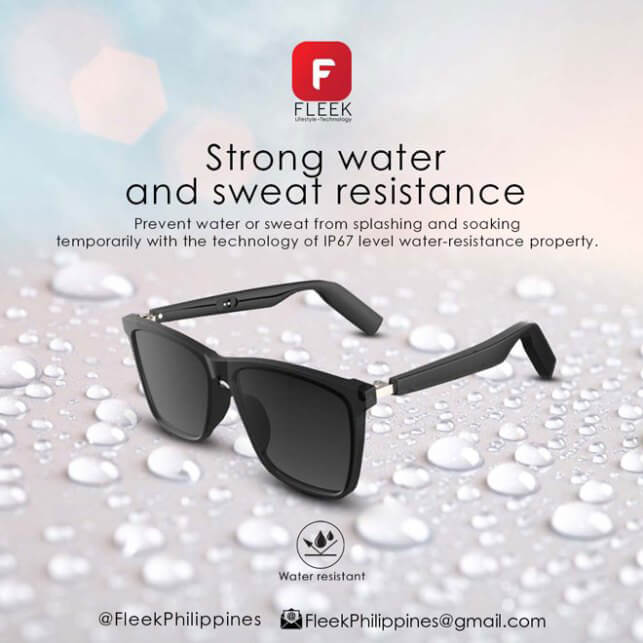 Enjoy days of audio with its longer battery life 
With a built-in large-capacity dual battery in tow (220mAh), FLEEK's Intelligent Bluetooth Audio Driving Sunglasses can endure a total of 7 days on standby after being fully charged for only 2 hours.
Overall, you can do 6 hours of continuous phone calls and have 4 hours of continuous music per day once it has been charged in full.
Guaranteed eye protection
Not only does the Intelligent Bluetooth Audio Sunglasses provide a convenient audio experience, but it also gives maximum eye protection, as well.
Armed with a glare resistance of UV380 UV400 and a coating lens that blocks glare and strong light, the glasses effectively protect the eyes and represent colors effectively, especially when you are outdoors.
About FLEEK
As the newest technology brand, FLEEK will work to further enhance your experience through customized Lifestyle Technology products, striving to make your life simple and personalized, and bringing family and friends together through the power of technology for decades and beyond.
The Internet of Things and wearables are about to integrate technology deeper into our lives and the core of every industry, impacting our lifestyle and aspirations. New working conditions and a nomadic way of life will change drastically our day-to-day lives and consumption habits.
Launched in 2021, FLEEK founder Richie De Quina has been using his visionary talent to augment new products the same way the smartphone intuitively revolutionized our lives forever. Imagine any and everything from your personalized wearables, to health and wellness products, to mobile transport, to state-of-the-art home entertainment, making these technology lifestyle products accessible to people and changing how we live forever.
Likewise, FLEEK is available for retail and corporate partnership through our capabilities in OEM and ODM.
FLEEK is backed by more than 50 years of technology and manufacturing experience through our factory and partners from Shenzhen, China. A partnership forged thru mutual trust and respect of each companies' experience in the field of Research and Development, Marketing and Business Development, Distribution, and Logistics of Lifestyle Technology Products.
FLEEK Lifestyle is available at LAZADA, SHOPEE, ZALORA and FLEEK Lifestyle Store addresses at 419 One Oasis Hub B, Ortigas Extension Brgy Sta Lucia Pasig City Philippines.
For inquiries, email them at [email protected], [email protected] or call them at (0977) 841-6456 or (0999) 227-7141