Building on the success of the debut of its patented solar charging technology in fēnix 6X Pro Solar, Garmin today announced the extension of this technology into two of its flagship outdoor smartwatch series – Instinct and fēnix series, introducing the Instinct, fēnix 6 and 6S Solar.
Unlike other solar-powered watches that converts the solar energy into electrical energy for single functions such as time, Garmin's solar charging technology is the only watch the converted electrical energy to support various sports activity modes and health monitoring features such as heart rate, GPS, various sensors and data calculation.
This solar charging technology not only brings about an overall improved power performance, it also reduces carbon emissions by up to 59 percent compared to other smartwatches due to the reduced power charging frequency. With the enhanced battery life, added sports activities and comprehensive health data monitoring, Garmin hopes to motivate and inspire users to continue their outdoor adventures and explore infinite possibilities together.
"In 2019, Garmin pioneered a breakthrough in solar charging technology, introducing the Power Glass™ to launch the world's first solar-powered multisport GPS smartwatch, fēnix 6X Pro Solar. This year, we extend this proprietary technology into our well-loved Instinct and the complete fēnix 6 series, catering to the needs of outdoor adventurers and athletes, accompanying them to truly do what they love, longer," said Mr. Scoppen Lin, Director, Garmin Asia.
Revolutionizing solar charging technology for increased battery optimization
One-of-a-kind Power Glass™ solar charging panel engineered by Garmin
Garmin has designed an ultrathin layer of tiny conductive elements on top of a glass panel, creating a multilayer structure that measures a mere 0.5mm thick. This sophisticated structure is able to efficiently convert light source into electrical energy while maintaining high permeability so that when it is paired with a Memory-in-Pixel (MIP) display, it retains clear and full color visibility under bright sunlight. 
Over 30 patents filed for revolutionary solar charging technology
The breakthrough solar charging technology is achieved by using the best conductive materials to generate a peak power output (Pmax) of the solar cell is rated five times higher than the standard in the industry. With this technology incorporated in the design of Instinct Solar, it is able to achieve unlimited battery life when set to the Battery Saver mode.
Unlike traditional solar watches which only supports time mode or a single function, Garmin solar charging technology leads with a solar conversion rate up to five times higher than the industry standard, making Garmin the first in the world to launch solar-powered multisport GPS smartwatches.
Continuous solar charging even in partially covered conditions
When any part of a traditional solar panel no longer exposed to light, solar charging will instantly be deactivated. In the event of limited sun exposure where the watch is partially shaded, Garmin's innovative solar panel technology has rearranged the panel's conducting cells in a new design so that even when part of the screen is covered by clothing or covered in mud during mountain biking, the smartwatch continues uninterrupted solar charging. This groundbreaking design allows users to enjoy their outdoor activities for longer periods of time, without having to worry that their activity will not be recorded when battery runs out.
Power Manager feature to allow customizable feature management 
The Power Manager feature allows the user to easily toggle the watch functions according to their usage needs for the day, deactivating unused or lesser used functions on low activity level days. This feature allows the user to adapt the device to their lifestyle needs and getting the most out of each power charge.
Instinct Solar for the rugged, outdoor enthusiast
Garmin has incorporated the solar lens technology into its Instinct range of GPS smartwatches to cater to the urban sport enthusiast. With the Power Manager feature, users can toggle to the Battery Saver mode to enjoy unlimited battery life on the Instinct Solar and Instinct Solar – Camo Edition, up to 24 days in smartwatch mode indoors and over 54 days with sufficient solar exposure.
In addition to Instinct's list of outdoor activity and health tracking features, Instinct Solar series now also includes the Body Battery feature which analyzes heart rate variability, stress level, sleep quality and activity data to determine overall energy levels. Another newly added feature is the Pulse Ox (SpO2)2, a technology which measures blood oxygen saturation – a useful health indicator to monitor during this time of pandemic as the COVID-19 virus can lead to pneumonia infection in which the lung's air sacs are filled with fluid, leading to a drop in blood oxygen level. A sudden drop in SpO2 levels can indicate an early onset of symptoms.
For more information, visit Garmin.com.ph/minisite/instinct/instinct-solar/
fēnix 6 Solar Series – The Ultimate Solar Powered Smartwatch
The fēnix 6 Pro Solar and fēnix 6S Pro Solar are the newest members of the Garmin flagship outdoor GPS smartwatch line. Featuring Garmin Power Glass™ solar charging lens and a customizable Power Manager mode, fēnix 6 Solar Series harness the power of the sun to stay on and remain performance-ready for weeks, so users will have more on-wrist time to enjoy their activities, training features, onboard mapping, music streaming and much more. Expanding the robust activity profiles included in the fēnix series, the fēnix 6 and 6S Solar Series come surf, mountain bike and indoor climb-ready.
Surf:

Using a Surf Activity profile, fēnix surfers can track total waves, surf time, total time, max speed and their longest wave. When surfing in front of a Surfline

®

camera, users wearing fēnix 6 Solar Series can upload their surf data to their Surfline account and later view video of that surfing activity through

Surfline Sessions

™.

Mountain Bike:

Track the details of every ride with mountain biking metrics plus specialized grit and flow measurements that rate trail difficulty and how smoothly a user descends, giving a score to beat next time.

Indoor Climb:

The indoor climb activity profile allows climbers to track their sessions at indoor facilities. Metrics include the number of routes, vertical distance climbed, climbing time, difficultly of each route and more.
The fēnix 6S Pro Solar battery performance in smartwatch mode is up to 9 days indoors and up to 10.5 days with sufficient solar exposure, while battery performance for the fēnix 6 Pro Solar in smartwatch mode is up to 14 days indoors and up to 16 days with sufficient solar exposure.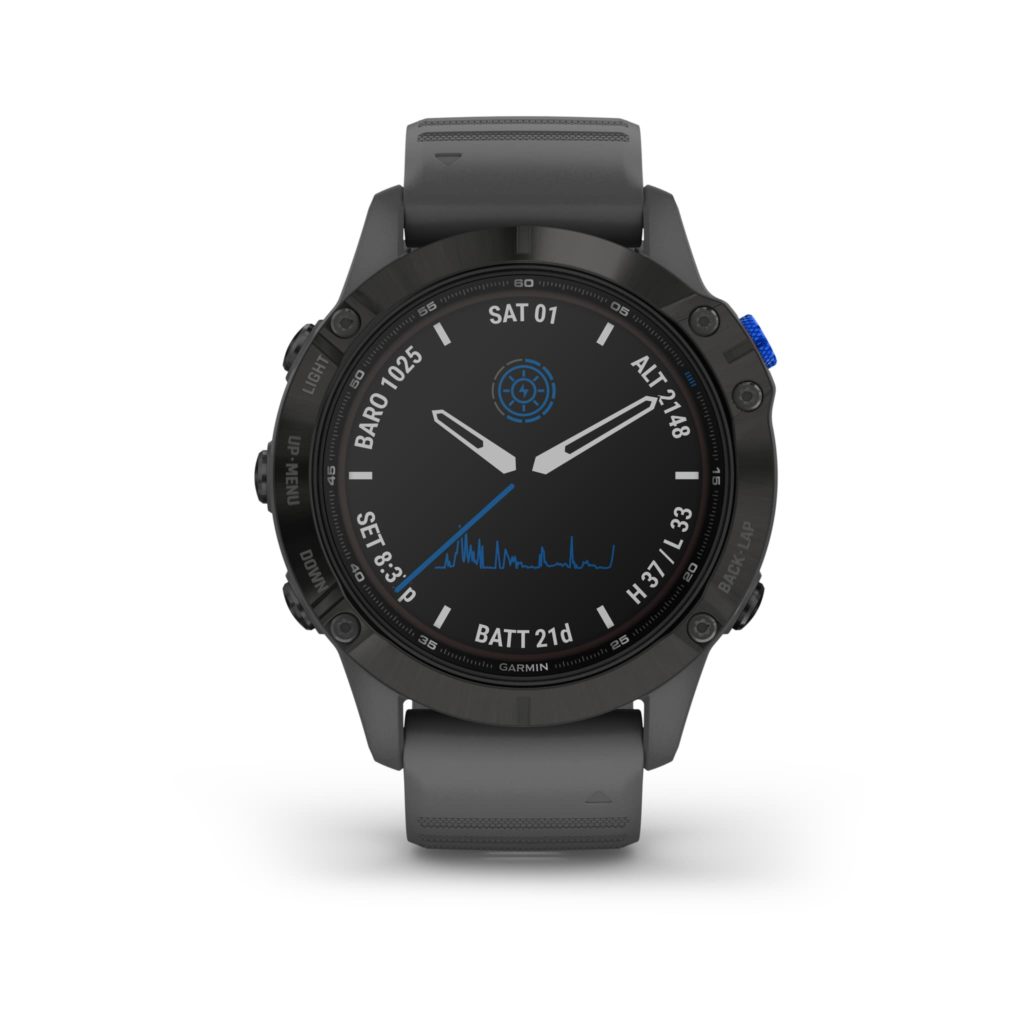 For more information, visit Garmin.com.ph/minisite/fenix/
Garmin Ambassadors
Joining the launch forum are GARMIN's most active ambassadors who brings pride in their respective fields.
David Guison
With David's active urban lifestyle, Garmin Instinct Solar is the obvious choice for him. "As a content creator I have so many gadgets with me all the time, my Garmin solar-powered watch allows me to save time and energy. I also love that I can pair the watch with my phone for a fun, seamless usage!"
Garmin Instinct solar compliments David constant wardrobe changes with its rugged and reliable look. "I don't have to worry about its toughness in any kind of sports activities. Plus, it has this smart notification that makes it convenient for me to get messages anytime. I'll definitely recommend Instinct Solar to all my friends" adds David.
Gretchen Fullido
A known showbiz news anchor, Gretchen is constantly on the go with her news coverage. She is also into triathlon training as her sport of choice.
Gretchen finds Garmin Fenix ​​6S Pro Solar the best smartwatch for her active lifestyle. "This watch puts the solar energy that we originally imagined with a relatively large area into a smart surface. The power of solar energy can also support such complex functions in the smart watch. For a triathlete like me, often times our sport shirt would cover the watch and the solar charging just stops which is not the case with Garmin."
Gretchen particularly want to emphasize on Garmin pulse oximeter function during this time of pandemic, she would often check her oxygen saturation to monitor her health. "Garmin does help me with this. Even the sleep tracker and the steps tracker features help me stay active and aligned with my goals" Gretchen shares.
Nikko Huelgas
Nikko has given pride to our country by bagging 2 back to back SEA Games Gold medals and a 3 times National Triathlon Champion. He is currently the Chairman of Philippine Olympic Committee- Athlete's Commission.
"Staying active during the pandemic is my utmost priority. With Garmin's faster processor plus its innovative GPS, I can keep up with a more efficient training. No doubt that this watch is durable and ruggedly stylish which fits my go getter lifestyle."
Nikko recognizes the benefit of GARMIN solar technology on his training, as this will lessen his downtime in training. "I love the extra battery life especially on how valuable time is nowadays coz of the fast paced life. This watch is lightweight that compliments in getting a better race performance"
Garmin Solar Series Battery Life Chart
Battery life
Mode
fēnix 6S Pro Solar
fēnix 6 Pro Solar
Smartwatch

Up to 9 days plus 1.5 days*

Up to 14 days plus 2 days*

GPS

Up to 25 hours plus 

3 hours**

Up to 36 hours plus 

4 hours**

GPS and Music

Up to 6 hours

Up to 10 hours

Max Battery GPS Mode

50 hours plus 14 hours**

72 hours plus 21 hours**

Expedition GPS Activity

20 days plus 6 days*

28 days plus 8 days*

Battery Saver Watch Mode

34 days plus 25 days*

48 days plus 32 days*
Battery life
Mode
Instinct Solar
Instinct Solar – Camo Edition
Smartwatch

Up to 24 days + 30 days *

GPS

Up to 30 hours + 8 hours **

Max Battery GPS Mode

70 hours + 75 hours**

Expedition GPS Activity

28 days + 40 days*

Battery Saver Watch Mode

56 days + unlimited*
*Solar charging, assuming all-day wear with 3 hours per day outside in 50,000 lux conditions




**Solar charging, assuming use in 50,000 lux conditions
Pricing and Availability
Instinct Solar is available in Graphite and Flame Red and the Instinct Solar – Camo Edition is available in Graphite Camo.
The fēnix 6 Pro Solar is available in Black with Slate Gray Band and Mineral Blue with Whitestone Band and the fēnix 6S Pro Solar is available in Light Gold with Shale Gray Band and Amethyst Steel with Shale Gray Band.
The Instinct Solar and fēnix 6 Solar series represent the continued innovation of Garmin solar technology initiative and are available from today at Kinetic.com.ph, Lazada, Shopee, Garmin Brand Stores and all authorized retailers. The complete line of Garmin solar charging smartwatches also includes the fēnix 6X Pro Solar. Suggested retail prices are Php24,995 for Instinct Solar and Php27,995 for Instinct Solar Camo Edition; Php52,995 for fēnix 6S Pro Solar and fēnix 6 Pro Solar. For more information, visit ph.garmin.com.
Garmin official brand stores where you can find the Solar Series are as follows:
GARMIN GLORIETTA 5

GARMIN SM MEGAMALL

GARMIN SM MOA

GARMIN UPTOWN BONIFACIO

GARMIN ALABANG TOWN CENTER

GARMIN SM AURA

GARMIN SM NORTH EDSA

GARMIN THE PODIUM

GARMIN AYALA MALLS VERTIS NORTH

GARMIN SM CITY PAMPANGA

GARMIN SHANGRI-LA PLAZA

GARMIN SM CITY BAGUIO

GARMIN SM CITY CEBU

GARMIN SM LANANG PREMIERE

GARMIN FESTIVE WALK

GARMIN SM BACOLOD
Engineered on the inside for life on the outside, Garmin products have revolutionized life for adventurers, athletes, and outdoor enthusiasts everywhere. Committed to developing products that enhance experiences and enrich lives, Garmin believes that every day is an opportunity to innovate and presents a chance to beat yesterday.
For more information, visit Garmin's virtual pressroom or follow us at Facebook, Instagram, or Youtube.