Top online lifestyle destination Lazada ramps up their #LazadaPH11Birthday festivities with back to back surprises, from introducing their new future-ready corporate office, to rolling out a Birthday Blowout Sale.
"We are going all out with unbeatable offerings for our Birthday Blowout Sale, with our partners showcasing the widest assortment at the best prices, powered by Fast and Free Shipping. During such an exciting time, we also have a great environment for our employees to give their best work, and meet the demands of our customers," says Lazada PH CEO Carlos Barrera during the unveiling of their revamped headquarters.
In their continuous evolution beyond being the e-Commerce pioneer, Lazada recognizes that their employees are instrumental in their aspirations for their next chapter. Characterized by strong commitment, deep passion, and high energy, Lazadians recently welcomed the year with a prestigious Great Place to Work Certification with a strong focus on women empowerment.
"We celebrate our women leaders, customers and sellers at Lazada not just this National Women's Month, but every day. We empower women at any life stage to have access to so many choices to let them be their best selves. At Lazada, we also set up our female leaders to lead from the front as we continue to uplift businesses of any scale, providing better opportunities for women entrepreneurs to participate in digital commerce," Barrera adds.
The distinction is set to take on another level as Lazada Philippines launches to the media its new headquarters in BGC. Occupying three floors at the Seven/NEO Building, the freshly-designed office takes cues from a breezy cafeteria. Spacious and bright spaces promote collaboration amongst teams, while the overall design and furniture choices reflect the local culture.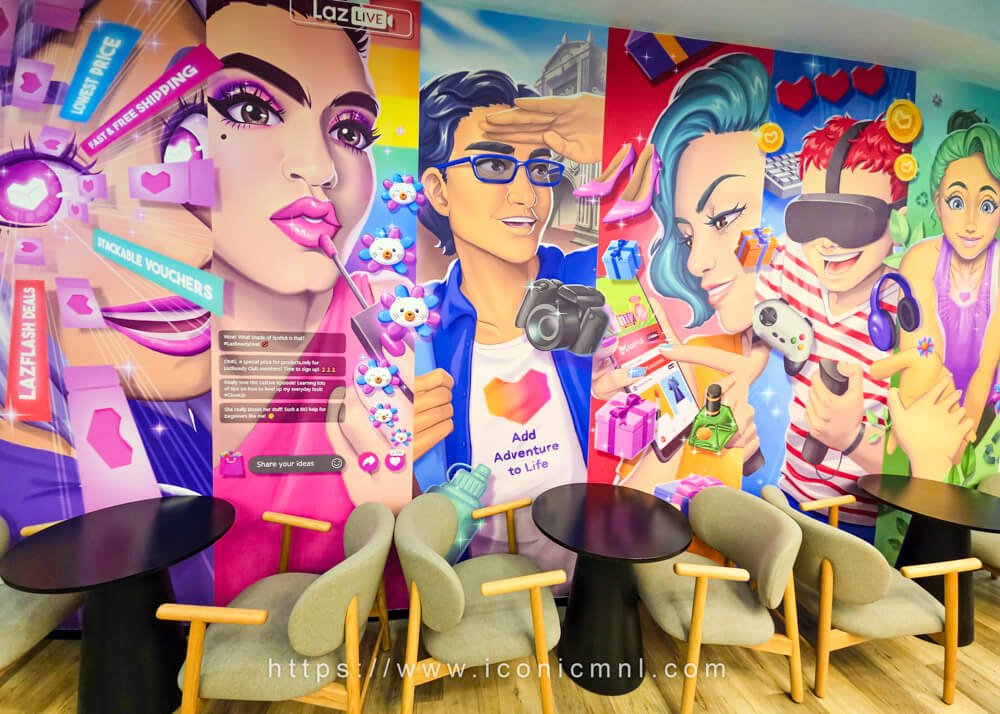 Reflecting their commitment to remain as the leading eCommerce destination for every Filipino, Lazada featured Filipino artists and named key spaces at the office after their best offerings for their customers such as stackable vouchers, CashBack, Fast and Free Shipping, Everyday Low Prices, LazMall, LazLook and LazBeauty, and more.
"We've seen how these special touches have made an impact among Lazadians– everyone shows up to go over and beyond expectations, collaborates with each other, and is emboldened to win," Barerra shares. "Just as importantly, these elements illustrate how empowering MSMEs, our Love Lokal campaign, and growing thousands of Filipino brands under LazMall remain at the heart of what we do."
Meanwhile, Lazada bookends its huge 11th anniversary celebration with another Mega Sale. Coming off its record 11-day sale to open March, Lazada completes its birthday month with the Lazada Birthday Blowout Sale, happening on March 27-31.
Up for grabs is a wide range of trendy and affordable assortment in all things beauty and fashion on LazBeauty and LazLook. You can enjoy patong-patong na discounts, stackable vouchers, to go with deals for as low as P99. What's more, get up to 80%-off discounts and up to P1000 cashback, along with Fast and Free shipping.
To know more about what makes #LazadaPH a great place to work, visit the Lazada Careers page, and to shop on Lazada's Birthday Blowout Sale, visit https://www.lazada.com.ph/ and follow them on Facebook and Instagram.