Convertible design, 14-inch WUXGA (1920×1200) display, and quick-charging dockable USI active stylus pair for productivity, work, and fun on the go
QHD 2K webcam and premium audio provide the clarity needed for conferencing at work, in classes, and staying in touch
Made with durable aluminum designs while supporting Acer's Earthion initiative with the incorporation of recycled materials in its packaging and EPEAT registration
Acer today launched its latest performance-minded, premium convertible Chromebooks, the Acer Chromebook Spin 714 and Acer Chromebook Enterprise Spin 714. Supporting the needs of consumers, families, and businesses, the new Chromebook line is powered by new 13th Gen Intel® Core™ processors, 10-hour battery life[1] with fast-charging, and new features, delivered in eco-friendly packaging which is made from fully-recyclable materials. The 16:10, 14-inch Chromebook also provides vivid displays and high-quality video conferencing with its WUXGA display[[ii]], 100% sRGB coverage, a built-in QHD 2K webcam, and DTS® Audio. Hybrid workers and students can fully maximize the 2-in-1 Chromebook for daily use with its flexible 360-degree convertible mode, quick-charging USI stylus, and compliance to military-grade durability standards.
"The new Acer Chromebook Spin 714 and Acer Chromebook Enterprise Spin 714 have the performance and productivity-boosting features that make them ideal for executives and mobile professionals, as well as consumers and students taking on more advanced apps such as coding and video editing," said James Lin, General Manager, Notebooks, IT Products Business, Acer Inc. "The Chromebooks' QHD 2K webcam ensures high-quality conferencing, while eco-minded features support Acer's commitment to create a positive impact on the environment."
Productivity-Boosting Technology and Immersive Visuals 
The new Chromebooks are powered by up to 13th Gen Intel® Core™ i7[2] processors to provide up to 10% performance improvement[3] over the previous generation. They also adhere to Intel® Evo™platform standards, to provide responsive performance and up to 10 hours[1] of battery life. For especially long days, the battery can be quick-charged for only 30 minutes[1] to provide up to four hours of use. Plus, for businesses where additional manageability and security controls are needed, the Acer Chromebook Enterprise Spin 714 supports Intel vPro® technology.
The 14-inch touchscreen Chromebook with WUXGA (1920×1200) display vibrantly showcases visuals in a true-to-life 100% sRGB color range. The vivid 16:10 display is surrounded by thin bezels and comes equipped with Antimicrobial Corning® Gorilla® Glass to protect it from scratches while resisting stains and odor-causing bacteria[4]. The optional USI stylus[2] provides 4,096 different levels of pressure and tilt sensitivity[5] allowing for a natural feel and precise strokes when sketching or note-taking on the display in any of the four modes enabled by the 2-in-1 Chromebook's 360-degree hinges.
QHD MIPI 2K Webcam and Usability Features Enhance Conferences and Classes
As the first Acer Chromebooks to feature a QHD 2K webcam, these new models provide a premium video conferencing solution for work and school. In addition to providing high-resolution images, the 2K webcam comes with temporal noise reduction technology to maintain high-quality visuals even in low-light conditions, as well as a physical shutter to protect privacy. The visuals are complemented by dual microphones and dual upward-facing speakers with DTS® Audio and a built-in smart amplifier, which provides higher-quality, distortion-free sound, and deeper bass.
The Chromebooks stay connected via Wi-Fi 6E and Bluetooth 5.2, as well as to additional devices via a range of ports including HDMI and two Thunderbolt™ 4 ports. Unlocking the devices is made quicker while data also remains secure via the optional fingerprint reader[2]. Plus, the backlit keyboard and Corning® Gorilla® Glass touchpad deliver a premium feel, making them a joy to use.
Supporting Acer's Earthion Mission
In line with Acer's commitment to creating a continuously positive impact on the environment, the Acer Chromebook Spin 714 and Acer Chromebook Enterprise Spin 714 support the company's Earthion mission, boasting several eco-friendly features and an EPEAT registration[6]. They contain post-consumer recycled (PCR) plastics, while the Chromebooks' packaging is made entirely of recycled materials, including molded pulp packaging made from recycled paper, cardboard, and other natural fibers. Also, the Acer Chromebook Spin 714 and Acer Chromebook Enterprise Spin 714 meet Energy Star certification, featuring an energy-efficient design.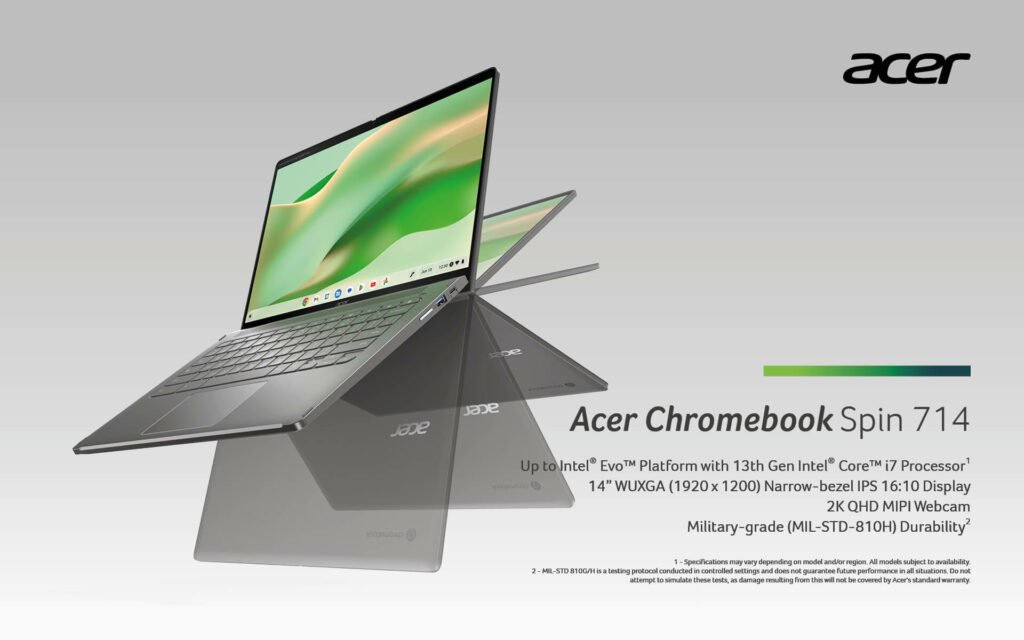 Additionally, the durable design of the Chromebook Spin 714 contributes to the device's longer life. The anodized aluminum chassis conforms to U.S. MIL-STD 810H[7,8] durability to stand up to daily wear and tear, resist dents and bending, and ward off chips and corrosion to maintain the high-end look and feel.
ChromeOS and App Support 
The new Acer Chromebook Spin 714 and Acer Chromebook Enterprise Spin 714 utilize ChromeOS's built-in business capabilities such as delivering fast boot times, ease of use, and advanced security. They support web-based and Google Play apps, providing users access to all the apps they need for productivity, school, creativity, work, and more. 
Acer Chromebook Enterprise Devices
For enterprise users, the Acer Chromebook Enterprise Spin 714 gives access to Chrome Enterprise Upgrade, unlocking the built-in business capabilities of ChromeOS. IT departments can easily drop ship devices to employees with zero-touch enrollment and allow them to seamlessly manage and secure devices while reducing the total cost of ownership. Acer ChromeOS devices also free IT from mundane administrative tasks, facilitate collaboration, and secure access to data and apps for the cloud workforce.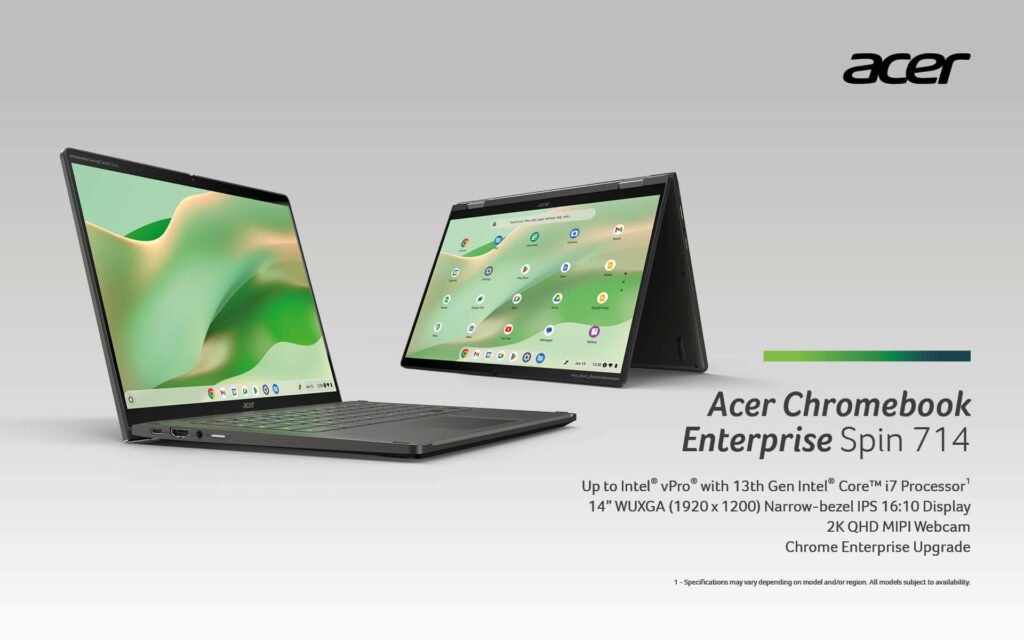 Pricing and Availability
Exact specifications, prices, and availability will vary by region. To learn more about availability, product specifications, and prices in specific markets, please contact your nearest Acer office via www.acer.com.