AOC, the world's leading gaming monitor brand returns to the battlefield with the 3rd AOC Masters Tournament 2021- the most exciting tournament of this year. In partnership with RAPOO, NVIDIA and T-FORCE, the AOC Masters Tournament 2021 Philippines is back again.
AOC Masters Tournament 2021 leads PUBG Player Unknown's Battlegrounds teams from across Southeast Asia, meeting the players from Indonesia, Malaysia, Vietnam, Philippines, Taiwan, and Thailand. As a celebration of the 3rd tournament of AOC, joined by special guests from Oceania. The country masters will be competing their skills against each other in November 2021.
AOC continues to create phenomenal events:
AOC is launching 'AGON by AOC' as the latest step of its global brand strategy to benefit gamers with an enhanced portfolio and more monitor choices. This global brand enhancement encapsulates an inclusive range of gaming ecosystems that welcomes players at all levels of ability, as they hone their skills and aspire to be their very best.
As customers' devotion is a priority, AOC ensures by delivering an online tournament to show the power and spirits of players, viewers, and the gaming community. Thus, global unified connections are made through watch, play, and winning together. Fans who want to play like the pros can enjoy the same gaming experience with the AGON C27G2ZE, C32G2ZE with 240Hz refresh rate and 0.5ms response time. While the 27G2 and 27G2E gaming monitors with 1ms and 144Hz refresh rate, these models bring out the best out of players. Fans can get their hands on the AGON 27G2 and 27G2E for PHP1,000 off at AOC Monitors' Official Lazada and Shopee stores from Sep.15 to Nov. 15, 2021.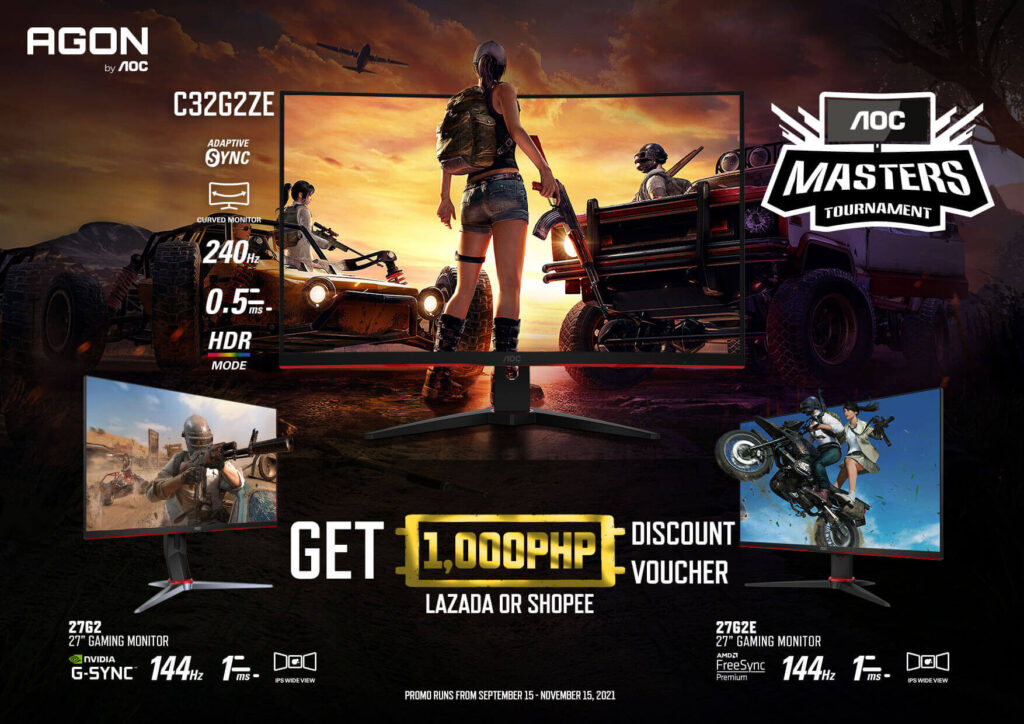 Saluted by both the gaming community as a whole, as well as by hardware reviewers, 'AGON by AOC' monitors continue to stand out for their superb ergonomics, winning features, and use of high-quality materials. Nevertheless, as part of AOC's strategy for constant improvement and growth, the 'AGON by AOC' brand is poised for further evolution.
*For the second year in a row, AOC was named by IDC as 2020 global market share leader in gaming monitors. See IDC Quarterly Gaming Tracker, 2020Q4.
Winning the challenge together:
AOC calls out to all players by inviting each country's challengers to join the battlefield by applying through the AOC Philippines Website from September 13-20, 2021 to compete in their own country's Qualifiers Round. Celebrating the 3rd year of the AOC Masters Tournament, gaming community and fans will be able to see a whole new team of energetic newcomers awaken the spirits, and win as a team. However, adding the heat of the battlefield with special guests from Oceania. AOC Masters Tournament 2021 Philippines Grand Finals will have a total prize pool of PHP50,000, with the champions receiving AOC Gaming 27G2E monitors.
The tournament will start on the weekend of October 8-10. Players will head to battle on the following dates:
October 8 – Open Qualifiers Leg 1
October 9 – Open Qualifiers Leg 2
October 10 – Open Qualifiers Leg 3
October 15 – AOC Masters Tournament 2021 Philippines Grand Finals
PUBG PlayerUnknown's Battlegrounds is an online multiplayer battle royale game developed and published by PUBG Corporation. PUBG was nominated for Game of the Year, Best Multiplayer Game, and PC Game of the Year" and has been nominated to win several industry awards.
Road to the Champions
All the action will be broadcast online via multichannel livestreams; Twitch, the world's leading video platform and community for gamers, as the main live broadcast channel, and additional broadcasts on YouTube and Facebook to ensure it reaches all gaming communities and viewers.
The Top 3 winners of the Philippine Grand Finals will head to the Regional Finals, with the following tournament dates:
November 5-7 – Regional Qualifiers
November 12-14 – Regional Finals
Only the top teams in the region will be able to take part of the $43,000 prize pool for the AOC Masters Tournament 2021 Regional Finals.
Be ready in November, there could be only One Champion. To give your encouragement to the country masters as they are geared-up and enter the battlefield with their forces, pulling out all the skills and weapons to survive through the war zones and take the victory title.