Customization has always been part of the smartphone experience, from selecting our preferred alarms to choosing the quirkiest phone case that best reflects who we are. Set to take smartphone personalization to another, even more exciting level is realme's C-Series.
Positioned to redefine the entry-level segment, this collection presents four feature-packed models that each cater to a certain personality type. Here, we run down each one to help you pick the perfect choice.
If you want Fun for Everyone, go for the realme C30s
Do you have multiple group chats wherein you're always mentioned and sought after? Are your friends always messaging you whenever you miss a hang-out session? You might just be the life of the party, and the realme C30s might just be the smartphone for you.
Never miss the action with the realme C30s's amazing 5000mAh battery. It's an astonishing capacity for its price that allows up to a full day's use with up to 36 hours of standby time, 24.9 hours of calling, 58.7 hours of continued music playback, or up to 11.2 hours of total video playback. It presents a 6.5" large display as well that maxes out at 400 nits of brightness, with a good screen-to-body ratio of 88.7%, while avoiding being a smudge magnet. How's that for a heavy-duty smartphone that stays clean and keeps you plugged in on the latest happenings at all times? It also comes in two colors: Stripe Blue and Stripe Black
Price: realme C30s (2GB+32GB): PHP 4,499 (from PHP 4,999) / realme C30s (3GB+64GB): PHP 4,999 (from PHP 5,499) / realme C30s (4GB+64GB): PHP 5,999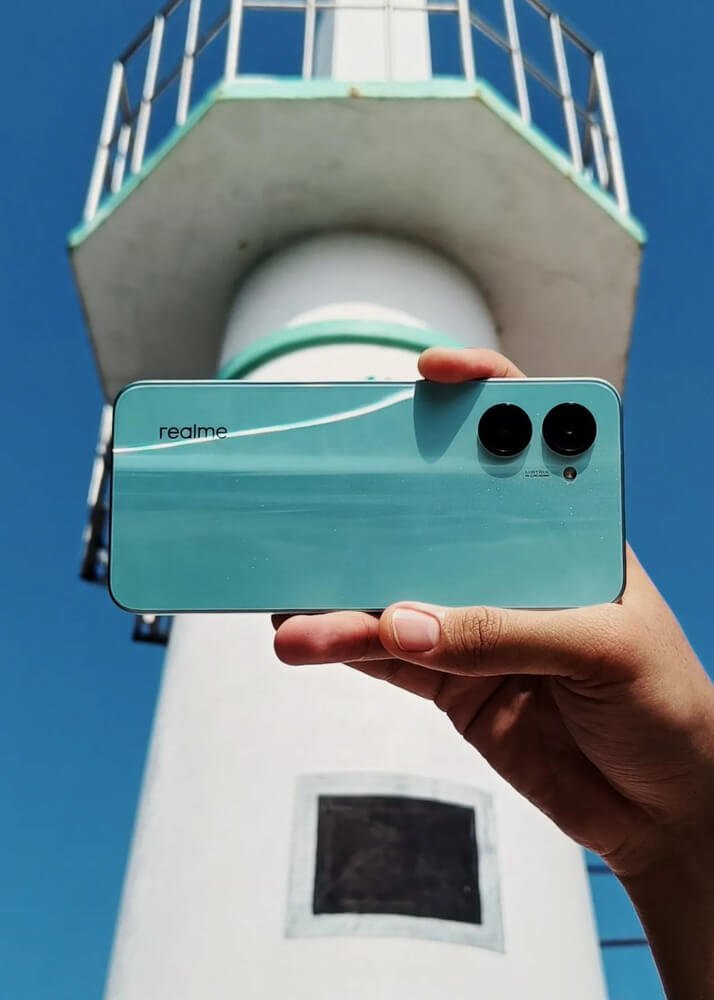 If you're Fun and Stylish, select the realme C33
The realme C33 understands who you are as someone with the right mix of fun and style.
This smartphone comes out of the box with realme UI S Edition based on Android 12, and offers an outstanding 50MP AI Camera that can capture high-resolution images. This allows you to take a snap of your wackiest moments with friends or your hottest OOTDs, depending on your mood. What's more, the realme C33 could be yours with an unmissable discount, and it comes in three, summer-perfect colors: Sandy Gold, Aqua Blue, and Night Sea.
Price: realme C33 (4GB+64GB): PHP 6,499 (from PHP 7,499) / realme C33 (4GB+128GB): PHP 7,999 (from PHP 8,499)
If you're Chic and Classy, shine with the realme C35
Let your phone glow with you as the realme C35 comes in two aesthetic colors, Glowing Green and Glowing Black. Both options make use of a Dynamic Glowing design that gives off an effect when reflected on by light, ensuring that it shines with you as you slay in your most head-turning outfits.
The realme C35 features the first FHD+ Resolution Display on the C-Series as well that supports a wider array of pixels. This gives a more immersive viewing experience versus other phones in the same price segment.
Price: realme C35 (4GB+64GB): PHP 7,999 (from PHP 8,499) / realme C35 (4GB+128GB): PHP 8,999 (from PHP 9,499)
If you're the Stylish Champion, reign supreme with the realme C55
You're at the top of your game and you do not settle for basic. As the Stylish Champion, let your title belt be the realme C55.
Instantly coveted after its launch, the realme C55 is simply the real deal. It's realme's first mass-produced smartphone globally to have the Mini Capsule, a dynamic punch hole that presents expanding animation and helps you keep track of important stuff like charging & battery status, data cap usage, and step tracking. The realme C55 is also made even thinner for a more sophisticated and elegant look that goes with your iconic sense of style.
Price: realme C55 (6GB+128GB): PHP 8,999 / realme C55 (8GB+256GB): PHP 10,999
Still, having a tough time deciding on which realme C-Series smartphone to get for yourself or your loved ones? Fret not as all variants of the realme's C-Series are available in all 5000+ realme stores and kiosks nationwide or online through realme's official flagship stores in Shopee and Lazada.
Know which realme C-Series smartphone is the best for you by visiting the realme official website. Keep updated on the latest by following realme on Facebook and Instagram.