Everybody loves a good cup of cafe-quality premium coffee. If there is one thing that can be better than it, it's to have it just within reach — like water on tap. Coffee on tap is a concept usually identified with cafes or restaurants, but did you know that you can now have it at home, too?
KARAF COFFEE is the Philippines' FIRST and ONLY ready-to-drink, boxed coffee on tap. It offers a unique and healthy espresso-based blend that's made from partly locally sourced premium green coffee beans and choice Arabica. Have good-tasting coffee anytime of day and enjoy great conversations with Karaf Coffee's convenient "bag in a box with tap" packaging that helps keep it fresher for longer.
For the love of coffee
Born out of a mutual love for coffee, partners Jil Torio and Kathy Lim formally launched Karaf Coffee this year, after developing the product at the height of the pandemic in 2020. Coming from different backgrounds — Jil was in sales and Kathy is a practicing interior designer formerly based in Singapore — their passion for coffee has led them to their best moments in life. "Coffee has been like our 'go-to' for everything, whether through celebrations or comfort for defeats. We just always find a reason to have coffee together. It's been like that for the past 13 years of being together," says Jil.
"We both have shared a lot of happy conversations and made a lot of interesting discoveries about each other. Throughout those years, coffee has been in the middle of it all. It has given us opportunities to encourage one another and also to take time and slow down together. Especially in times when we both didn't feel like everything's going as planned, we've always had our coffee and conversations to cheer us up," says Kathy.
Realizing how much coffee has influenced their relationship and their lives (Jil used to work part-time at a well-known coffee shop in Manila, where Kathy would sit in to do her plates for college), Jil and Kathy aspired to pay the love forward to fellow coffee-lovers. When the pandemic forced everyone to stay at home, little comforts and conveniences like having coffee in your favorite cafe, whether alone or with friends, suddenly became an extraordinary activity. "We sure know that there are individuals who badly need a tap right now as we speak," Jil said, understanding how this simple act could actually mean a lot to someone who finds joy and energy from a humble little cup. And thus, Karaf Coffee was born.
A little seed that grew
The idea behind Karaf Coffee is to solve a common problem that all iced coffee lovers have: "Don't we all just hate paying P130 to P150 for iced coffee, which tastes so good in the first few sips only to become bland and watery after the ice has melted down?"
The Karaf Coffee boxes help retain the iced coffee's flavor consistent and intact allowing it to keep up with long conversations. Inside the boxes, which Kathy herself designed, are bags made out of high-technology VMPET/PE/NY (vapor metalized polyethylene terephthalate/polyethylene/nylon) sheets, which all contribute to sustaining the freshness of coffee and keeping both low and high temperatures of coffee for hours in a given typical indoor setting.
It is also environment-friendly as the boxes can be recycled or repurposed into other things. "We are currently working on a partnership with a local manufacturer who would help us turn our used Karaf Coffee boxes and bags into well-designed furniture for homes. But in the meantime, we encourage our customers to use their creativity to turn their Karaf Coffee boxes into plant boxes or other useful things," says Jil.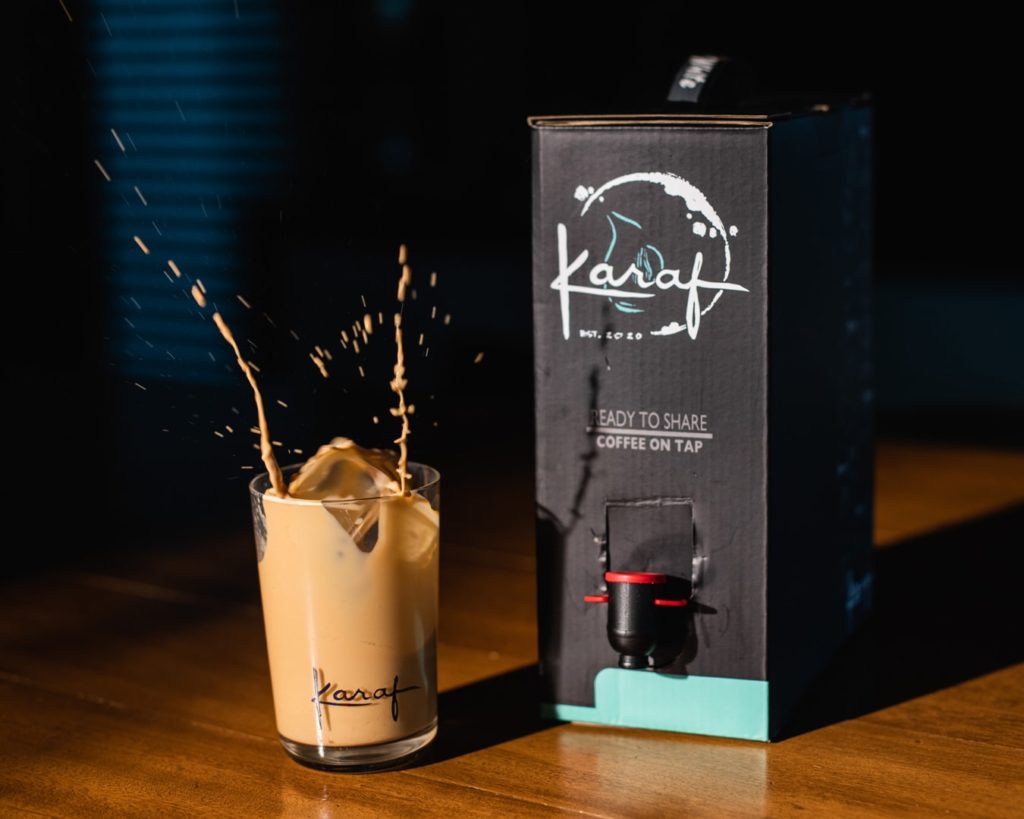 Enjoy sweeter conversations with Karaf Coffee
The first-of-its-kind in the country, Karaf Coffee is the only boxed espresso-based drink that's big enough to be enjoyed by the whole gang. It comes in 1-Liter and 3-Liter sizes and two unique variants:
Clean Black

– Karaf Coffee's signature espresso blend made from locally sourced premium green coffee beans and imported Arabica beans. Great choice for fans of the Americano. (P499/1-Liter | P1,199/3-Liter)

Dirty White

– A combination of Karaf Coffee's Dirty Black and specially crafted non-dairy milk. Perfect for Latte lovers. (P649/1-Liter | P1,599/3-Liter)
To order, go to http://www.karafcoffee.com.
Like and follow @karafcoffee on Facebook and Instagram to learn more.