The most eco-friendly Nokia smartphone yet, the Nokia X30 5G sports a new planet-friendly design made of robust and recycled materials but with zero compromises on performance including the best-ever PureView photography. The best of the C-series at an accessible price point, the Nokia C31 presents signature durability, an improved 6.7" HD display and a long-lasting three-day battery life1 with AI-powered battery-saving features.
Ravi Kunwar, Vice President APAC & GCR, HMD Global:
"At HMD Global, we are thrilled to introduce a phone that is eco-friendly to its core. Nokia X30 5G combines our passion for helping our users keep their devices for longer without costing the earth. The Nokia X30 5G will also be available in Hong Kong, Malaysia, Taiwan, and Thailand."
Sancho Chak, General Manager, Pan Asia, HMD Global:
"We at HMD Global believe Filipinos should be able to enjoy a great mobile experience that delivers the longevity that fans have come to expect from a Nokia phone. We are delighted to introduce the Nokia X30 5G which not only is eco-friendly to its core but also delivers the best Pureview photography. And the Nokia C31 is a true testament to the C-series which is all about making quality and durability accessible devices."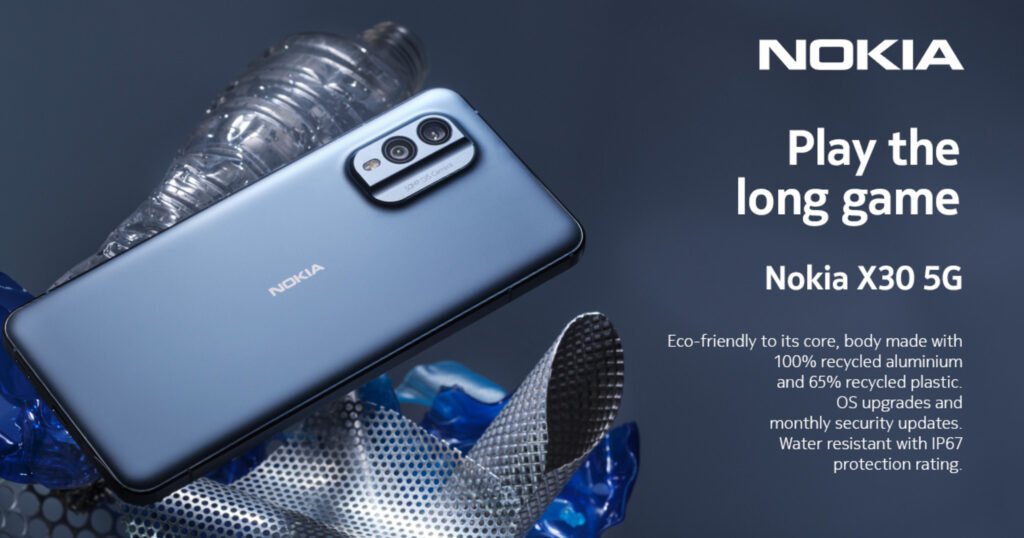 The most eco-friendly Nokia phone yet – inspired by nature, built to protect it
Love it: Made with 100 percent recycled aluminium and 65 percent recycled plastic, Nokia X30 5G delivers the brand's smallest eco-footprint to date and brings premium features including the best-ever PureView photography
Trust it: Nokia X30 5G comes with three years of monthly security updates1 and a signature two-day battery life2
Keep it: Nokia X30 5G has been built to push the limits of smartphone life expectancy. It is protected by a big three years of warranty3 and delivers 3 OS upgrades. Plus, it's designed for everyday life, with a robust metal frame and a touch display
The Nokia X30 5G is HMD Global's most eco-friendly smartphone yet right through to the box it comes in. Designed in Finland with less plastic and fewer chemicals, the smartphone is built from a 100 percent recycled aluminium frame and 65 percent recycled plastic back. The reduced packaging size – made possible by the decision to remove chargers from X-series to tackle e-waste – saves on transportation CO2 emissions. Using 100 percent FSC certified and 94 percent recycled paper boxes, HMD Global seeks to promote responsible forestry and support the circular economy. This all means that Nokia X30 5G delivers the smallest eco-footprint of a Nokia phone to date.
Packed with new, game-changing features
Take breathtaking imagery with the big pixel 50MP PureView camera which uses AI and Optical Image Stabilization (OIS) to capture content in even higher detail. The Nokia X30 5G features an all-new, intuitive dropdown menu giving users faster access to the most used camera settings. Capture Fusion brings the power of the main camera to the ultra-wide-angle shots, for more details in the centre of the picture. While Night Mode 2.0, with Dark Vision, Tripod Mode and Night Selfie, give sharper and more vibrant shots even after sundown.
Nokia X30 5G's camera is also protected by Corning® Gorilla® Glass with DX+, permitting 98 percent of all light through the lens to deliver industry-leading optical performance and scratch resistance.
Sporting the best display on a Nokia phone yet, Nokia X30 5G with its 6.43" 90Hz PureDisplay delivers a smoother, more responsive experience. The AMOLED PureDisplay technology means more brightness and vibrant colours to make streaming, scrolling, browsing, and holding the device a joy.
Power up faster than ever before with 33W fast charging and enjoy it's signature two-day battery life remaining healthy even after years of charging. Equipped with Qualcomm® Snapdragon® 695 to optimise the potential of 5G, Nokia X30 5G is ready for long-term use.
Safe, secure and up-to-date for years
The Nokia X30 5G comes with standard three OS upgrades so users can enjoy new features way beyond Android™ 12. Equipped to store the most private and personal information securely, the device has up to three years of monthly security updates guaranteed for the user's peace of mind. HMD Global's activation and device performance data are all stored on servers in Hamina, Finland and protected by rigorous European data laws.[KB(TH2]
For businesses – Nokia X30 5G is verified by Google Android Enterprise Recommended.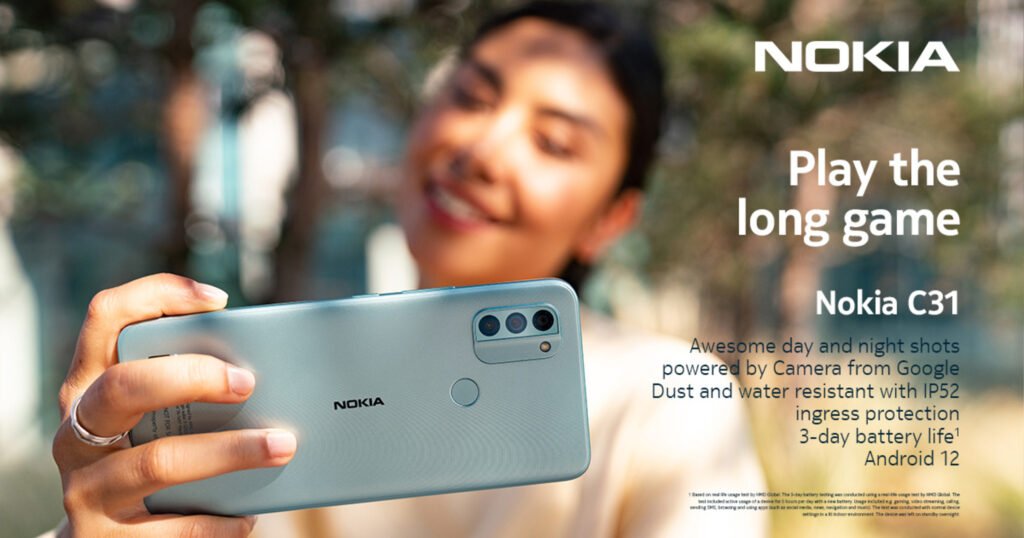 The best of the C-series at an ultra-friendly price point
Love it: Nokia C31 comes with Android 12, an improved 6.7" HD display and triple rear and selfie cameras powered by Camera by Google
Trust it: Nokia C31 sports an AI-powered three-day battery life1 and two years of quarterly security updates for maximum security
Keep it: Nokia C31 has superior durability with IP52 protection from the elements from one of the toughest manufacturing standards in the world
The Nokia C31 is always robust and reliable. A device that is beautiful to look at and tough under the surface, the Nokia C31 has met industry-leading durability standards required by HMD Global, so users know it can handle life's most hectic moments, courtesy of IP52 protection and durable build quality.
An incredible three-day battery coupled with AI-powered battery-saving technology ensures Nokia C31 is one's trusted partner to do and go wherever one wants. Super Battery Saver mode lets users choose where energy savings should be made, so they can still access the key feature needed when they're running on low battery.
Capture all memories in dazzling quality and enhance day-to-day experiences
Nokia C31's triple rear and selfie cameras powered by Camera by Google deliver incredible images day or night – including beautifully blurred portrait shots on the selfie camera and powerful night imagery. Fans will never be surprised by the "storage full" notification – Nokia C31 tells exactly how much storage users have left for all of their memories.
The improved 6.7" HD display brings users' experiences to life in brilliant definition, whether when streaming their favourite show, answering emails on the sofa, or taking a trip down memory lane looking through photos. It also comes with the GoPro Quik App pre-installed so users can shoot, edit and share their creativity from anywhere.
Reliable security features
As concerns about how companies use personal data continue to grow, Nokia C31's updated privacy controls give users power over their own information. The device's security is convenient with its fingerprint sensor and face unlock that works even with a protective mask on, for quick yet secure access. Signature HMD Global security promises are included as standard, so fans can get two years of quarterly security updates.
Optimal android innovations
Taking full advantage of Android 12, the Nokia C31 lets users enjoy the newest innovations from Google. Dynamic colour personalities, the look and feel of the phone based on its wallpaper, and conversation widgets put the people users care about front and centre on the home screen. This form of software with fewer preloads means one can maximise their data plan and storage.
Pricing and availability
The Nokia X30 5G comes in 8/256 GB memory and storage configurations, and in Cloudy Blue colour. The device can be purchased for Php 27,990 and will be available first on Lazada.
The Nokia C31 comes in 4/128GB memory and storage configurations, in Charcoal and Mint colours priced at Php 8,490.
The devices will be available in all Nokia mobile authorised resellers online and physical stores nationwide starting October 28, 2022.