Doze off in comfort with the AIRism beddings from UNIQLO and experience the light, moisture-wicking, and quick-drying material that will help you get a good night's sleep.
UNIQLO has finally added a bedding option to its line of AIRism products. The innovative and  lightweight fabric that provides a cooling effect was initially offered through the Japanese brand's innerwear and underwear line.
Personally, I've always been a fan of the AIRism clothing line, so imagine my excitement when I found out that UNIQLO is finally launching its AIRism beddings here in Manila. In case you didn't know, Airism is Uniqlo's cooling fabric that releases heat and absorbs sweat, perfect for our tropical weather.
The AIRism sheets come in single (PhP 1,490), semi-double (PhP 1,990) and double (PhP 1,990) sizes and in four colors: white, gray, pink, and dark brown. Unfortunately, queen and king size bed sheets are not yet available in the Philippines. AIRism pillow covers are also available to complement the bed sheets which are available in two sizes, medium and large, for only PhP 390 each.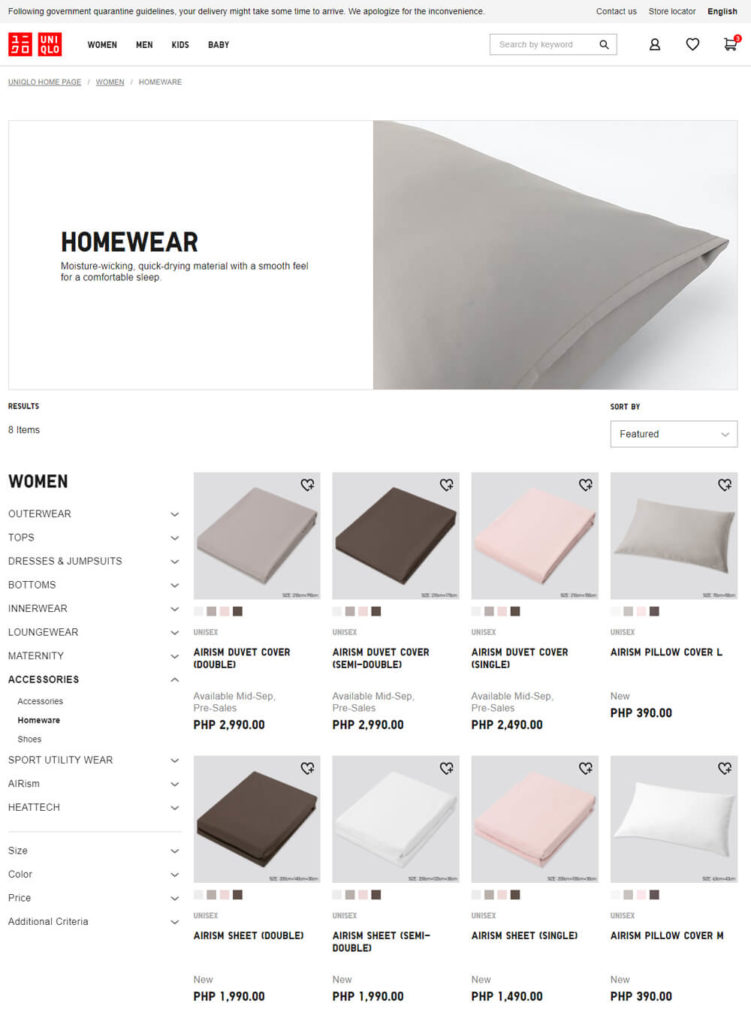 The UNIQLO AIRism sheets are soft, silky and cool to the touch. It is packed with comfort features so you stay fresh and sweat-free that will surely give you a better night's sleep and help you wake up rejuvenated. So if you're a fan of UNIQLO's AIRism products like me then these bed sheets and pillow covers are a must-try. The UNIQLO AIRism Sheets and AIRism Pillow Covers are available on their online store. I already ordered mine via the UNIQLO app. I can't wait to sleep on them soon.
Related Article: UNIQLO's AIRism Face Masks Will Soon Be Available Here In Manila
So what do you think? Are you excited for the UNIQLO AIRism sheets? Let us know in the Comment section down below.
For more updates, customers may visit UNIQLO Philippines' website and follow social media accounts, Facebook, Twitter and Instagram.