One year since its official launch in the Philippines, the airasia Super App continues to mark its stamp as a key travel industry player with a 93% growth in total seats sold on its OTA platform in the Philippines alone, and expanded its list of key hotel partners to include notable names such as Chroma Hospitality, Newport World Resorts, Astoria Hotels & Resorts and Henann Group of Resorts.
Travel remains a core part of the airasia Super App's business, with the online travel agent (OTA) and hotel booking platform taking the lead. Among the top airlines booked via the airasia Super App in the Philippines are Philippine Airlines, Scoot and Jetstar, with domestic destinations of Siargao, Coron and El Nido as top destinations, alongside popular international destinations in Thailand, Singapore, Malaysia and Indonesia.
Notable names in the hotel industry such as Astoria Hotels & Resorts, Henann Group of Resorts, Belmont Hotel Boracay, Dusit Thani Manila, JPark Island Resort and Waterpark, La Carmela de Boracay Resort Hotel, Lime Hotel & Resorts, Movenpick Resort & Spa Boracay and many more have also been onboarded to the airasia Super App, giving travellers more choices and better value with the best rates through direct partnership. Hotels in Manila, Boracay and Cebu proved to be most popular amongst airasia Super App customers in the Philippines.
There are over 700 airlines available on the airasia Super App's OTA platform, and more than 900,000 hotels worldwide for every traveller.
airasia shop, the duty-free shopping platform of airasia Super App, has also increased its SKU by more than 450%, which also includes international brands such as Johnnie Walker, The Ordinary, AirAsia (airline), Adidas, Nike, Face Republic, Magwai, and Perfume Dessert. Last year, the platform also introduced its inflight delivery option, where customers can pre-book their shopping before boarding their flight, and have their orders hand delivered to them by the cabin crew during their flight.
The platform's loyalty programme, airasia rewards, was also introduced to the Philippines, where app users can now earn and spend points on flights, hotels and duty-free shopping transactions. Currently, airasia rewards have exceeded the two-million-member mark by the end of 2022, and was also recognized as one of the best Loyalty Programme for eCommerce and also best Card-Based Loyalty Programme during the Loyalty & Engagement Awards 2022.
Ray Berja, Managing Director of airasia Super App Philippines said, "As we enter our first anniversary milestone at airasia Super App, we are glad that Fillipinos have responded well to our offerings, especially within the travel vertical. From flights to hotels and travel retail such as online duty-free shopping, we will continue to stay true to the airasia DNA, which is providing the best value for our customers, as well as our business partners.
"I would like to attribute my greatest appreciation to every Allstar who has worked tirelessly in the past year to make this happen. The team has been the prime mover behind our tremendous growth so far and has shown great agility and drive in our journey. Your work has been an inspiring light as we strive to bring our business to greater heights."
"We would also like to thank all Filipinos for their support, but this is just the tip of the iceberg of what we have to offer as a one-stop travel platform. Do look forward to more offerings from airasia Super App's food delivery, ride-hailing and more announcements from our loyalty programme, airasia rewards in the near future, as well as the Super App Super Sale happening every month featuring huge discounts on flights from other airlines and value-for-money deals on airasia hotel."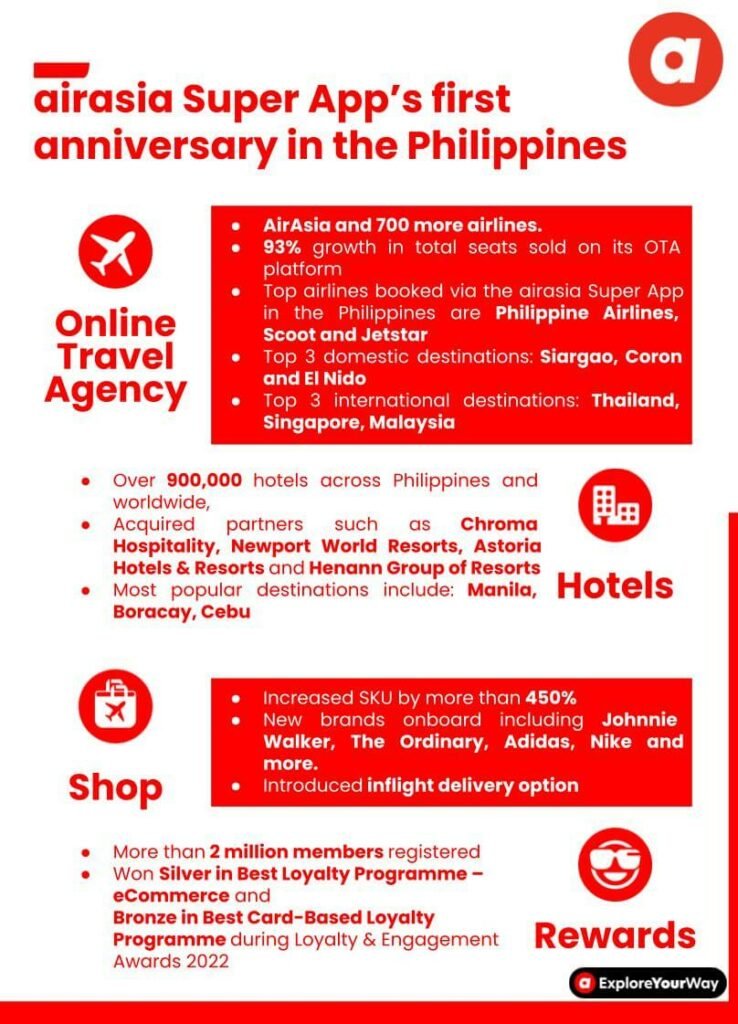 Stay up to date with everything from the airasia Super App by following @airasiasuperapp on Instagram/TikTok/Twitter or @airasia on WeChat/Weibo for the latest updates.