Given the current Covid-19 pandemic, many cities remain on General Community Quarantine (GCQ) or Enhanced Community Quarantine (ECQ) to manage the spread of the virus and keep their residents safe.
To help prevent the spread of COVID-19, GCQ and ECQ guidelines include requiring Filipinos that all are mandated to wear face masks and face shields  aside from asking people to always wash and sanitize their hands. To observe social distancing. Experts also encourage people to stay indoors and if possible, work from home. Furthermore, many establishments still operate on shortened business hours.
On top of keeping its electronic channels available and rolling out its ATM on Wheels, BDO has tried to keep as many of its branches open since the lockdown—while adhering to the highest health and safety measures to protect its frontliners and customers. This is because the bank understands the value of its service to the Filipino people. Now more than ever, people need access to their finances, to pay for utilities, loans, or even everyday essentials to survive.
When ECQ was declared in Luzon, about 130 branches stayed open last March. This number doubled to 500 a month later and reached the 800th mark in May. The following month, as more cities were placed under GCQ, 1,000 or nearly all of its Luzon branches have been serving clients. Meanwhile, in Visayas and Mindanao, all branches remained open.
Today, BDO Unibank, Inc. and BDO Network Bank branches are open across the archipelago. Moreover, they have extended banking hours until 4:00pm to accommodate more customers.
The longer banking hours for the public will go some way to lessen the rush at the counters helping keep social distancing since the majority of the people are not online customers.
According to BDO Unibank president and CEO Nestor V. Tan "We would like to thank our clients for their continued trust in BDO. From about 130 open branches in Luzon and rolling out ATM on Wheels during the March ECQ, we are now operating at 100% nationwide, thanks to the commitment and resilience of BDO's 38,000-strong workforce, a true testament to our 'We Find Ways' service philosophy."
"Each BDO branch is open for longer hours and ready to serve your banking needs, including your Forex and encashment requirements. Our frontliners undergo regular health checks and observe the strictest safety protocols, from wearing face masks and face shields, applying sanitizers regularly, and following social distancing guidelines, to keep you and your loved ones protected at every visit." he added.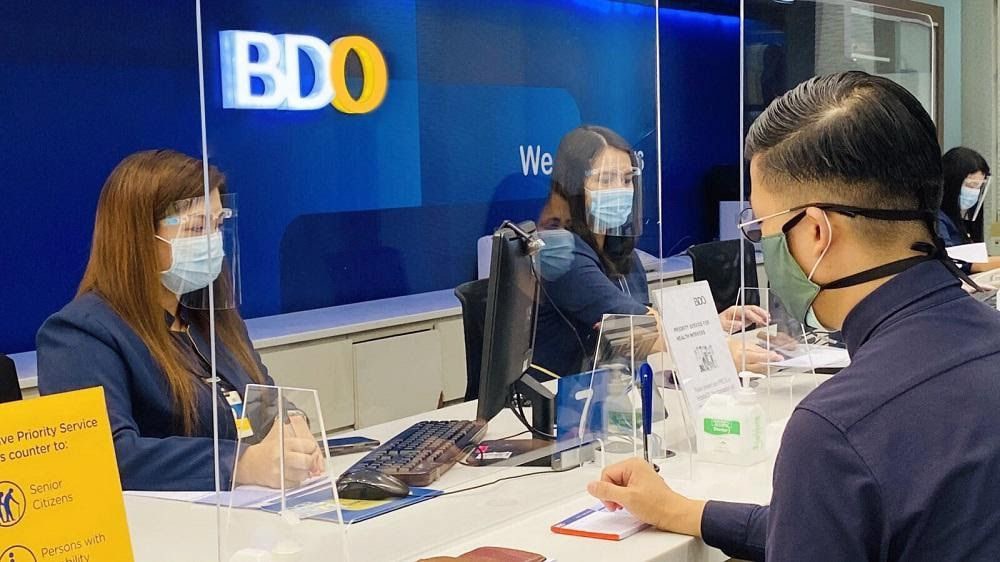 We Find Ways. BDO branches are open for longer banking hours to serve more clients. Of course, the bank reminds clients to help protect each other by wearing their face masks and face shields when side the branches.