Garmin, the leading brand of smart wearable devices, has never ceased to make breakthroughs and innovations in the market since its establishment. With in-depth scientific and technological expertise in research and development, Garmin's dominance spans across land, sea and air with outstanding achievements. Since the first Forerunner watch released in 2003, Garmin has since expanded into other markets on land, such as triathlons, mountaineering and golf, etc., establishing the highest market share in all outdoor segments.
Expanding from its footprint on land, Garmin has ranked first in the field of marine recreation since 2017. Besides other milestones, Garmin Autoland has been awarded the 2020 Robert J. Collier Trophy, which is the benchmark of aerospace achievement. Smartwatches such as the D2 and fēnix series have been selected for U.S. military use for their accuracy and reliability.
Today, Garmin continues to challenge the fearless spirit of adventurers  who take on challenges across all fields, launching the renowned fēnix 7 Series. Compared with the previous generation, fēnix 7 features enhanced solar cell efficiency and longer battery life, an offering that give users peace of mind when they take on different sports modes. This series also features the first smartwatch in the industry that comes with a built-in flashlight.
Together with the fēnix 7 series, Garmin introduces the epix — an epic device designed to set the spirit of adventure to a new urban rhythm. epix supports multisport functions, featuring a high-definition vibrant AMOLED touch screen with exceptional battery life.
"Since we launched the first fēnix smartwatch ten years ago, we have insisted in our pursuit of innovation and delivered outstanding products for the outdoor enthusiasts that ensures safety and reliability. With the launch of the new fēnix 7 series and epix, we have engineered the ultimate outdoor smartwatch with improved safety functions, advanced health and wellness features that supports limitless possibilities," said Mr. Scoppen Lin, Assistant General Manager, Garmin Asia.
Unleash the sense of adventure fearlessly with fēnix 7 series that delivers nearly 300% improved battery life performance by enhanced solar conversion rate and with the industry's first built-in flashlight
The global pandemic has changed people's lifestyle. More consumers have been paying greater attention to their health and fitness, and this grew even more during the pandemic. Outdoor sports have become the new normal in the past two years. According to the 2021 global fitness and sports trend survey announced by the American College of Sports Medicine (ACSM), smart wearable technology ranked second in the trend, and outdoor sports ranked fourth, which was the first time it entered top 10. According to the Q3 financial report, Garmin as the leading brand of smart wearables reported a 26 percent growth in outdoor GPS devices over the first three quarters, indicating an increased participation in outdoor sports. In Philippines, the outdoor GPS devices have grown 30 percent YOY in 2021 and according to Garmin's user data locally, the number of outdoor sports series watch users increased by 164 percent from 2019 to present, which shows a yearly increase in the population engaged in outdoor sports.
Seven days don't make a week, you make it. Equipped with 1.2", 1.3" and 1.4" MIP respectively, the outdoor series feature wear-resistant, scratch-resistant and anti-reflective high standard Power Sapphire, as well as highly permeable patented solar panel. By expanding the solar panels' surface and optimizing the solar cell's configuration and conductive materials, solar efficiency has increased by 200%, compared with the previous generation. The Power Manager function has been upgraded, allowing the overall battery life of fēnix 7X to increase by nearly 300 percent, achieving up to 24 days of battery life under UltraTrac Mode.
With more than 40 advanced built-in sports modes suitable for mountaineering, triathlon, bouldering, cross-country running, etc, the new Real-Time Stamina function allows users to understand their current physical strength and adjust their speed and intensity in real time. In long-distance races, it helps athletes to strategize and manage their own efforts' different intervals.
Athletes can activate the Up Ahead feature to set their strategy before the race using the Garmin Connect app that lets users create a route and mark waypoints. After syncing to the fēnix 7 smart watch, one can quickly preview pre-set checkpoints, water stations, medical stations and other route data. fēnix 7X is also the first in the industry to offer a built-in flashlight, supporting four levels of brightness and red strobe light, which can be activated in critical situations to display SOS signals. For runners who prefer to run at dusk or at night, the flashlight can be set to running cadence, and the watch will alternate between white and red lights as users swing their arm to make the lights even more prominent to enhance personal safety.
Wear epix, be epic – epix showcases a brilliant AMOLED touch screen display while providing 21-day battery life for extended usage
As golf, skiing, surfing and many outdoor sports have made their ways into people's daily lives, Garmin launches the epix – the premium GPS smartwatch for urban users who enjoy outdoor challenges yet seek style.
epix, the first in the outdoor series to be equipped with a built-in AMOLED high-definition touch screen, also features a scratch-resistant sapphire crystal lens and 45mm lightweight titanium alloy bezel, designed for the modern urban adventurer in mind.  To challenge the athletic spirit, it offers more than 40 built-in outdoor and indoor sports modes, supporting over 42,000 golf course maps and 2,200 ski resorts around the world. In addition to the upgraded sports modes, health functions and smart features, the watch still maintains an exceptional battery life for long hours of use. It can continuously record data for 30 hours under GPS sports mode, has an ample 16-day battery life under smartwatch mode, and up to 21 days when the Power Manager function is activated.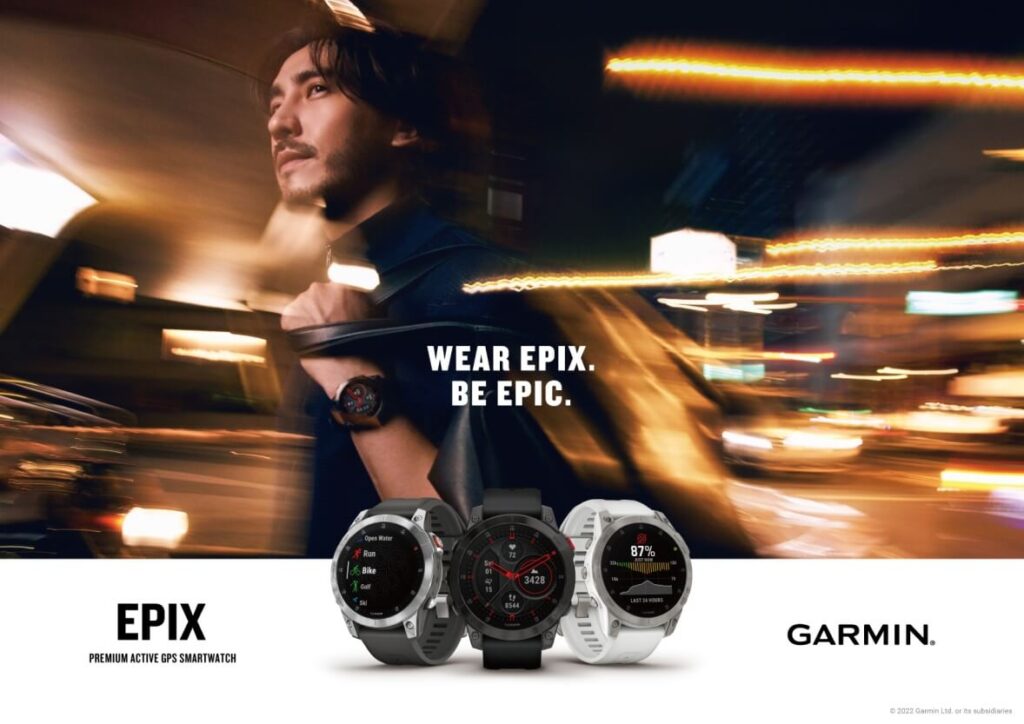 The newly launched fēnix 7 Series and epix are built to US Military MIL-STD-810 specifications, at the same time, support Multi-GNSS positioning (GPS, GLONASS and Galileo). The new Multi-Band frequency setting greatly increases positioning speed and accuracy in challenging conditions from downtown to the mountaintop.
New functions include the Up Ahead tool and Real-Time Stamina, enabling outdoor enthusiasts to set the best route beforehand and keep track of their physical strength in real time. For the first time, epix offers the flexibility to switch between touchscreen and physical button usage and supports free global maps, giving users full control in tough outdoor environments to venture on adventures.
Back to the daily life in the metropolis, both fēnix 7 Series and epix also allow users to sync their playlists with streaming music providers such as Spotify, all-day connection with smart notifications and advanced health and fitness monitoring including heart rate, stress level, blood oxygen, body battery, sleep quality, fitness age, instant health reports, giving users health and fitness insights at their fingertips.
Available today, the retail price of fēnix 7 series starts from Php 39,695 and epix at  Php50,735. Find out more about these new additions to Garmin outdoor series through their minisite: fēnix 7 Series and epix. Visit the Garmin's virtual pressroom for updates and follow us on Facebook, Instagram and subscribe to us on YouTube.