With all the challenges we are facing, staying active not only keeps our body physically healthy but also helps boost our mental health and wellbeing. As we all know exercise releases endorphins and these help make us happy and alleviate levels of depression and anxiety during this pandemic. Staying physically active will surely lessen the effects of the pandemic on mental health.
HUAWEI's smart devices are among the most popular devices available on the market today. With their sleek designs and intuitive specs, the latest audio and wearable technology from HUAWEI are a must have for tech savvy individuals such as myself.
Keep track of your health and wellness
Since the pandemic started, I've been a little more careful and more cautious about my health. Keeping track of our health is really important during the current global health crisis. Fortunately, smart wearable technology like the HUAWEI Watch 3 provides us with the ability to monitor our health and fitness levels. It is even capable of receiving notifications, text messages, and calls.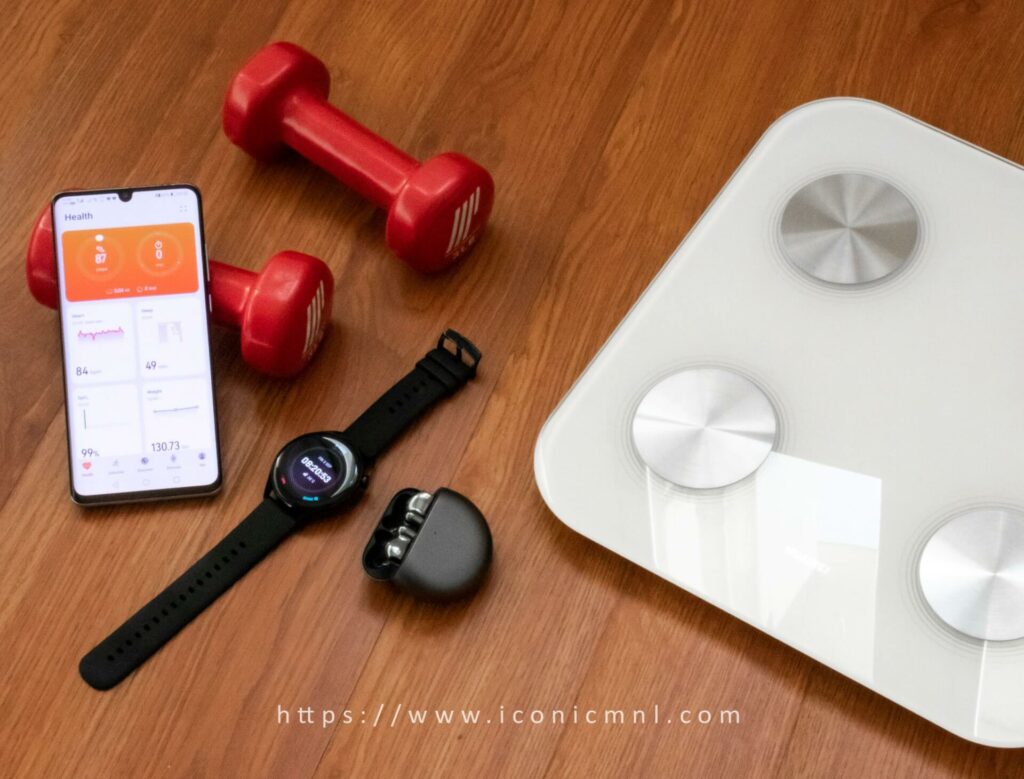 Powered by Harmony OS which operates on a unified language for the intelligence, interconnection, and collaboration of different devices. That allows seamless intelligent experience across multiple devices in all different types of scenarios. Tracking our health is important especially if you want to obtain optimum health and reach your fitness objectives. The HUAWEI Watch 3 is equipped with over 100+ workout modes including 19 pro modes, for indoor and outdoor sports, and 85 custom modes, with automatic exercise detection for the 6 most common types of workout. Aside from sports and workout modes, the HUAWEI Watch 3 is equipped with your basic health trackers coupled up with more awesome features like the ability to monitor your heart rate, measure the quality of your sleep if you wear it while you sleep and measure the oxygen saturation levels in your blood which is very efficient as the other devices used specifically for this are so expensive. It is also one of the few smartwatches on the market to offer around-the-clock temperature checks which can easily be monitored via the HUAWEI Health App. With the new HUAWEI Watch 3 you get all of these features in one device and at a price of one.
So whether you're looking to lose weight and tone your muscles or just improve your overall health, the HUAWEI Watch 3 is a perfect everyday workout companion through its seamless AI connectivity with your smartphone, audio device, wearable, and other smart devices that will help you achieve your goals.
Here's our full review of the HUAWEI Watch 3 to learn more about this awesome wearable device.
Uninterrupted listening
If you enjoy working out with uninterrupted music, then the HUAWEI FreeBuds 4 is a must have workout companion. thanks to Active Noise Cancellation features. With remarkable endurance, it can play music for 4 hours continuously on a full charge of usage while the case comes with 410mAh battery for an extra 18-hours of playtime. Thanks to the industry-leading super quick charge technology HUAWEI claims that a quick 15-minute fast charge gets you up to 2.5 hours of music playback.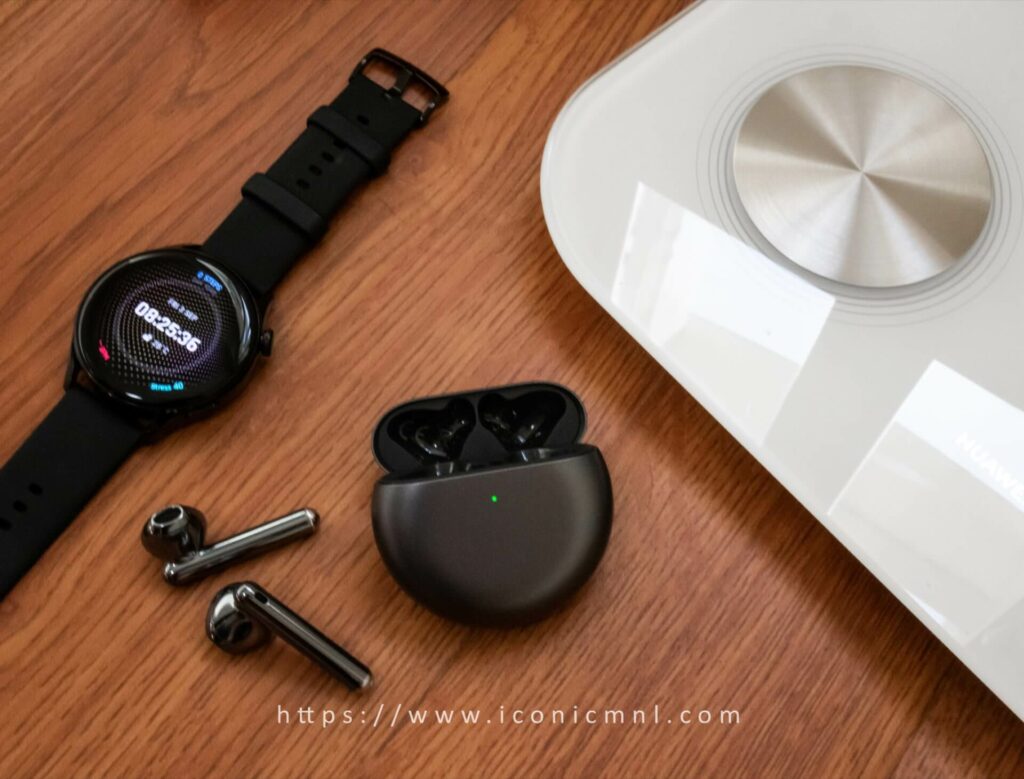 The HUAWEI FreeBuds 4 have taken its open-fit Active Noise Cancellation to new heights incorporating all-new adaptive ear-matching technology for even greater audio immersion. The new open-fit design allows air pressure to stay equalized while ensuring important environmental sounds can still be heard for a safer, more comfortable wearing experience even after long hours of use. This ear-matching technology adds some extra power to the noise cancellation effect creating an acoustic seal which reduces background noise.
It also features dual device connection that allows any two devices to be connected to the FreeBuds 4 simultaneously. Such as smartphones, tablets, PC, smartwatches, smart display under HUAWEI's all-scenario devices. This new feature allows users to enjoy their favorite music or binge-watching their favorite Netflix series without missing any calls. Basically when a call comes in, the music or show will be paused and seamlessly switched to the call.
Here's our full review of the HUAWEI FreeBuds 4 to learn more about this awesome wearable device.
Keep track of your body
The HUAWEI Scale 3 is an updated version of the HUAWEI smart body fat scale. It includes HUAWEI TruFit™, which was co-developed by Hefei Institutes of Physical Science, the Chinese Academy of Sciences, and HUAWEI. It has more than ten body indicators, as well as wifi, Bluetooth, and other features. The scale can be connected to your home Wi-Fi network to sync data with the HUAWEI cloud and install updates more quickly.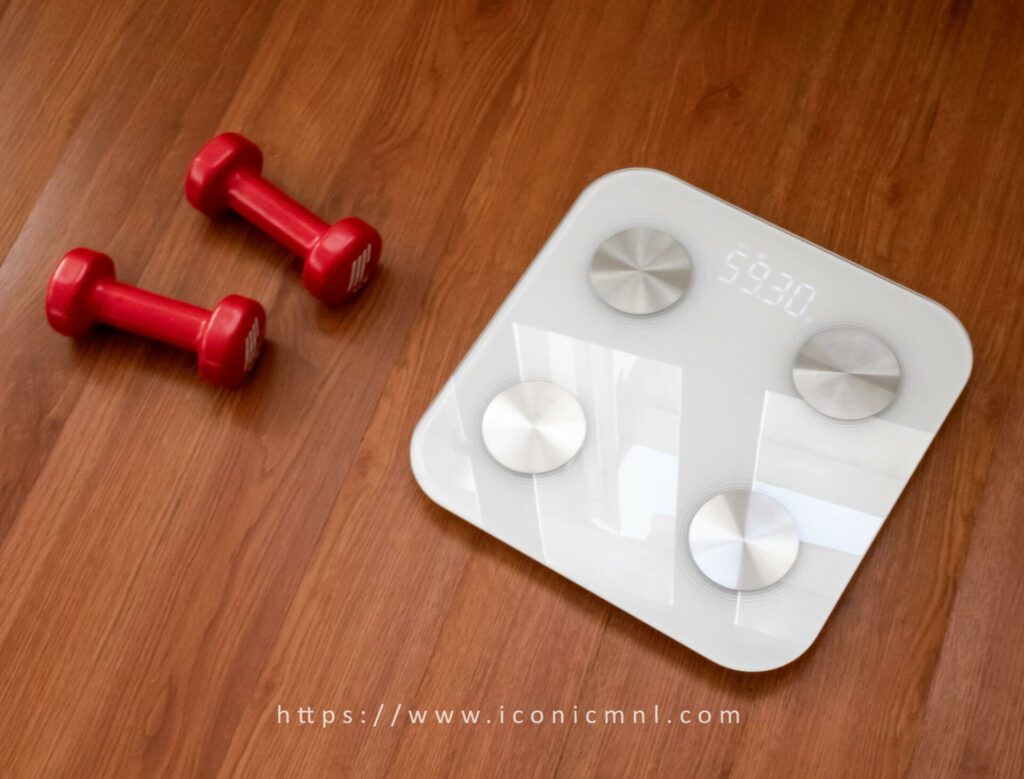 If you have a smartphone and wearables that keeps track of your activities and workouts, then the HUAWEI Scale 3 will surely help motivate you to achieve your health goals. In addition, you also get access to detailed statistics, which means you can track your calories so that you are aware of losing or gaining weight.
HUAWEI Ecosystem
We all know that each HUAWEI device is already great on its own, but it is even greater when used together. Have you ever thought how you could seamlessly interconnect your smart devices to help you in your daily life more efficiently? Like having your smartphone be used as a focal point to operate other smart devices such as your smartwatch, earphones, speakers, tablet, laptop, and more. Sounds like something straight out of a science fiction story right? Well, it's basically simple really since they came from one manufacturer they can all communicate seamlessly providing you with a better intelligent experience across multiple devices.
Thanks to HUAWEI Seamless AI Life, users can enjoy an all-scenario experience across multiple smart devices and cloud services in today's "all-connected" age. I personally use a HUAWEI P30 Pro smartphone but aside from that I also own other HUAWEI devices like the new HUAWEI Watch 3 and the HUAWEI FreeBuds 4, which are a perfect example of this ecosystem. Paired with the Huawei health app allows you to track all your exercise and health data in one place.
We know that during lockdown, working out is more important than ever, especially for those people wishing to look after their physical and mental health. HUAWEI products and services are always here to help.
Leave a comment down below and share your thoughts with us!
Want more features like this? Please follow us on Facebook, Twitter, and Instagram to get the latest trends.