The new HUAWEI FreeBuds 4 True Wireless Stereo (TWS) earbuds is finally here, it was launched alongside the HUAWEI watch 3 and HUAWEI Scale 3 Pro in the Philippines. The new FreeBuds 4 brings ANC to an open-fit ANC 2.0 technology. Aside from that it also features a lightweight comfort, high-resolution sound quality, and intelligent audio connectivity.
I finally got my hands on a pair of HUAWEI FreeBuds 4. I've now spent more than two weeks with my new FreeBuds 4 in my usual work-life balancing mode. So I'm ready to share my impressions.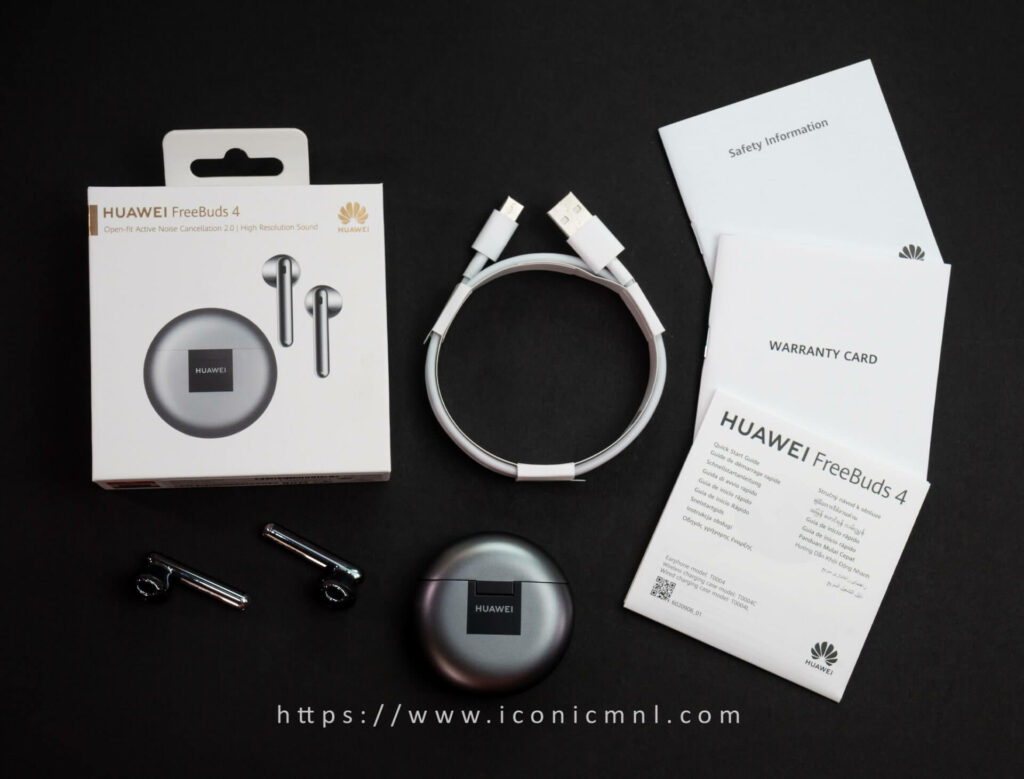 Unboxing/Accessories
We noticed that the packaging is quite similar to the HUAWEI FreeBuds 4i and FreeBuds Pro unlike its direct predecessor, the FreeBuds 3. It also has the same gold print of the company logo and the FreeBuds model name along with some of the key features of the device.
Straight out of the box, you'll find the FreeBuds 3 charging case with the earbuds inside, Type-C cable, and the paper documents including the warranty card.
Design And Build Quality
The FreeBuds 4 look very similar to their direct predecessor, the FreeBuds 3. The main difference is the case is now slightly smaller and lighter.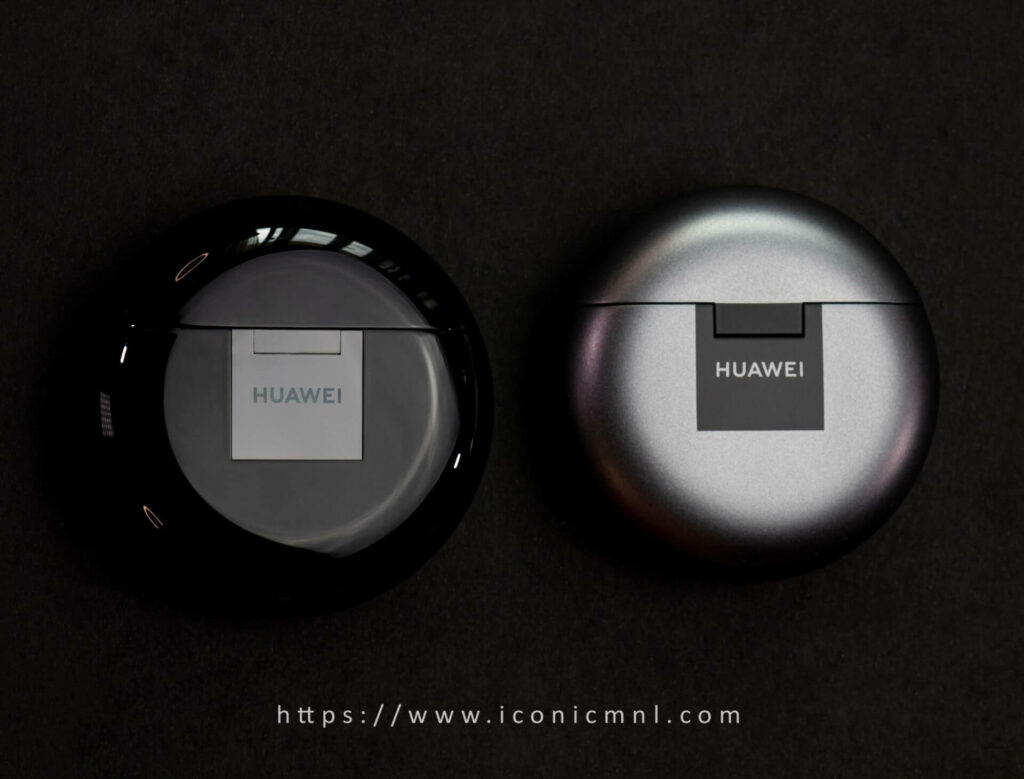 Out of the box the new FreeBuds 4 comes in a anti-fingerprint magnet matte-like metallic finish charging case. It also has IPX4 water splash resistance which means that it is safe to use during workouts.
Opening the case reveals two open-fit buds coated in a shiny chrome finish that ensures these earbuds look as good as they sound. From how it looks, the FreeBuds 4 looked very similar to the FreeBuds 3 but with a more premium look and feel to it. The rounded case is also smaller than the palm of your hand which can easily fit into your pockets. The case is also compatible with USB-C charging but unlike its direct predecessor it doesn't support wireless charging.
Open-fit Active Noise Cancellation 2.0
Following on from its predecessor, HUAWEI FreeBuds 3, the new FreeBuds 4 have taken its open-fit Active Noise Cancellation to new heights incorporating all-new adaptive ear-matching technology for even greater audio immersion. The new open-fit design allows air pressure to stay equalized while ensuring important environmental sounds can still be heard for a safer, more comfortable wearing experience even after long hours of use. This ear-matching technology adds some extra power to the noise cancellation effect creating an acoustic seal which reduces background noise.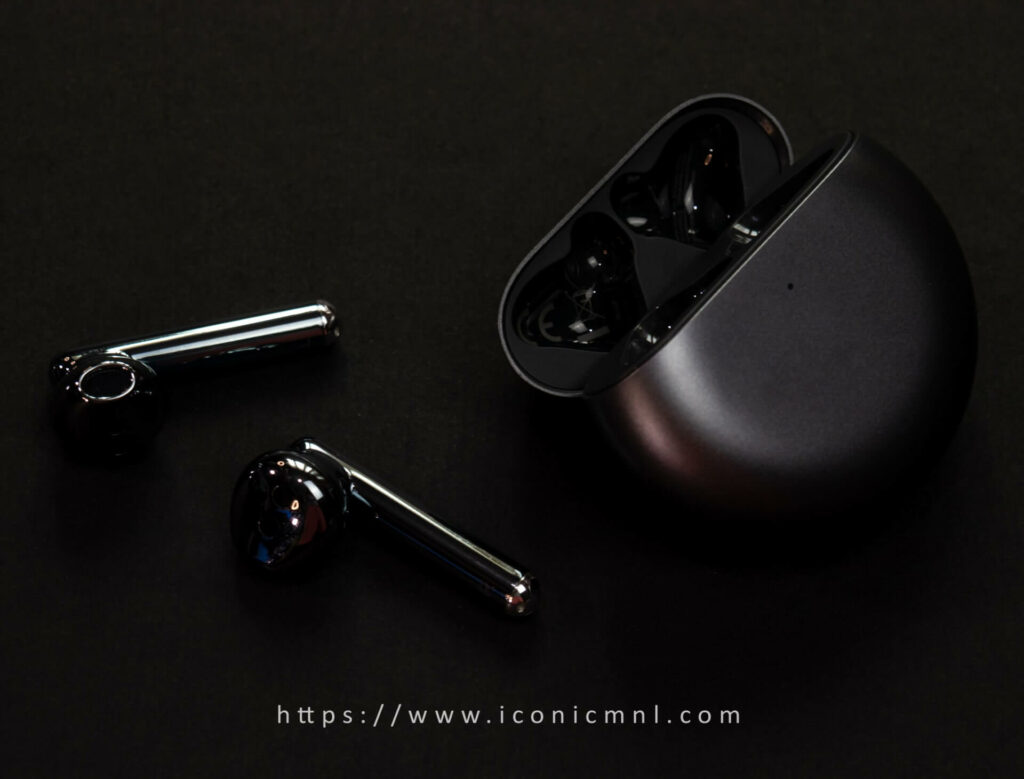 Dual Device Connectivity
Dual device connection is a new feature supported by HUAWEI FreeBuds 4 that allows any two devices to be connected to the FreeBuds 4 simultaneously. Such as smartphones, tablets, PC, smartwatches, smart display under HUAWEI's all-scenario devices. It also supports dual device connection with smart devices running on different operating systems (Android, iOS, and Windows systems) achieving simultaneous connection with smart devices of different operating systems and brands. This new feature allows users to enjoy their favorite music or binge-watching their favorite Netflix series without missing any calls. Basically when a call comes in, the music or show will be paused and seamlessly switched to the call.
Personally, this new feature is one of my favorites as I can easily switch devices without the need to unpair any device from my FreeBuds. Imagine watching your favorite Netflix series or YouTube channel on your tablet then suddenly someone is calling on your phone. Normally if your earbuds are paired on your tablet you will need to unpair them first and reconnect your earbuds on your phone to use it. Now with this new feature it lets users switch seamlessly from one device to the other thanks to the dual device connectivity. I also tried using this feature with my HUAWEI P30 Pro and another android device and it still worked.
The Audio Connection Center within HUAWEI AI Life gives a snapshot of ten recently connected devices, where users can flexibly switch devices with a simple tap.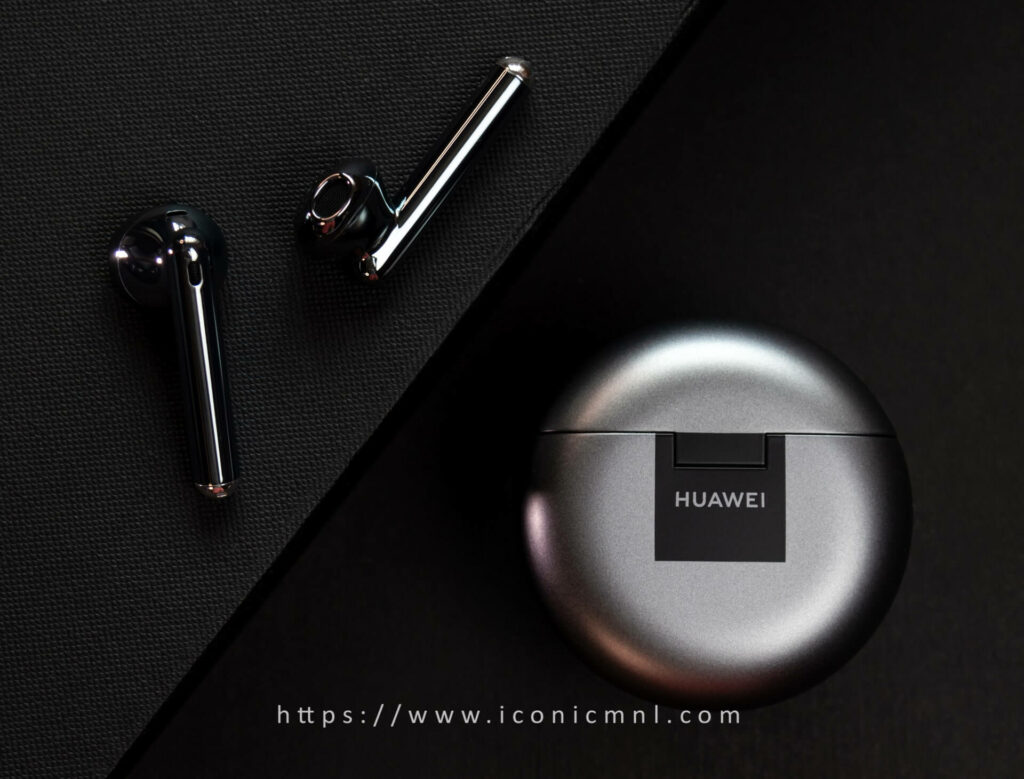 Battery Life
In terms of battery life, each buds comes with a 30mAh battery that usually gets around 4 hours (with ANC disabled) or 2.5 hours (with ANC enabled) of usage while the case comes with 410mAh battery for an extra 18-hours of playtime. Charging the device is also quick at around 1 hour from 0 to 100 percent on the earpiece.
As mentioned above, you can only charge it via the USB-C charging cable that comes in the package. Fortunately, it has a super quick charge function. HUAWEI claims that a quick 15-minute fast charge gets you up to 2.5 hours of music playback.
How To Connect HUAWEI FreeBuds 4
Pairing your FreeBuds 4 to your bluetooth device for the first time is simple. All you need to do is open the case (leave the earphones on the charging case) and push the button on the side of the case for two seconds until the LED indicator inside the case starts blinking. This will put them into pairing mode. You can then connect them to your favorite device using the bluetooth menu.
But if you own a HUAWEI smartphone like I do, your device will have an instant pairing feature. All you need to do to pair your FreeBuds 4 to your HUAWEI smartphone (I'm using HUAWEI P30 Pro) is to enable Bluetooth on your HUAWEI device then once you open the charging case for your FreeBuds 4 a pop-up message will appear on your screen asking you to "Connect" to your FreeBuds 4. Touch the button and immediately your FreeBuds 4 are now connected via bluetooth to your HUAWEI smartphone. Your device might also ask you to update your firmware. During my initial pairing, I was asked to update to the new firmware version that I actually liked because most earbuds I've tried don't have the feature to update the firmware of your device (make sure you have HUAWEI AI Life app installed on your device).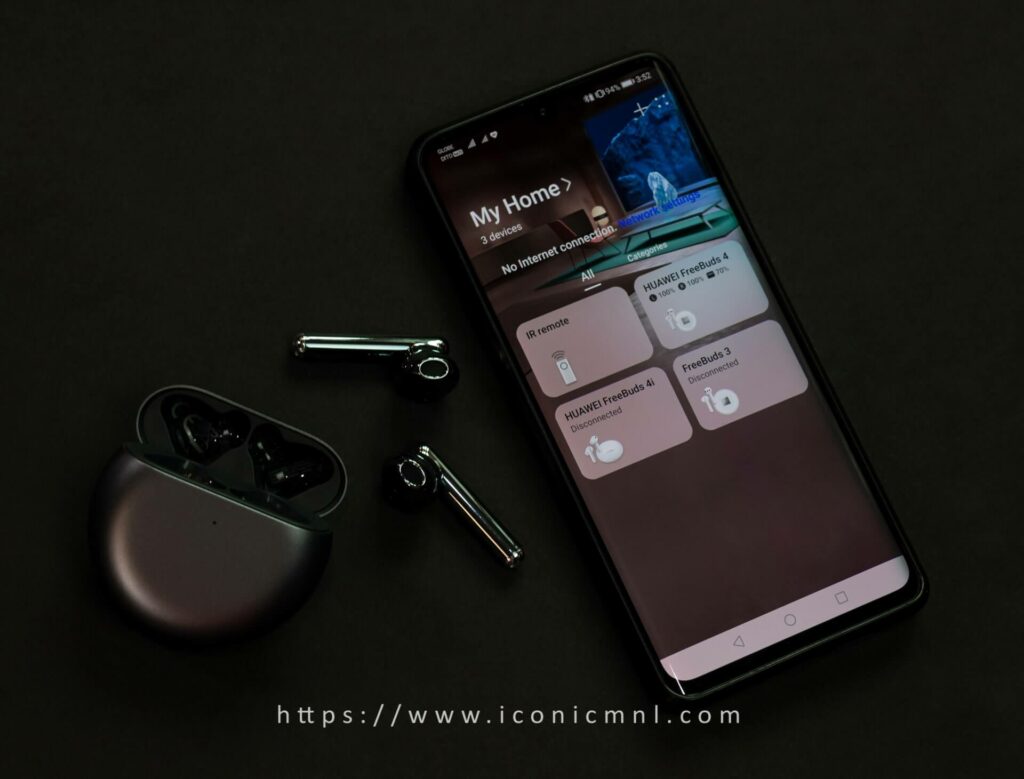 High Resolution Sound Quality
When it comes to sound quality, the HUAWEI FreeBuds 4 performed very well to my surprise. It uses an upgraded 40 kHz wide-range dynamic unit and bass enhancement engine to achieve enhanced sound quality. The 14.3-millimeter LCP dynamic driver produces high-resolution sound inside each earbud. According to HUAWEI each earbud is equipped with its own bass-enhancing power engine for greater diaphragm vibration, generating impressively deep bass you can really feel. You can also adjust EQ settings via the HUAWEI AI Life app but I find that leaving it in default is best all round.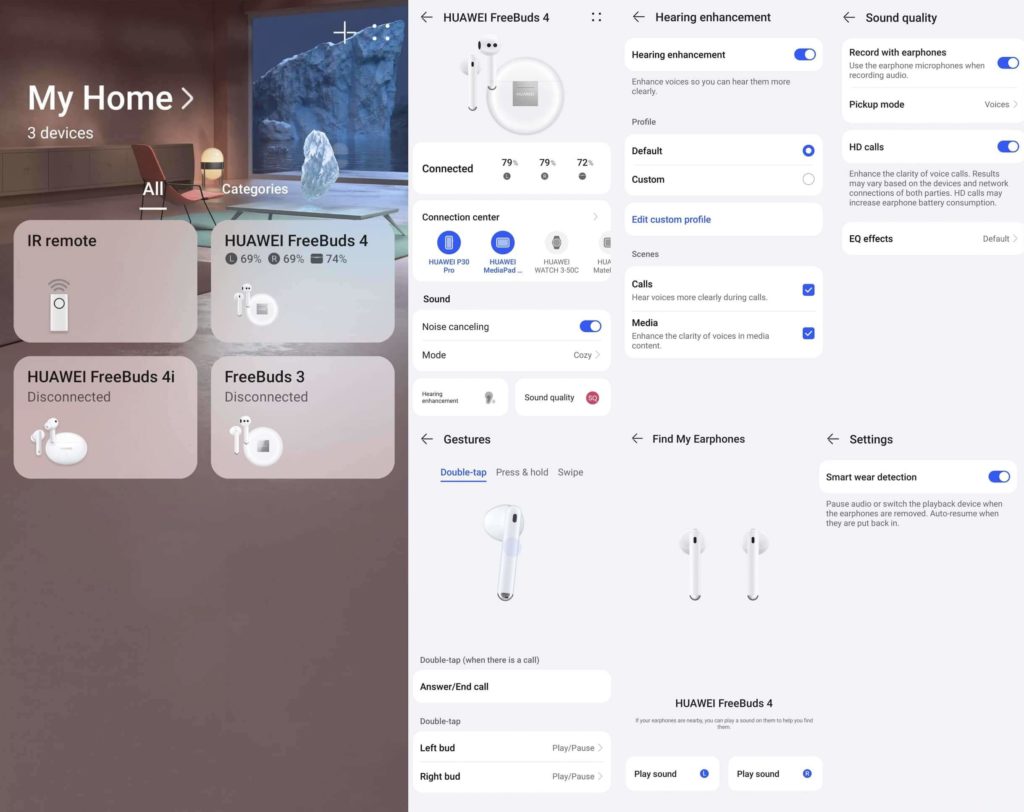 Other Features
Aside from the other awesome features mentioned above, another new feature I really like about the new HUAWEI FreeBuds 4 is the Find My Earphones function that can be accessed via the HUAWEI AI Life app. This feature lets you play a sound to help you find them when you misplace them. It kinda reminds me of the same feature from Apple AirPods without the location information that I hope to see in the future.
Just like the previous FreeBuds models it also has a wear detection feature that stops playback when you remove the earbuds and resumes it when you put them back in your ears.
Honestly this device is perfect for HUAWEI users as you can fully maximize the features of this device. The new HUAWEI FreeBuds 4 retails at Php 7,999, but for a feature packed wireless earbuds with a very good sound quality I'd still consider this a good buy especially if you compare it with the more expensive TWS alternatives such as AirPods 2, AirPods Pro, and more.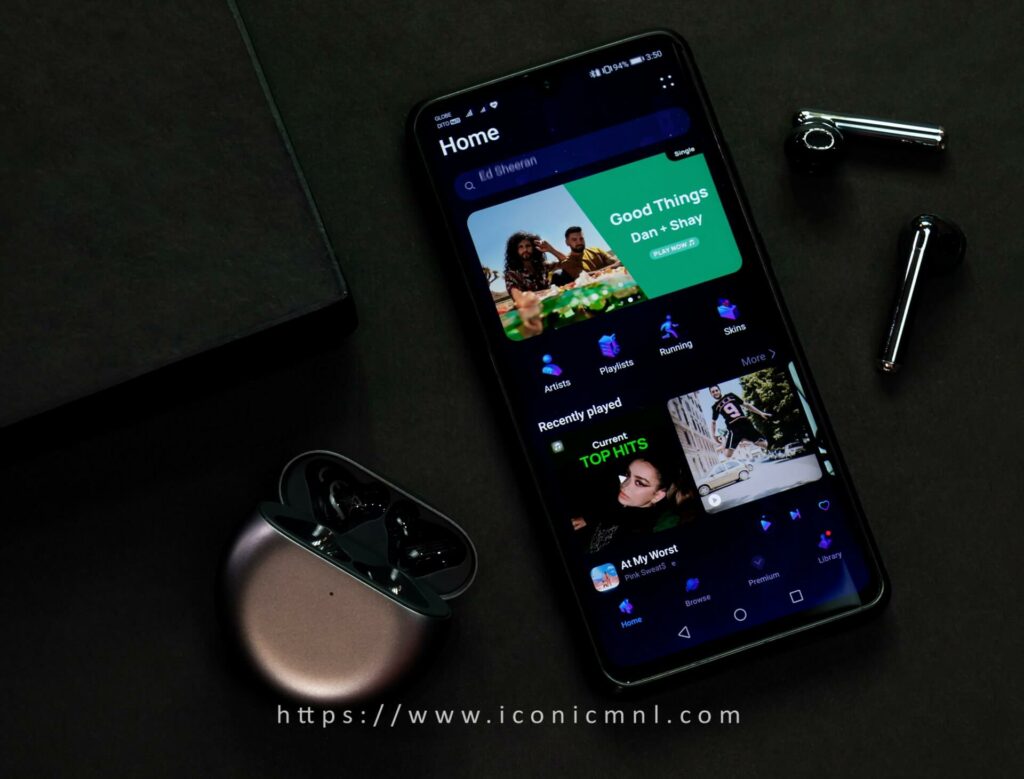 Verdict
I've been using the new HUAWEI FreeBuds 4 for more than a week now, and I was really impressed with the sound quality it produces. I actually tried listening to some tracks via the HUAWEI music app and set the sound quality settings to high-quality (HQ) 320kbps. I was really impressed with the depth and clarity the new HUAWEI FreeBuds 4 offered. We even tried turning on the sound effects presets that the HUAWEI Music app offers and set it to HUAWEI FreeBuds 4 to maximize the device capability and really loved how it sounds. I just hope that HUAWEI adds more tracks to their HUAWEI Music app since I personally see big potential if their music library grows bigger in the future.
We also love the ability to connect to dual devices with seamless switching from one device to another. Another thing I really like most about HUAWEI's newest wearable device is how comfortable it feels on my ears. Because they don't plug into your ear canal with silicone ear tips like some of the other buds, they don't get uncomfortable to wear after extended listening sessions.
PROs
✅ The open-fit design is more breathable and comfortable
✅ Dual device connectivity
✅ It has a sensor for stopping the audio when you remove the earbuds
✅ has a lot of compatible accessories you can purchase online such as earbuds lanyard, silicone case, etc.
CONs
❎ Battery life could be better
❎ The earbuds's high-polish finish is too slippery
❎ no wireless charging

HUAWEI FreeBuds 4 Specs
CPU: 356MHz Kirin A1 audio processor
Driver: 14.3 mm LCP dynamic driver
Microphone: Dual-mode 48 kHz HD sound recording, call noise cancellation
Battery: 30mAh (per earbud), 410mAh (charging case)
Sensors: Wear detection sensor
Connectivity: Bluetooth 5.2
Others: ANC, tap/swipe control, pop-up and pair, IPX4 water splash resistance, USB-C
Colors: Ceramic White, Silver Frost
Dimensions: 41.4 x 18.5 x 16.8 mm (per earbud), 58 x 21 mm (charging case)
Weight: 4.1 g (per earbud), 38 g (charging case)
Price: PHP 7,999
Price and Availability
The HUAWEI FreeBuds 4 is priced at Php 7,999. It comes in Ceramic White, Silver Frost.
Following the release last month, Huawei has just announced that the new FreeBuds 4 is now available at a special introductory price of PHP 5,980. Better hurry though, this special offer is only available from August 1 to 7, 2021 shop now via this link https://bit.ly/HWSTAYFIT
Leave a comment down below and share your thoughts with us!
Want more features like this? Please follow us on Facebook, Twitter, and Instagram to get the latest trends.