Experiences are the essence of life. Furthermore, experiences follow us wherever we go, in contrast to material possessions. We are all faced with the task of figuring out how to maximize our life experiences. Traveling is a special way to live because it allows you to disconnect from the stresses of everyday life.
The municipality of Dolores in the province of Quezon is located at the foot of Mount Banahaw which is considered to be a holy mountain and was dubbed "new Jerusalem" by devotees who visit the place every year to pray for miracles. Known not only for its natural beauty and wonders, but it also has long been shrouded in tales of the mystical and the supernatural. Local pilgrims and residents believe there is a strong parallel between biblical Jerusalem and the Holy Land, and Mount Banahaw.
If you are looking for a unique travel experience that focuses more on Faith, Tradition, and Wellness then you might want to check out some places we recently visited in Dolores, Quezon that will surely nourish your mind and soul.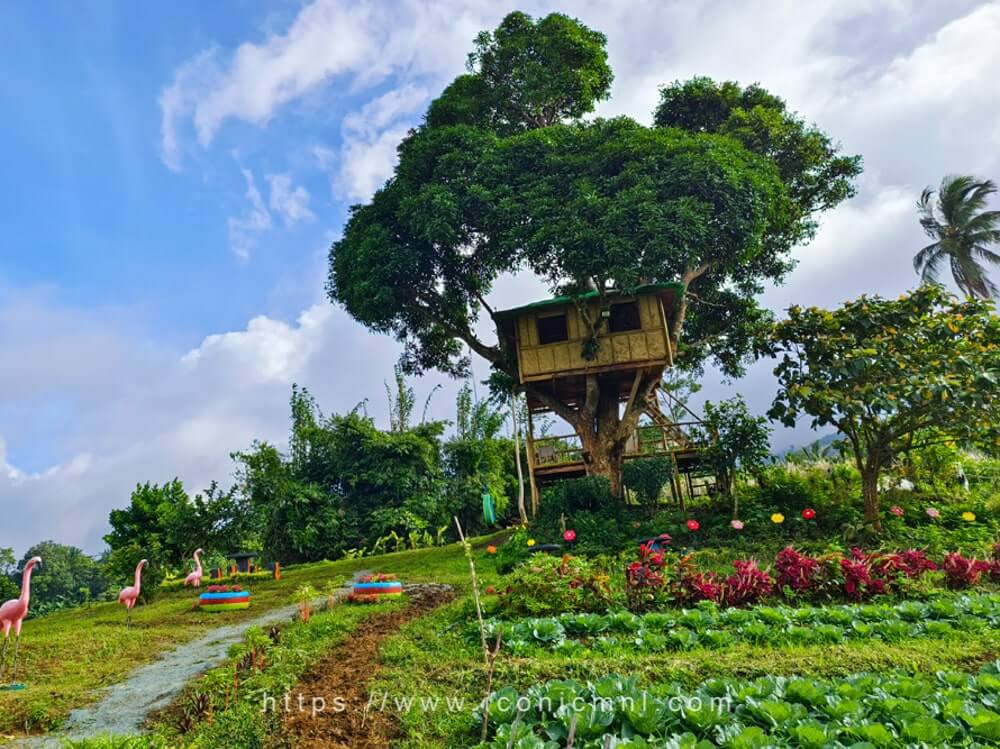 Commune with nature and experience a unique camping experience. Latag's y Vicente located at Sitio Latag, Brgy. Pinagdanlayan in Dolores, Quezon features an affordable treehouse and tent accommodation overlooking a beautiful vegetable farm and breathtaking mountain view of Dolores.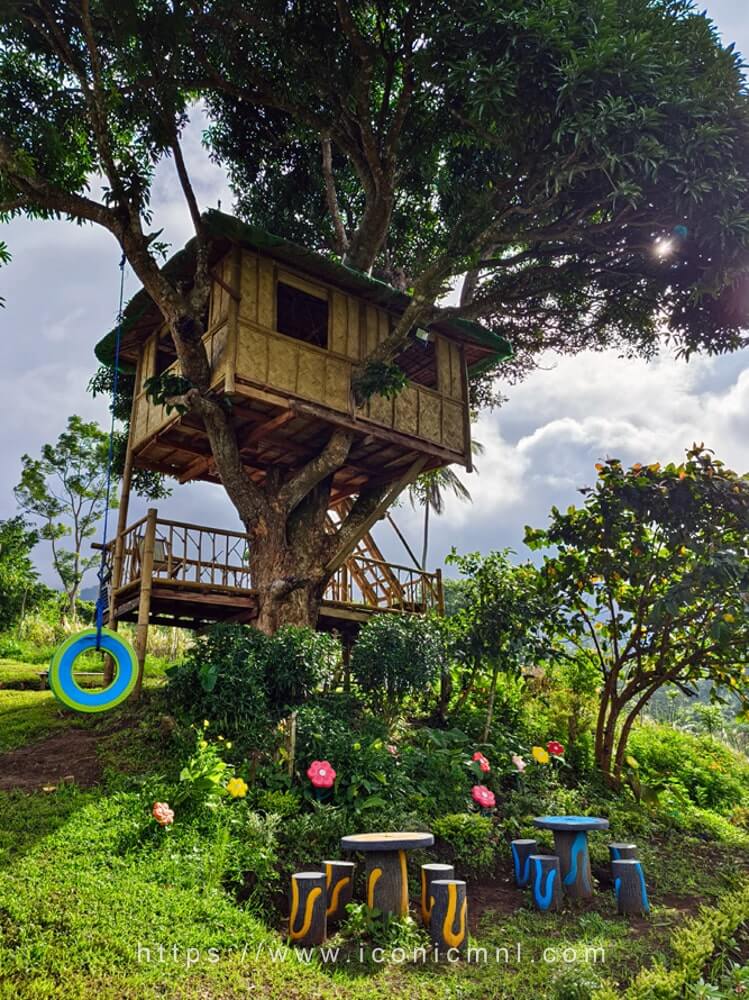 The treehouse at this campsite, which offers a stunning view of the Mt. Banahaw slopes nearby, is our favorite location. Due to its altitude, the site frequently experiences dense fog, especially in the afternoon. For adventurers like myself who want to see nature at its most basic, Latag's by Vicente is the greatest place to go.
📍Sitio Latag, Brgy. Pinagdanlayan, Dolores, Quezon, Philippines
📞 0995 824 0420
Lukong Valley Farm is a resort and a farm in one, located on an elevated land surrounded by nature with a panoramic view of their dragon fruit farm and mountain skyline.
They also have four themed cottages with private toilets and baths. They also have a Bahay Kubo, a campsite, and a pavilion to host events. Guests are welcome to visit the farm for day trips or overnight stays.
📍1 Sitio Lukong, Bgry. Pinagdanlayan, Dolores, Philippines
📞 0939 894 2586
Drive Thru Mahogany Man-Made Forest (San Mateo)
The Drive Thru Mahogany Man-Made Forest is a stretch of densely planted Mahogany trees located in Brgy. San Mateo in Dolores, Quezon. That has been a favorite stop for tourists to take pictures or just enjoy nature. Unlike the famous Bilar Man-Made Forest in Bohol, the Mahogany Man-Made Forest in Dolores, Quezon has stations of the cross that commemorate Jesus Christ's last day on Earth as a man.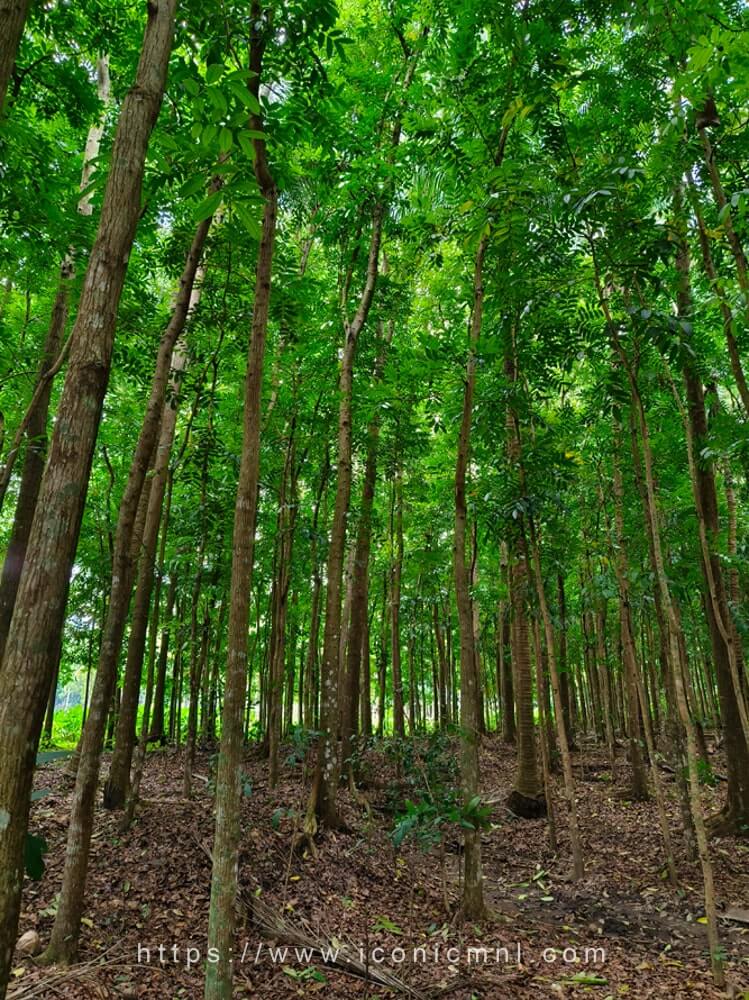 It is a mixture of delight and melancholy as we stroll in the shade of the imposing mahogany trees. Visit this place and dwell with your spiritual wellness by following the way of the cross if you want to reward yourself with some downtime in a hammock in the middle of a man-made forest.
This site is like a rare find because it is hidden, just like its name Kubli suggests. Kubli is renowned for its waterfalls as well. For visitors of all ages, Kubli Farm, Arts, and Nature Camp offer a variety of stimulating nature-based activities. These pursuits include swimming, boating, and fishing. Not only can people enjoy the scenery and activities at Kubli Farm, but the food is also a big part of a great time they have there.
Unusual foods with distinctive flavors were presented to us. The majority of it was vegan, even the 7 Sorrows-Alagao Salad, which is a blend of various herbs, crushed nuts, and vegetables topped with a special sauce. The Aubergine Croquette is a great vegan meatball for an afternoon snack. I love chicken, and the Herbed Spring Chicken adds another check to my list of chicken meals I enjoy.
📍Purok 5 Brgy. Dagatan Dolores Quezon, Dolores, Philippines
📞 0992 369 5056
Our Lady Of Mount Banahaw Temple OLMBC (Sta. Lucia)
Surrounded by three mountains: Mount San Cristobal, Mount Banahaw, and Mount Masalukot which is believed to be a "healing" location. The structure was funded by donors from other countries and was inspired by Australian Architecture. According to the owner, it can accommodate up to 1,500 people per day.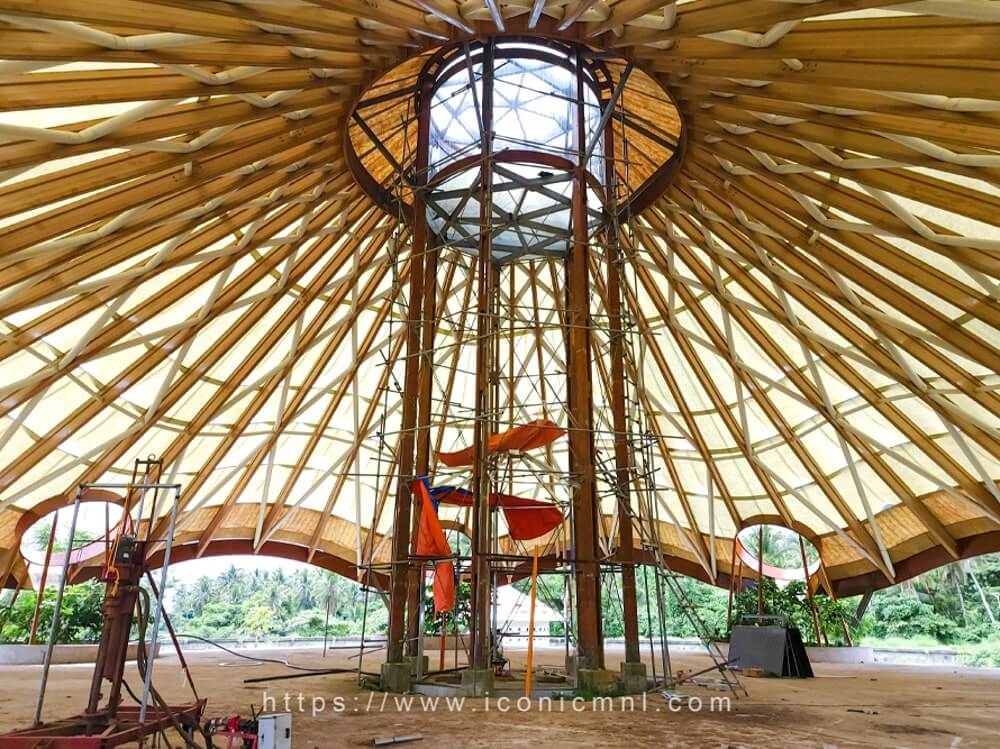 This site represents the "water" element which signifies a flowing and healing energy that contains 7 small structures which are initially planned to house different healing activities. OLMBC is also expected to open up many job opportunities or employment for the people of Dolores.
Unfortunately, the healing site is still under construction and is currently closed to the public.
📍Barangay Sta. Lucia, Dolores, Quezon
The first nature hut was built in the late 1970s when chemical engineer turned local healer "albulario" Bibiano (Boy F) Fajardo started to study indigenous healing modalities from local psychics. When doctors could not treat his rare muscular dystrophy, he went into the world of other maghihilots and learned from them until he himself became one. He was a student of the esoteric who studied the traditional hilot and indigenous natural herbs of Mount Banahaw. He was instrumental in teaching and spreading hilot nationwide and even taught this in Germany. He wrote about his research and experiences in his book "HILOT: The Science of the Ancient Healing Arts" (co-authored with Aleli Pensacola).
Boy F became very involved with the Philippine Institute for Alternative Futures (PIAF) focused on all herbal medicines as alternatives to western allopathic medicine, and in 2005 he set up ATHAG which focuses on teaching and training traditional healers the way of the hilot. Today, ATHAC continues to train through seminars and workshops.
Boy F is an original member of the #banahawcircle a loose group of friends who built homes and came together to enjoy and study the mystical traditions of the sacred mountain Boy F passed away in 2018 leaving his organic NATURE VILLA made of old wood he loved and collected, to his wife Merle and children LJ, Bubbles, and Tonia. It is the first structure under the Banahaw Circle Nature Retreat managed by Banahaw Tres Marias Resort Inc.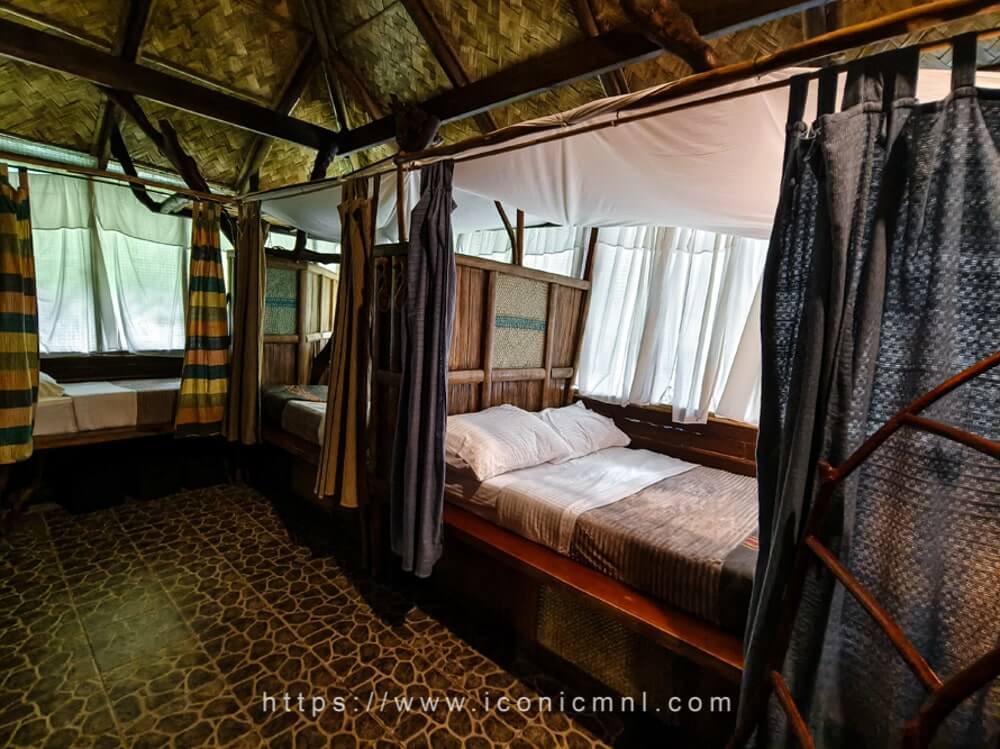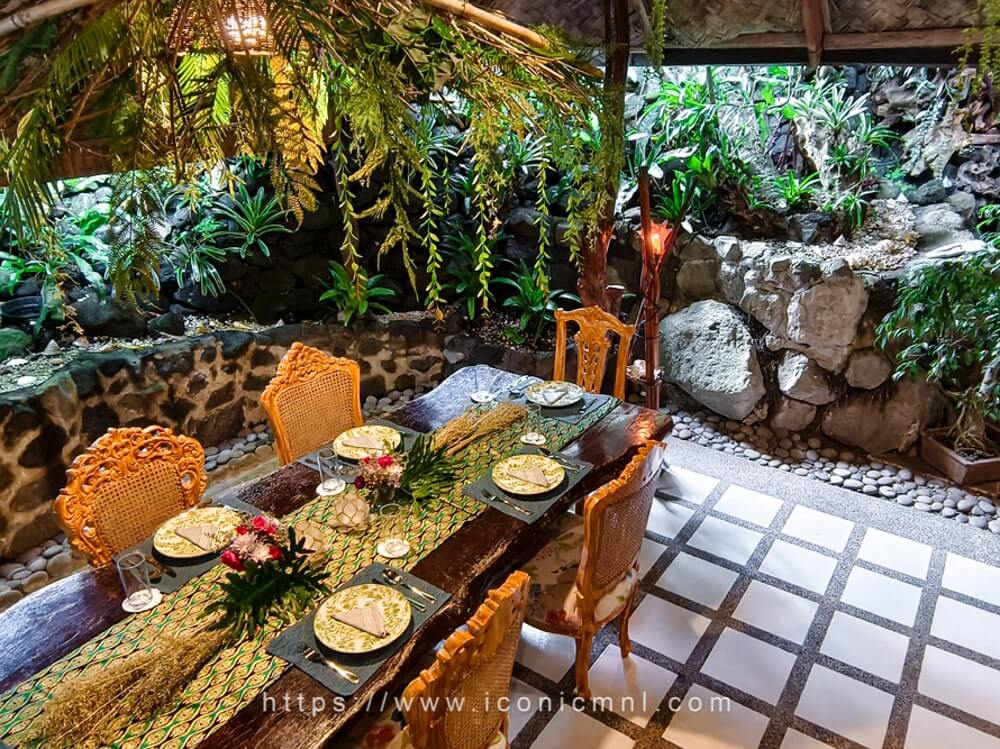 One of the Banahaw Circle Nature Retreat's owners, Jeannie Javelosa, who goes by the moniker "Tres Marias," serves as our tour guide as we explore this work of art that was inspired by nature. The lodge is a contrast study, with openness in some spaces and warmth in others. It also demonstrates respect for the environment by using stones and wood from the location and showcasing the beauty of their rustic textures. The stone walls and floors within give the impression that one is inside a cave.
The house has seating areas that overlook the trees. The late healer constructed a 15-bed dormitory with privacy curtains in addition to the basic private rooms. As of this writing, more rooms that are a part of its expansion plans are still being built.
Slow Food
We were served a sumptuous lunch, which they described as Slow Food.
Slow Food traditionally cooked dish made with indigenous ingredients holds within it the history and culture of a specific people. The slow food movement is still thriving in the Philippines and around the world, which is great news for advocates, producers, and environmentalists.
📍#387 Holy Trinity Compound, Brgy. Sta Lucia, Dolores, Philippines
📞 0998 405 8149
Mt. Banahaw amulet (anting-anting) stores
There is a characteristic of the Filipinos that unites us with all other cultures. The supernatural has always captivated man, and he has yearned to control its abilities. A supernatural element is said to be able to be stored in an item through particular procedures and activated when needed. These things are known as "agimat or anting-anting".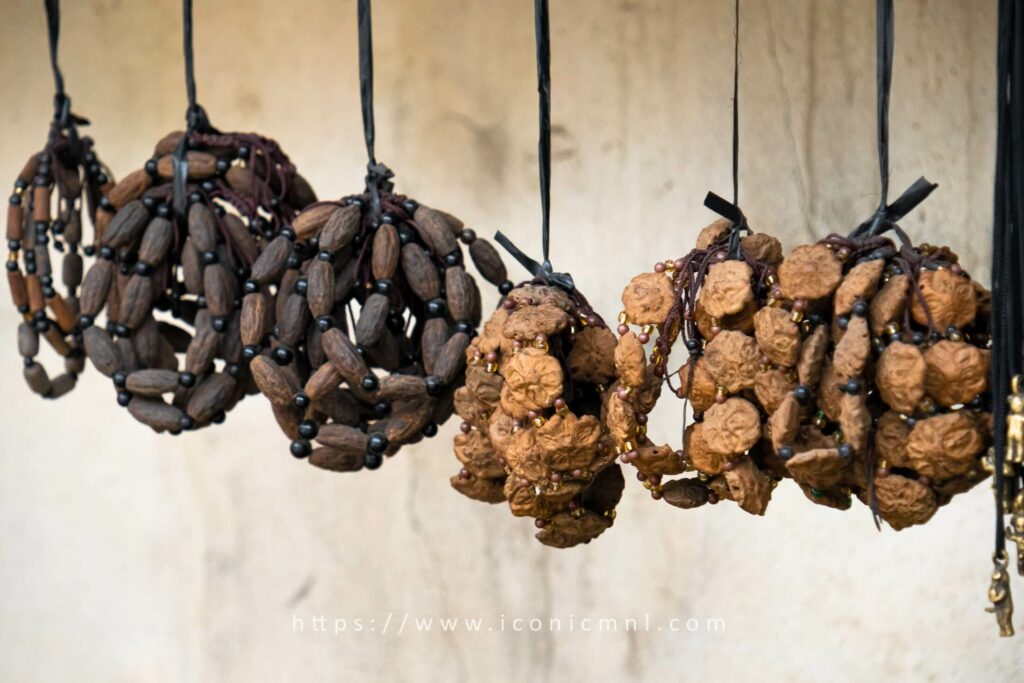 At the foot of this mystical mountain at the town of Dolores is where you will find stalls that are selling some collection of crystals, religious items, and anting-anting or amulets that are believed to repel evil or bad luck. Anting-anting or agimat is another thing that Dolores is known for. Those who believe in the powers of amulets visit this place annually to charge their amulets, to buy a new, or have one specially made.
Alvin Avanzado Amat's three daughters are behind the project known as Everyday Eden. They didn't learn about the charm and magic the town had to offer until the pandemic when they could stay on the farm for longer stretches of time. They learned about the magnificent vegetables grown at Mount Banahaw and Mount San Cristobal's foothills. They fell in love with the fruits, veggies, coffee, honey, and most of all, the lovely people who created these.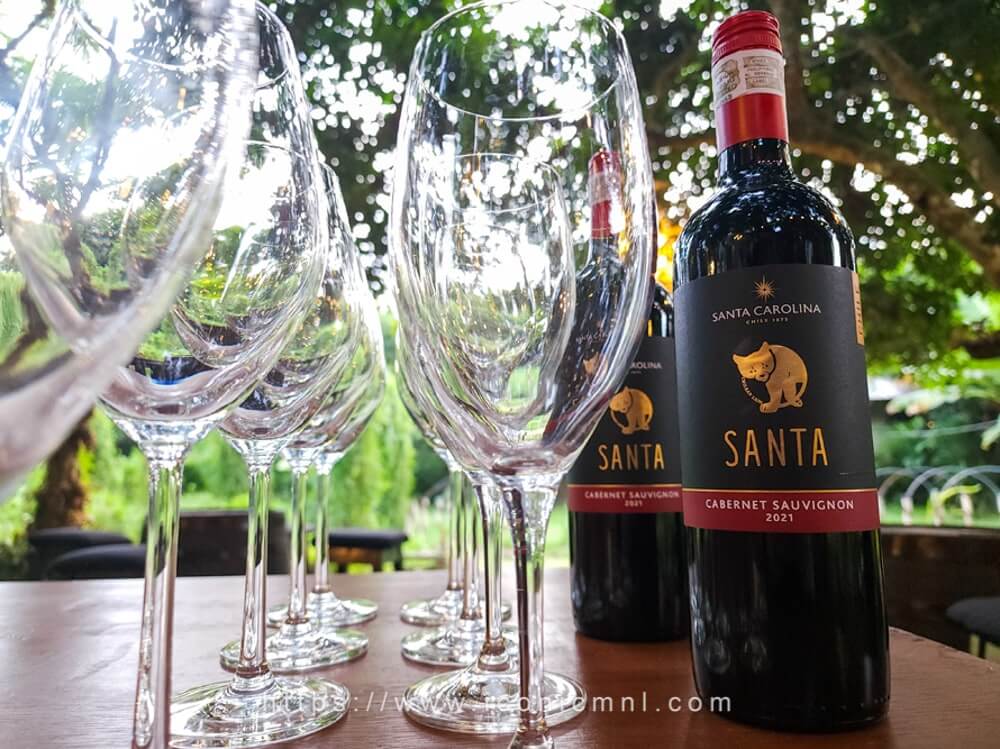 Without really attempting, the setting was extremely lovely. Nothing was excessive; everything was done with taste. Vintage and extremely refined vibe. If one is genuinely attentive to details, this tiny, hidden spot is a visual feast. The service was top-notch.
The meal? We're not experts, but from what we can tell, the food was delicious and expertly prepared. We loved the pasta and the tasty chicken wings in garlic and parmesan. The flavors were delicate but unforgettable. Our taste buds were more than content. This is a great spot for those looking to unwind, enjoy the natural surroundings, and dine on Italian cuisine. 
And how can we miss those cold coffee cubes with freshly poured milk? For coffee enthusiasts, their house-blended coffee mix is such a treat.
A heritage farm, indeed. Everyday Eden searches the past for customs and the knowledge they contain. It's a place where it anticipates advancements in innovation and technology. The owner combines these two in order to ensure that it will benefit future generations. It is, in a word, about sustainability. 
📍9080 Dolores Tiaong Road, Brgy Bungoy, Dolores, Philippines
📞 0905 664 7536
The CMP Transient House provides lodging with a large private parking area, a spacious garage, and two fully furnished bedrooms in each unit. Restaurants in the area, like Blackdot Milkteashop Cafe and Gemry's Place Restaurant, can be reached in 5 minutes. Popular cold spring resorts like Vanessa Resort, which is only 10 minutes away, are also nearby.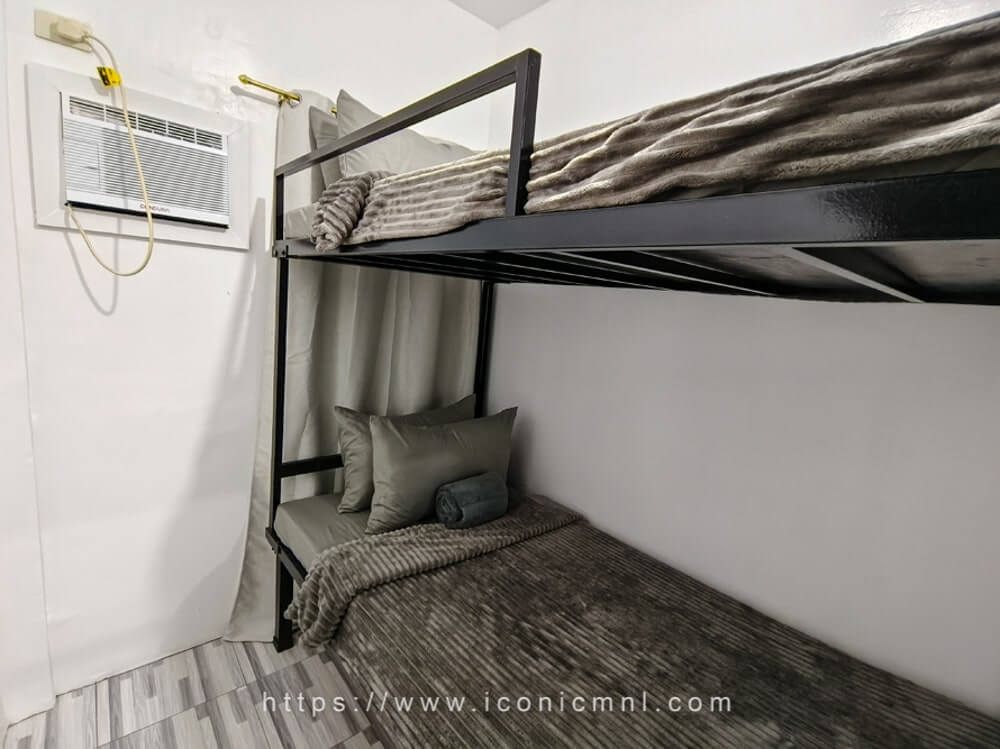 In reality, we don't have high expectations for transitional shelters. But when we arrived, we were flabbergasted. The CMP Transient House has a close similarity to those we've seen in Metro Manila. Modern and well-designed interiors were present. Even though the rent is not too high, the owner did not skimp on the apartment's amenities.
Complimentary Bottled Water
Complimentary Toiletries
Toilet & Bath (Hot & Cold Shower)
Refrigerator
Electric Kettle
Individual Aircondition per Bedroom
Free Wifi
TV with Netflix
We had fast internet, and there was a TV so that you could do Netflix and chill. The toilet also has a hot water shower, but there is no bidet. The extremely soft pillows are what we love most. It brought back memories of our stay at the F1 Hotel.
Truly, one of the nicest and most reasonably priced places to stay in Dolores is definitely this location.
📍Purok 2 Brgy Dagatan Dolores Quezon , Quezon, Philippines
📞 0906 322 9004
Being in nature is a great way to relax and de-stress since it may help you focus, bring you into the present moment, and clear your mind. Wilmels Farm & Resort offers a place in Dolores, Quezon where you can enjoy a wide range of amenities that will make you feel at home and comfortable.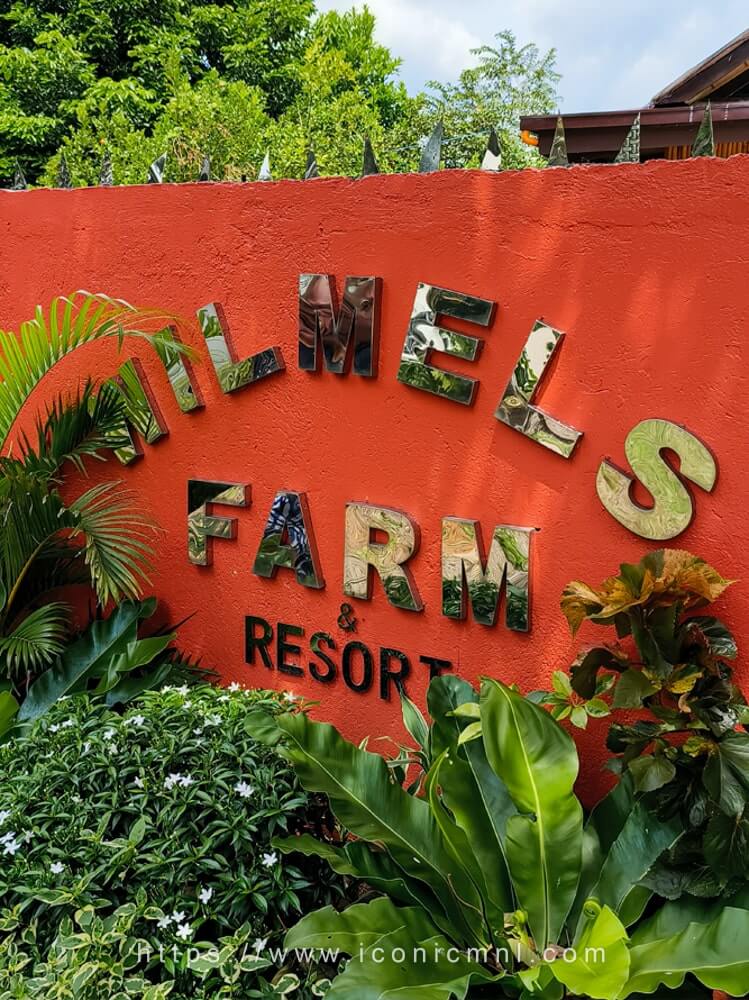 We adore the sizable adult pool, where you can exercise your lungs by swimming through it. There is a jacuzzi in the corner of the pool that is flowing with soothing water, making it a great place for relaxation and pleasure. Even if you are too far from the city, the resort has excellent WiFi connectivity, which is necessary for working online, keeping up with social media activities, and binge-watching Netflix on one of the three offered Smart TVs. The best parts are the large garage with room for many cars and the security service that gives you peace of mind.
Family vacations, large gatherings, team-building activities, and parties are all ideal here!
📍Sitio Buntog, Barangay San Mateo Dolores Quezon
📞 0956 445 4249
We get it. We all have calendar notifications that remind us of how much work we have to accomplish since life is busy, but it might be time for a reset for your long-term health. Consider a wellness vacation if your regular exercise routine isn't effective.
Ritwal is one of the newest camping areas in Dolores where you can spend time connecting with nature, meditating, and simply having your morning breakfast. This site is soon to house healing activities and private gatherings.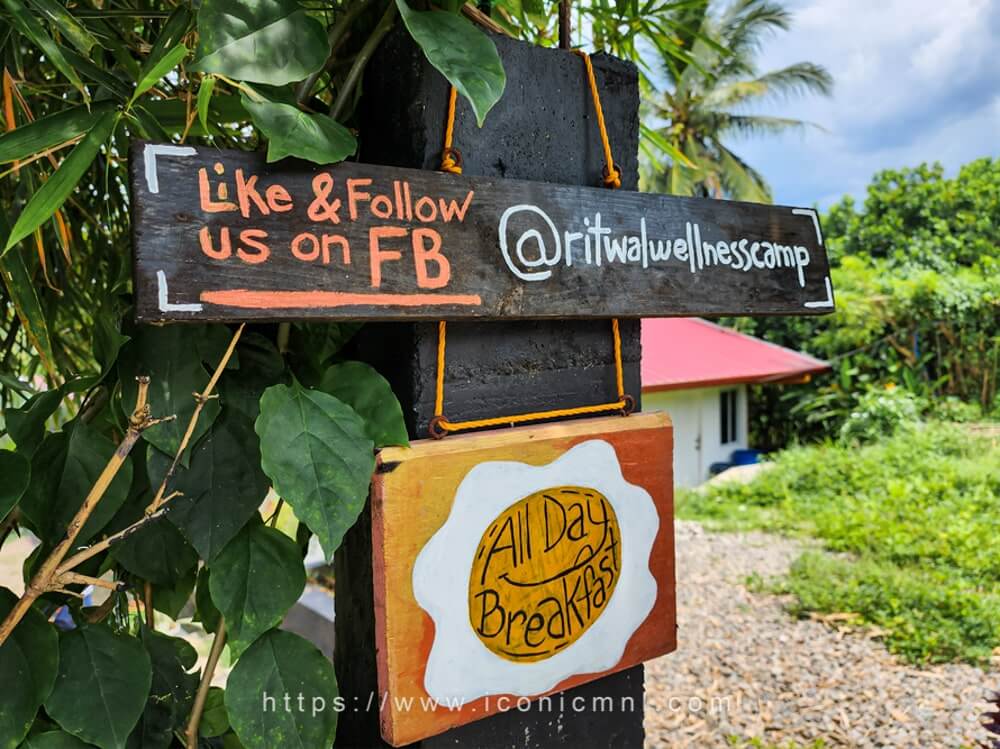 The Banahaw and Cristobal cottages, which are located in the campground, are named after the two imposing mountains. With a separate balcony, individual seats, and a hammock directly below, the huts can accommodate two visitors in luxury.
They offer a special menu for their dining service that includes an all-day Pinoy breakfast that you may personalize according to your tastes.
📍Sitio Buntog, San Mateo, Dolores, Quezon, Dolores, Philippines
We had an amazing opportunity to sample the traditional Filipino food prepared by the locals after a long day of activities in Dolores. The Venue 501 Grill and Resto Bar looks like a typical bar with food and drinks, but the quality of their food will surprise you in a good way.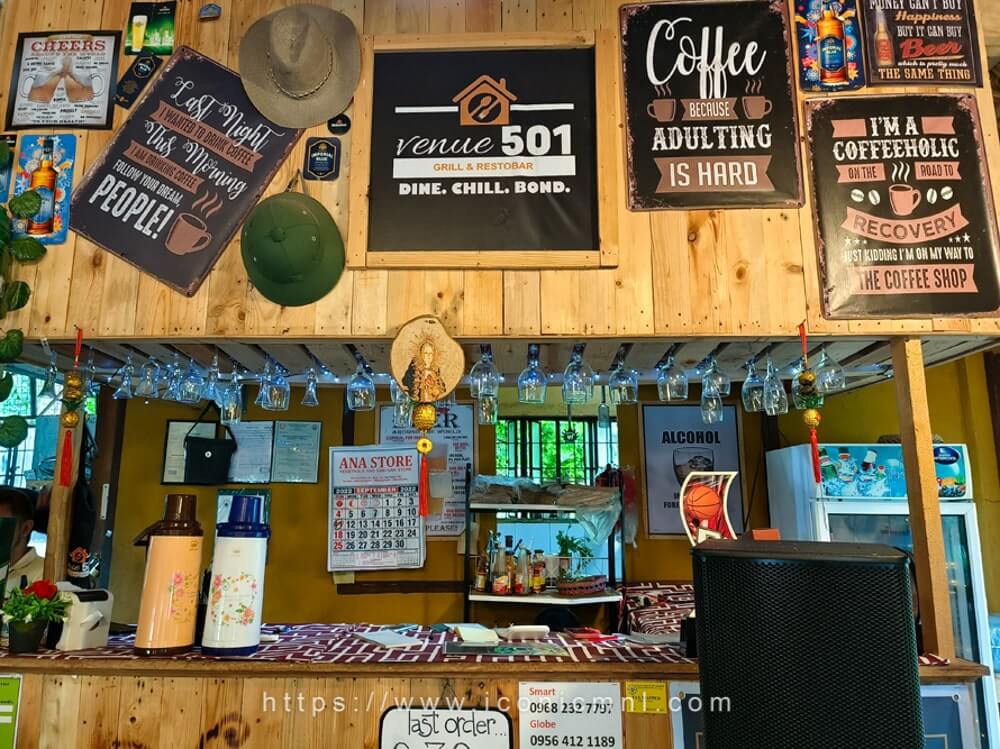 We were given Crispy Pata, Pork Sisig, and Sinigang na Hipon, to name a few dishes from their extensive menu. All of the food was delicious and made with passion, as shown by its presentation and how good it smelled.
There's also a videoke machine for everyone who wants to sing and have fun while dining with their friends and family.
📍Brgy. Bulakin II, Dolores, Quezon, Dolores, Philippines
📞 0968 232 7797
Hillside Food products have been the recipient of several awards for the quality of its products. Their products are made from the finest selection of native ginger grown organically in the vicinity of Mount Banahaw, extracted and processed the day it was picked to preserve its natural taste and nature-given properties.
We are fortunate enough to tour their facilities to see how their products are made. As someone who loves to drink Ginger Tea (Salabat), I really enjoyed learning how this healthy drink is processed and made. It is also good to know how this cooperative business help improves the socio-economic lives of its members, employees, and the community.
📍National Highway, Barangay Pinagdanlayan, Dolores, Quezon.
📞 0919 009 1240
Taking a cup of this beloved coffee from Pinagdanlayan, Dolores, Quezon would spoil your tastebuds. Famous for its Kapedanlayan Ground Coffee, the product is made by the Agrarian Reform Beneficiaries (ARBs) of Pinagdanlayan Multi-Purpose Cooperative.
We were able to tour inside and get to see how their homegrown coffee is kept and repacked. Apart from that, we also witnessed how they make the Salabat powder. Salabat is a traditional Filipino concoction of ginger tea. It is served during the cooler months to help fight and cure colds, coughs, flu, and sore throats.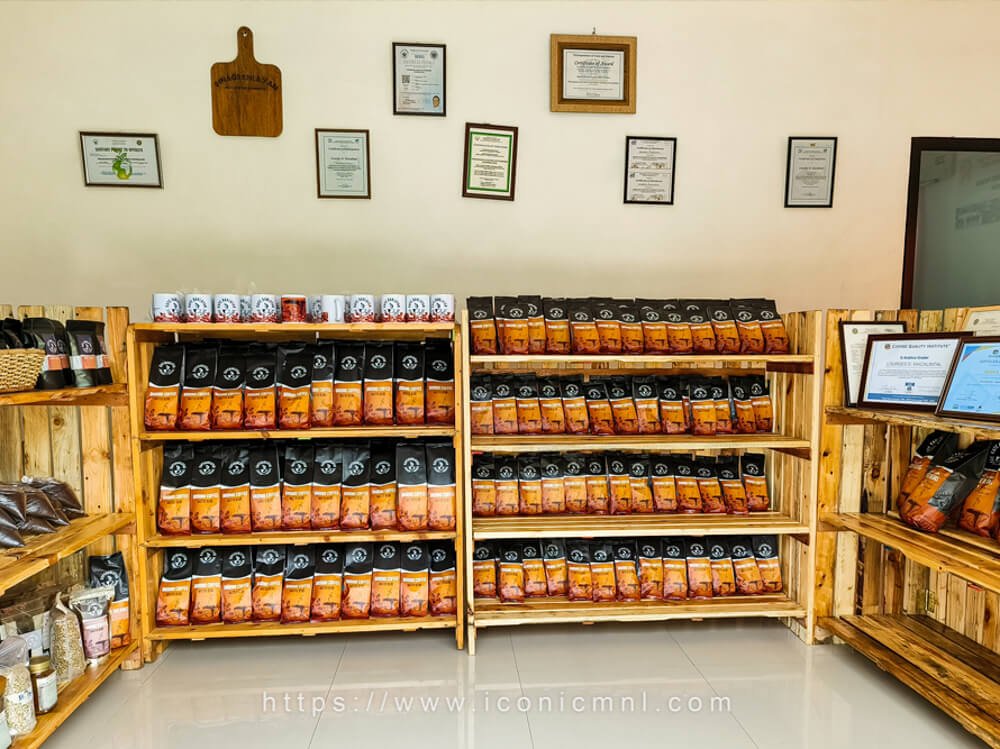 We got to taste their own products, like the Robusta brewed coffee and the iced Salabat milk drink. This is an unusual trip if you plan to visit Dolores, but it is a humbling experience to see how these locally made products are made. You get to see their hard work and the amount of perfection in how they do things. Despite how difficult it is to cook and grind the salat powder, you get to see the smiles on the faces of the people who work inside.
Don't forget to support their products by dropping by at their shop near the exit gate and spreading the word!
📍Pinagdanlayan Multipurpose Cooperative, Brgy. Pinagdanlayan, Dolores Quezon
📞 0930 352 1799
National Shrine of Our Lady of Dolores
The National Shrine of Our Lady of Sorrows is located at Dolores, Quezon. The church also has a museum that contains clothes, perfumes, jewelry, and other historic memorabilia.
This was declared a national shrine in 2017 due to the numerous miracles that were recorded through the intercession of Nuestra Señora de Los Dolores.
There are two images of Our Lady venerated in this Shrine – one enthroned at the main altar and the processional and pilgrim image. These images depict a sorrowful Mary with teary eyes, hands held together, and a heart with seven daggers, representing the seven sorrows.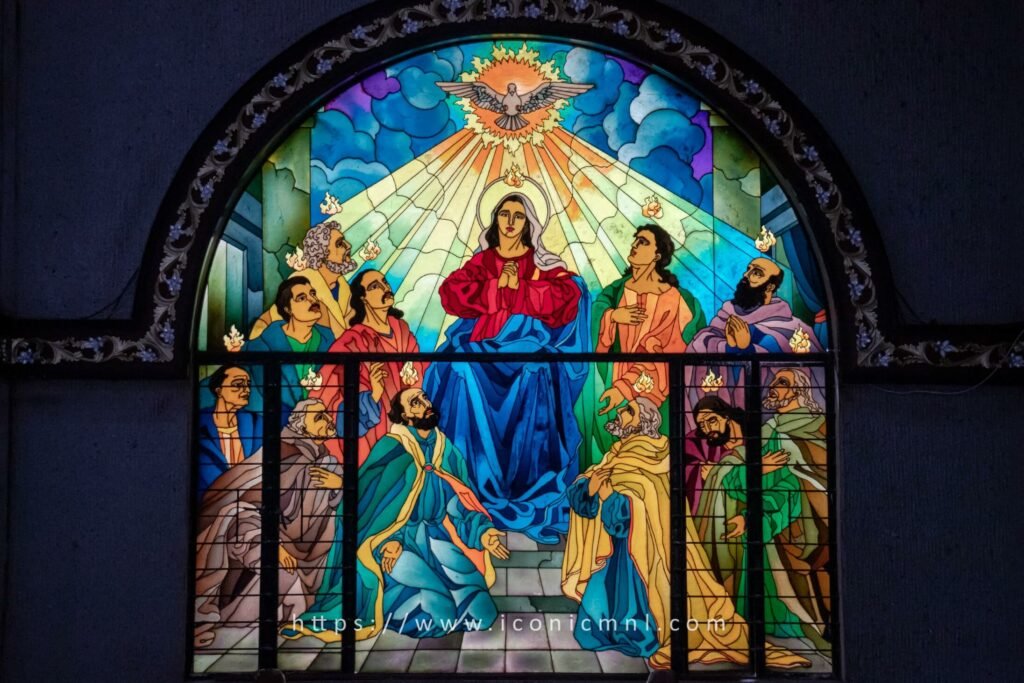 In 2019, the image was granted the honor of an Episcopal coronation, during Viernes de Dolores, or the Friday of Sorrows, a commemoration of the sorrowful Blessed Virgin Mary on a Friday before Palm Sunday.
The following year, this hundred-year-old image was canonically crowned, making it the 44th canonically crowned Marian image in the country. A canonical coronation is an act wherein the Pope designates that a crown is added to a Marian image.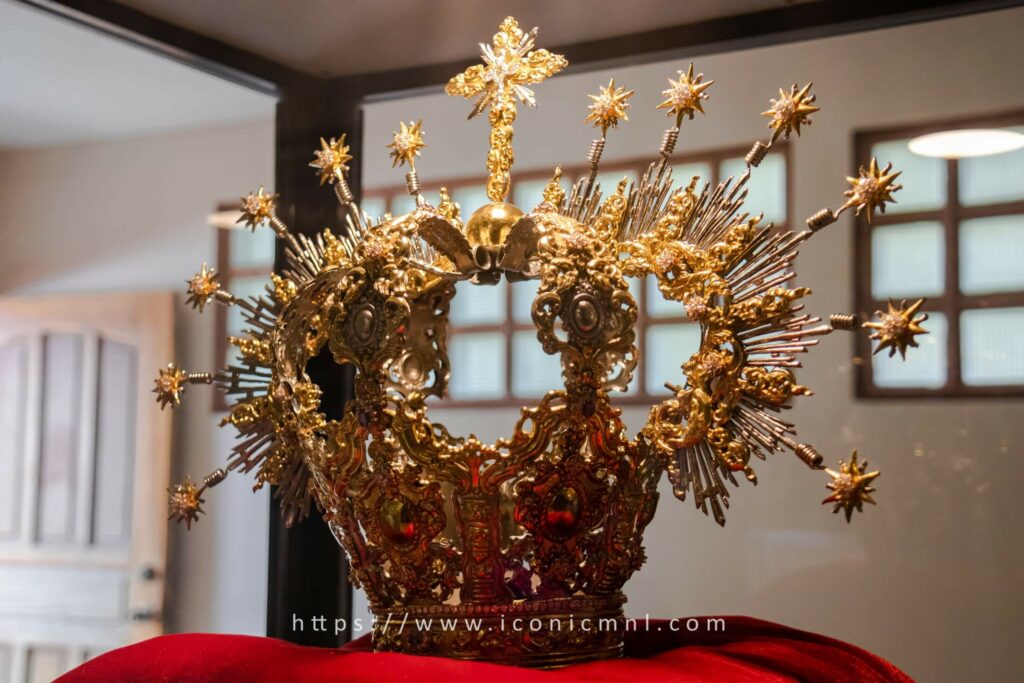 Leakage can be reduced by patronizing local businesses. This could be a restaurant, a hotel, or even a travel agency. People from all walks of life can take advantage of the opportunities provided by tourism, which also supports vulnerable populations, including minorities, young people, and women.
So let's do our part. Let's make local tourism a priority and promote it. Dolores, Quezon, should be at the top of your list.
Learn more about the beautiful province of Dolores, Quezon visit them at the 33rd Philippine Travel Mart booth M2163/M2164 this September 30 to October 2 at the SMX Convention Center, Pasay City