The gig economy is fast becoming an influential part of the Filipino workforce, anchored by a rising millennial population, the development of digital platforms, and the evolution of business models.
According to the PayPal Global Freelancer Study, nine of 10 freelancers in the Philippines are under 40 years old giving the segment a strong millennial slant.
"Millennials will occupy the majority of the global workforce in three years. They are the on-the-go generation, with highly differentiated preferences when it comes to work. They like working from home and value autonomy. That's why freelancing comes so naturally to them," said Nagesh Devata, General Manager for PayPal Southeast Asia Cross-Border Trade, during the G-Economy Media Summit on Wednesday.
The event sought to identify insights from the country's growing freelancer economy, which comprised 1.5 million Filipinos.  It was highlighted by a panel discussion, featuring industry movers Luarni Sim (MessyMaru), Shahab Shabibi (MyKuya), and Nick Padilla (Kahon.ph).
The "emergence of millennials" will introduce a new reality to the workforce, described Nagesh, and he believes freelancing will be a big part of this picture.
Rising labor costs across many Southeast Asian nations are causing businesses to re-evaluate their approach on talent management. This has led to a transformation of traditional business models. For SMEs and new-found tech startups, utilizing freelancers enables their businesses to be viable, flexible and sustainable. With human capital being one of the highest costs for companies, more businesses are looking to scale and expand without expensive capital outlay.
The rapid development of digital platforms and marketplaces has likewise helped drive the growth of the gig economy. Nagesh described, "Buying and selling services across the globe has never been easier, and this is enabling organizations and freelancers to find each other in a matter of a few clicks."
Empowering Filipino freelancers for the future
According to multiple pieces of research, one in five Filipino workers will be working as a freelancer by 2020. The Global Freelancer Research by PayPal also indicates that international clients typically account for over half of the freelancers businesses, and is looking to grow.
"Digital platforms have made the gig economy a global ecosystem. In this context, Filipinos need to be competitive at the international level," suggested Nagesh. "Proper mentorship and guidance is key in enabling this growing community."
As part of the PayPal Freelancer Community Program, the global digital payments leader has tapped three new influencers, in addition to the four from last year, who will help mentor aspiring freelancers through a series of workshops, seminars, and webinars. Jason Dulay (Work From Home Roadmap), Anton Diaz (Our Awesome Planet) and Manuel Schuster (Digital Nomad) are the latest additions to PayPal's roster of freelancer thought leaders.
The company announced three workshops slated for the coming months: 'Marrying work with travel' by Diaz (October 6); 'What it takes to be a digital nomad' by Schuster (October 10); and 'Selling freelance work in the international market' by Dulay (November 10).
"The Philippines is one of the world's most dynamic markets for freelancers and solopreneurs, and through the Freelancer Community Program, PayPal is giving them the opportunity to upskill by hearing from established freelancers in the community," Nagesh added.
Filipino freelancers can look forward to more PayPal workshops on topics like personal branding, networking, finance and investment, taxation, as well as business management.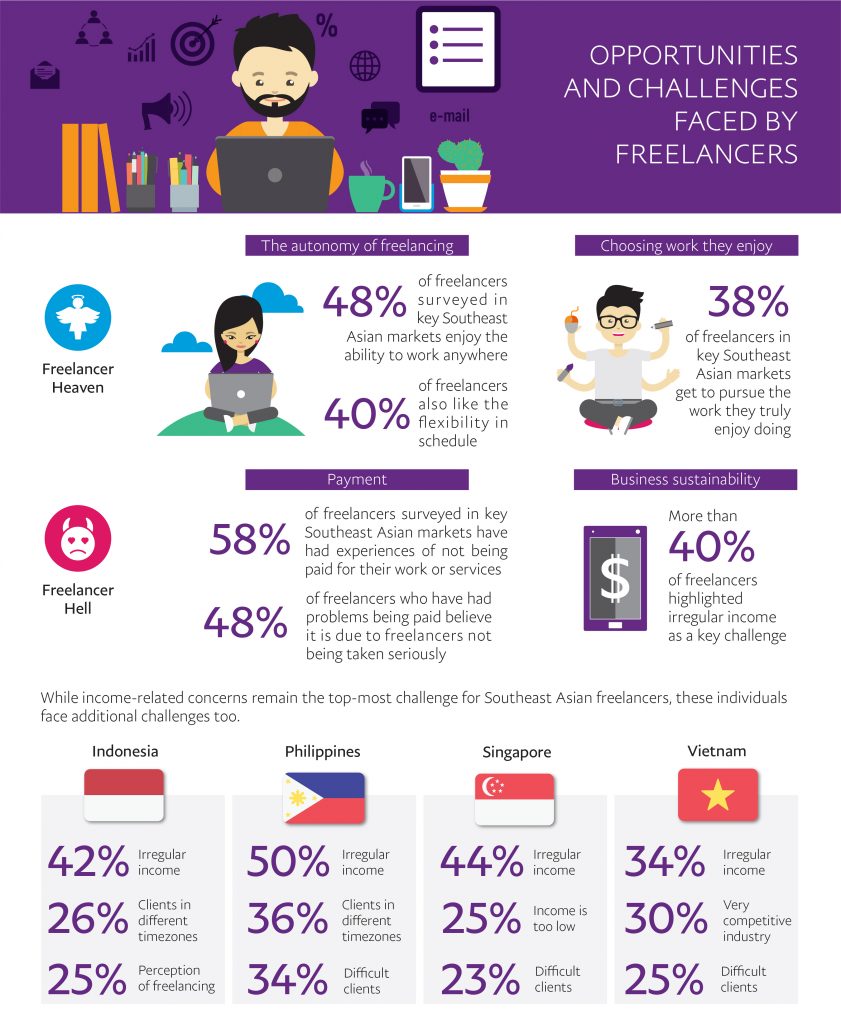 To know more about the PayPal Freelancer Community Program, visit PayPal's Philippines Facebook Page.
About PayPal
Fueled by a fundamental belief that having access to financial services creates opportunity, PayPal (NASDAQ: PYPL) is committed to democratizing financial services and empowering people and businesses to join and thrive in the global economy. Our open digital payments platform gives PayPal's 244 million active account holders the confidence to connect and transact in new and powerful ways, whether they are online, on a mobile device, in an app, or in person. Through a combination of technological innovation and strategic partnerships, PayPal creates better ways to manage and move money, and offers choice and flexibility when sending payments, paying or getting paid. Available in more than 200 markets around the world, the PayPal platform, including Braintree, Venmo and Xoom, enables consumers and merchants to receive money in more than 100 currencies, withdraw funds in 56 currencies and hold balances in their PayPal accounts in 25 currencies. For more information on PayPal, visit https://www.paypal.com/about. For PayPal financial information, visit https://investor.paypal-corp.com.