In a bid to empower aspiring international students with accurate information and a clear pathway towards their academic dreams, FIL-GLOBAL IMMIGRATION SERVICES CORPORATION is thrilled to announce the upcoming International Visa Expo.
This dynamic event will take place on 26 August 2023 at Level 2, Times Plaza Building, United Nations Avenue, Manila City, bringing together students, parents, educational institutions, and visa experts under one roof.
The International Visa Expo aims to address the challenges and uncertainties that often accompany the student visa application process. With a focus on promoting international education and fostering cross-cultural exchanges, the expo will offer a platform for attendees to interact with professionals who possess deep expertise in student visas and immigration regulations.
Event Highlights:
1. Comprehensive Guidance: Renowned experts will conduct informative seminars and workshops covering various aspects of the student visa application process. Participants will gain insights into documentation, interview preparation, financial requirements, and visa regulations, ensuring they are well-prepared for a smooth application experience.
2. Educational Institutions: The expo will feature a diverse range of top-tier international educational institutions, each offering valuable information about their academic programs, scholarships, and student support services. Attendees can explore a variety of study options, helping them make informed decisions about their future education.
3. Networking Opportunities: Prospect Students will have the chance to connect directly with representatives from universities, colleges, and language schools. This interaction will foster meaningful relationships and open doors to exciting academic opportunities abroad.
4. Case Consultation & Assistance: Visa experts will provide personalized consultations, addressing individual concerns and queries related to the visa application process. This hands-on guidance aims to alleviate uncertainties and facilitate a successful visa application journey.
FIL-GLOBAL invites all aspiring international students, parents, educational institutions, and visa professionals to attend the International Visa Expo. This event promises to be a stepping stone towards realizing academic aspirations and embarking on an enriching global educational journey.
Participation fees start at Php 505 for the Red Entry Pass inclusive of face-to-face discussions with various schools or Php 1515 for the Blue Entry Pass inclusive of a one-on-one consultation with a Pathway Consultant.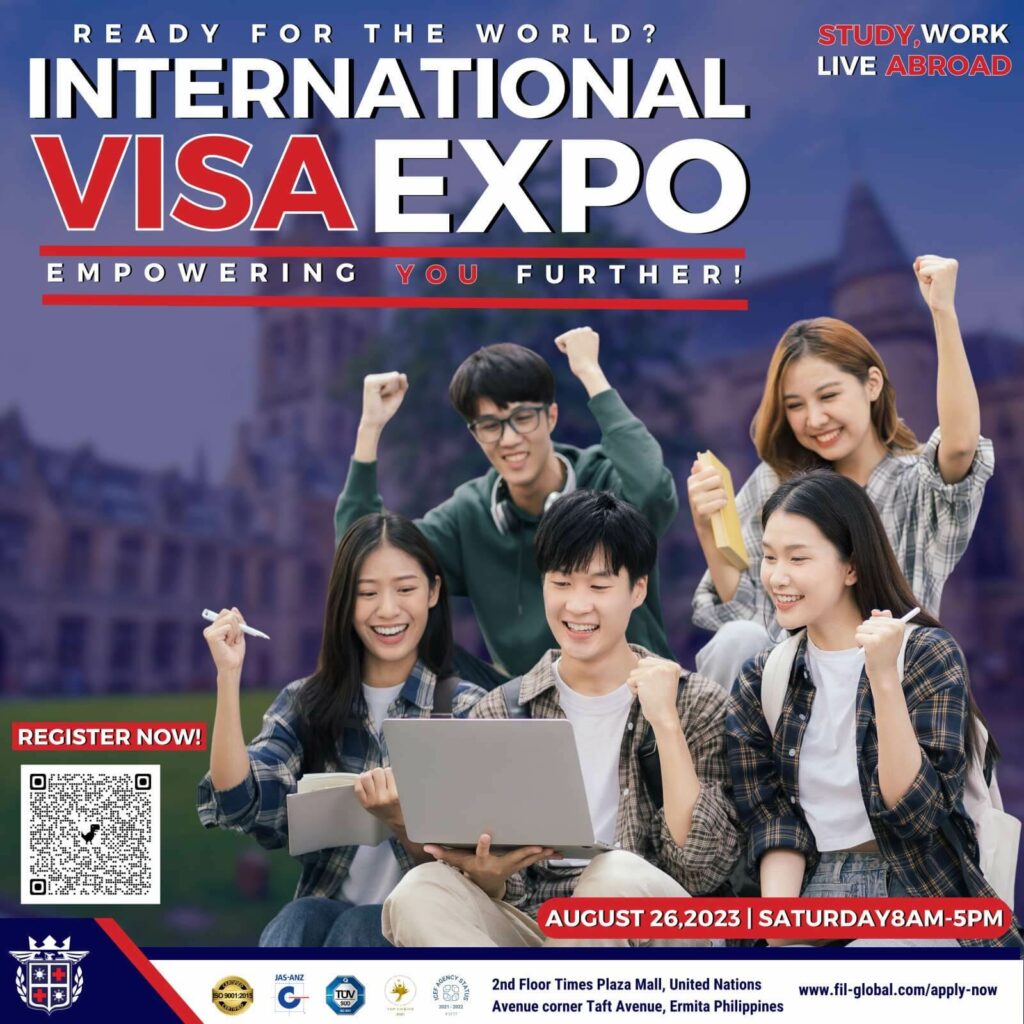 For more information and to register for the International Visa Expo, please visit www.fil-global.com/ive2023 or email [email protected]