Since the start of the pandemic, a has been void formed with sports aficionados and thrill seekers worldwide.  High octane action and turbocharged moments disappeared without a trace, leaving fans wanting. Global sporting events and even local tournaments were all postponed. As the months went on, safety measures were finally put in place so that certain events could continue. This of course, offers a vastly different experience to both the athletes and the audience. 
LG tries to bridge this gap through the use of its NanoCell Pure Color technology. By offering accurate, lifelike color, one is able to experience live action once again even at home. LG's NanoCell technology produces pure colors by applying about 1nm-sized nanoparticles to filter out dull color and enhance color purity, giving you vivid and accurate hues. It delivers stunning visual immersion unlike anything else. To go with this, LG also employs the use of Nano Black, rendering deeper blacks with full array local dimming. Through this technology, LG's NanoCell TV is able to precisely control the LED backlighting for deep blacks, greater contrast, and enhanced detail. Full array local dimming divides pixels into zones, delivering a more vivid view of the dark scenes.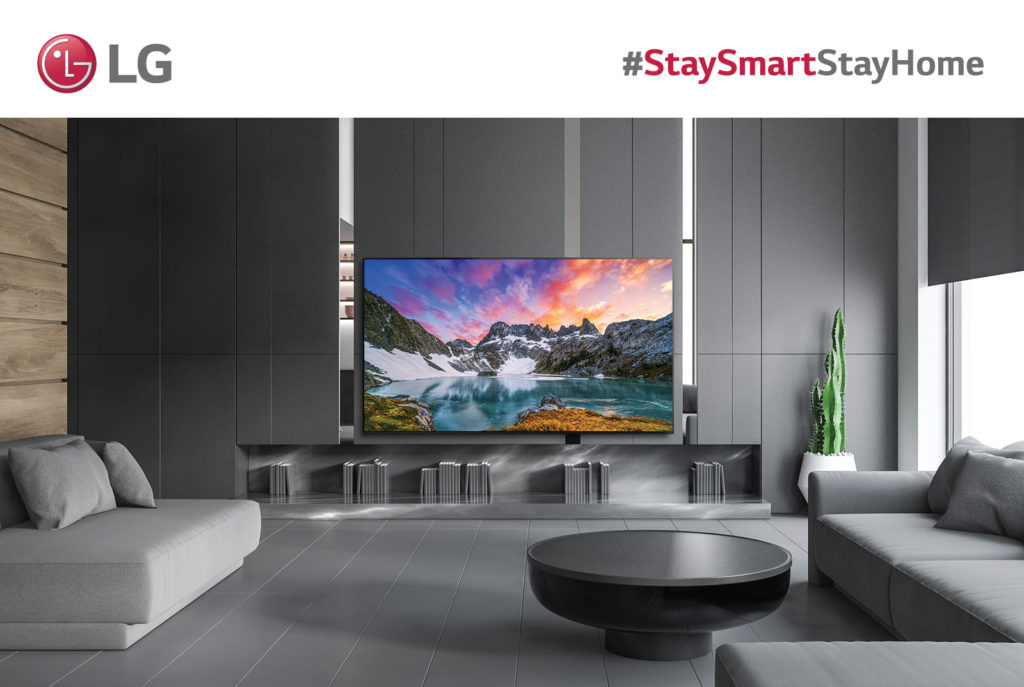 A living room obviously can't compare with a full stadium, but LG's technological innovations make you feel you're in the middle of the action. Whether you're watching by yourself or together with friends and family, the experience is the same. When watching sports at home, viewing angles can get difficult especially with limited space but with LG's Nano Accuracy, you get the same picture quality and pure colors even with wide viewing angles.  NanoCell is capable of finding the closest color to its original image as it has more color points to use in its library. Every color is accurately displayed no matter where you sit in. When viewing as a group, there's no need to crane your neck just to get a glimpse of the action. Any angle is a good one.
LG's NanoCell TV is powered by next gen artificial intelligence. The α9 Gen3 AI Processor 8K uses deep-learning algorithms to analyze on-screen content and deliver more immersive experience with enhanced picture and sound. All adjustments are automatically made by artificial intelligence to optimize your experience and make every viewing a spectacular one. This means that LG's NanoCell TV adapts to your viewing habits. Each minute adjustment you make, each small tweaks you put, it's all remembered by the deep-learning algorithm to ensure you always get the perfect settings to go along with pure color and pure action. 
Even for gaming, LG's NanoCell technology gives nothing but the best, letting you immerse yourself in a completely different landscape filled with pure color. NanoCell's Variable Refresh Rates and HGiG tone-mapping let you experience higher picture quality with less tearing and stuttering. Now you can explore virtual worlds that are hard to distinguish from reality. These latest features offer a more lifelike gaming experience with fast-moving content in higher resolution, and smooth, synchronized graphics. Whether you're playing a competitive ranked game or just having fun with your kids, LG's NanoCell TV makes every moment an unforgettable experience.
While physical sports and e-sports events are slowly coming back, viewing them live is still an unlikely event. The next best thing is to watch them instead at the safety of your own home. With its faithful rendition of colors and the incredible amount of detail present, seeing the action unfold in your living room feels real. Thanks to LG's NanoCell technology, rest assured that you're viewing pure colors and pure action.  
Experience the purest colors that technology has to offer with LG's NanoCell 8K TVs. Order today in Lazmall and other authorized online sellers and dealers nationwide. For a complete list of retailers, please visit www.lg.com/ph