McDonald's and Crocs fans are about to elevate their look courtesy of McDonald's x Crocs first-ever collab in the Philippines. The brand mashup is inspired by both Crocs Stars™ and McDonald's loyalists, and will drop with a full line of shoes and Jibbitz™ charms beginning November 19.
From a Classic Clog with a McDonald's spin to a throwback, limited-edition collection inspired by iconic McDonald's characters – Grimace, Birdie and Hamburglar – the new shoes are designed to give consumers a way to live out their unapologetically bold fandom every day.
The collab drops locally on November 19 in select Crocs stores and Commonwealth while supplies last. Follow along on social @mcdo_ph on Instagram and X, McDonald's Philippines on Facebook and @Crocsph on Instagram and @CrocsPhilippines on Facebook to keep tabs on when the Crocs go on sale.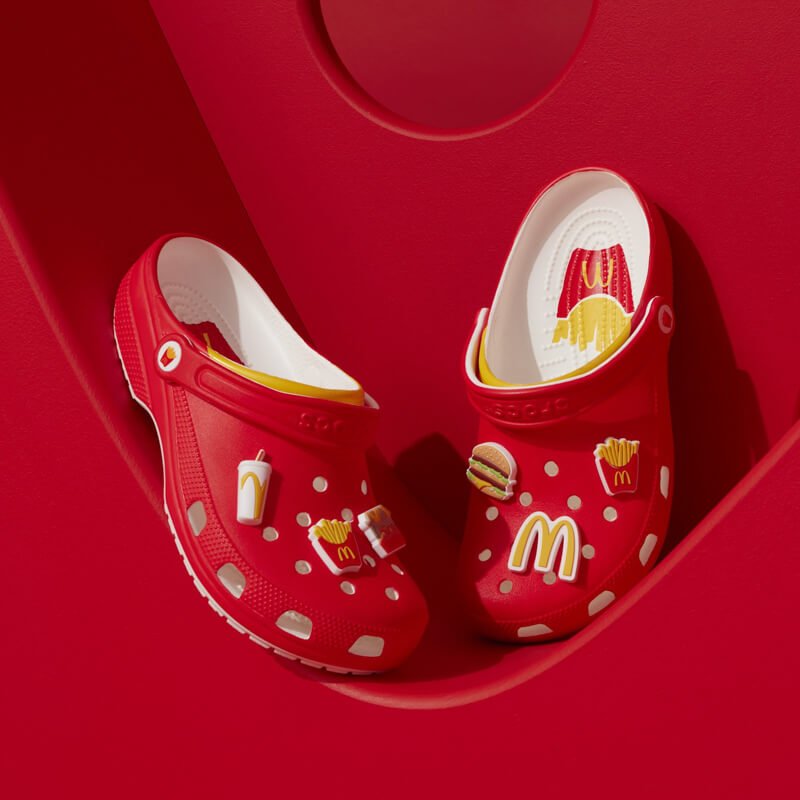 The full McDonald's x Crocs Collection includes a line of shoes with Jibbitz™ charms: 
Grimace x Crocs Cozzzy Sandal (PhP 4,495): Inspired by everyone's purple bestie, these sandals lined in faux fur will have you feeling like you're walking a day in Grimace's shoes. The Grimace Cozzzy Sandal features his loveable expression on the straps, comes with his favorite treat – a shake in the form of a Jibbitz™ charm.
Birdie x Crocs Classic Clog (PhP 4,745): Early birds like Birdie will be the first to get these Classic Clogs in her signature yellow and pink, with her favorite menu item – a McDonald's Egg McMuffin – as a Jibbitz™ charm.
Hamburglar x Crocs Classic Clog (PhP 4,745): Feel as stealthy as the Hamburglar himself with these Classic Clogs in the Hamburglar's famous black and white stripes and Jibbitz™ charms featuring his go-to order (a hamburger, of course).
McDonald's x Crocs Classic Clog (PhP 4,495): For those who want to sport Crocs in a classic McDonald's style, the McDonald's x Crocs Classic Clog is for you. The best part?
With new Chicken McNuggets, World Famous Fries and Big Mac Jibbitz™ charms, you can wear your go-to order everywhere you go.
"We're excited to bring to the Philippines the first-ever McDonald's collab with Crocs. The coming together of two fun and iconic brands gives our customers and fans more opportunities to express and enjoy their fandom in new and surprising ways." said Oliver Rabatan, Vice-President – Chief Marketing Officer at McDonald's Philippines
The Croc Thru: A McDonald's x Crocs Experience
To celebrate this partnership, we're inviting fans to literally step into the world of McDonald's x Crocs IRL at the Croc Thru pop-up – a twist on the classic McDonald's Drive Thru. Swing by BGC Playstreet, 27th street, Bonifacio Global City, Taguig on November 19 (Sunday) from 10AM to 10PM to shop a limited quantity of the McDonald's x Crocs collection (and maybe even grab a selfie with Grimace, Hamburglar or Birdie).
"With this collaboration, we're inviting fans everywhere to celebrate two iconic brands—each known for their recipe for success behind delicious food and comfortable shoes," said Heidi Cooley, Chief Marketing Officer at Crocs. "Like McDonald's beloved characters, Crocs are a part of many of our consumers' earliest and often most memorable moments. Together, we're bringing that nostalgia to new generations with experiences around the world that are as bold and audacious as our fans!"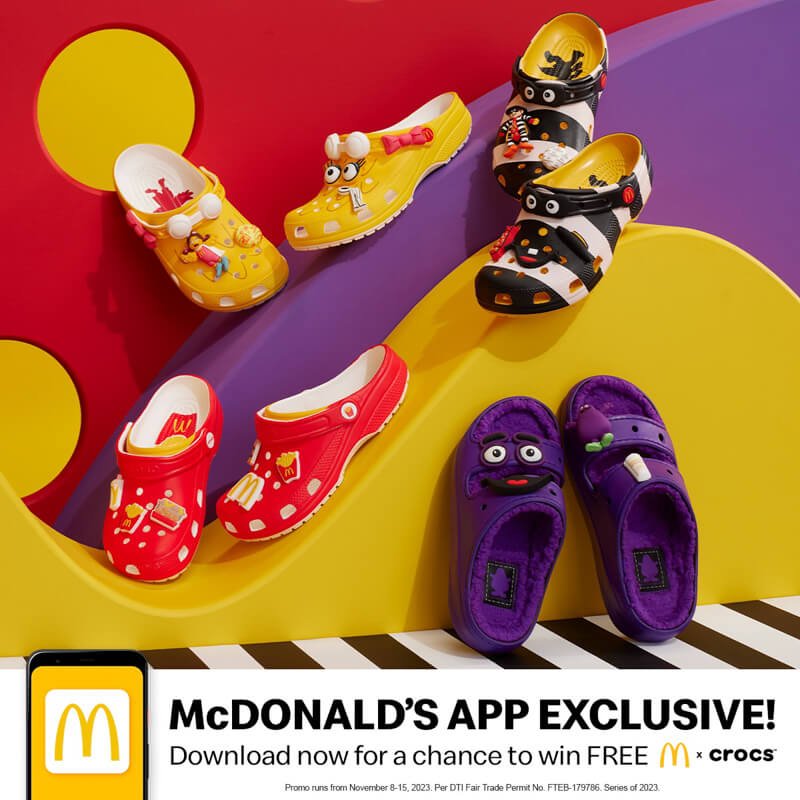 Crocs Giveaway: McDonald's App Crocs Raffle
Get a chance to cop either a pair of McDonald's branded clogs, a Hamburglar, a Birdie, or a Grimace-designed Crocs through the McDonald's App. Of course, a pack of Jibbitz are also up for grabs in this McDonald's App exclusive raffle. Users simply need to register to the McDonald's App and submit a form. Promo runs from November 9 – 15, 2023.
Google Play Store – bit.ly/mcdoph-app-android
App Store – bit.ly/mcdoph-app-ios
And if you're not one of the lucky winners of a free pair of Crocs, don't fret! Just mark your calendars for November 19 to get the limited-edition McDonald's x Crocs collection while it's hot.