Multitasking has been one of the best ways to get ahead, both at work and at home. Switching from one device to another with the least time possible is also very crucial and having a mouse that can seamlessly switch between devices can help boost productivity and make multitasking easier.
For someone like me who works on both my desktop and laptop, having the capabilities to switch devices with a touch of a button can really help speed up my productivity. The Rapoo MT550 can connect to up to 4 devices (2.4G device and 3 bluetooth devices). It also comes with an adjustable real-time DPI level, with a range of 600-1600 DPI. The battery life is really impressive and reaches up to 12 months of regular use on a single set of AA batteries that you can get anywhere.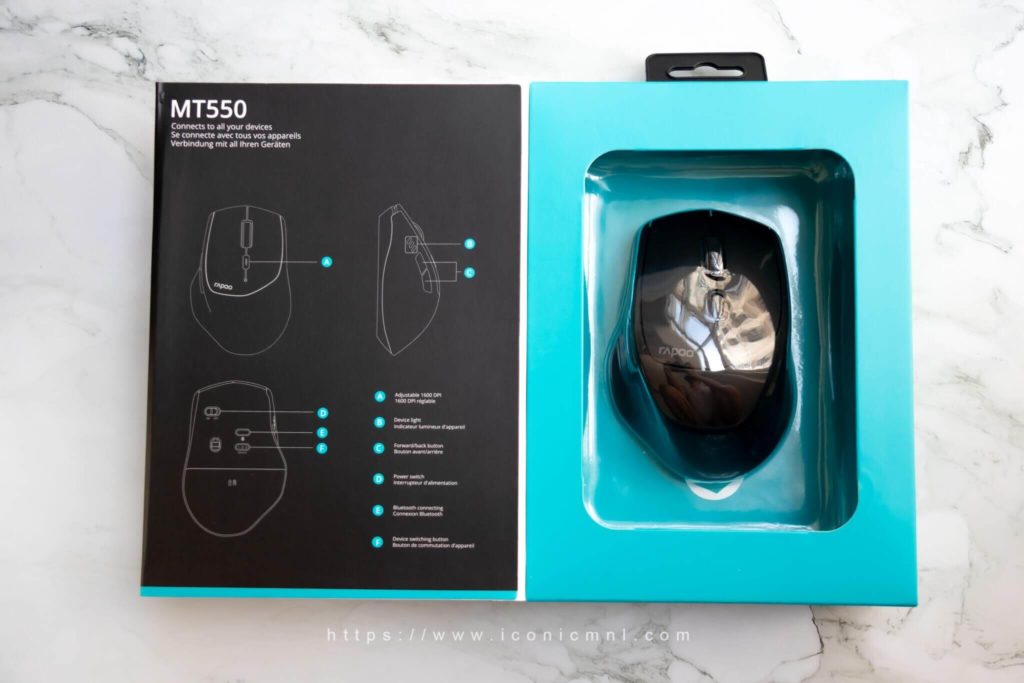 Unboxing/Accessories
The Rapoo MT550 arrived with a rather standard packaging with the Rapoo logo on the upper right corner of the box, with a magnetic flap that opens to reveal the mouse. Inside the box contains the Rapoo MT 550 wireless mouse, USB receiver, quick start guide, and (2) AA alkaline batteries.
Design
In the front, the mouse features a typical layout with left and right buttons and a scroll wheel in between them. Additionally, Rapoo also added a button for changing the mouse DPI and an operation LED. At the side of the mouse are three more LED that indicate which device is currently active and an additional forward and back button.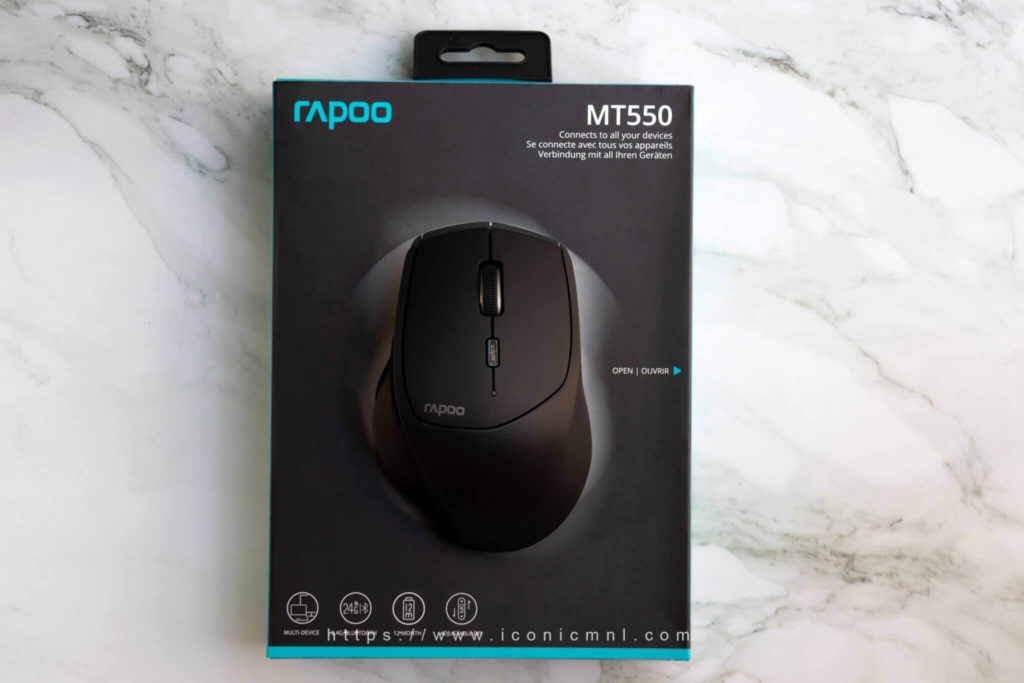 At the bottom side is where the power switch is located, the bluetooth connection button and the device pair button. Inside the battery compartment is a handy compartment to store the 2.4GHz wireless dongle safely and securely when not used.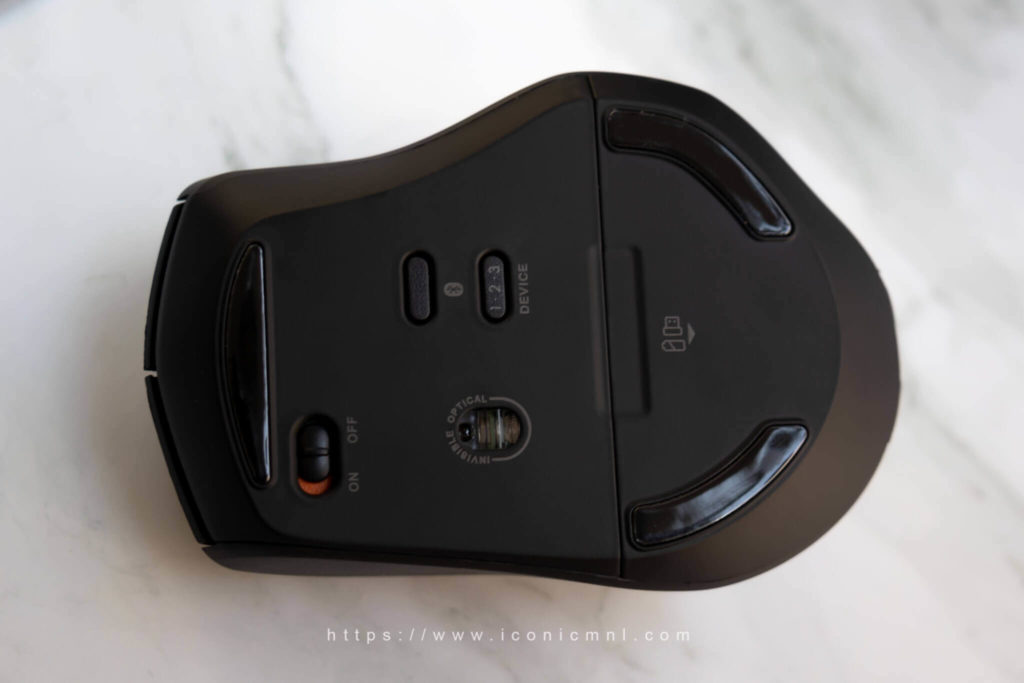 Rapoo MT550 Specs
Dimensions:

5.31 x 1.97 x 7.28 inches

Weight:

Around 75g

Buttons:

Left button, middle button, right button, back button, forward button, Bluetooth pairing button, device switching button

Scroll Wheel Direction:

Two-way

Connectivity:

Wireless, Bluetooth 3.0, 4.0, and 2.4G, USB

Sensor Technology:

Optical

DPI Values:

600 / 1000 / 1300 / 1600 (adjustable)

Battery:

2 AA Alkaline batteries (lasts up to 12 months)

Working Voltage:

1.5V

Color:

Black

Warranty:

2 years

Verdict
Overall, Rapoo MT550 is an affordable multi-mode wireless mouse with a great feature set for its price. It offers both 2.4GHz and Bluetooth 3.0/4.0 connectivity with up to four devices. Personally, I really like this mouse, especially its ergonomic design as it fits well in my palm. It actually reminds me of my Logitech M331 that I often use mainly because of its pleasant shape. Plus I also like the fact that I can seamlessly switch from one device to another with a touch of a button.
Price and availability
The Rapoo MT550 is available at Silicon Valley for only PhP 1,240. You will receive the Rapoo MT 550 wireless mouse, USB receiver, quick start guide, and (2) AA alkaline batteries. It also comes with a 2 year warranty.
About the Brand
Shenzhen Rapoo Technology Co., Ltd. is a Chinese expert in wireless peripheral technology, providing high-performance wireless peripheral products. The company has been ranked No. 1 in China's wireless keyboard and mouse market share for two consecutive years.
Related Article: Rapoo Introduces New Affordable Gaming Peripherals