With the current COVID-19 pandemic relentlessly plaguing the world, working from home has become the new standard and by now I'm sure most of you have already finished setting up your work desk but did you know that you can further level up your desk and transform it into an amazing work and play setup?
As you may have already known, I have been a big fan of LED lights ever since I started setting up my work from home office. I also started investing in good light setups on my desk why? Because lighting creates a more relaxed atmosphere and looks fantastic. So since then I've always had an RGB desk setup. Personally, it makes watching my favorite series and playing games on my PS4 better.
Philips Momentum 275M1RZ with Ambiglow
The Philips Momentum 275M1RZ monitor is equipped with an IPS Nano Color technology that uses KSF enhanced phosphor nanoparticles to absorb excess light created by the screen to produce amazing color which is critical for imaging, gaming and productivity needs, the Nano IPS display provides precise color accuracy across a wide viewing angle without color shift. Richer reds, lusher greens, and deeper blues.
It delivers CrystalClear images with Quad HD 2560 x 1440 pixel images. Utilizing high performance panels with high density pixel count, enabled by high bandwidth sources like Displayport, HDMI, Dual link DVI that will make your images and graphics come alive. Ideal for use in demanding professional applications.
Equipped with AMD FreeSync™ Premium and NVIDIA® G-SYNC® technology, the Philips Momentum 275M1RZ is built with the most dedicated gamers in mind. It delivers smooth, tear-free gaming with peak performance. Gamers can confidently play games with high refresh rate, low framerate compensation, and low latency to help users easily overcome all opponents.
The Philips Momentum 275M1RZ redraws the screen image up-to 170 times per second, effectively faster than a standard display. This means, you will see every movement earlier than your opponent in ultra-smooth motion so you can easily target them and react in a timely and reasonable manner. With ultra-low input lag and no screen tearing, this Philips display is definitely a perfect gaming partner.
Unboxing/Accessories
The Philips Momentum 275M1RZ comes in a colored box with the brand's logo on the left side of the box and it's feature specifications printed on both sides of the box.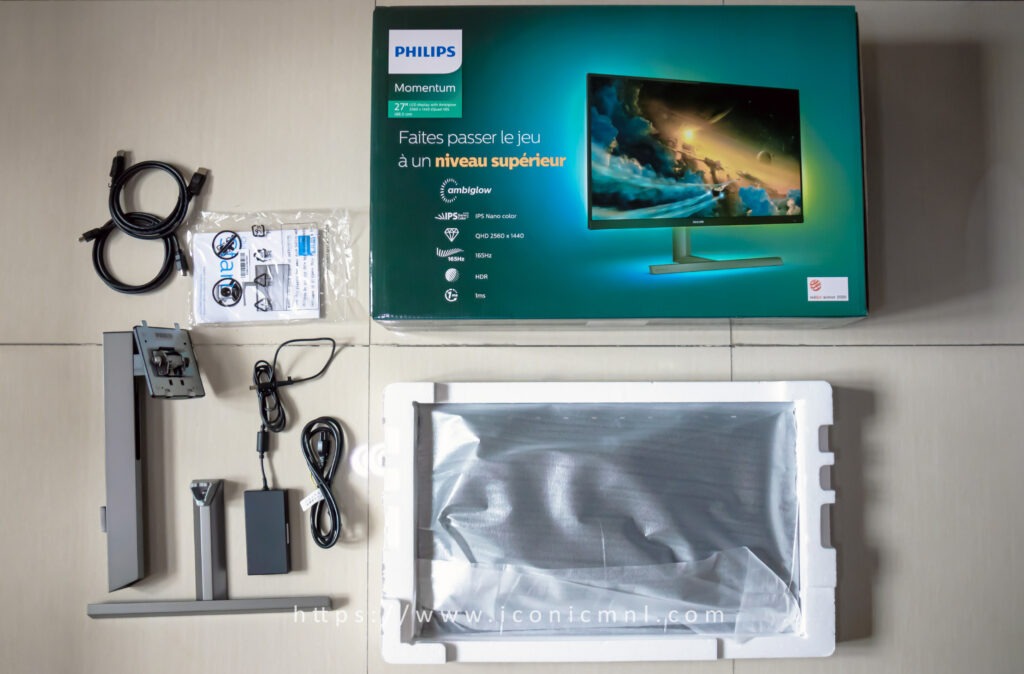 Inside is a styrofoam package that serves as a cushion to the monitor, the Philips Momentum 275M1RZ unit, product documentations, Clip-on VESA mount, aluminum base, DisplayPort Cable, HDMI cable, USB cable type B, and power cable with adaptor, Software DVD.
Build Quality/Design
Let's start with the back of the Philips 275M1RZ the back panel looks really simple with the exception of the LEDs mounted at the edges of the panel for the ambiglow feature. We also noticed that the stand has a cable clamp feature for cable management.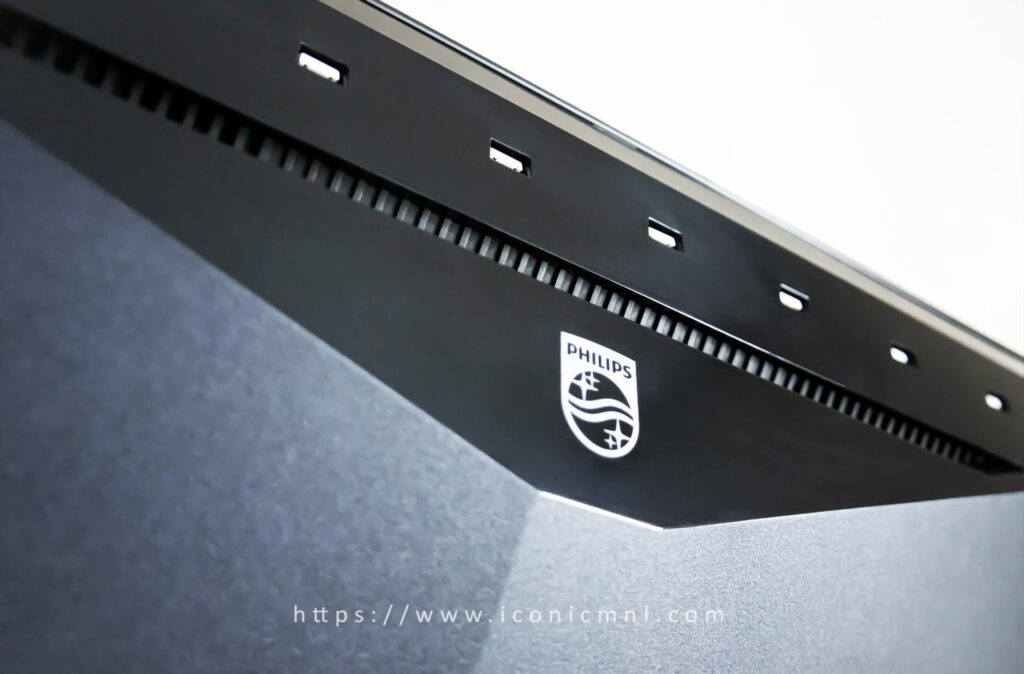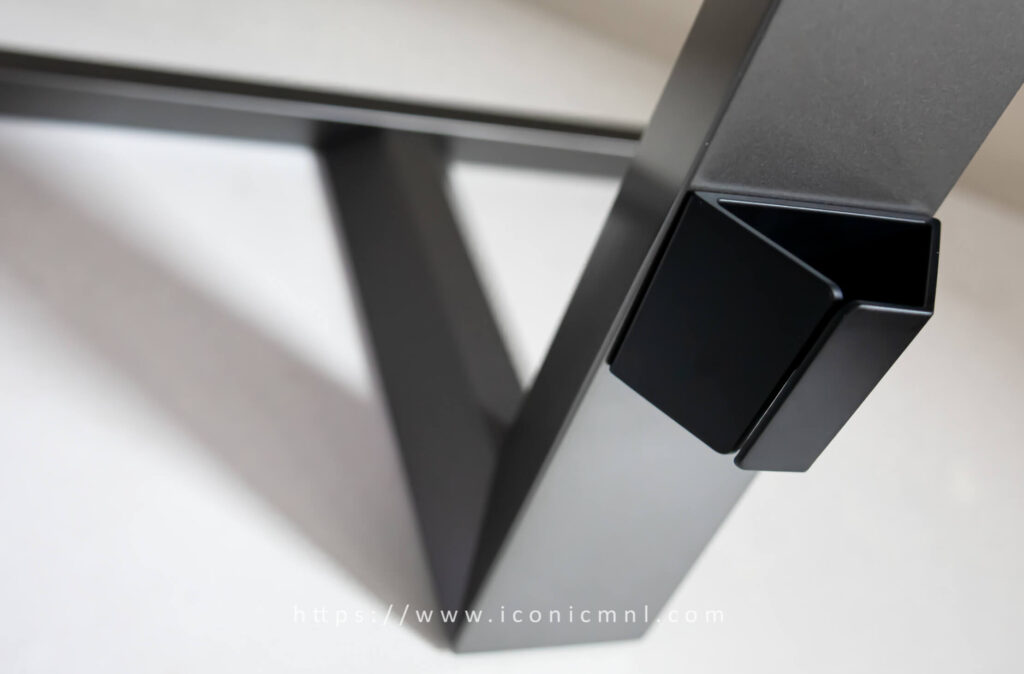 It also has a good set of I/O ports at the back. We have 2 HDMI ports with a single DisplayPort for display while we have 4 USB ports (2 data and 2 power) and a USB Type-B port. An audio out is also provided here for headphones and other audio devices.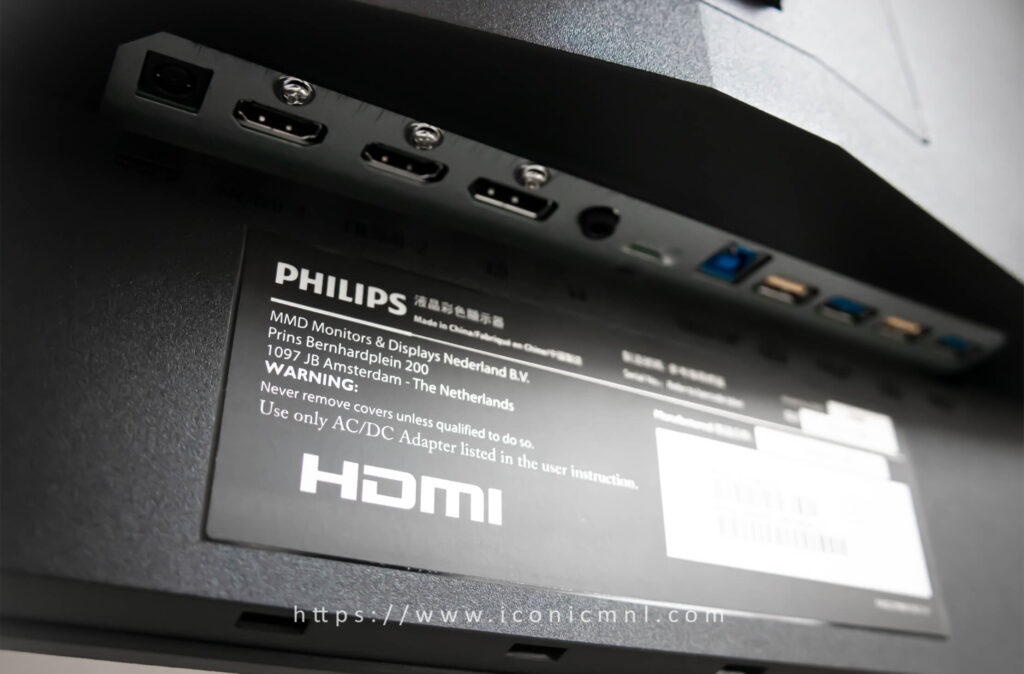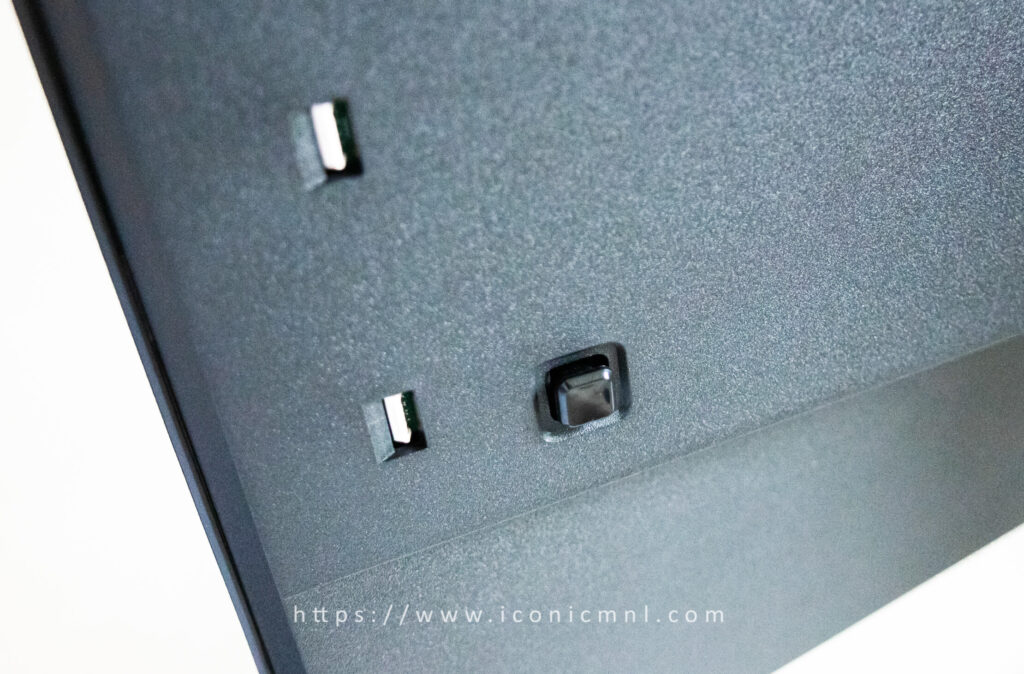 Aside from the ambiglow feature that we really liked, another feature we loved about this monitor was the built-in stereo speakers that are perfect if you don't have an external speaker system or if you want to just make use of the built-in stereo speakers for watching movies or playing some games. Like for me personally since I use this for both gaming and watching my favorite streaming media I often use the built-in speakers instead of turning on my sound system except of course in some cases that I want a better audio experience that's the only time I turn on my external sound system that normally happens when I'm playing some PS4 games.
Performance
When choosing a desk monitor I always opt for something I can use for work, watching video contents, and also for gaming. Basically something I can use not just for work but also for entertainment. I was honestly thrilled to learn about this monitor a few months ago as it was advertised to be one of the best gaming monitors available today and having the Ambiglow feature is definitely a plus as it helps set the mood and enhance the user experience by creating a halo of light from the monitor that continuously adapts the color and brightness of the emitted light to match the image. That is perfect for watching movies and playing games.
Ambiglow intensifies entertainment with halo of light
For the longest time I've been having a lot of trouble getting my LED strips to stick to the back of my monitor. Finally Philips released a monitor that has a built in LED feature that enhances the content on the screen by creating a halo of light from the monitor. The innovative Ambiglow technology analyses the incoming image content and continuously adapts the color and brightness of the emitted light to match the image. Especially suited for watching video contents and playing games. Philips Ambiglow offers you a unique and immersive viewing experience.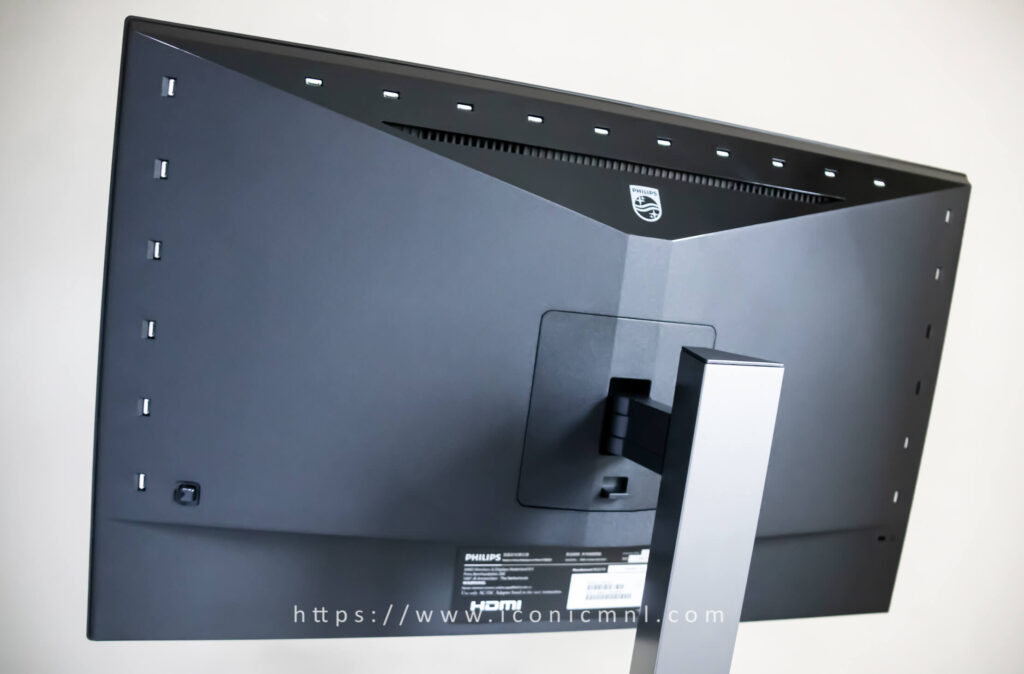 Philips Momentum 275M1RZ Specs
Picture/Display

LCD panel type

IPS technology

Backlight type

W-LED system

Panel Size

27 inch / 68.5 cm

Display Screen Coating

Anti-Glare, 3H, Haze 25%

Effective viewing area

596.736 (H) x 335.664 (V) mm

Aspect ratio

16:9

Maximum resolution

2560 x 1440 @ 170 Hz* (DP -> overclock); 2560 x 1440 @ 144 Hz (HDMI)

Pixel Density

109 PPI

Response time (typical)

1 ms (Gray to Gray)*

MPRT

1 ms

Low Input Lag

Yes

Brightness

350 cd/m²

SmartContrast

Mega Infinity DCR

Contrast ratio (typical)

1000:1

Pixel pitch

0.2331 x 0.2331 mm

Viewing angle

178º (H) / 178º (V)

@ C/R > 10

Flicker-free

Yes

HDR

HDR ready

Color gamut (min.)

DCI-P3 Coverage: 98%*

Color gamut (typical)

NTSC 110%*, sRGB 130%*, Adobe RGB 110%*

Picture enhancement

SmartImage game

Display colors

Color support 1.07 billion colors

Scanning Frequency

HDMI: 30 – 230 kHz (H) / 48 – 144 Hz (V); DP: 30 – 255 kHz (H) / 48 – 170 Hz (V)

SmartUniformity

97 ~ 102%

Delta E

< 2 (sRGB)

sRGB

Yes

LowBlue Mode

Yes

Ambiglow

4-sided

AMD FreeSync™ technology

Premium (DP, HDMI)

G-SYNC

Compatible (DP)*

Connectivity

Signal Input

HDMI 2.0 x 2

DisplayPort x 1

HDCP

HDCP 2.2 (HDMI / DP)

USB:

USB-B x 1 (upstream), USB 3.2 x 4 (downstream with 2 fast charge B.C 1.2)

Audio (In/Out)

Headphone out

Sync Input

Separate Sync
Verdict
Overall, the Philips Momentum 275M1RZ is an excellent all around gaming monitor. I definitely recommend this monitor for people who want one monitor that is capable of providing you with an excellent display not just for working at home but also for entertainment. Personally I use this monitor for work and also my gaming needs. It is connected on my laptop when I'm working and also on my PS4 and my Xiaomi Mi Box that I use to access netflix and other streaming media. I also love that it also comes built in with an ambiglow feature that creates a halo of light from the monitor perfect for RGB fans such as myself. Another feature I like about this monitor is that it also comes with a built in speaker meaning even if you don't have an external speaker you can use the monitor's built in speakers if you also like to connect your monitor to a media streaming device like the Xiaomi Mi Box. It also has a 1440P resolution, 170Hz refresh, and an IPS panel coupled with excellent build, top notch color coverage, gamma and brightness levels.
Price and availability
Philips LCD monitor with Ambiglow 275M1RZ/71 has an SRP of ₱26,640. It is available at the Philips Monitor's Official Store on Shopee any Philips partner store branches nationwide.
Leave a comment down below and share your thoughts with us!
Want more features like this? Please follow us on Facebook, Twitter, and Instagram to get the latest trends.