Valentine's Day is fast approaching! With the day of lovers just around the corner, most of us are already thinking of grand gestures to express our love and affection for one another. In the midst of finding the perfect gift, choosing the best date night outfit, making reservations to the most romantic restaurant in the city, we often overlook the fundamental elements that are essential towards creating a healthy relationship. Most of the time it is in the little things that we do that can make it extra special. Sometimes it is better to send a sweet handwritten letter or personalized greeting e-card instead of spending expensive flowers and chocolates that are so overdone.
Closeup is no stranger to this idea, and strongly believes that it's the little acts of love that create the biggest ripples in helping create a world that is free to love – where closeness of all kinds can be celebrated.
That is why closeup is partnering with Shopee to bring the first ever closeup #FreeToLove Sale, happening from February 8 to February 14, with the hopes of giving everyone great options to send little acts of love with. If getting your closeup favorites at a minimum of 50% isn't enough, they've also prepared exclusive closeup goodies you can score with every purchase! From custom chocolates, to the cutest sticker packs, and even Korean heart-themed couple shirts, you don't have to look any further to find that little act of love for that special someone.
Apart from these exciting deals and premiums closeup has in store, closeup has also created the #FreeToLove E-Card Chatbot: tinyurl.com/CUPFTLEcard where you can customize and send an e-card of your choice to a special someone to show them that you love them! The best part? Every card you make and send entitles you to vouchers that give additional discounts of up to 15% off in the #FreeToLove sale!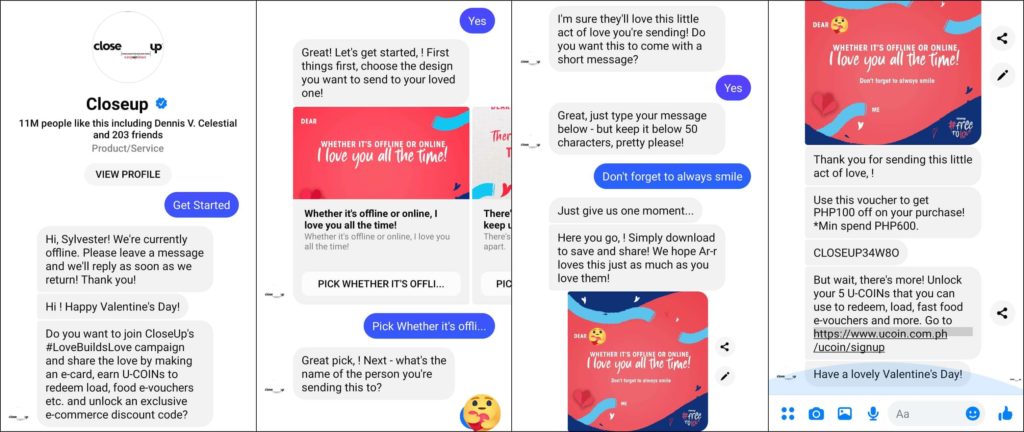 Together with closeup, let's celebrate the magic of little acts of love and their power to create a world that is free to love. After all, #LoveBuildsLove.