Convenience store giant 7-Eleven Philippines marks another anniversary with a giving-back treat to customers this 7-Eleven Day. Happening on July 7 to 11, the 24-hour, five-day birthday sale is dubbed as the brand's biggest bash, with discounts of up to 50% across over 300 item categories plus limited-time deals on its in-house eats like Crunch Time Chicken, City Cafe, 7-Fresh Siopao, and Big Bite Hotdog.
As 7-Eleven continues to lead the industry's in-store footprint, meal innovations, and service enhancements, 7-Eleven Day is another effort to show gratitude to its customers who continue to flock to the brand's thousands of neighborhood stores. What's more, 7-Eleven is positioning this year's celebration as a 'grocery day' for the public with big discounts and deals available for pantry essentials and personal care items.
Pantry favorites that will be on sale include soft drinks, noodles, sweets, biscuits, chips, bread, and even alcoholic beverages. The same discounts and deals also apply to personal care products such as popular toothpaste, lotion, and soap brands, making the five-day event the perfect time to save and stock up for Filipinos.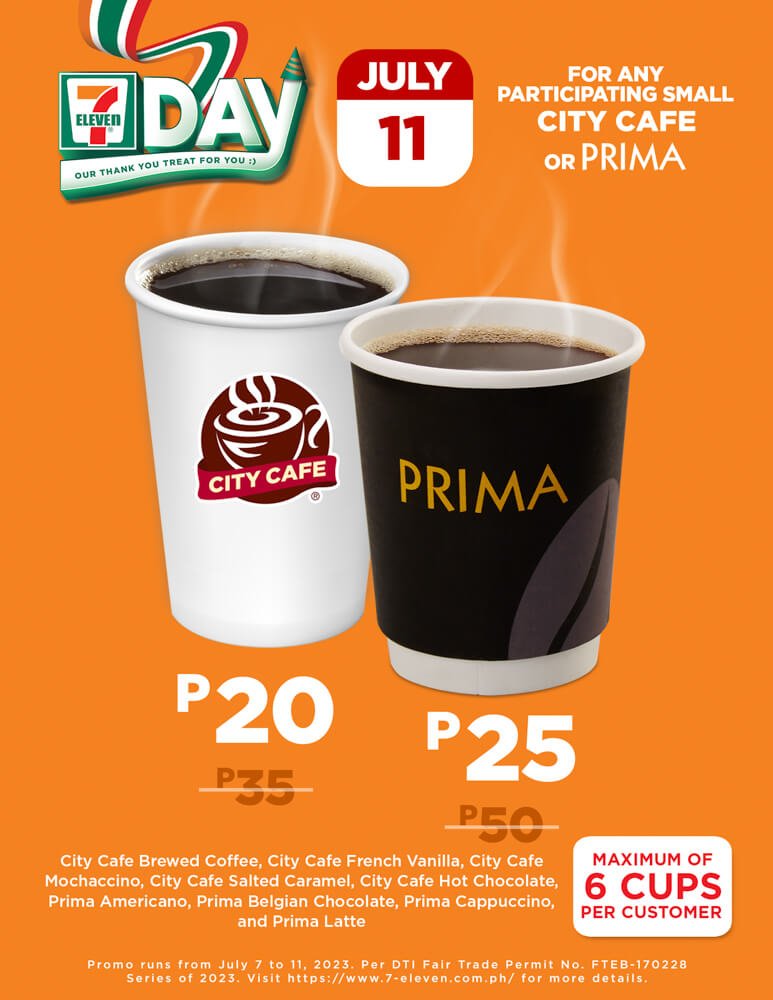 Apart from the price markdowns on its grocery items, 7-Eleven is also slashing off prices from its in-house food classics.. Every order of one-piece Crunch Time Chicken will be sold at P10 off from July 6 to 11; City Cafe and Prima coffee selections in small cups are at P20 off on Jul 11; all variants of Big Bite Hotdog will only ring at the till for P23 on July 11; and the different flavors of the 7-Fresh Siopao – pancit crab, adobo, asado, and bola-bola – will have P6 discount on July 11 as well.
Rallying around the theme of customers "deserving" this special treat – 7-Eleven pulls all the stops to make this sulit sale event possible as it celebrates another year of being Filipinos' convenience store favorite
Troop to the nearest 7-Eleven store nationwide from July 7 to 11 to avail of the sale items. To allow more people to enjoy the discounts, a quantity limit for each sale item per customer will be strictly implemented. Sale items per day may vary per store. For more information and updates, visit 7-Eleven's website and social media pages.