We live in a very fast-paced world, and balancing the demands of daily life can be pretty stressful. After our work, we just want to detach ourselves from the hustle and bustle of city life. When the idea of having a sweet escape by the beach becomes quite impossible to squeeze into your schedule, why not consider having a staycation?
Staycation is to break out of your normal routine without venturing too far from your home. While there are some individuals who prefer staying at the comfort of their own homes, isn't it a great idea to have a change of environment from time to time?
Just like when traveling somewhere for a vacation, a staycation is about relaxation and enjoyment. It's about "me" time or "us" time, whichever the case may be. So imagine going to a place where you can just lie down all day, pamper yourself with your favorite DIY face mask (for product recommendations please see my notes below). Or, take a long hot shower with a nice body scrub and finish off with your favorite lotion. You may grab your favorite comfort food (like for me my comfort food is a big tub of NESTLE Strawberry Yogurt) and watch your favorite TV series or a Netflix movie. It's a perfect "me" weekend no deadlines no distractions.
As young adults, the idea of staying in a hotel for a staycation can be intimidating financially. Not all of us can afford a night in a nice hotel with great service and amenities.
Thankfully, the travel gods have looked down upon us and blessed us with Airbnb.
I found Airbnb easy to use when looking for a place to stay. You only need to input the place you wanted to stay, inclusive dates and the number of guests, then it'll list the recommended accommodations for you.
Cozy Studio Unit, The Currency, Ortigas Center
The Currency is a high tower located in the middle of Ortigas Center. It provides homeowners with a wide range of cool and exciting amenities and facilities, such as a lap pool, pool deck, fitness gym, and lounge. As a guest, you are allowed to use these amenities too, provided that you take note of the rules. There are only specific times that you can use the pool, better ask your caretaker when you check-in.
Price: ₱1,499 per night

Accessibility
The Currency is a premier mixed-use commercial and residential property located in the business district of F. Ortigas, Pasig City.
Security
I find the place safe and quiet inside despite of the busy streets of Ortigas. CCTV and security guard is available 24×7.

Comfort & Cleanliness
It was very clean with all the things you need for a good stay. The unit was so relaxing, neat and everything is in place. The unit also has a semi-equipped kitchen with a fridge, induction cooker, electric kettle and tableware.
Overall
Weekends fly by so quickly and making the most of it can be quite a challenge. The best way to level-up your weekend is to come up with a plan that's both time and cost-efficient. If you're craving a break from your everyday routine and you can only spare a weekend don't worry we've got you covered aside from being accessible, it's also very affordable, and you really get your money's worth. So ano, G na!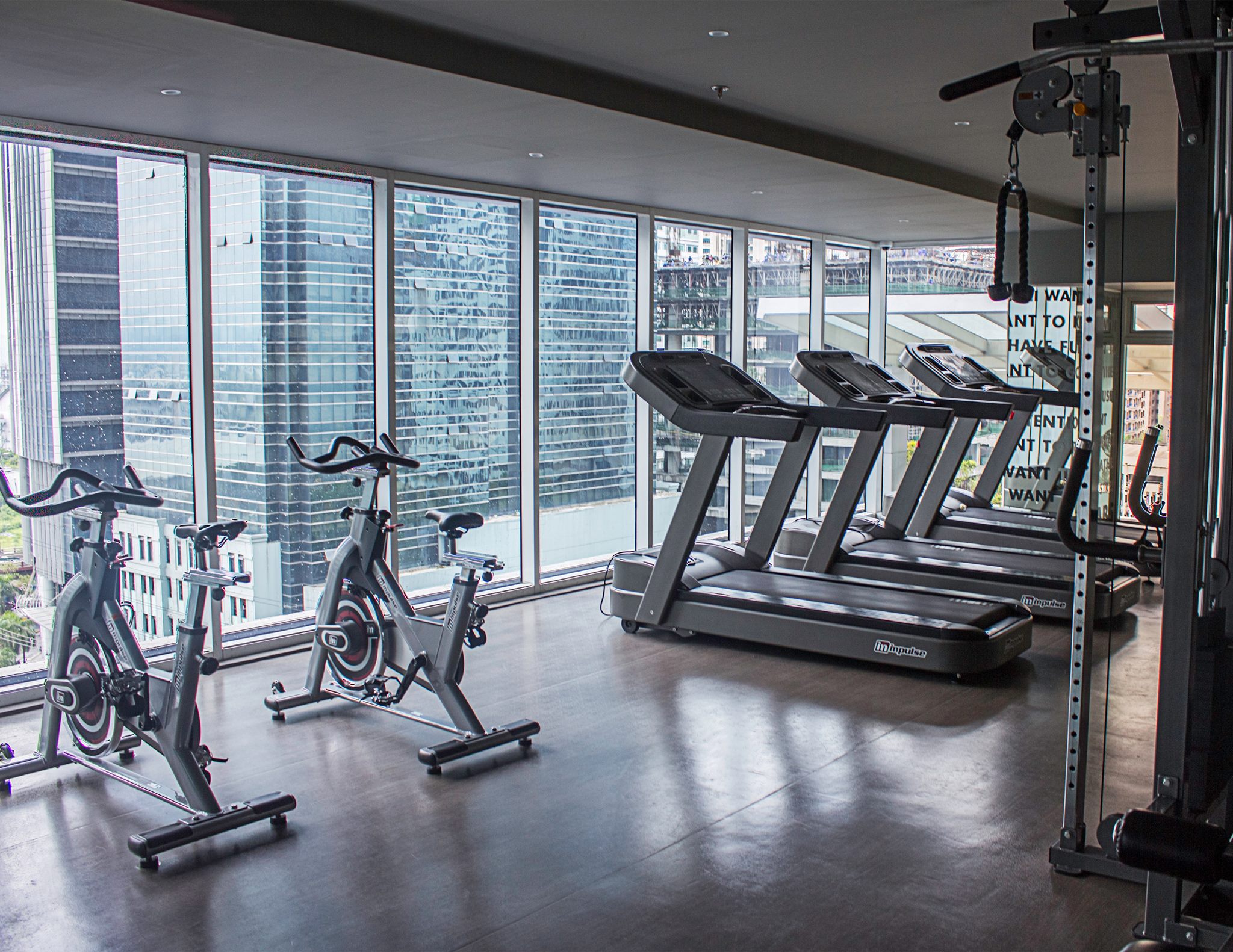 How to book via Airbnb?
The Airbnb website is pretty upfront and very easy to use. To book with them simply follow these steps.
Create an account with Airbnb

. That is if you don't have an account yet but if you do, then skip to #2.

Go to this link, choose your travel date/s and book:

Book a staycation

Contact your host then make sure to show up on your scheduled booking! 😀
About Sonders
Sonders Property Management Corp. is a legal property management company in the Philippines that provides the best accommodations in town. Sonders Property Management Corp. has the most customer-friendly staff that are willing to go the extra mile to help their guests.
For inquiries about Sonders Property Management Corporation, visit their website at sonders.com.ph or check out their Facebook accounts.
About The Currency by Vista Residences
The Currency is a premier mixed-use commercial and residential property located in the business district of F. Ortigas, Pasig City. Living here, you and your family will get closer to malls, places of work, churches, hospitals, schools, supermarkets and government offices. It is a bussy location where many commercial and industrial buildings around.
With its strategic location, you will also get immediate access to a wide range of transport systems: buses and jeepneys.
The Currency is an iconic landmark, which is also one of the tallest structures in the location, with a height of 34 floors. The housing is an impressive complex, where you can start building your future and living the life that you want. Your modern lifestyle will become even easier and hassle-free.
This residential housing is in the middle of the city, giving residents quick access to different cities and towns. They can also reach their places of work without any hassle due to the closeness of this city to key places of work, mainly in the business district of Ortigas. This property is offering residents with the most comfortable living while at the same time supplying them a lovely ambiance and peaceful surroundings.
It is also near the busiest malls in the city, including the Podium, SM MegaMall, and Robinson's Galleria. You can also explore and discover other places for entertainment and leisure, including The Strip, Metrowalk and El Pueblo.
Have you ever been on a staycation? Feel free to share your experience in the comments below.
Looking for another travel destination near Manila? check out Escape To Elyu: La Union Travel Guide
Thank you for reading.