AirAsia today painted NAIA Terminal 2 red as it warmly welcomes its guests to the new home of the champions. The world's best low-cost airline will operate all its domestic flights to and from the centennial terminal, offering guests with bigger space, better amenities and a more comfortable travel experience.
AirAsia Philippines CEO Ricky Isla and other airline officials are joined by Manila International Airport Authority (MIAA) OIC Bryan Co, Civil Aeronautics Board (CAB) Executive Director Carmelo Arcilla, and Civil Aviation Authority of the Philippines (CAAP) FSIS Assistant Director General Atty. Frank Edward Marty in a holy mass to celebrate the transfer.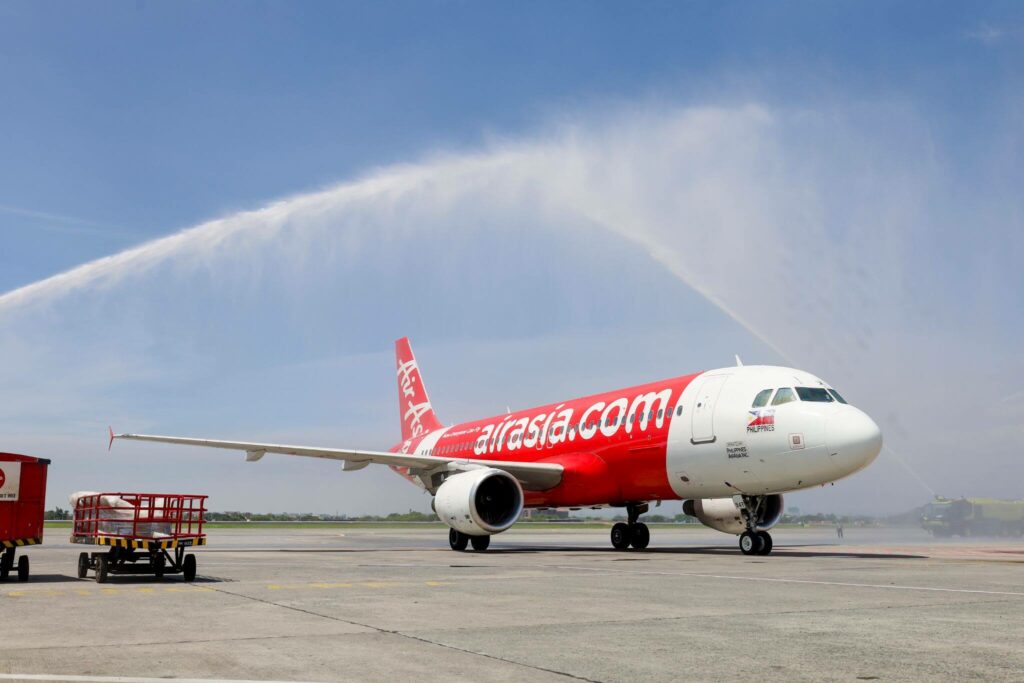 A water cannon salute was also accorded to the arriving AirAsia aircraft followed by a ceremonial cutting of the cake was held to mark the significant event among guests.
"We keep saying that this is a winning move for our guests because they deserve only the best from us. Moving to Terminal 2 will allow us to add more routes, increase frequency and utilize wide body aircraft in the near future to improve connectivity and enhance customer experience," said Isla
Twenty check-in counters (22-41) are allocated for AirAsia guests entering the south wing of the terminal. After going through the security screening, they may enjoy various food stalls in the passenger lounge while waiting to board from the seven (7) operational aero bridges in the south wing or utilize the four (4) remote parking bays during high traffic or peak hours.
For a hassle-free, contactless and convenient check-in, self check-in kiosks are also made available beside the counters.
To raise awareness among guests, preflight notifications via email and sms were sent 2 months ahead of the scheduled transfer. During the transition period, a Customer Happiness help desk and a shuttle van will be positioned at NAIA Terminal 4 and Terminal 3 to assist guests for a swift transfer to Terminal 2.
Isla further adds, "During the past months, our On-Time Performance (OTP) is at an average of 80-85%. We even reach a high of 100% on some days when there are no factors causing disruptions such as weather or lightning red alerts, air traffic congestion and non-scheduled maintenance. This only proves the commitment among our Allstar employees to do it best for our guests. They may expect the same level of commitment and even more as we journey through this winning move."
As a formidable air travel partner, AirAsia operates more than 100 domestic flights daily, and is aiming to increase routes and frequency during the winter season to provide guests with affordable flights coupled with its brand of world's best service.
Meanwhile, MIAA and CAB share the same excitement for AirAsia and its guests as it moves towards a promising growth trajectory post pandemic.
MIAA OIC Bryan Co said, "We warmly welcome AirAsia in its new home for domestic flights. We share the same level of commitment in improving the total airport experience of the flying public. Indeed, this is a winning move for all stakeholders."
CAB Executive Director Carmelo Arcilla said, "It's important for industry stakeholders and government to continue to engage to ensure that passengers ultimately win. We shall work closely with the industry towards full and strict adherence to the Air Passenger Bill of Rights, as we endeavor to go above and beyond in the service of the Filipino people."
AirAsia Philippines is advising its guests to regularly visit the airasia fly safe page, airasia newsroom, and airasia Super App social media platforms Facebook and Twitter for latest flight schedules and other travel advisories.