Skincare routines have all sorts of components, but one thing that can't be overlooked is sunscreen. From the beach or even when you're just at your desk in front of your computer, sunscreen protects your skin from harmful UV rays, slows down skin aging, maintains an even skin tone, and also lowers the risk of skin cancer.
Amway, the global leader in health and wellness, introduces the ultimate way to protect your skin with their newest Artistry Skin Nutrition™ Multi-Defense UV Protect SPF50+ sunscreen. The versatile sunscreen goes beyond the ordinary by offering full light protection as well as antioxidant and barrier strengthening benefits against free radicals to maintain the health of your skin in various settings.
Artistry Skin Nutrition's sunscreen comes with a silky-light texture that glides over skin and absorbs quickly and invisibly to preserve your natural skin tone. It feels hydrating, never greasy that it can be used as a makeup primer and can leave skin looking and feeling healthy.
What's Inside?
Full light protection comes from its Multi-Filter Blend of five active sunscreen ingredients that provide the brand's highest level Broad Spectrum UVA/UVB protection with SPF50+/PA++++. The Multi-Defense UV Protect SPF50+ sunscreen offers more Carnosine Peptide, clinically proven to protect against damaging infrared light and blue light that's usually emitted from all those screens and electronics devices you use for work and play.
The newest Multi-Defense UV Protect SPF50+ sunscreen is infused with plant-derived and antioxidant-rich ingredients that are sourced from Amway's very own Nutrilite™ farms to ensure purity, safety, and effectiveness of the product from seed to skin. It's formulated with Prevent Complex, a blend of Acerola Cherry, Australian Daisy, and Blackberry that can boost your skin's defense system by 350% to prevent and delay early signs of aging. It also contains Pomegranate to provide continuous protection from air pollution's irritating effects and the Patented Brightening Complex with White Chia Seed and Pomegranate to strengthen the skin's microbiome and brightens the complexion.
Other natural ingredients in the sunscreen are time-released Cica Extract that ensures 8-hour gradual release for all-day efficacy and antioxidant protection, and Chrysanthemum Morifolium Flower Extract that safeguards against free radicals and environmental damage, preventing dullness, wrinkles, and dark spots.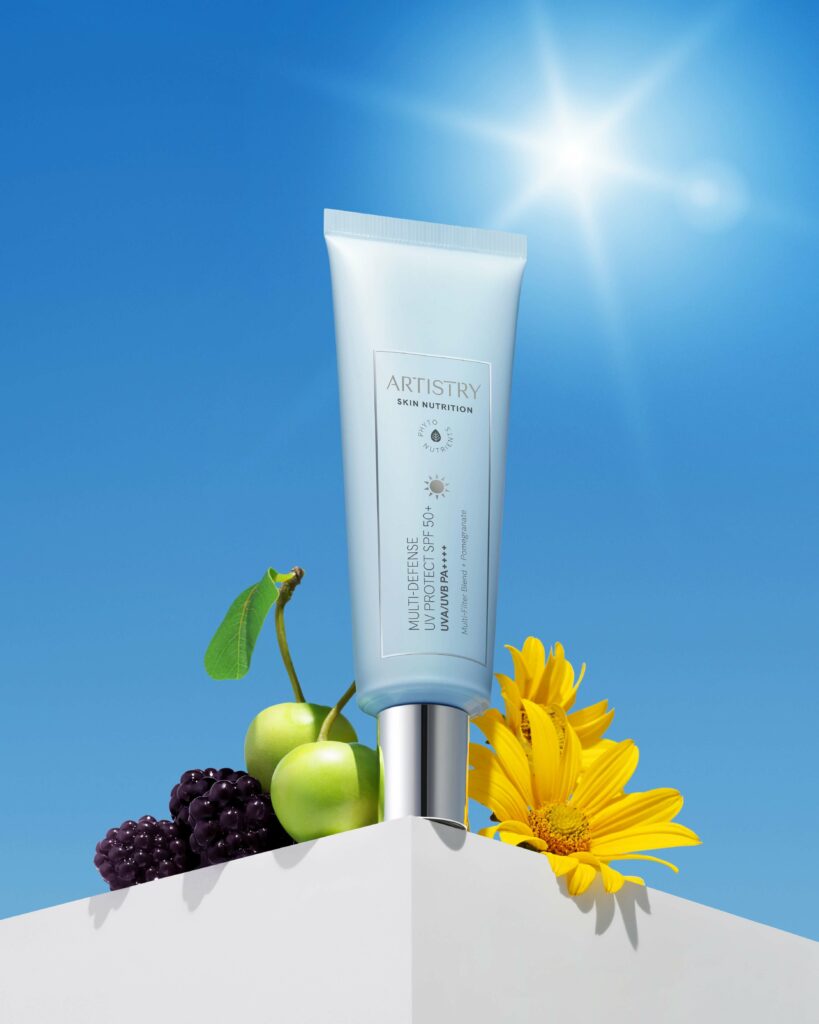 Is it clean and paraben-free?
Apart from shielding your skin from the harsh rays of the sun and other harmful light, this clean, traceable, certified vegan sunscreen also delivers additional antioxidant protection against other environmental aggressors like pollution, ozone and smoke and barrier strengthening protection against dry, over-air-conditioned areas like offices, stores, and airplanes.
The Multi-Defense UV Protect SPF50+ sunscreen is also free of oxybenzone and octinoxate that are harmful to coral reef systems—making it the better choice for both your skin and the environment. It also upholds the Artistry Clean standards as it's formulated with no parabens, phthalates, mineral oil, and over 1,000 other ingredients that you may be concerned about.
The sunscreen is recommended by the Skin Cancer Foundation, which means that its formula meets the criteria of their volunteer Photobiology Committee. With the Foundation's seal of approval, Artistry Skin Nutrition ensures that the sunscreen is safe and effective at preventing skin damage that can lead to skin cancer, when used as directed.
"We're proud to include the all-encompassing Multi-Defense UV Protect SPF50+ sunscreen to our roster of products that are all carefully created to achieve visibly Health Beauty," says Carla Cruz, the Head of Marketing and Communications at Amway Philippines. "As the last step in an Artistry Skincare Nutrition regimen that requires one to Purify, Balance, Rebuild, Moisturize, and Protect the skin, applying this sunscreen ensures that we're not only defending our skin from all the external aggressors, but also protecting all the progress we've made to satisfy our skin goals now and in the future. It should be an essential part of our daily skincare routine."
Have more fun out in the sun and feel at more ease indoors with the full light protection and Nutrilite-powered antioxidant benefits of Artistry Skin Nutrition Multi-Defense UV Protect SPF50+ sunscreen.
To learn more about Healthy Beauty that's clean and traceable and Artistry Skin Nutrition's new approach to skincare, follow @OfficialAmwayPH on Facebook, @artistryph on Instagram, the Amway website at www.amway.com.ph, or through our Amway Business Owners at My Amway Place in Makati City.