ASUS Philippines finally announced today the all-new VivoBook S14 (M433), a pair of slim and lightweight laptops that strike the perfect balance between personal style and performance. The newest addition to the VivoBook segment is powered by the latest AMD Ryzen 4000 mobile processor, which allows you to conquer the world, whether for work, for learning, and even for gaming.
The 14-inch VivoBook S14 (M433) has an ultrathin 15.9 mm chassis that weighs just 1.4 kg. Available in the exquisite and bold Bespoke Black color, complemented by a uniquely yellow color-blocking Enter key, this laptop model features a thin-bezel NanoEdge FHD display which allows a larger screen to fit into a smaller chassis. 
The FHD display delivers immersive viewing experiences, along with wide viewing angles, exceptional color reproduction and vivid visuals. Powered by up to an AMD Ryzen™ 7 4700U Mobile Processor with 8GB RAM, the compact VivoBook S14 (M433) is the perfect value-for-money, productivity laptop.
Stand-out looks 
The VivoBook S14 (M433) is designed to stand out amongst other laptops because of its precision-crafted aluminum chassis that gives it a sleek surface and slender aesthetics. 
This newest model in the VivoBook S line-up also includes a unique color-blocking Enter key with yellow edges and text that add flair to truly express yourself. Bundled graphic stickers with unique designs and phrases that speak the mind allow users to further personalize their VivoBook S14 (M433).
Lightweight, with immersive visuals
VivoBook S14 (M433)'s lightweight and ultrathin profile is designed to perfectly fit any work set-up or learning environment, making it even more practical now that a lot of us are working from home. This model features a thin-bezel NanoEdge FHD display for immersive visuals with wide viewing angles and exceptional color that gives you a breathtaking entertainment viewing experience and color accuracy for flawless content creation.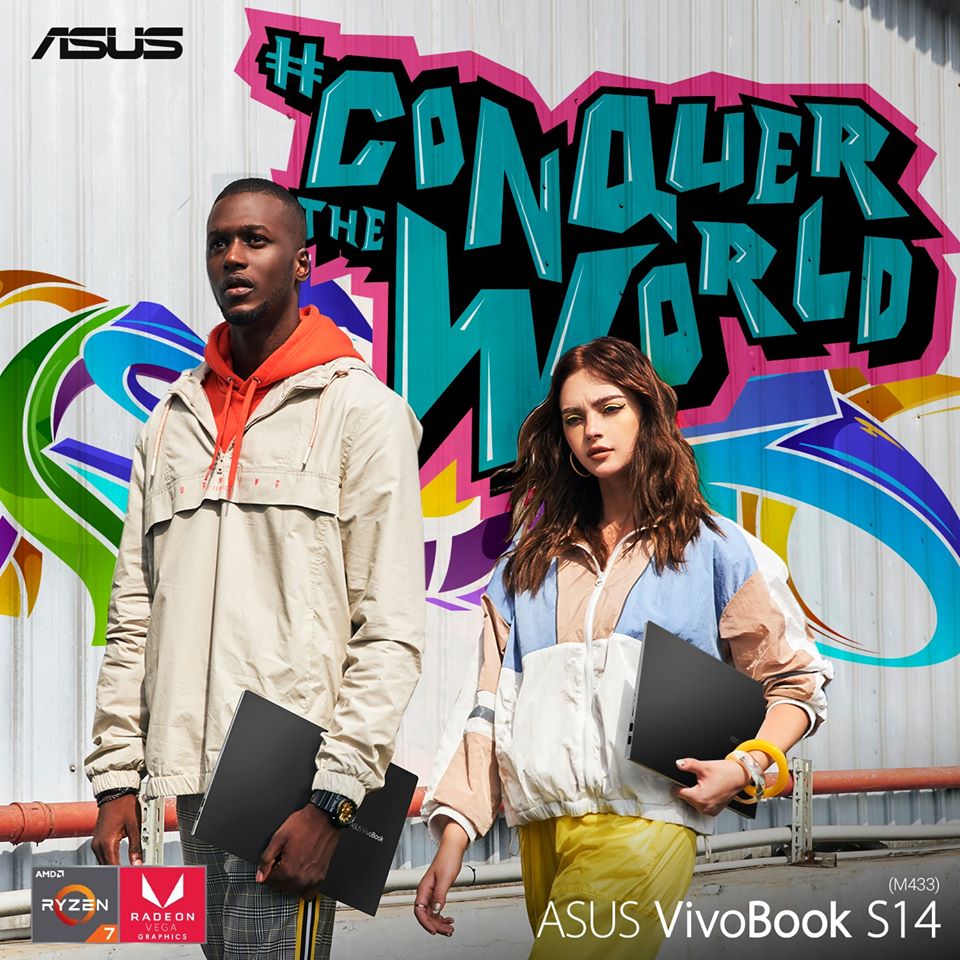 Power for work or play
The new VivoBook S14 (M433) helps you discover yourself more and expand your capabilities to be the best that you can be with its power and performance that will prepare you to conquer the world. Powered by AMD Ryzen 4000 Series Mobile Processor with 8 GB RAM and AMD Radeon™ Vega 8 graphics, the VivoBook S14 (M433) is also perfect for multitasking and high-definition entertainment. In addition, this laptop can be specified with up to a 512 GB PCIe® SSD, making it also ideal for users looking to multitask on two or more active windows onscreen at any given time with no worries.
Onboard WiFi 6 (802.11ax) delivers superfast networking speeds that are up to 3X faster than WiFi 5 (802.11ac), with 4X the network capacity and 75%-lower latency to reduce large 4K UHD video transfer times by up to 70%. This gives you faster and more stable wireless network experience for faster large file transfers, responsive online gaming, and super smooth video chats.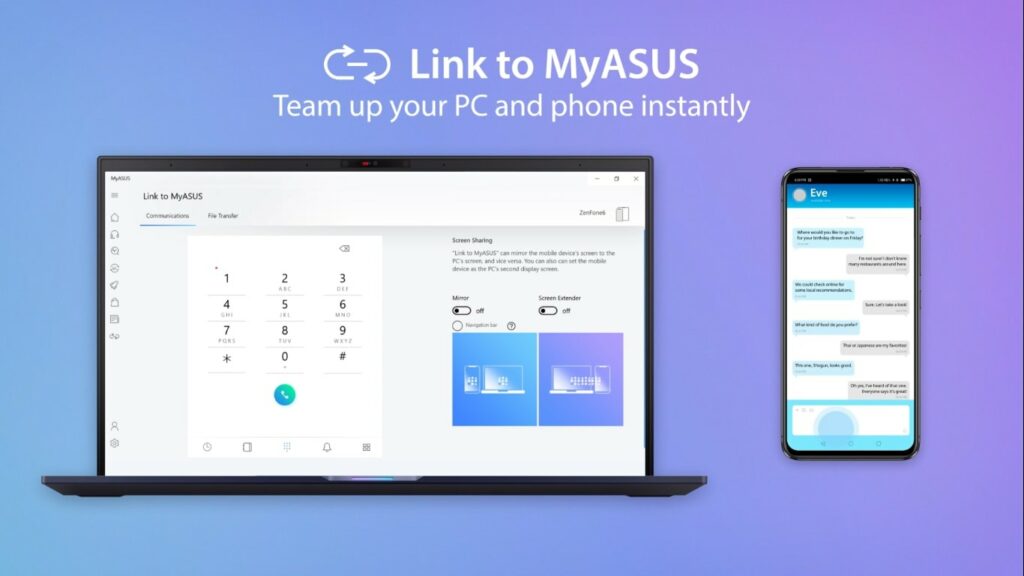 MyASUS software
Included in this all-new ASUS Vivobook S14 (M433), is the latest MyASUS software called Link to MyASUS, which seamlessly integrates your workflow between laptops and your mobile devices, like smartphones and tablets, making it all the more practical for your work from home and learn from home needs.
The new Link to MyASUS includes features like wireless file and URL transfers for users who frequently need to share files or view websites seamlessly between their PC and mobile devices; Remote File Access to allow easy access to the PC's storage via a mobile device for when you accidentally leave your laptops in the office or at home; and Mirror and Screen Extender modes that allow users to multitask across a connected mobile device and PC for dual-display convenience.
To pair your smartphone or tablet to Link To MyASUS, simply connect your device to your ASUS VivoBook S14 (M433) via Bluetooth, and make sure you are connected to the same Wi-Fi network. Mirror and Screen Extender modes are accessed by turning it on in the Link To MyASUS screen, and you can switch between Communications and File Transfer tabs to access your phonebook, make or take calls, and access your files between your PC and phone or tablet.
AVAILABILITY & PRICING
The all-new ASUS VivoBook S14 in Bespoke Black comes in 2 variants to match the power and performance that you need, and will be available for pre-orders from June 1- 12, 2020. Interested participants of this pre-order will also take home exclusive and exciting bundled items worth up to PHP 23, 830.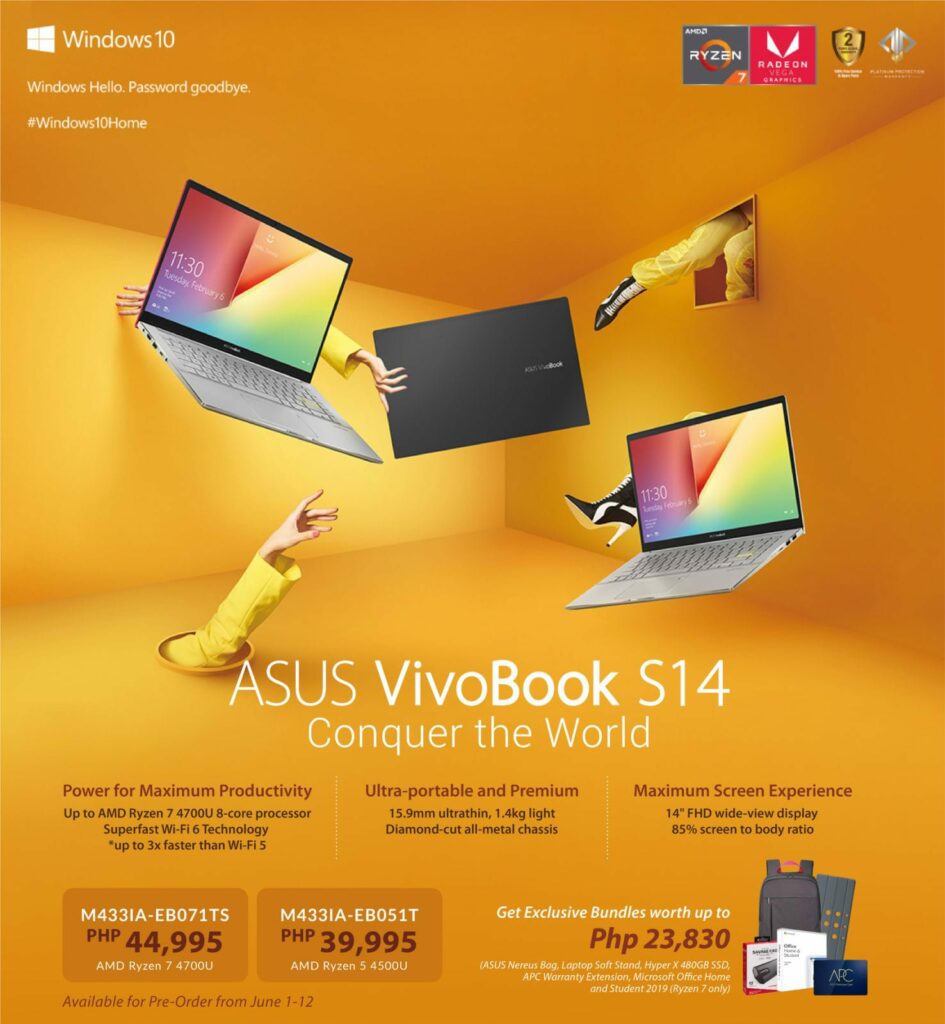 The VivoBook S14 M433IA-EB071TS with Ryzen 7 Processor is priced at PHP 44,995 and comes with bundled items worth PHP 23, 830.
Freebies include: ASUS Nereus Bag, Pre-Installed Microsoft Office Home and Student 2019 with Lifetime License, Laptop Soft Stand, and ASUS Premium Care Warranty Extension Package.
The VivoBook S14 M433IA-EB051TS with Ryzen 5 Processor is also available at just PHP 39,995 and comes with bundled items worth PHP 16, 940.
ASUS Nereus Bag, Laptop Soft Stand, and ASUS Premium Care Warranty Extension Package.
The first 100 pre-orders on either variant will also take home a Hyper X 480GB External SSD worth Php 9,750.
These variants will be available for pre-order starting June 1-12, 2020 in select ASUS Concept Stores nationwide, and the Official ASUS online stores in Lazada, Shopee, and E-store.
You can pre-order this phone at Shopee, Lazada, and ASUS stores online.
For the pre-order mechanics, visit this link.