Did you know that 53 million Filipinos have no bank accounts? That is a staggering 69% percent of the country's population from BSP's Q3 2021 study.
The problem? Access. Many of them lack the documents required to open bank accounts. They opt to just keep their cash at home for easy access in case of emergency.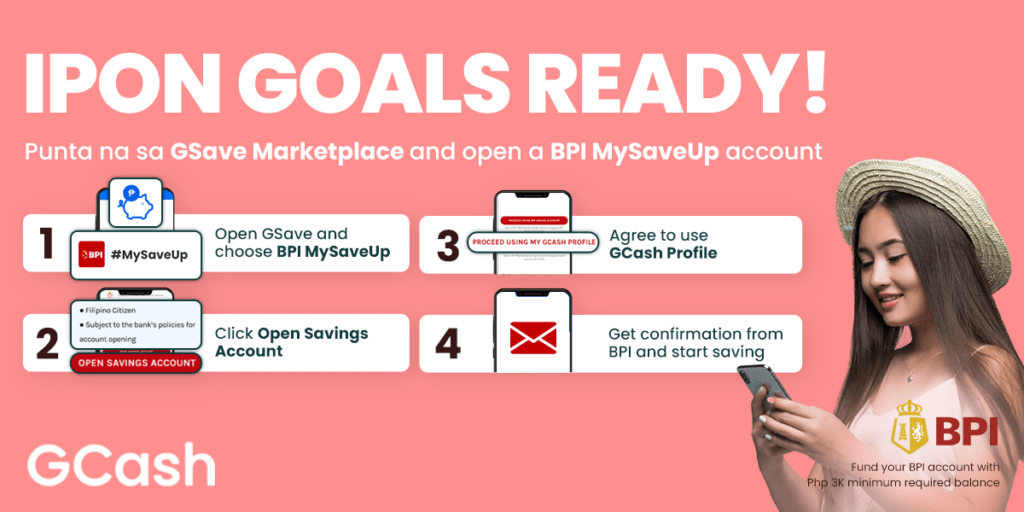 To encourage more Filipinos to go into formal banking, GCash, the country's leading e-wallet, recently partnered with the Bank of the Philippine Islands (BPI) to reach unbanked Filipinos, particularly working millennials.
This is part of the top mobile wallet's continuing innovation to empower Filipinos and find solutions to digitalize their financial transactions, including paying for their purchases and bills, sending money to their loved ones, and building up their savings so they can have greater financial security and freedom in life.
The partnership between GCash and BPI offers BPI #MySaveUp, an in-app feature in the GSave marketplace.
"The goal of GSave Marketplace is to provide savings account options that would best fit their needs," Winsley Bangit, chief customer officer at GCash said. "The collaboration with BPI allows GCash users to enjoy the bank's wide reach and services nationwide. BPI #MySaveUp gives the underbanked and unbanked Filipinos access to formal banking through the GCash app."
Helping further scale up financial inclusion, BPI #MySaveUp paves the way for unbanked Filipinos to easily apply for and own a formal and all-digital account sans the long application process, allowing them to start their saving journey and achieve their financial goals while earning higher interest rates.
Through this partnership, doing financial transactions and managing an account become plain sailing thru their GCash account or BPI mobile app. This new feature also offers free fund transfer from a user's BPI #MySaveUp account to his GCash wallet and vice versa.
Users also have an option to get a BPI Debit Mastercard in any BPI branch for only P150 so they can access their account and withdraw from thousands of BancNet and Mastercard ATMs worldwide.
"We, at BPI, are committed to realizing our vision of building a better Philippines. We are committed to continuously pursue financial inclusion programs in support of the BSP's goal for 70% of adult Filipinos to have formal financial accounts by 2023. This partnership with GCash brings us closer to this target as we provide more Filipinos a path towards financial wellness," said Maria Cristina L. Go, Executive Vice President and Head of Consumer Banking at BPI.
BPI #MySaveUp users can also win monthly prizes. Every Php 10,000 saved by the end of the month or have at least Php 3,000 worth of valid transactions within the month earns them 1 #Coin which they can use to buy a game card to win electronic GCs or eGCs from BPI.
Applicants can open their BPI #MySaveUp account on their GCash app. They simply need to click the GSave icon then choose BPI #MySaveUp. Once in, they can open a savings account and proceed with using their GCash profile. After receiving the email confirmation from BPI, they can then finally start accessing BPI #MySaveUp.
For non-GCash users, they just need to download the app, upload one valid ID and wait to be verified. Once done, they can enjoy all the products and services of GCash.