Exercise is a proven way to get in shape, stay fit, and improve your outlook. But working out need not necessarily be limited to gyms or fitness centers. There's a lot of ways to workout without leaving the safety and comfort of your own home especially during such uncertain times. Having a perfect workout companion like the new Huawei Watch Fit helps you to keep track of your exercise regimen and health on a daily basis.
Huawei's latest smartwatch packs a long-lasting battery with a wide range of fitness and health monitoring features that will always stand by your side.
Here is how the new HUAWEI Watch Fit can help you keep fit while you are staying at home.
Unboxing/Accessories
Inside the box, you will see the Huawei Watch Fit, 2-pin magnetic charging thimble, and the quick start guide.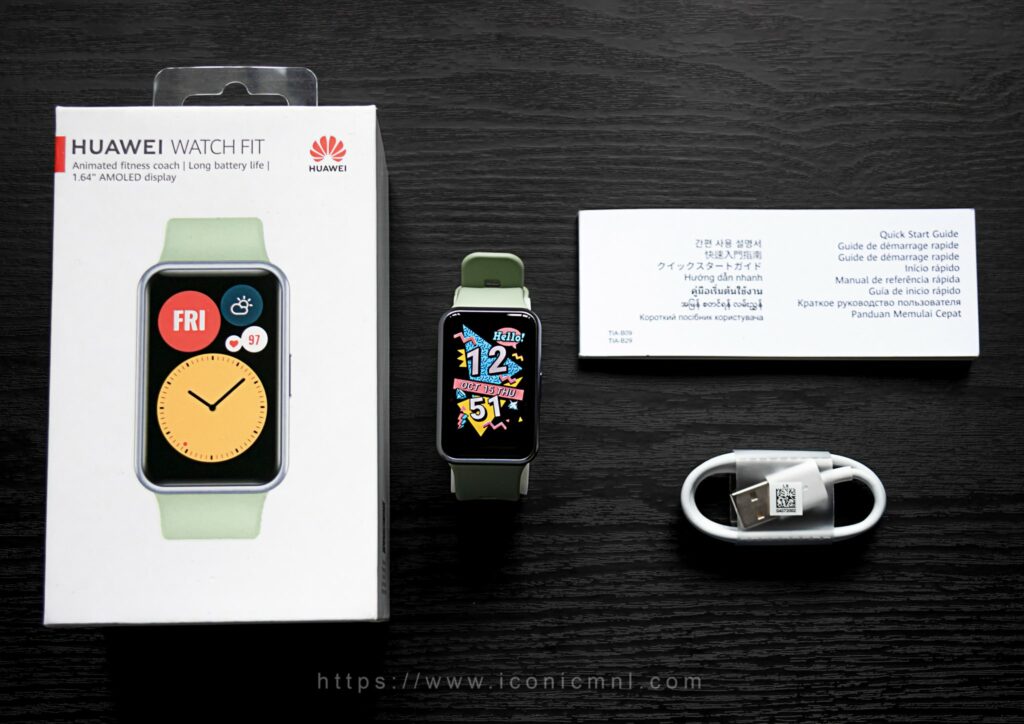 Build Quality/Design
The new Huawei Watch Fit doesn't have the same round display like Huawei's other smartwatches. Instead it has a rectangular design with a 1.64 inch AMOLED display sporting a 456 x 280 HD resolution touchscreen supports slide and touch gestures. It is a touch-screen panel with 2.5D curved glass and a 70% screen-to-body ratio. It has a thickness of only 10.7 millimeters and weighs only 21 grams without the strap. It's arguably a more fashion-forward wearable device than most traditional fitness trackers or smartwatches available in the market.
At the back is where you will see the 6-axis IMU sensor, optical heart rate sensor, capacitive sensor, ambient light sensor as well as the magnetic pins for charging the device. It also features a matte silicone strap in Cantaloupe Orange, Mint Green, and Graphite Black color options. The chassis is made of a polymer material with a textured matte finish that complements the strap.
The silicone strap can be easily popped off by poking a fingernail into a little groove at the back to remove the plug that locks the strap in place. Unless you plan to buy another official strap you'd best not to lose the little locking plug. Also, upon checking online as of press time, we are still unable to find any 3rd party straps available.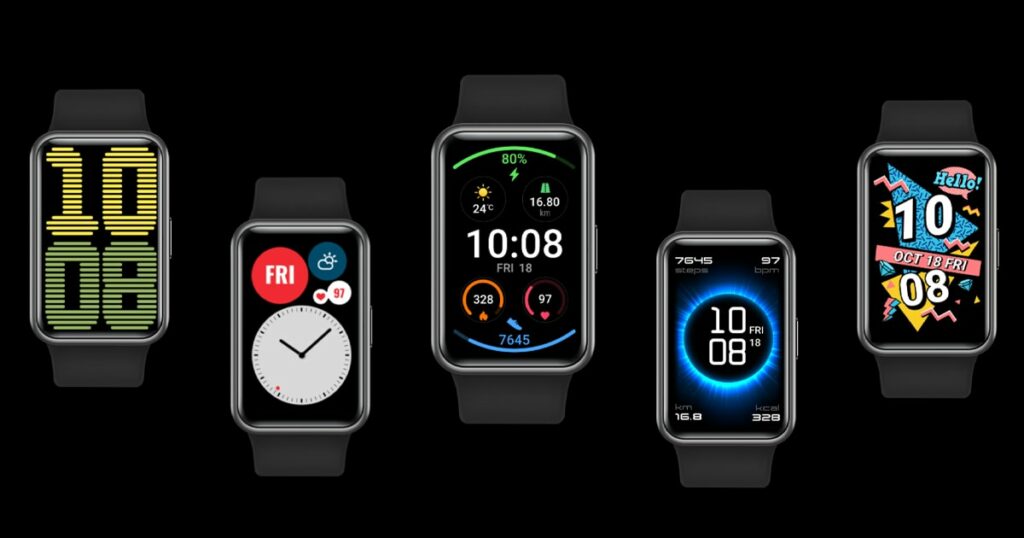 It also comes with a wide range of stylish, functional and interactive watch faces, making it the perfect companion for young techies who wish to look unique and hip at all times.
The new Watch Fit features 96 Workout Modes, including 11 professional sport modes such as running, swimming and cycling. The watch also comes with 12 animated quick-workouts like exercise at work, full-body stretch, ab ripper and 44 standard movement demonstrations. This fitness centric smartwatch also comes with a built-in GPS, blood oxygen saturation (SpO2), heart rate monitoring, stress tracking, sleep monitoring, menstruation tracking, and more.
To get started, you just need to connect the device to your smartphone by simply downloading the Huawei Health App which is available on both google play store or app store. Once downloaded, you just need to open your bluetooth, then open the Huawei Health App and click on devices to pair your new Huawei Watch Fit with your smartphone.
Battery Life
Despite its compact size, the Huawei Watch Fit features dual chipset architecture and power-saving algorithms that enables the device to last for up to 10 days on standard mode with typical use. Additionally, the watch supports Huawei's fast charging technology that supports you for a whole day with just 5 minute charge.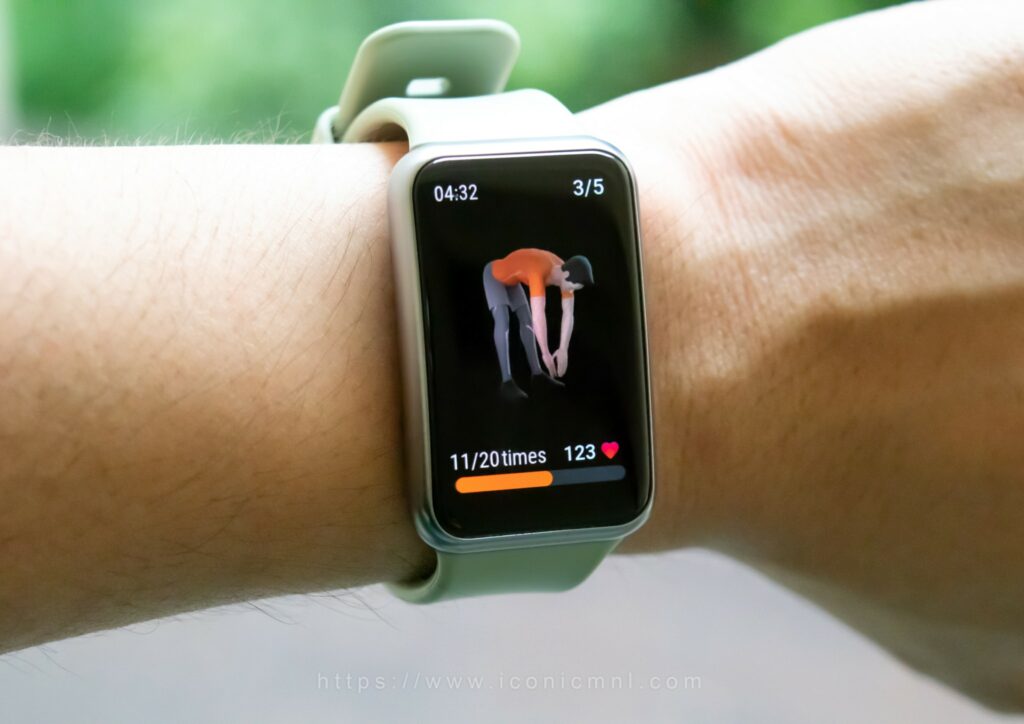 Animated workout guides
The Watch Fit debuts the new animated workout feature that is designed to help users easily perform quick exercise reps exercise at work, neck and shoulder relaxation, full-body stretch, ab toning, ab ripper, and more.
Other Features
Huawei has also included 96 workout modes including 11 professional sport modes and 85 custom workout modes that allows you to unleash your potential, whether you're into yoga or high-intensity interval training. The watch also keeps track of your real-time heart rate, calories, and duration of your workout.
The Huawei Watch Fit makes a great everyday activity tracker that constantly monitors your heart rate and measures the quality of your sleep if you wear it at night. Aside from that, just like the previously released GT 2e the new Watch Fit also has the ability to measure the oxygen saturation levels in your blood. Basically, SpO2 or blood oxygen saturation is a measure of how much oxygen is present in the blood flowing through your body.
Unlike the previously released Huawei GT 2e that allows you to play music and save MP3 files directly from the watch. The new Huawei Watch Fit only lets you control music playing on your smartphone. Aside from that you can also use your Huawei Watch Fit to send notifications from your phone, as a small flashlight, and as a remote camera shutter.
Verdict
Huawei continues to deliver one of the finest wearable fitness trackers in the market at a more affordable price. The new Huawei Watch Fit is a cheaper alternative to the Huawei GT 2 or GT 2e with all the impressive range of fitness and health features. Aside from that, it also features animated workouts that are pretty straightforward and easy to follow. I also liked how Huawei offered a variety of watch faces to fit your personal style. It is definitely a great exercise companion for most workout types. I'm very impressed with the battery. It only takes a little over an hour to fully charge the device and gets up to 10 days battery life. Overall, the new Huawei Watch Fit is a great fitness tracking device especially for the price.
PROs
✅ Battery can work up to 10 days in a single charge
✅ Impressive range of fitness and health features
✅ Animated workout guides
✅ Affordable price tag
CONs
❎ Limited third-party app support
❎ Has a limited always on display watch face
❎ You can't make or receive phone calls via bluetooth but you can decline a call.
Huawei Watch Fit Specs
Display: 1.64-inch AMOLED screen w/ 456 x 280 resolution at 326 ppi
ROM: 4GB
Battery: Up to 10 days
OS: LiteOS (Works for Android 5.0 and iOS 9.0 and above)
Connectivity: WiFi, Bluetooth 5.1 (BLE, BR, EDR), GPS
Sensors: 6-axis IMUI (accelerometer, gyroscope), light, optical heart rate, capacitive, SpO2
Others: 5 ATM water resistance, side button, and microphone.
Watch Color: Graphite Black, Mint Green, Cantaloupe Orange
Watch Case Color: Black, Silver, Rose Gold
Watch Strap Color: Graphite Black Silicone Strap, Mint Green Silicone Strap, Cantaloupe Orange Silicone Strap
Dimensions: 46 x 30 x 10.7 mm
Wrist coverage range: 130 to 210 cm (Standard Model)
Weight: 21 g (Without strap)
Price: PHP 4,999
Price and Availability
The Huawei Watch Fit is priced at Php 4,999. It comes in Graphite Black Silicone Strap, Mint Green Silicone Strap, and Cantaloupe Orange colour variants.
Related Article: Reasons Why The Huawei Watch Fit Makes For A Perfect All-day Companion
Leave a comment down below and share your thoughts with us!
Want more features like this? Please follow us on Facebook, Twitter, and Instagram to get the latest trends.