Need a pair of flexible earbuds but don't want to break the bank? It's worth taking a look at the EarFun Free Pro 2 buds. The little buds are a wonderful deal for only PHP4,690 (or $80 in the US), despite the lack of a few features like a companion app, multipoint connection, and very precise touch controls.
EarFun was formed in 2018 by a mix of experienced designers, engineers, and audiophiles. They have a goal: to produce next-generation wireless audio devices that utilize the most cutting-edge technologies to tackle current-generation wireless audio device challenges.
EarFun thinks that technology has the ability to enrich modern lifestyles and effortlessly interact with our daily routines. This philosophy is backed by their slogan, "Better Sound, Better Life." – EarFun
Every iteration of EarFun, including the Free Pro 2, incorporates the most recent R&D breakthroughs. They were able to fit in the advanced AIROHA audio system on a chip (SoC) for improved noise cancellation and more robust communication while keeping the tiny form factor.
This EarFun Free Pro 2 review will tell you all you need to know about these buds, including their design, fit, and battery life, as well as how well they perform on a daily basis.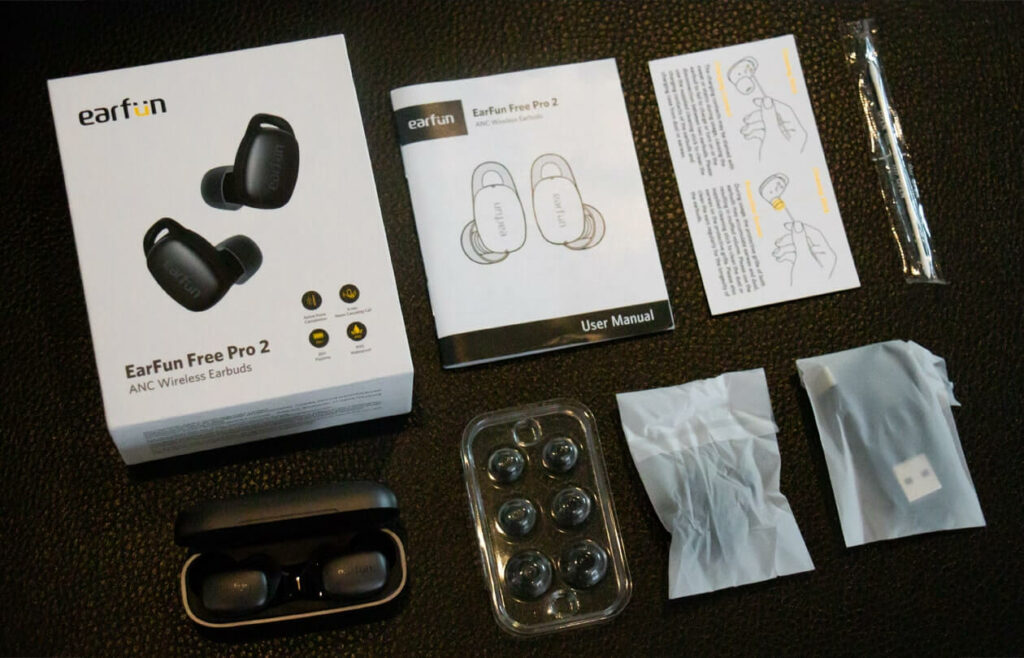 Unboxing/Accessories
The packaging is pretty much straightforward. No fancy stuff but it has all the essentials you need. Out of the box, you'll find the rectangular charging case, pair of earbuds, 4 x ear tips, 3 x ear hooks, USB-C cable, and user manual.
I was pleased to see that the casing was actually quite compact, given the size of the earphones. It effortlessly slips into my pockets, and after a time, I hardly know they're even there.
It also comes with a couple of rubber rings that fit around the outside of the earbuds. Aside from that, there's an instruction manual, which pretty much covers everything within the box.
Tiny Pebbles yet comfortable
The EarFun Free Pro 2 has a little pebble shape that makes it look elegant and modest. Each bud is under 4.1g, making them lighter than almost all other wireless earbuds on the market.
The modest design of these buds is the first thing I saw and fell in love with it. The case and the earbuds are both small enough to fit in a closed fist in my hand. I don't have to worry about them taking up a lot of space in my pocket, rucksack, gym bag, or wallet. Also, because of their modest size, the Free Pro 2 barely pierce my ears—in fact, they have a rather slim overall profile.
These earphones have an unusual shape. They're designed to sit all the way up in your ear rather than down your cheek like regular earbuds. Because of the ear wings, they also have a very secure fit. They're easy to adjust physically if necessary, but they're some of the most comfortable buds I've ever worn, so you won't need to. They stayed there all day, even if shake my head; it was only when I ran that I felt them start to slip a little, which is kinda normal with any buds.
There are four various sizes of ear tips in the package, as well as three different sizes of ear wings. I assume that, with so many size combinations available, almost everyone will be able to customize the buds to their unique ears. The buds excel at providing a secure and comfortable fit, making it easy to ensure that none of your valuable sound escapes at any point.
Plastic but doesn't look cheap
Both the earbuds and the casing are made of sturdy plastic. Furthermore, the buds have an IPX5 certification, which means they can withstand humid or rainy environments.
The build quality is comparable to that of more expensive models. The case is composed of plastic, and the lid is held closed by strong magnets.
The lid does not jiggle and has a slightly resistant hinge. As a result, unlike the previous model, it never closes on its own, which is a good touch.
The grey tone of the case appeals to me. Despite the fact that it is made of plastic, it does not appear cheap.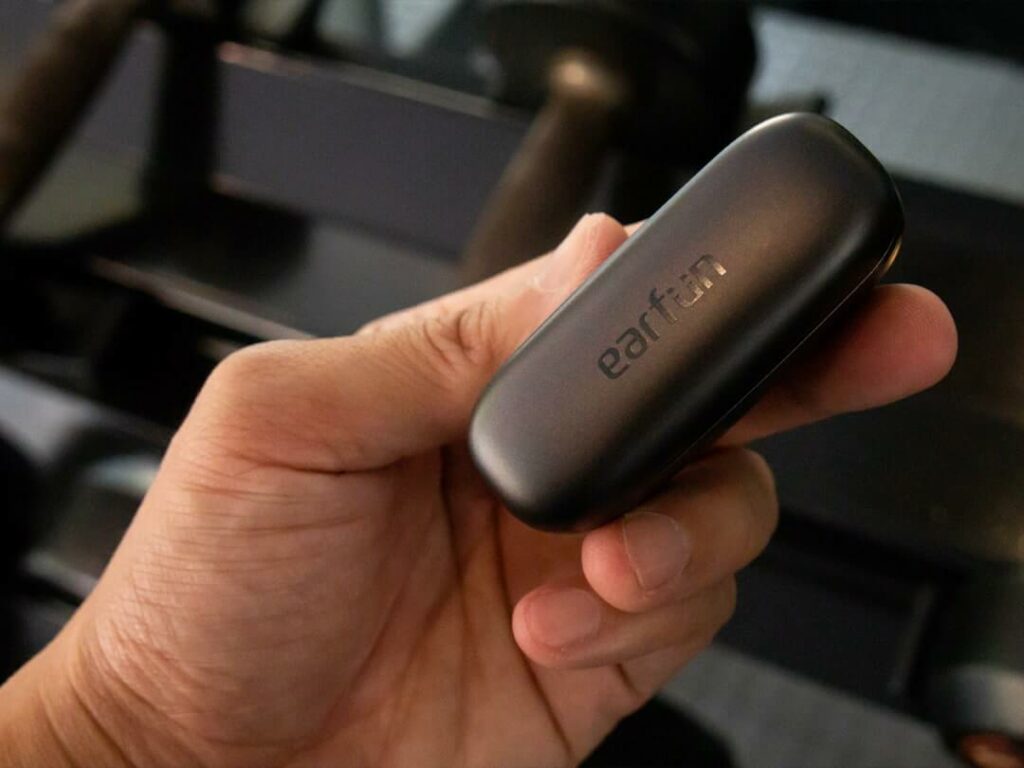 More fun to your ears!
Although the Free Pro 2 buds are priced well under PHP5k, I was surprised by the audio quality. The buds have a large soundstage, their channel separation is great, and you can hear every instrument separately. Thanks to its 6mm composite drivers.
We put it to the test by performing Justin Bieber's "Stay", a 2020 synth/pop song that trended on TikTok. It was performed by splattering synths, heavy drums, and piano. The audio experience was well-balanced, with clear vocals, deep bass, and a clean treble.
In comparison to the previous model, this version of the earbuds has increased active noise cancellation. The EarFun Free Pro 2s can now block up to 40dB of noise, compared to the original EarFun Free Pro's 28dB limit.
Ambient mode performed admirably, enhancing the noises in my immediate surroundings with ease. When you're running or multitasking while listening to music, this is really useful. However, when you listen to them in Ambient Sound or Normal mode, they sound a little less stunning.
It is pretty rare to find an inexpensive pair of earbuds with six built-in microphones. Surprisingly, this model has you covered. If you're going to use them in an office, they should be clear enough. However, it still struggles to suppress noise when the environment is too loud.
Gaming is also a breeze with the EarFun Free Pro 2. It has an 80ms Low Latency Mode, which isn't super low but enough for the price.
Overall, I'm pretty much impressed with the audio quality for most scenarios.
Earbuds on-the-go
With ANC turned on, I was able to listen to music for several hours without being interrupted by outside noise. The earbuds' battery life is rated at six hours, with an additional 24 hours of charging in the case. Even with ANC turned on, the earbuds never ran out of juice, and the case charges up quickly, so I never had to worry about battery life.
There is a Quick Charge feature on the earbuds. You can get another 120 minutes of playback in just 10 minutes. The earphones should easily make it through your workday, thanks to the Quick Charge feature.
The addition of Qi wireless charging is the icing on the cake.
Due to the lack of a companion app, you won't be able to check the buds' actual battery level unless you go to your phone's Bluetooth settings.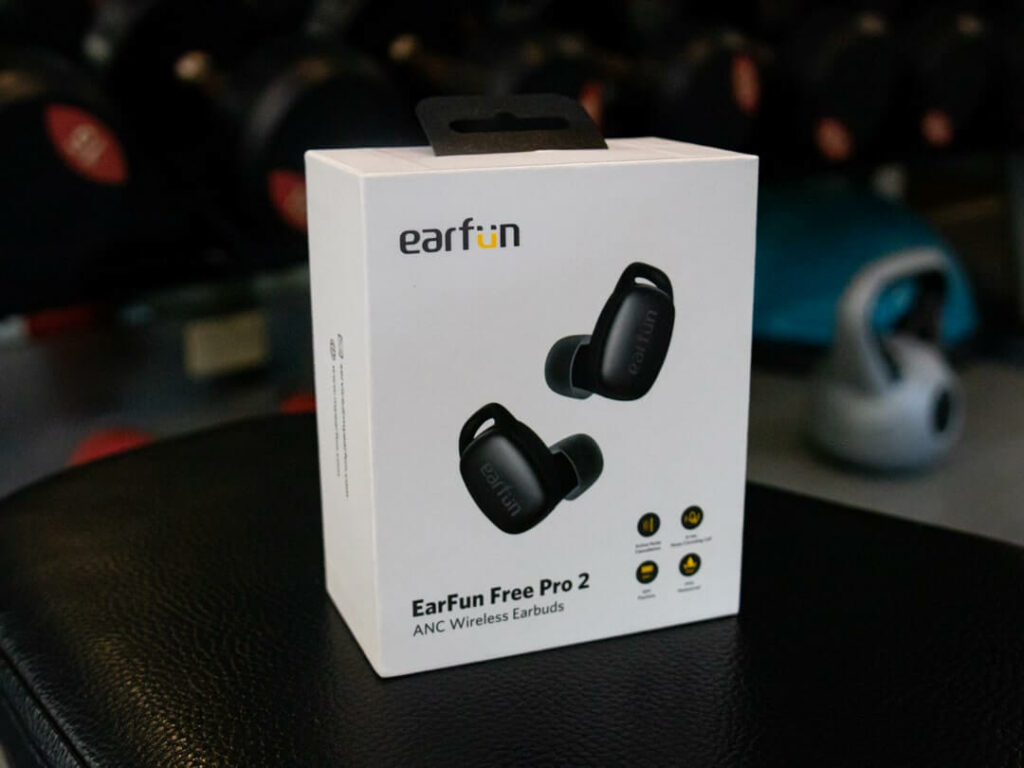 Should You Buy EarFun Free Pro 2?
EarFun Free Pro 2 is worth a look if you're a casual user looking to get the most bang for your buck. For only PHP4,690.00, you'll get all the essentials and some extras, such as wireless charging, IPX5 certification, and 80 ms of low latency mode.
These are little but powerful performers in almost every category. The active noise cancellation is good, and the Transparency mode is useful for swiftly responding to someone.
The battery isn't the best in the class, but it'll get you through a long drive back while listening to Spotify or flipping through some clips on Youtube.
The earbuds are quite comfortable, and they weigh only 4 grams per earpiece. Just be careful because they don't have the same level of stability as proper sports earbuds.
Overall, the new EarFun Free Pro 2 is an excellent pick for everyone but the pickiest audiophiles. However, they're the best-sounding earbuds we've tested yet.
Verdict
The EarFun Free Pro 2 earbuds are an exciting feature-rich alternative for daily usage, especially given their low price. They do have a few flaws, such as sluggish touch controls, and the lack of an accompanying smartphone app. The features they do have, though, go a long way toward making things better. We liked how compact it is, how long the battery lasts, how secure it fits, and how big the soundstage is. Nevertheless, EarFun's Free Pro 2 buds are the ones for you if you're searching for a new pair of earbuds with a lot of great features, decent sound, and an affordable price point.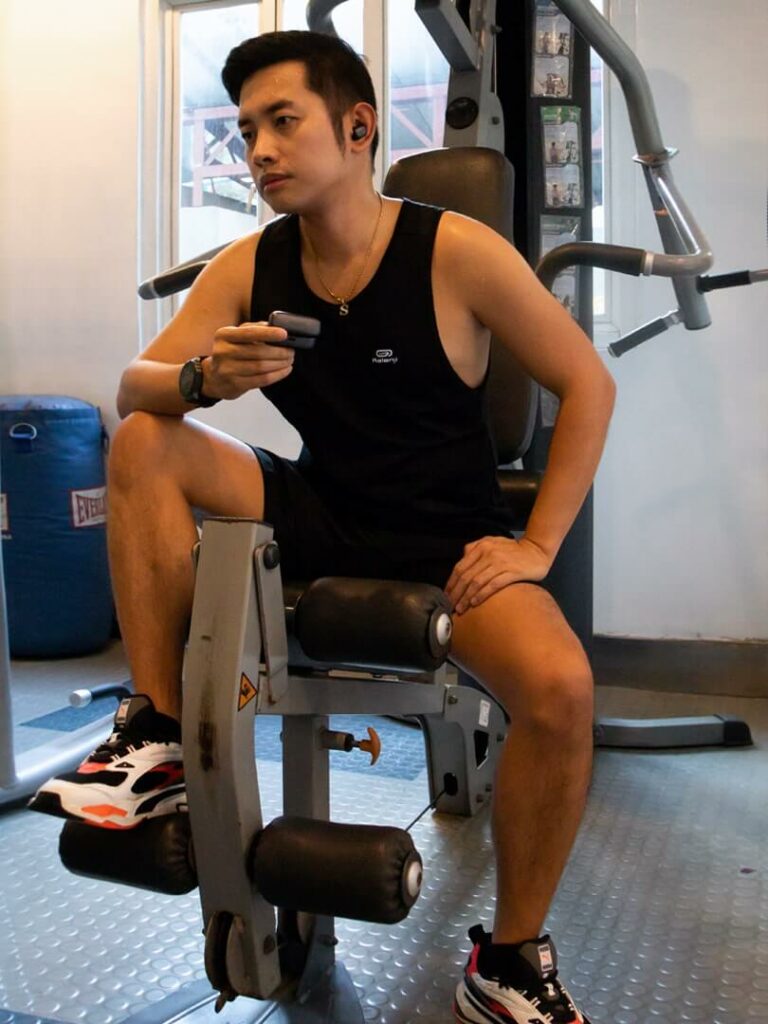 EarFun Free Pro 2 Specs
Drivers: 6mm composite
Earbud Weight: 4 grams
Earbud + Case Weight: 38 grams
Solo Bud Mode: Yes
Active Noise Cancelation: Yes
Bluetooth: 5.2
Codecs: AAC, SBC
Battery Life: 6 hours on earbuds, 24 hours with case; 30 total
Wireless Charging: Qi
Additional Tips: 4 ear tips, 3 ear wings
IP Rating: IPX5
Price and availability
The EarFun Free Pro 2 is now available at the nearest Digital Walker Store in your area. It is also available at Digital Walker's Official Store on Shopee for only Php 4,690.00.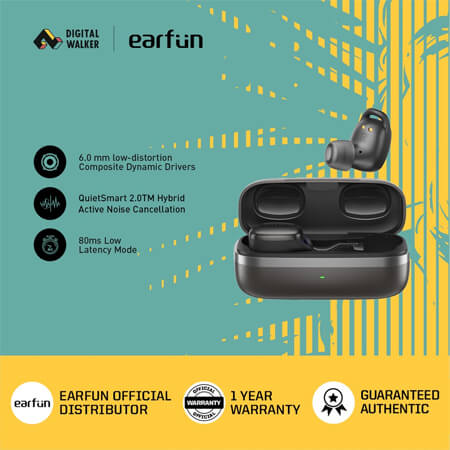 Leave a comment down below and share your thoughts with us!
Want more features like this? Please follow us on Facebook, Twitter, and Instagram to get the latest trends.