The HUAWEI Watch GT3 Pro is the company's newest flagship smartwatch, with premium materials including a titanium body, sapphire glass lens, and ceramic black casing, utilized in the new HUAWEI Watch GT3 Pro 46mm version to give it a more premium feel. The watch also has ECG analysis and TruSeen 5.0+ data monitoring, which lets it measure heart rate and monitor blood oxygen.
Thankfully, I was able to get my hands on the new HUAWEI Watch GT3 Pro. When I first received the package, I was excited to explore and use its latest features. Especially now that the new free-dive workout mode has been included, as I enjoy diving when I travel. Finally, I'm ready to give my full review of HUAWEI's latest wearable device.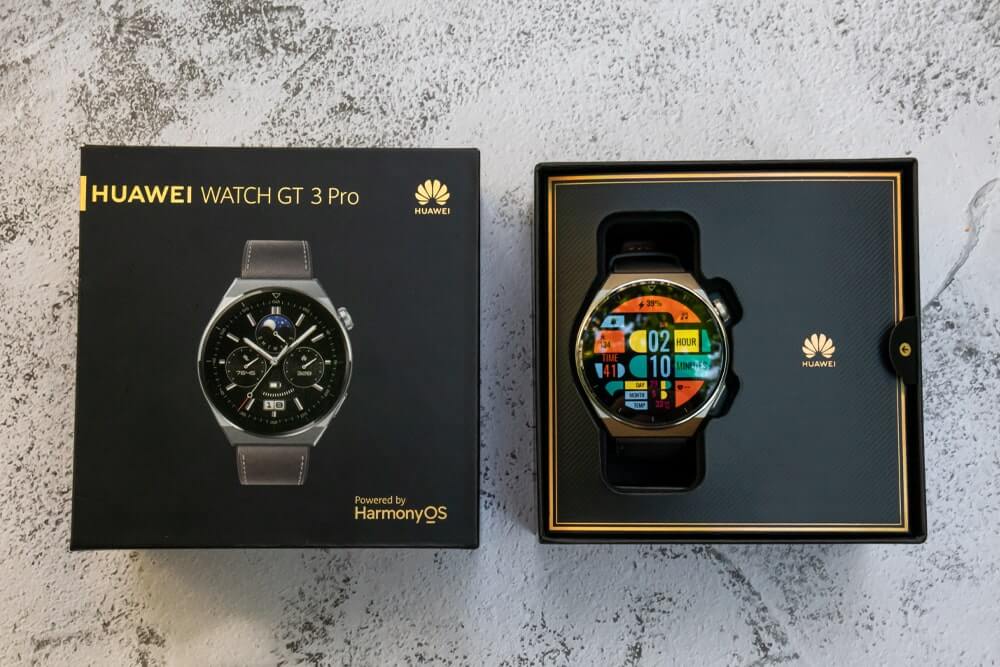 Huawei's latest smartwatch has a long-lasting battery and a variety of fitness and health tracking capabilities, so it'll always be by your side.
One of the Watch GT3 Pro's newest health functions is the ECG function. Users can get reliable single-lead ECG data, real-time analysis, sinus rhythm and atrial fibrillation detection, premature atrial and ventricular beat reminders, and arterial stiffness monitoring to help them actively prevent vascular illnesses. The device can track your heart rate, your SpO2, your plateau SpO2, your body temperature, scientific sleep tracking, stress monitoring, and more.
The HUAWEI Watch GT3 Pro enables Bluetooth calls, allowing users to make, reject, reply to, and mute calls from their smartwatch, which is great for when you're working out and don't have access to your phone.
It also offers an upgraded workout monitoring feature that provides over 100 workout modes including the newly added free-dive mode. It also includes other professional workout modes such as 12 outdoor workouts (golf driving range mode, running, walking, mountain climbing, hiking, cycling, open water swimming, triathlon, skiing, snowboarding, cross-country skiing, free training) and 7 indoor workouts (walking, running, cycling, pool swimming, free training, elliptical machine, and rowing machine).
Unboxing/Accessories
A wireless charging cradle with a magnetic pedestal that latches onto the underside of the watch for charging, as well as the usual user manual and safety information, are included in the packing.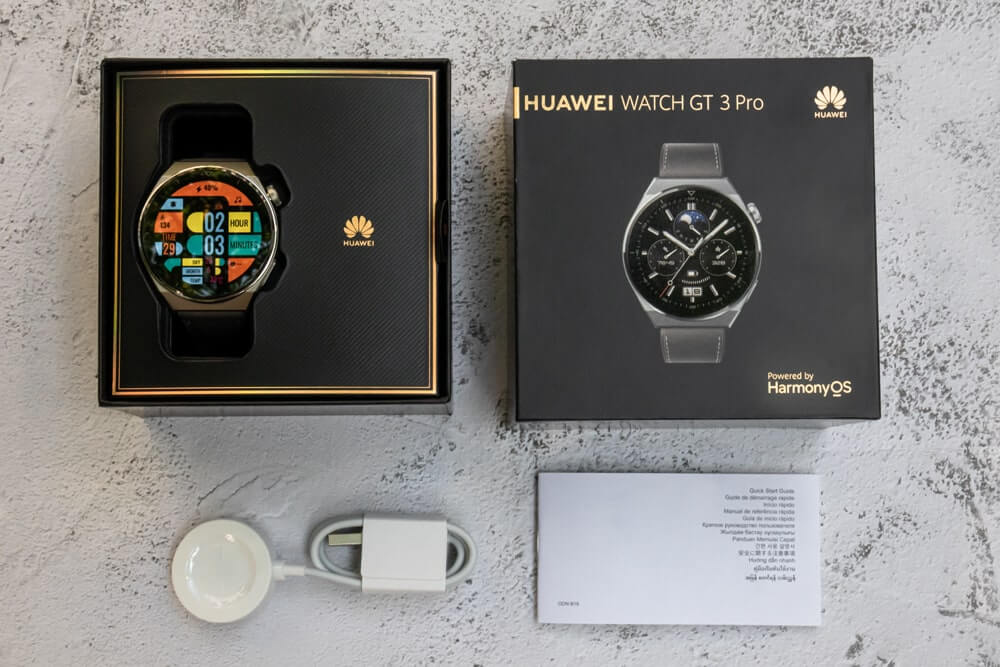 Build Quality/Design
The new HUAWEI Watch GT3 Pro is designed with a sleek gunmetal titanium case that is surprisingly light, as well as sapphire glass and a skin-friendly ceramic back. It has a high-end look and feel on the wrist. Huawei has gone one step further than the WATCH GT 2 Pro, shaving 0.5 mm off the overall thickness.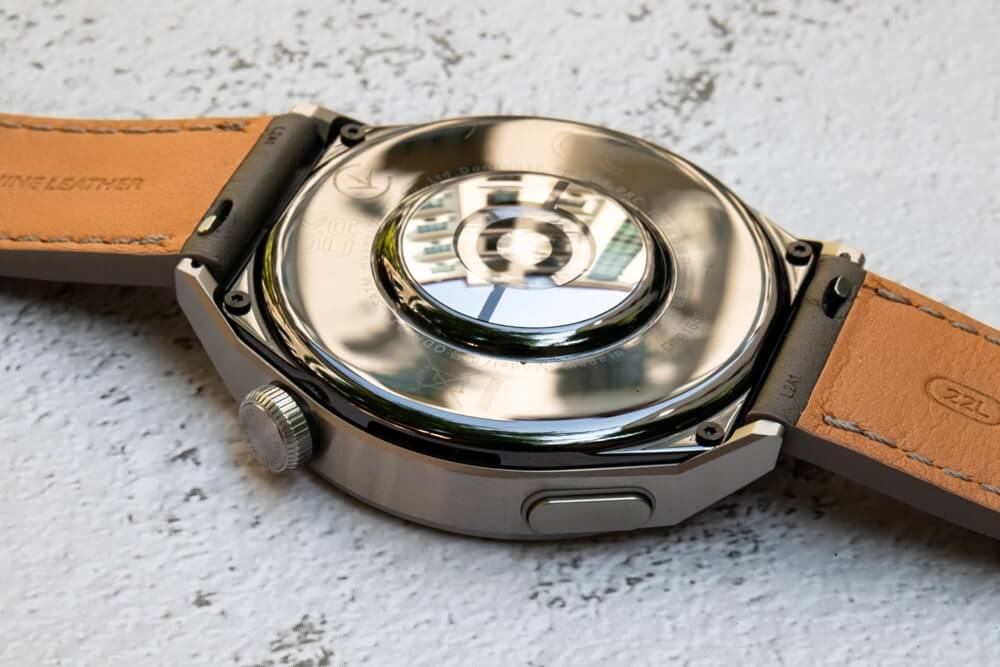 It also boasts a 1.43-inch AMOLED touchscreen display with a resolution of 466 x 466 pixels, which feels a little big on the wrist but is something I enjoy and is now trendy. The case is also extremely tough, with an IP68 water resistance rating and the ability to withstand dives of up to 30 meters.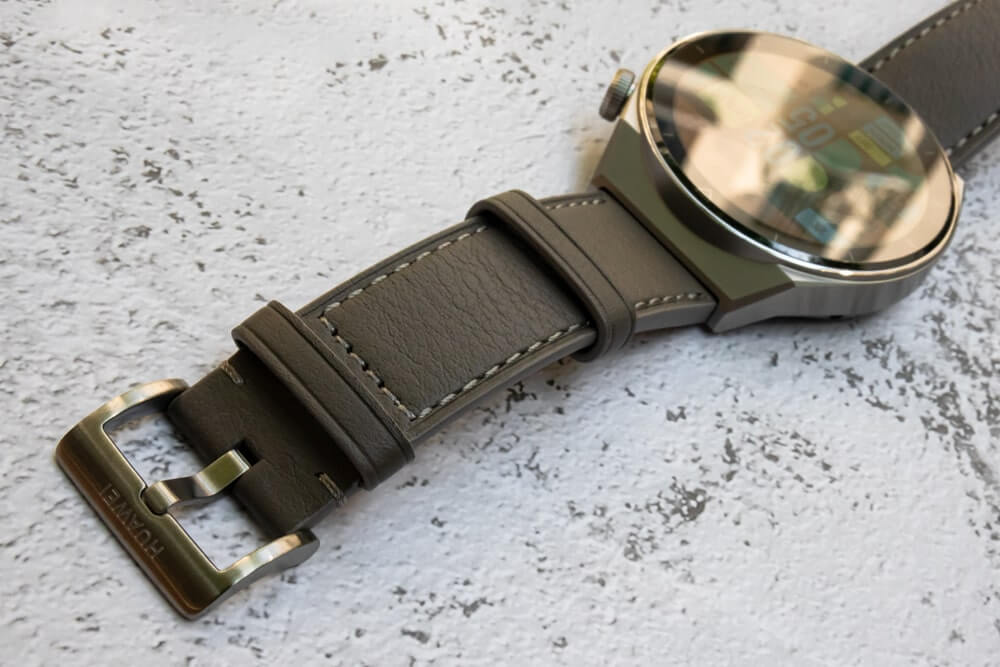 The Watch GT3 Pro can be charged wirelessly for 10 minutes on a Qi wireless charger and get roughly 5 hours of use. It also allows you to charge your phone in reverse. The Watch GT3 Pro can last 14 days with typical usage and 8 days with heavy usage when completely charged.
Like the Watch GT 2 Pro, the new HUAWEI Watch GT3 Pro sports a microphone and loudspeaker for calls and can also play music. Users can download and store their favorite music on the device because it has a large storage capacity. Users can also control audio from their smartphone using the smartwatch's music control interface.
Simply connect the device to your smartphone and download the Huawei Health App from the Google Play Store or Huawei AppGallery to get started. Simply switch on your Bluetooth, then open the Huawei Health App and select devices to link your new HUAWEI Watch GT3 Pro with your smartphone.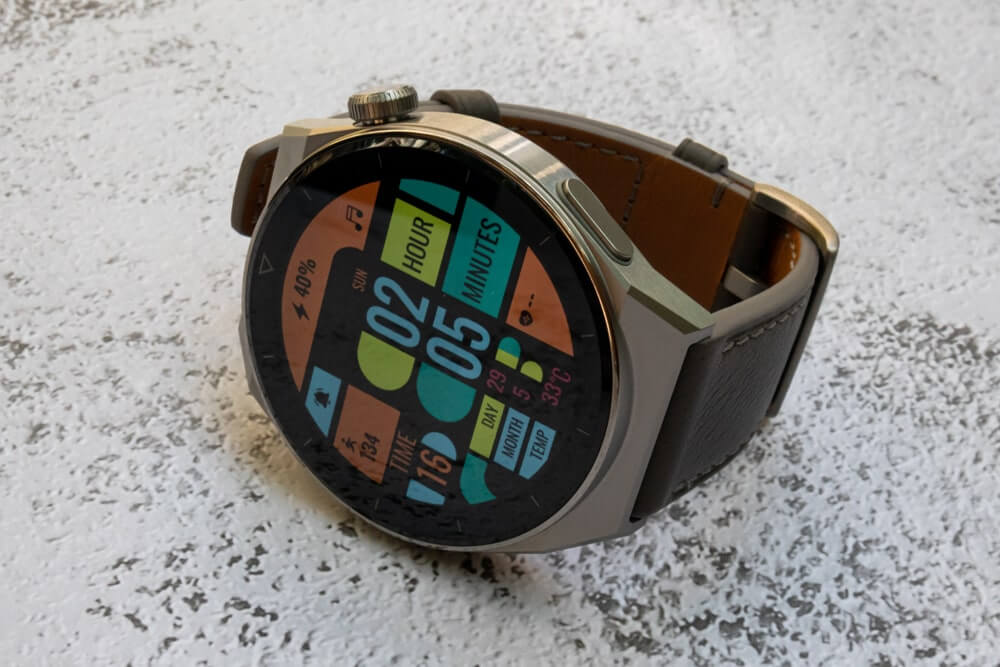 Battery Life
The battery life is amazing, with Huawei boasting 14 days of continuous use on average. I was able to achieve roughly 10–11 days of SpO2 with the always-on display turned off but all other capabilities activated (heart rate, sleep tracking, skin temperature, stress monitoring, etc). If you enable the always-on display, your battery life will be cut in half.
Features
When it comes to features, the Watch GT3 Pro is one of the few on the market that can track freediving up to 30 meters, which is plenty for a casual dive. In addition to freediving mode, the watch offers a driving range mode that lets golfers monitor swing speed, tempo, backswing, and downswing time.
The HUAWEI Watch GT3 Pro Titanium can track 100 more traditional activity modes, such as indoor and outdoor running, cycling, swimming, and more unusual ones like skiing and mountain climbing, to name a few of the smartwatch's fitness modes.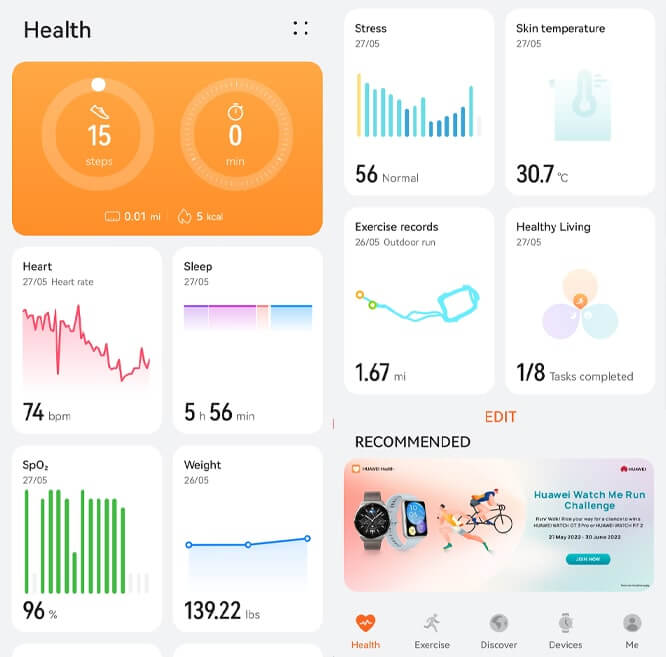 The HUAWEI Watch GT3 Pro also provides standard health monitoring capabilities like heart rate, sleep, oxygen saturation, and stress monitoring. In fact, they've recently incorporated medical-grade ECG analysis as well.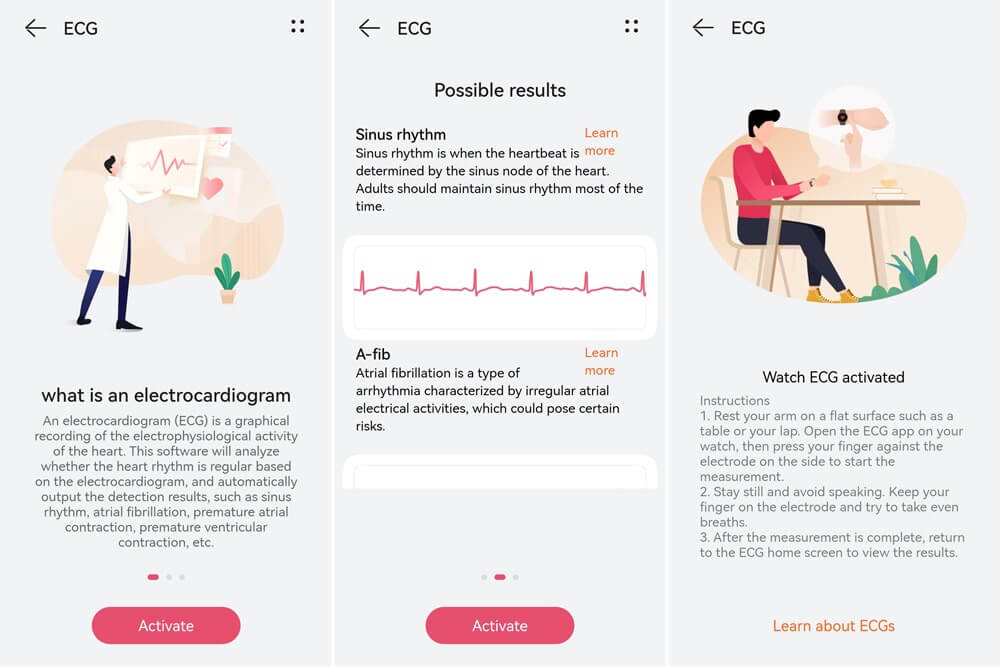 To acquire their ECG result, the user merely needs to touch the electrode on the side of the smartwatch for 30 seconds. The results will appear on the app's home screen once the measurement is completed. The measurements' findings include sinus heart rate, atrial fibrillation, early ventricular contractions, and premature beats.
I also noted that if your heart rate surpasses the predefined upper limit for a length of time during exercise, the watch GT3 Pro will vibrate and alert you that your heart rate is too high, advising you to reduce the intensity of your workout. Aside from that, it will ask you if you want to measure your recovery heart rate when you finish your workout.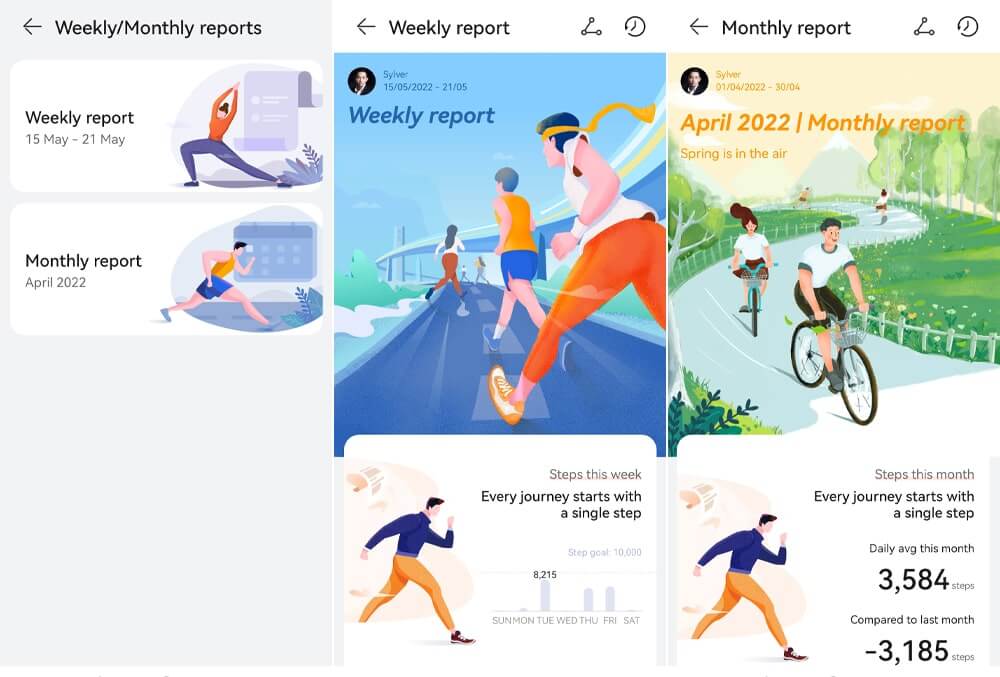 Watch Faces
There are a good number of watch faces to choose from, with hundreds of purchased options to augment the ones that come preinstalled. The majority of these are moderately priced, ranging from PHP 99 to PHP 500 for a more quality animated watch face, and you can even try them out before you buy, which is a nice touch. You may also participate in online challenges through your Huawei Health app to receive free smartphone themes and watch faces.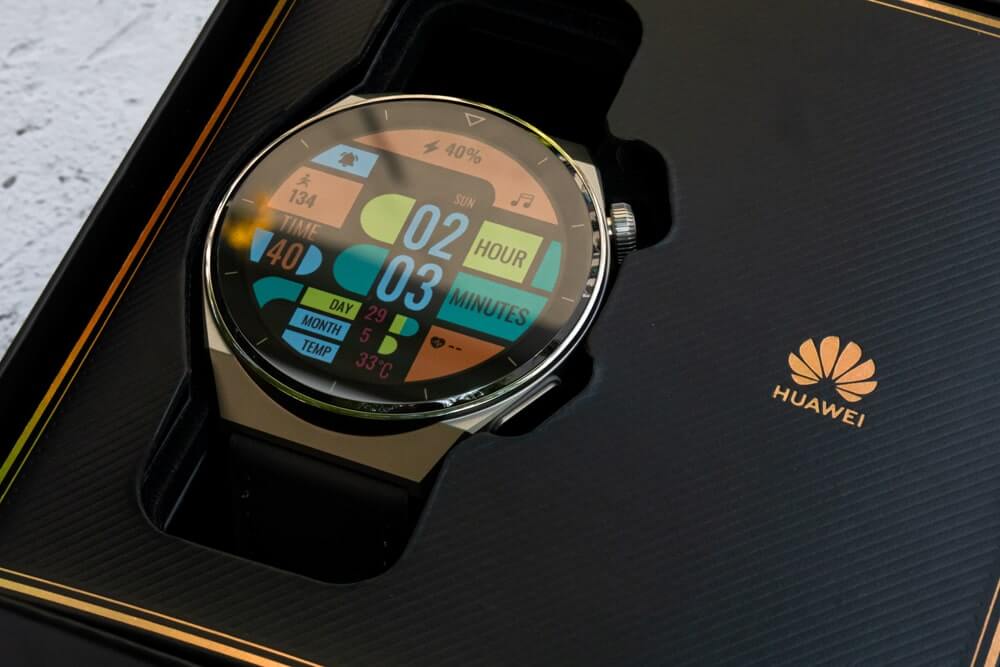 * To download or delete watch faces, update your watch and the HUAWEI Health app to their latest versions.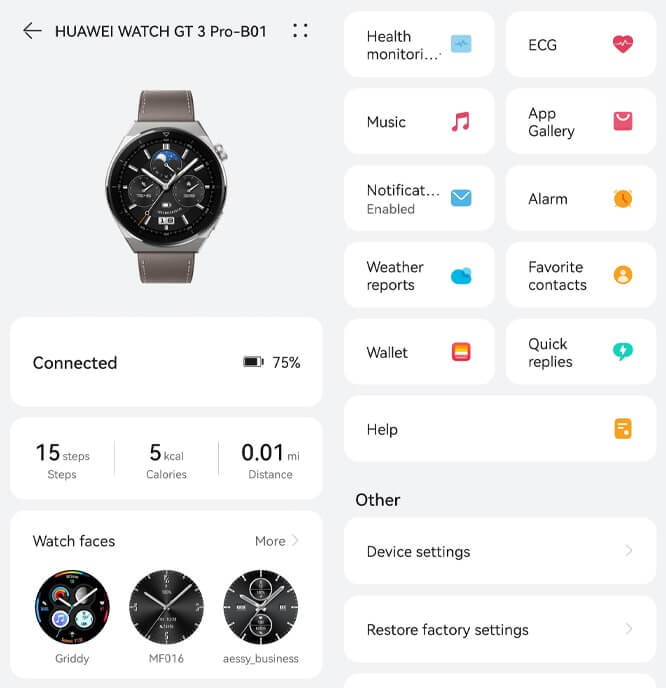 Verdict
The HUAWEI Watch GT3 Pro is a smartwatch with a sleek design and that comes with an ECG monitor to help you keep track of your heart rate. Aside from that, the smartwatch's quality and sophisticated design appeal to me.
In the near future, I aim to use this smartwatch while freediving to test how durable it is underwater and to try out the freediving mode.
The HUAWEI Watch GT3 Pro is a premium wristwatch with all of the impressive features seen on higher-priced smartwatches on the market for a very reasonable price.
For those who want a premium-looking wearable device with all of the great features, this is the smartwatch for you.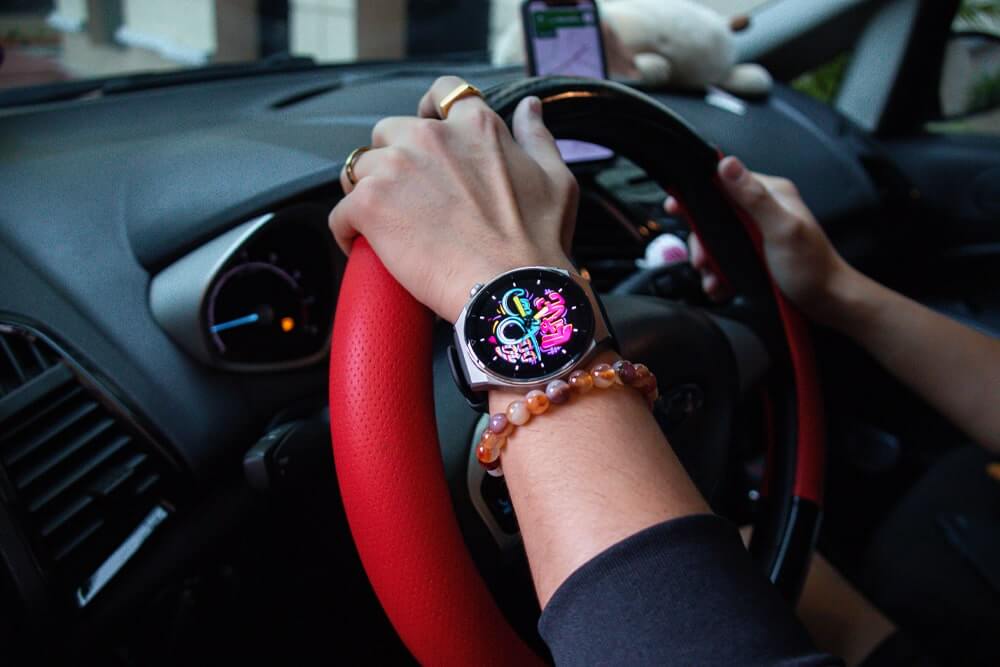 PROs
✅ Solid battery life up to 10 days in a single charge
✅ Impressive range of fitness and health features
✅ Premium materials
✅ Very reasonable price for a premium smartwatch
CONs
❎ Limited third-party app support
❎ Has a limited always-on-display watch face
HUAWEI Watch GT3 Pro Titanium 46mm Specs
Display: 1.43-inch Sapphire glass protected AMOLED screen w/ 466 x 466 resolution at 461 ppi
RAM: 2GB
ROM: 16GB
Battery: Up to 14 days w/ 10W wireless charging
OS: HarmonyOS 2.1 (Works for HarmonyOS 2.0, Android 5.0, and iOS 9.0 and above)
Connectivity: Bluetooth, GNSS (GPS (L1 + L5), GLONASS, Galileo, BeiDou, QZSS), NFC
Sensors: Accelerometer, gyroscope, magnetometer, optical heart rate, barometer, temperature
Others: 5 ATM water resistance + IP68 water and dust resistance, titanium body, sapphire watch dial, a rotating crown, side button, loudspeaker, microphone, Colors: Gray Leather
Dimensions: 46.6 x 46.6 x 10.9 mm (Body), Wrist coverage range: 140 to 210
Weight: 54 g
Price: PHP 16,999
Price and Availability
The HUAWEI Watch GT3 Pro is priced at Php 16,999 that features a 1.43-inch AMOLED display, ECG buttons, titanium body, sapphire glass lens, and ceramic black case.
Leave a comment down below and share your thoughts with us!
Want more features like this? Please follow us on Facebook, Twitter, and Instagram to get the latest trends.