Modern technology has certainly changed our lives in many ways, not only in terms of making our lives easier but also in transforming our physical well-being. Smart skincare gadgets like the Foreo UFO are accompanied by an app to activate different modes on the device to enhance the benefits of FOREO's complementary UFO-Activated Masks for a full facial treatment in only 90 seconds. It also provides instructions on how to use the device.
I've always wanted to try FOREO products since the release of their best selling LUNA facial cleansing brushes. Beauty influencers and famous celebrities have been raving about their products. Fortunately, I got the chance to try one of their best selling new products, the FOREO UFO.
When I received my FOREO UFO, I'll be honest, I was doubtful at first. As it promised a lot of awesome benefits in one one small device. On top of that, I was never a real fan of facial sheet masks. But this product really did change my views about sheet masks with noticeable changes in my skin everytime I use it. Having a device like this that can do a number of skin treatments that we only normally get from skincare clinics is really a great thing, especially now that we can't really go outside that much for facial treatments because of the global pandemic.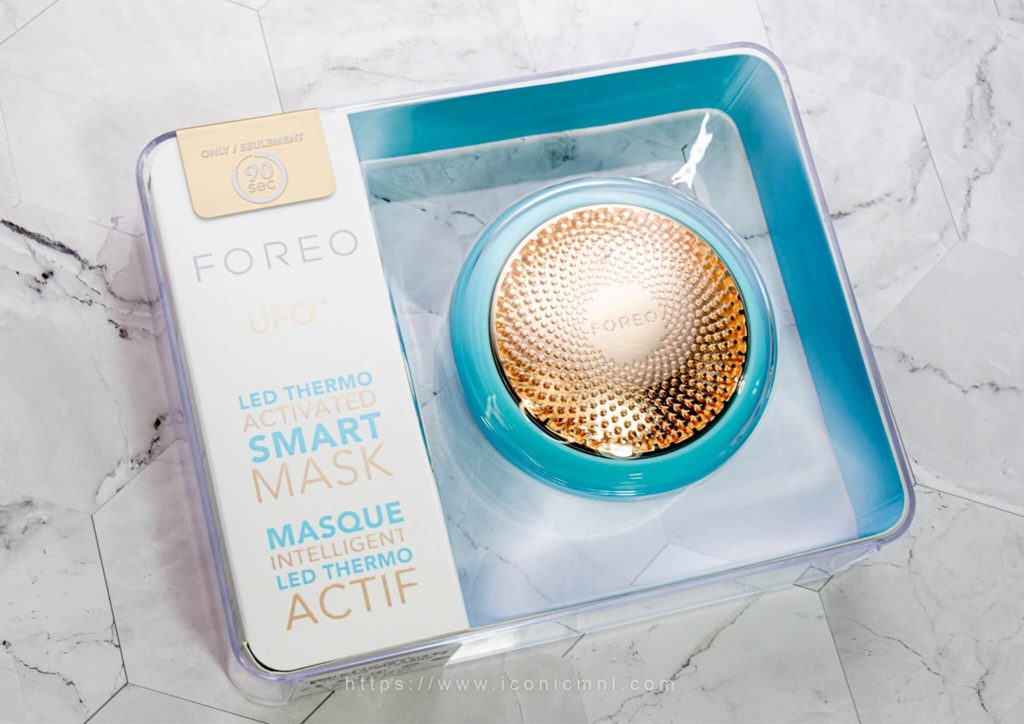 Product Claim
The UFO by Foreo is a 90 second smart mask device that uses heating and cooling technologies with t-sonic pulsations to deeply infuse their activated formulas into your skin in 90 seconds. It has three targeted photo facials that are UV free phototherapy treatments that consist of a red, green and blue LED light wavelengths that rejuvenate your skin.
Revolutionizing the Face Mask in 90 Seconds
The Foreo UFO is an innovative beauty device that combines the latest in skincare tech with premium skincare formulas for an indulgent facial treatment you can enjoy morning, night, or whenever you have 90 seconds to spare.
Foreo UFO instantly warms to open pores and enhance absorption of mask ingredients. Or, depending on the treatment, it cools to lift and firm skin. Together with powerful T-sonic pulsations, this technology infuses nutrients deeper into the skin, making UFO more effective than a conventional sheet mask in only 90 seconds.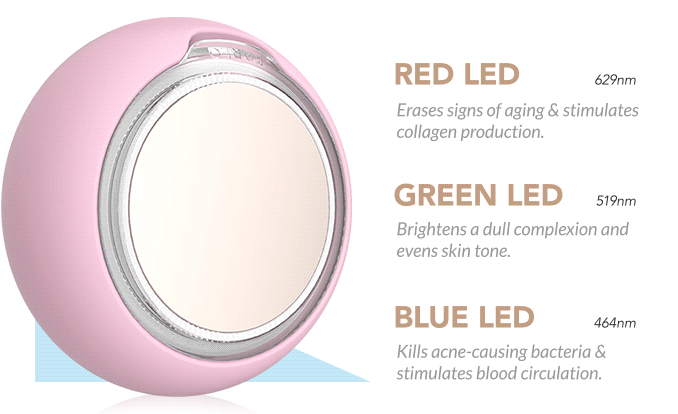 LED Light Therapy
Featuring full-spectrum LED light, UFO offers 3 targeted photofacials in one simple, at-home solution.
Red LED erases signs of ageing and stimulates collagen production for younger-looking skin.
Green LED brightens a dull complexion and evens skin tone for an instant boost of radiance.

Blue

LED targets acne-causing bacteria and stimulates blood circulation for a healthier-looking complexion.
Essentially when your skin is exposed to different wavelengths of light, a variety of biochemical processes are triggered. The effect of the light depends on its wavelength and the depth of penetration. LED therapy is a great treatment because it is non-invasive and safe, although for best results, it requires multiple sessions. While there are many at-home LED devices available in the market, the Foreo UFO stands out among home LED products because other devices are usually full face masks that have been associated with ocular damage, while the handheld UFO is safe from such risk.
UFO-Activated Face Masks
Each Ultra-Fine Microfiber Sheet Mask in this daily duo pairs with this unique UFO treatment routine for flawless skin from morning until nighttime.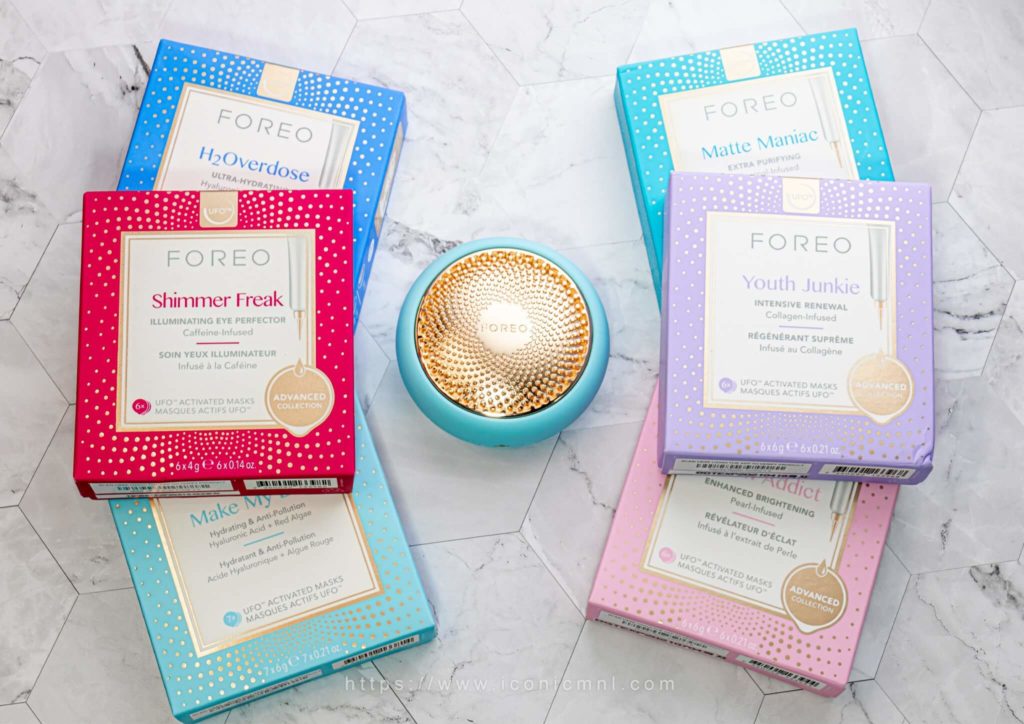 Smart Masking
A simple but powerful FOREO app allows you to perfectly control UFO settings and treatment routines. Order replacement masks and all future UFO-compatible products right from your phone.
Small, beautifully-designed and USB rechargeable, the FOREO UFO smart mask is changing the beauty world, one face at a time.
Unboxing/Accessories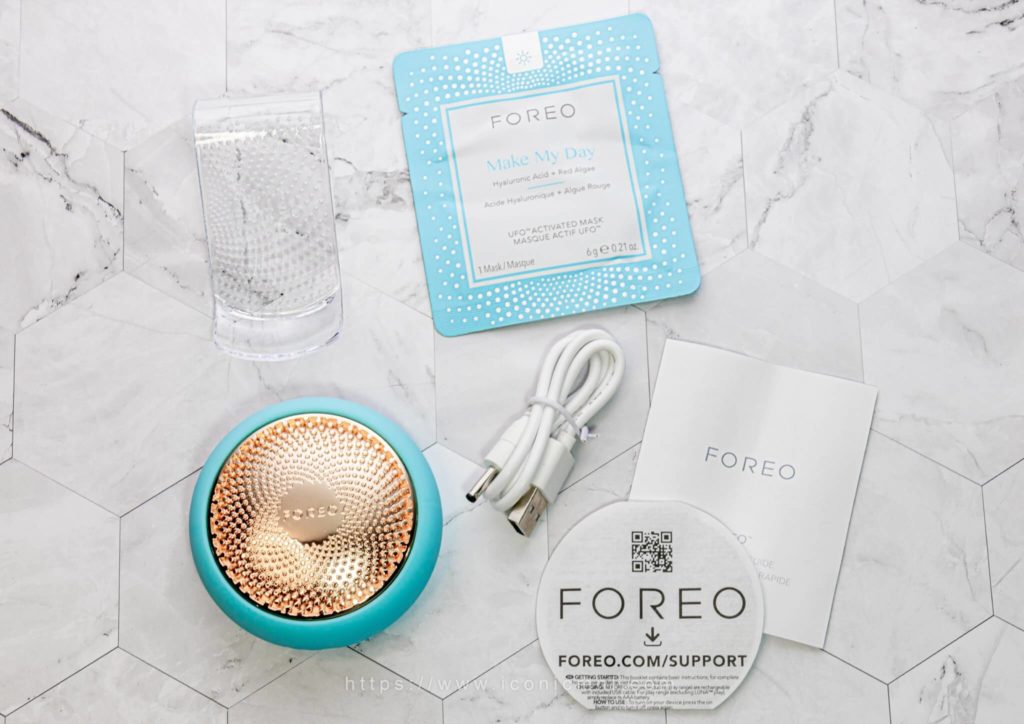 Build Quality/Design
The front side has a gold textured finish and the outer part of the device is made with ultra-hygienic silicone that's soft to the touch. The device is 100% waterproof and easy to clean between uses.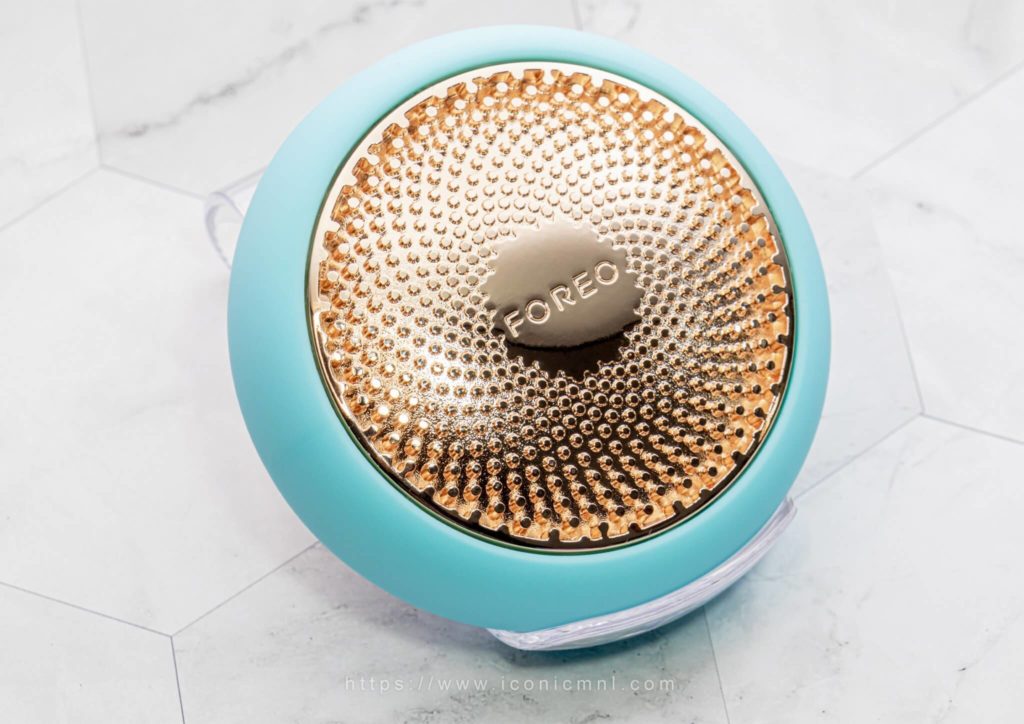 Dimensions
Length: 3.6mm

Width: 12mm

Height: 15mm

Weight: 0.355g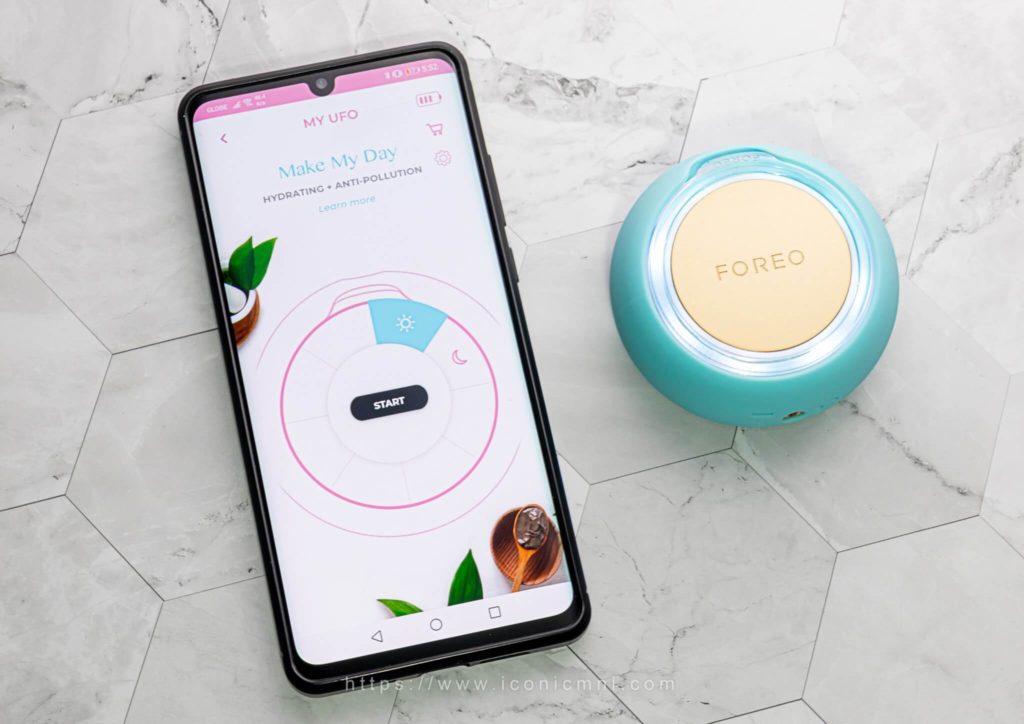 Usage
Secure the mask on the UFO.

Press the button to turn on and activate the Make My Day treatment.

Press again to activate the Call It A Night treatment.

Gently glide the UFO across every area of your face and neck, distributing the essence evenly.

Massage the formula into your skin with the UFO device, starting from the right cheek and then moving around the face in a clockwise direction.

When the treatment ends, gently pat the remaining essence into your skin, or remove excess with a cotton pad.

Follow with the moisturiser of your choice.
Overall Effect
A complete facial treatment using quick and effective LED light therapy and advanced Hyper-Infusion Technology combined with UFO Activated Masks. The device instantly infuses a mask essence deep below the skin's surface for better, longer-lasting results while at the same time delivering a dynamic photofacial.
The warming treatment softens the skin and opens the pores, infusing mask essence into the deepest layers of the skin. While the cooling treatment lifts and firms while shrinking the appearance of pores and reducing inflammation. T-sonic Pulsations facilitate deeper absorption of the serum while providing a soothing facial massage.
My Take on the Product
Essentially, this device combines hot and cold temperatures, T-sonic pulsations, LED light wavelengths with korean sheet masks that are customized depending on your skincare needs. This high-tech device uses the warming mode to infuse the mask's ingredients into your skin while the cooling mode helps reduce puffiness and enlarged pores. While the T-sonic pulsations gives you a soothing facial massage while boosting the absorption of the active mask ingredients leaving your skin refreshed and invigorated.
This product is really unique because it combines all of the best skincare technologies that we normally get from facial clinics that are really effective in terms of anti-aging, fighting acne, and calming the skin all in one small handheld device. Yes the device might comes with a hefty price tag but think of it as an investment for your skin a box of UFO-Activated Face Masks starts at around PhP 640 pesos (each box contains 7x UFO activated mask) and that's only around 92 pesos per treatment which is way cheaper than going to facial clinics.
Do I recommend this product?
If you have the budget to purchase the device and the UFO activated mask then yes I would definitely recommend it as I personally really did like using this product.
Price And Availability
The Foreo UFO is available at Sephora Philippines for PhP 16,320 available in Pearl Pink, Fuchsia, and Mint.
About The Brand FOREO
FOREO, which stands for "FOR EveryOne" is a Swedish beauty and wellness brand who has one of the most unique beauty and skin care products reinventing the industry for the better. They strive to inspire self-confidence and deliver professional-level solutions for all. Their best selling products include the UFO, LUNA facial brush, ISSA 2 toothbrush, Espada, and more.
Leave a comment down below and share your thoughts with us!
Want more features like this? Please follow us on Facebook, Twitter, and Instagram to get the latest trends.