It's been more than a year since the covid-19 pandemic changed our ways of working and interacting with one another. Everyone has transitioned to working/studying from home and creating a productive workspace at home begins with the monitors we choose. Using our laptop's monitors can accomplish most tasks but having access to a bigger display allows users to simultaneously work with multiple applications at the same time.
One of the best ways to maximise efficiency and productivity is to have a dual or multi monitor setup. A dual or a multi monitor setup is where you have 2 or more screens operating from the same laptop. Multiple studies have shown that working with dual monitors has increased productivity by 20% to 50%.
Having to own an external monitor together with your laptop will enable you to multitask much more efficiently. Like personally when I'm working I like to have my email opened on one screen to keep an eye on any incoming email whilst getting on with other work programs using the other screen. A lot of time can be saved by not needing to switch or toggle between windows. Aside from that, having a bigger "viewing space" allows large amounts of information to be gathered and viewed at the same time like having a large spreadsheet spread or documents over both screens to be viewed in their entirety can definitely boost productivity and also reduce the risk of errors.
As a content creator I also edit images and graphics often and I find it much easier, faster and more reliable if I'm able to view them side by side at the same time.
Display monitors with USB-C connection have advantages mainly on efficiency and performance to help users get more out of their monitors. With more and more new laptops coming out equipped with a USB-C connector, owning a device like the Philips LCD monitor with USB-C (243S9A/71) will definitely help you become more efficient.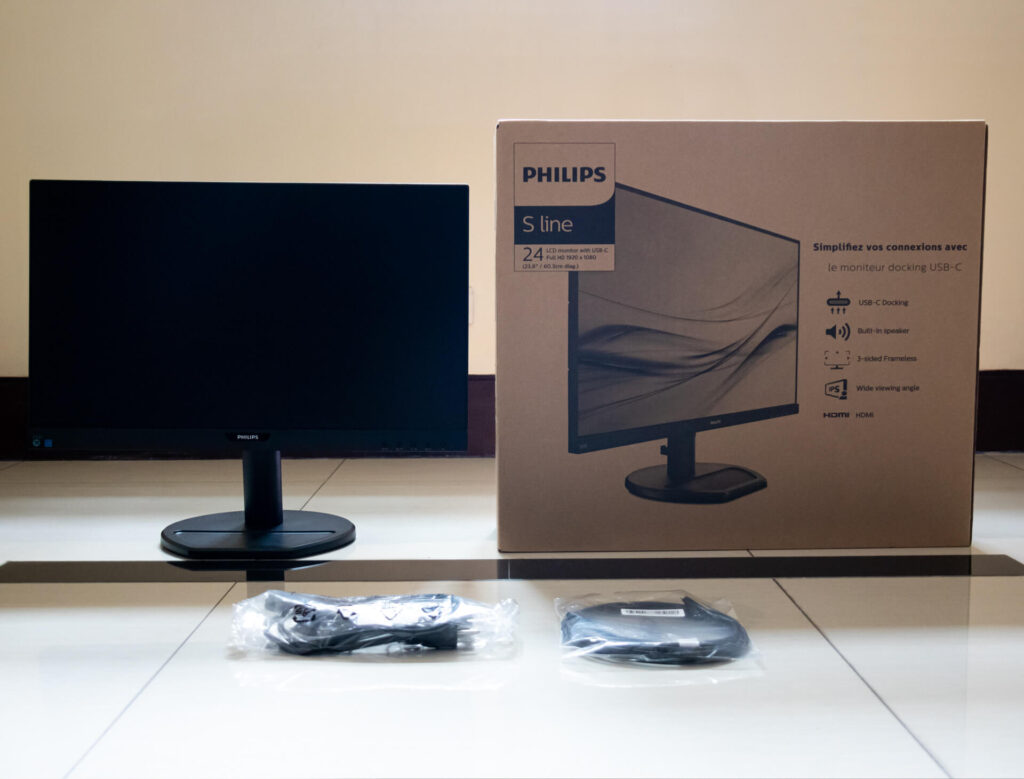 Unboxing/Accessories
The Philips LCD monitor with USB-C (243S9A/71) comes in a large brown box with the brand logo on the left side of the box and feature specifications printed on both sides of the box.
Inside is a styrofoam package that serves as a cushion to the monitor, product documentations, HDMI cable, USB-C to USB-C cable, and power plug.
Connect your laptop with one USB-C cable
The Philips LCD monitor with USB-C (243S9A/71) features a USB type-c connection with power delivery. Equipped with an intelligent and flexible power management where you can power charge compatible devices directly. Its reversible USB-C connection allows for easy, one-cable connection that allows you to watch high resolution video and transfer data at super-speed while powering up and recharging your compatible device at the same time.
Build Quality/Design
The Philips LCD monitor with USB-C (243S9A/71) has a clean and minimalist design with slim bezels making it suitable for dual monitor setup. The button controls are pretty standard and easy to understand. The 243S9A doesn't come with a fancy multi-adjustable stand like what you'll see on gaming monitors but no worries as it supports VESA mount in case you need other adjustments that are not available on the default stand.
The 243S9A accepts the more common HDMI and DisplayPort connection for maximum visuals which is really good for older systems both connections. One thing that makes this monitor stand out from most monitors available today is its capability to be connected via USB-C cable. But you will need to make sure that your laptop/device supports USB-C connection. Please check with your laptop user manual or manufacturer for compatibility.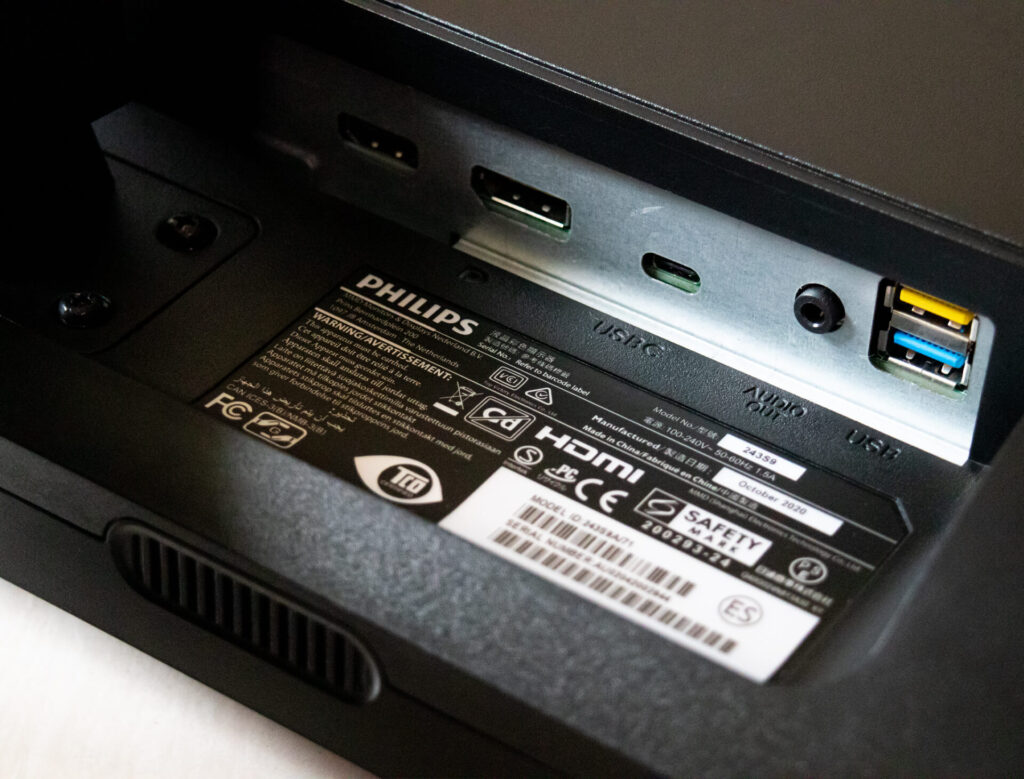 Monitors with USB-C docking is perfect for the busy creatives as it provides a high-quality display with the advantage of a USB-C connection to deliver video, data and power over a single cable. So if you're on the move a lot and often need to take the device you use at your desk, this is a big upgrade in terms of convenience.
Performance
Personally I've been working on a dual monitor setup for years now, the only time I work on a single screen laptop is when I'm working on location meaning when I'm in my office and at my home office I use dual monitor setup. As mentioned previously there are a lot of advantages in terms of work productivity. Just like most of the monitors we've seen nowadays, the Philips 243S9A also comes with a similar function known as the LowBlue mode which uses a smart software technology to reduce harmful shortwave blue light.
As for software features, there's Philips Flicker-free technology to help prevent eye fatigue, LowBlue Mode for reducing your exposure to shortwave blue light, and a light sensor for automatically adjusting display brightness based on ambient light conditions. But likewise it can also be easily switched off if you don't want to use it.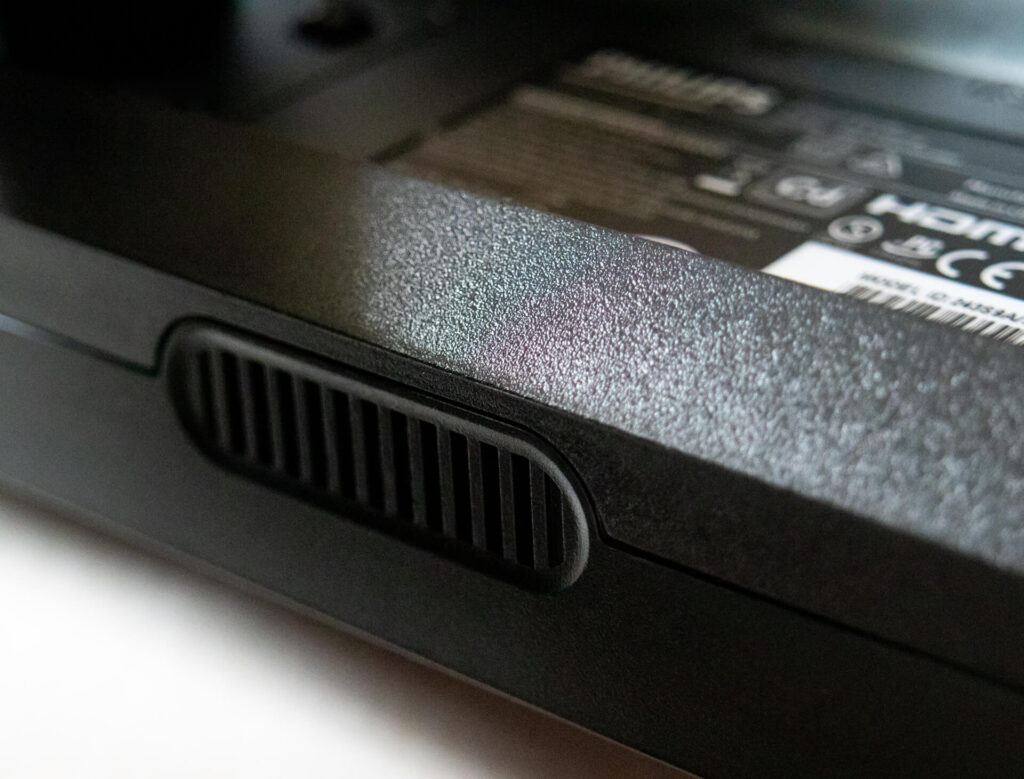 It also has a built-in speakers but like most display monitors with built-in speakers it doesn't sound good in fact it sounded really bad and really low but considering the price of this display monitor still not bad. We still suggest getting a good external speakers or headphones. However, for regular day-to-day tasks, this display monitor with built-in speakers is ok which won't make you spend extra on a dedicated audio device.
Philips LCD monitor with USB-C (243S9A/71) Specs
LCD panel type

IPS technology

Backlight type

W-LED system

Panel Size

23.8 inch / 60.5 cm

Display Screen Coating

Anti-Glare, 3H, Haze 25%

Effective viewing area

527 (H) x 296.5 (V)

Aspect ratio

16:9

Maximum resolution

1920 x 1080 @ 75 Hz*

Pixel Density

93 PPI

Response time (typical)

4 ms (Gray to Gray)*

Brightness

250 cd/m²

Contrast ratio (typical)

1000:1

SmartContrast

50,000,000:1

Pixel pitch

0.2745 x 0.2745 mm

Viewing angle

178º (H) / 178º (V)

@ C/R > 10

Picture enhancement

SmartImage

Display colors

16.7M

Color gamut (typical)

NTSC 90%*, sRGB 104%*

Scanning Frequency

30 – 85 kHz (H) / 48 – 75 Hz (V)

sRGB

Yes

Flicker-free

Yes

LowBlue Mode

Yes

EasyRead

Yes

Adaptive sync

Yes

Signal Input

DisplayPort 1.2 x 1, HDMI 1.4 x 1, USB-C 3.2 Gen 1 x 1 (upstream, power delivery up to 65W)

HDCP

HDCP 1.4 (DP / HDMI / USB-C)

USB

USB-C 3.2 Gen 1 x 1 (upstream), USB 3.2 x 4 (downstream with 1 fast charge B.C 1.2)

Audio (In/Out)

PC audio-in

Audio out

Sync Input

Separate Sync
PROs
Connect your laptop via USB-C cable.

It can power and re-charge compatible devices via the USB-C docking station.

VESA mount compatible.
CONs
It only has 1 HDMI port.

Built-in speakers has a bad sound quality.
Verdict
Overall, the Philips LCD monitor with USB-C (243S9A/71) is perfect for someone who is looking for an external monitor or a desktop monitor with the option of USB-C docking station to connect their laptops. The USB-C option is definitely a welcomed feature for the price point and can reduce cable clutter on your desk.
Price and availability
Philips 243S9A LCD monitor with USB-C has an SRP of ₱8,800. It is available at the Philips Monitor's Official Store on Shopee any Philips partner store branches nationwide.
Leave a comment down below and share your thoughts with us!
Want more features like this? Please follow us on Facebook, Twitter, and Instagram to get the latest trends.