The new realme Buds Air 2 are one of the newest truly wireless earbuds that you can buy for PhP 3,990. That is currently one of the cheapest earbuds that support active noise cancellation. Last year's realme Buds Air Pro also have active noise cancellation, but they cost around PhP 4,990.
The Buds Air 2 might look almost similar to the Buds Air Pro but instead of the chunky design, the Buds Air 2 has a more sleek design and weighs only around 4.1 grams compared to the Buds Air Pro that weighs 5 grams. Plus the dual-tone colour finish will surely attract you to these earbuds.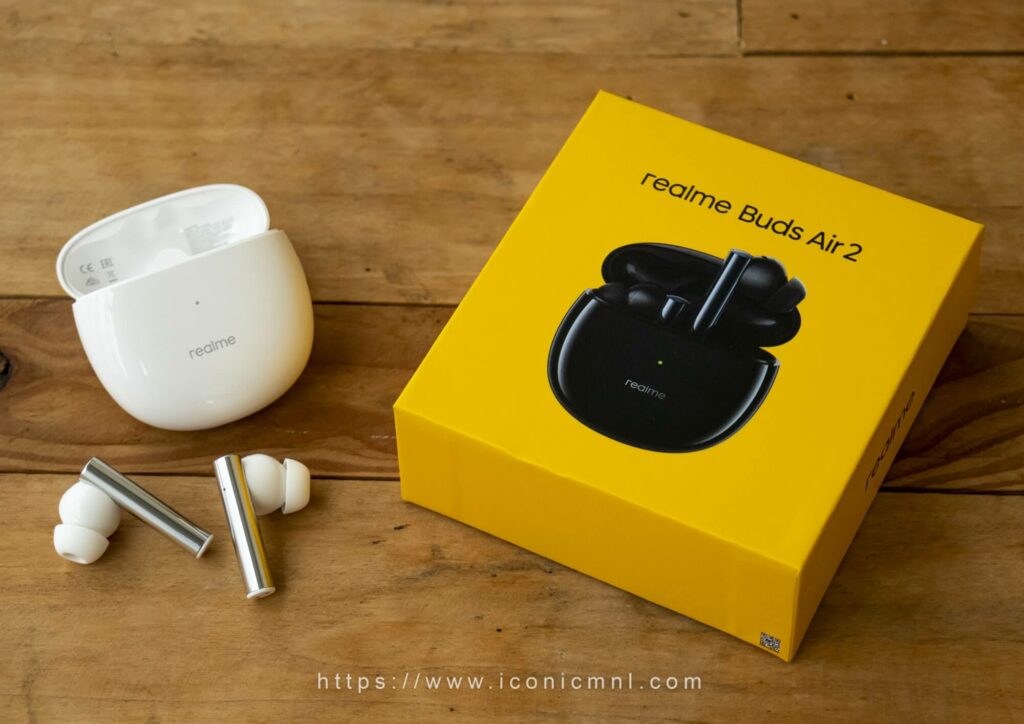 Unboxing/Accessories
The new realme Buds Air 2 comes in the familiar yellow box with the image of the buds in front. Inside the box is the charging case, Buds Air 2 earpieces, USB Type-A to Type-C cable, extra silicone ear cups, and documentation. You will also get (3) eartips in different sizes which gives you a total of four pairs in different sizes to get a better fit.
Design And Build Quality
The new realme Buds Air 2 takes cues from its predecessor the realme Buds Air Pro that I reviewed last year but with a lot of feature upgrades. The new buds air 2 still comes with an earbuds with an in-ear stem design while the charging case still has the same cobblestone-like design that looks very simple and lightweight.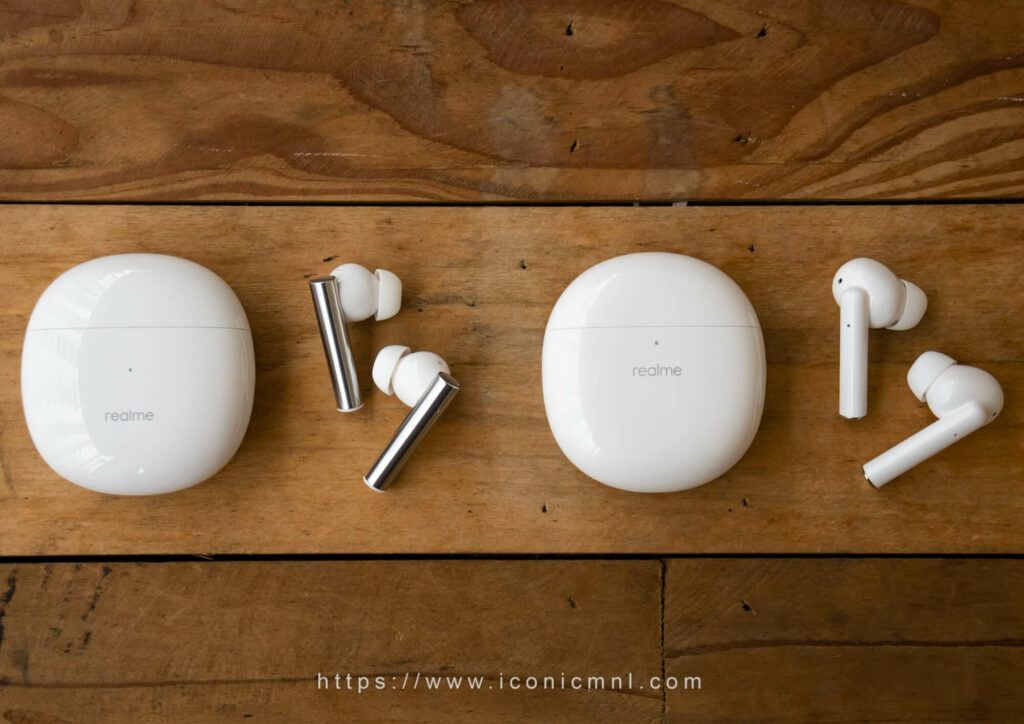 Looking at both the realme Buds Air Pro and Buds Air 2 the new Buds Air 2 earbuds looked smaller in size with a metallic stem. In front is the LED light indicator and the realme logo while the charging port (USB type C) can be found on the bottom part of the charging case. You can still find the pairing button on the right side of the device. It also comes with three different sets of silicone ear cups for a perfect fit. Plus the lightweight design of the earbuds makes it more comfortable to use for a longer time. The Buds Air 2 are certified for IPX5 dust and water proofing, which means it can keep up with your active lifestyle without worrying about your earphones.
So far I've reviewed a lot of TWS earbuds this year and I must say the new realme Buds Air 2 is definitely one of the best I've tried and the most affordable with the kind of features it has. One of the features I really love about this earbuds was the active noise cancellation that can block out most ambient noise up to 25dB.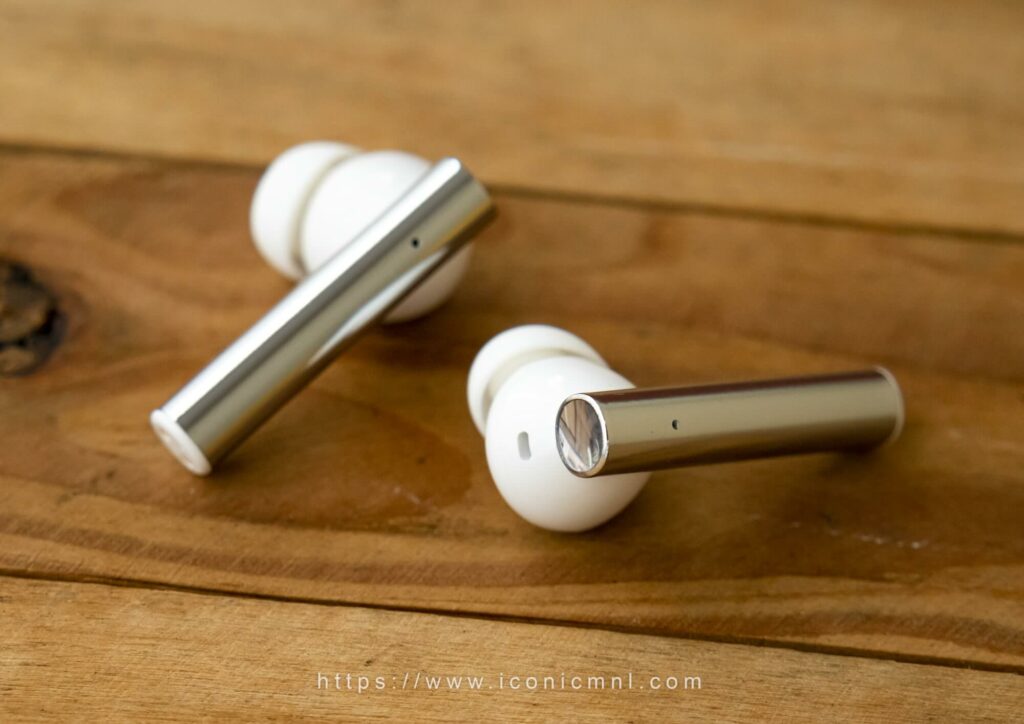 The realme Buds Air 2 also allows users to customize the controls with the help of the realme Link app that serves as the central hub for Realme's AIoT products. With the help of the realme Link app you can easily connect your device like the Buds Air 2. With this app users can easily switch between Active Noise Cancellation, Normal, and Transparency mode. Aside from that users can also customize which modes they want to use with the touch control. The app also enables users to turn on/off the Game mode, use Volume Enhancer, In-ear detection that automatically stops the music when you take off the earbuds and continues when you put the earphones back on, and Auto answer that answers the call when you put on the earbuds.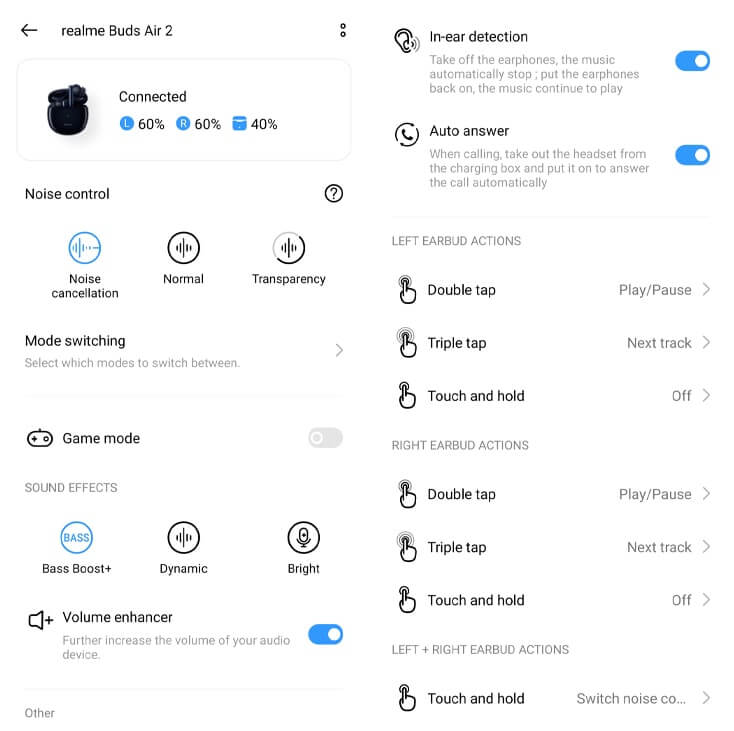 Intelligent Touch Controls (default)
Double-tap: Play/pause music playback/ answer a call

Triple-tap: Go to the next song

Long press for 2s one side: rejects call

Press and hold both sides: Switch noise control modes

Battery
In terms of battery life, the new R2 energy-efficient chip increases usage time by 80%, while the high-capacity battery maximizes playback time. Fast charging gives you 120 minutes of playback on 10 minutes of charge. The charging case and earbuds gives you a total of 22.5 hours playback at 50% volume and AAC quality with noise cancellation on; 25 hours playback at 50% volume and AAC quality with noise cancellation off. While each earbuds gives you 4 hours playback at 50% volume and AAC quality with noise cancellation on; 5 hours playback at 50% volume and AAC quality with noise cancellation off.
The charging can be done via the type-C cable included on the package. A full charge will take you about an hour to charge from 0 to 100. A quick 10 minutes charge offers 2 hours of playback as per realme. While we don't get wireless charging for this device it is still not bad considering its price range.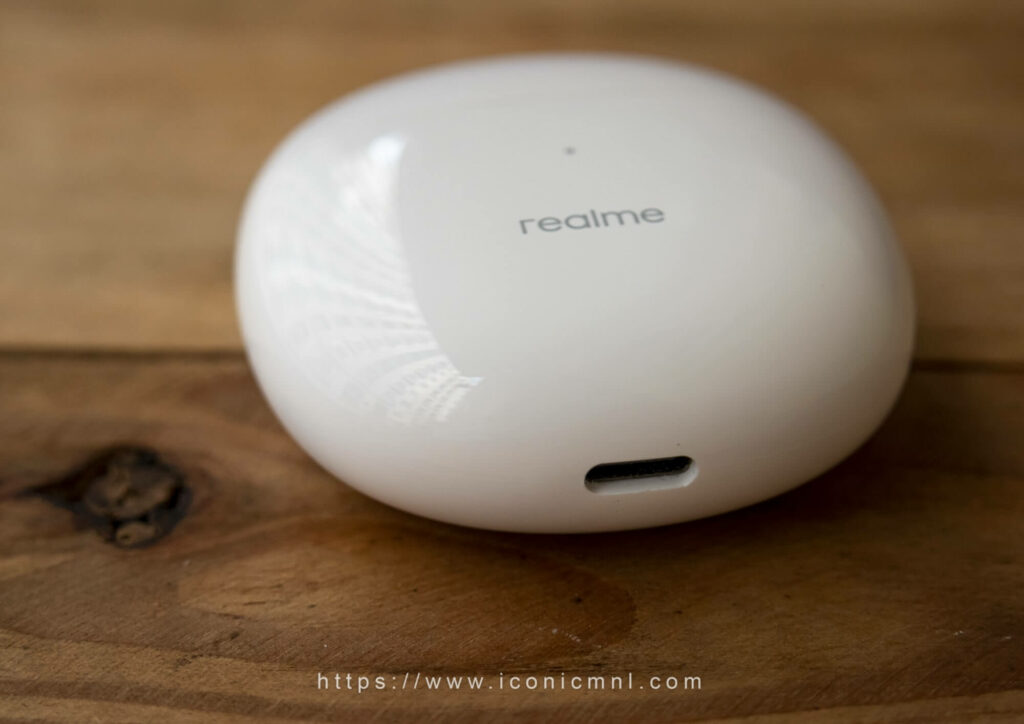 Verdict
I've been using the realme Buds Air 2 for more than a week now, and I was really surprised with the sound quality considering its price range. Just like the previous realme Buds Air Pro I really love the Active noise cancellation feature that eliminates all the annoying ambient noises providing you with a more enjoyable listening experience. So if you're looking for a truly wireless earbuds with noise canceling feature then the realme Buds Air 2 is one of the best options for you especially if you are a realme smartphone user. Plus the price is really affordable compared to other TWS with noise canceling features in the market today.
PROs
✅ Competitive battery life
✅ Active noise cancellation
✅ Very good microphones
✅ Very comfortable
CONs
❎ lacks wireless charging support
❎ charging case looks similar to realme Buds Air Pro but with a more plastic feel to it
realme Buds Air 2 Specs
Weight: 4.1 grams
Hinge: Plastic
ANC: Up to 25 dB
Water-resistance: IPX5
Connection: Bluetooth 5.2
Drivers: 10mm Diamond-class
Latency: 88ms
Processor: Realme R2
Battery life: 5 hours
Fast charging: 10 min = 2 hours
Wireless charging: No

Price And Availability
The realme Buds Air 2 is priced for only PhP 3,990. And is now available on selected Concept Stores and realme Kiosks nationwide.
Related Article: realme Buds Air Pro
Leave a comment down below and share your thoughts with us!
Want more features like this? Please follow us on Facebook, Twitter, and Instagram to get the latest trends.