When it comes to computer peripherals, Logitech has been a household name in making top-notch mouses and keyboards. Looking back, I can still remember my first logitech device was a gray wired mouse from the floppy disk era. Since then, the company has developed its products providing their users with innovative computer peripherals.
When it comes to sound systems, (to be honest I'm seriously not an expert) I've been using the built-in speakers from my laptop or connecting my devices to a bluetooth speaker like JBL Go 2, which I find really good for a portable speaker since I'm starting to set up my home office. Thus, I began my search for the best speaker and finally found the best gaming and entertainment speaker available in the market today.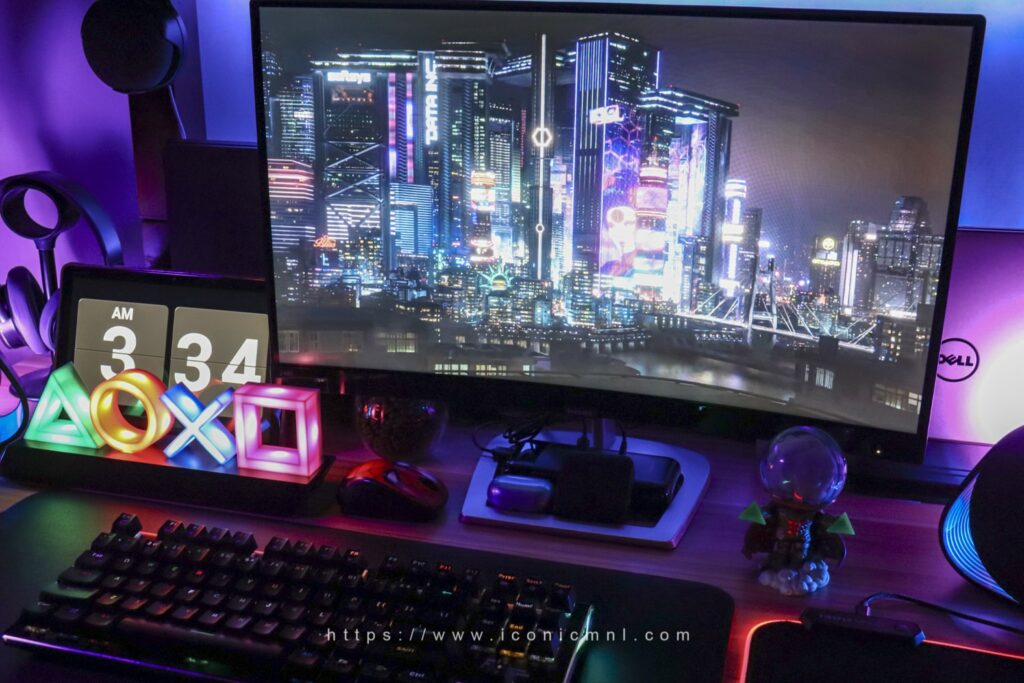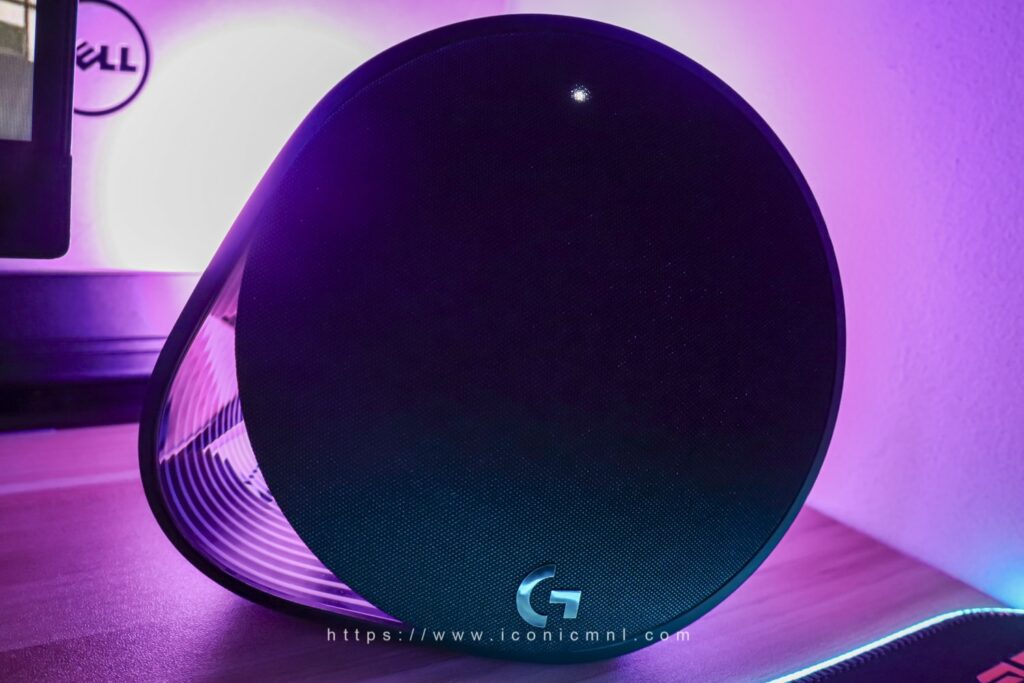 Unboxing/Accessories
The Logitech G560 comes in a large black box with the speaker model "G560" in metallic blue colored fonts both on top and left side of the box and feature specification printed on the back of the box. The setup instructions are printed right on the box as well.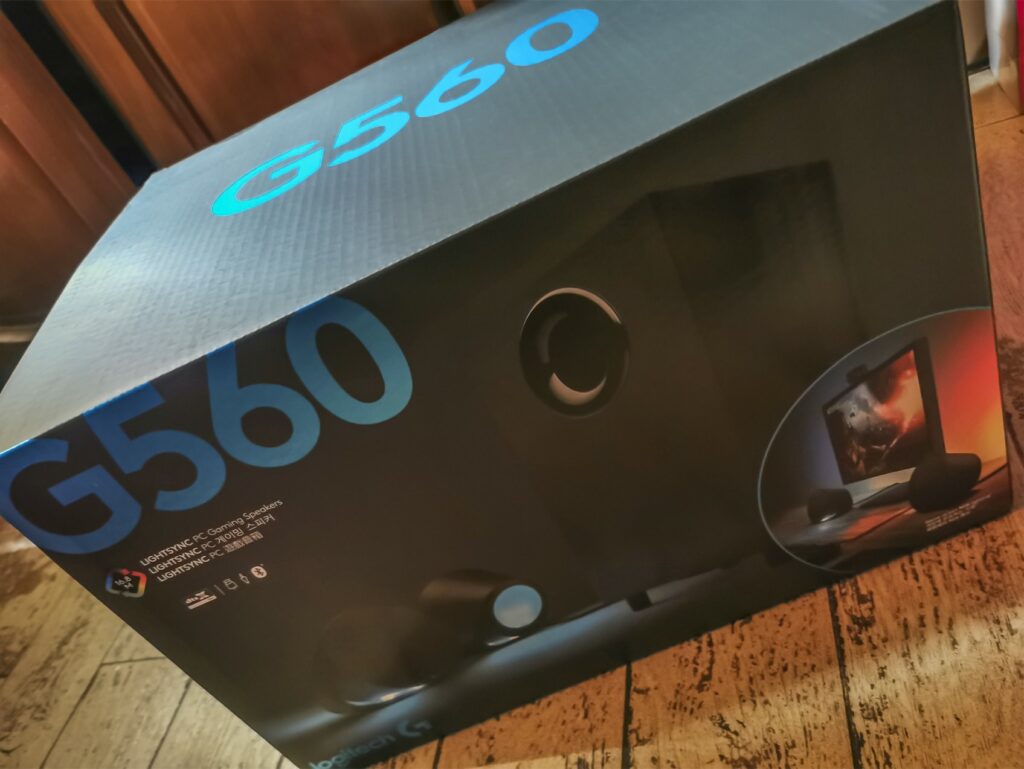 Inside the box is a massive audio subwoofer with power cable and another smaller brown box that contains the (2) satellite speakers, USB cable, and the user documentation.
Build Quality/Design
The Logitech G560 has taken its inspiration from the previous Logitech MX sound speaker system but it packs a lot more features.
The satellite speaker comes in a unique circular shape made from premium matte plastic material. It also comes with a dedicated subwoofer to complement the two satellite speakers.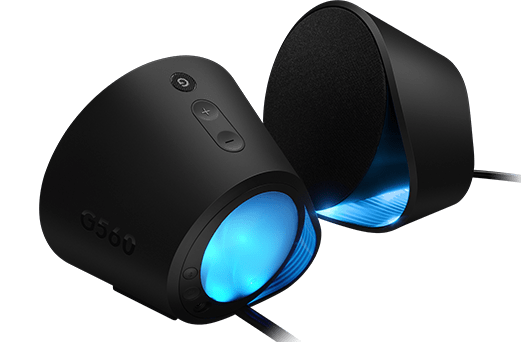 The subwoofer also functions as the central hub for connectivity and downward-firing subwoofer. As for ports, there's a dedicated left and right channel output, and a micro USB port to connect your PC, as well as a 3.5 mm audio port input and a power cord that is integrated to the unit.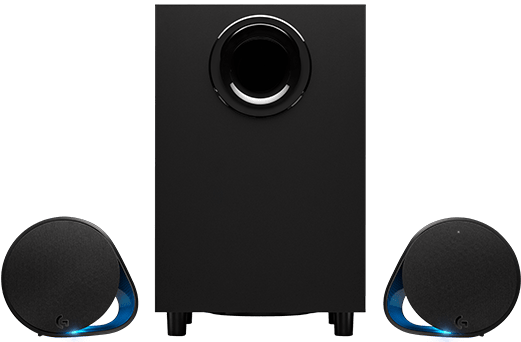 In terms of the physical controls, the right satellite speaker features a bluetooth setup button that needs to be pressed for 3 seconds to pair with a bluetooth enabled device. Next to the bluetooth button is the power button and a headphone jack that can be used to re-route audio signals to any output device.
On top, you will find the volume controls and the dedicated G-key that can be used to adjust the brightness of the LED lights by default that you can also reprogram to another command via the logitech gaming software.
Performance
One of the major factors why I got myself a Logitech G560 speaker system was the Logitech LightSYNC feature. It's basically RGB lighting that immerses you into the environment with lighting that reacts to your content. The light and color syncs with what's on your screen to deliver special lighting effects programmed by the developers to set the mood and enhance the user experience with the use of Logitech's gaming software.
There are also different effects that you can play around with like the screen sampler effect where you can choose any area on your monitor and assign it to any of the four lighting zones via Logitech G Hub. LightSYNC engine will read the pixels' color on the screen and match the colors dramatically to your speakers in real time and provide you with stunning environmental lighting that is immersing your room into the experience.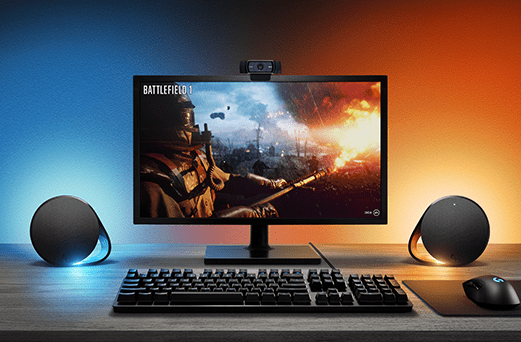 Logitech also has built-in lighting presets for a vast number of popular games available—more than 600 by our count which can be access via the Logitech Gaming Software.
One of the best things about Logitech is their gaming software especially if you are using any of their gaming peripherals. Logitech is using a unified software where you can set up or access all of your Logitech gaming peripherals connected on your device using just one application. So basically you can customize almost everything via this application.
How to install and configure LIGHTSYNC Screen Sampler
Download the latest version of

Logitech Gaming Software

(

Software Version: 9.02.65).
After downloading and installing the LGS software, open the application to configure LIGHTSYNC Screen Sampler.

Navigate to the lighting tab on the G560 window.

Then under Lighting Effect select "Screen Sampler" and click advanced settings.
Under the LED column there are four unique zones on the G560 speaker system and these four target areas allow you to manually select the display area to inform the color of that part of the speaker.

After configuring your screen sampler setup just close the application and enjoy immersive light and sound beyond gaming.
Logitech G560 Specs
Total watts (peak):
240W
Total watts (RMS):
120W
Bluetooth version:
4.1

1x USB input
1x AUX input
1x Headphone port

Frequency response:
40 Hz – 18 KHz
Max SPL:
97 [email protected]
Sensitivity:
84 [email protected]/1w
Input impedance:

Price and availability

Logitech G560 LightSYNC PC Gaming Speakers has an SRP of Php 12,499.00. It is available at DataBlitz stores or via Logitech Official Store at LazMall.

Leave a comment down below and share your thoughts with us!

Want more features like this? Please follow us on Facebook, Twitter, and Instagram to get the latest trends.

Editor in Chief at Iconic MNL
Blogger/Influencer

He finished Bachelor of Science in Computer Science and Information System at Centro Escolar University in Manila. During his academic years, He has been an epitome of what a servant leader is. He was very active engaging into various extracurricular activities and served as an officer in different organizations.