One of my favorite trends in tech today are truly wireless earbuds that completely eliminate the need for any kind of wires. Wireless earbuds today are becoming more of a necessity than just an option, this is because most of the flagship smartphones today are killing the headphone jack. Ever since Apple released the Apple AirPods, other smartphone manufacturers are slowly moving away from this component.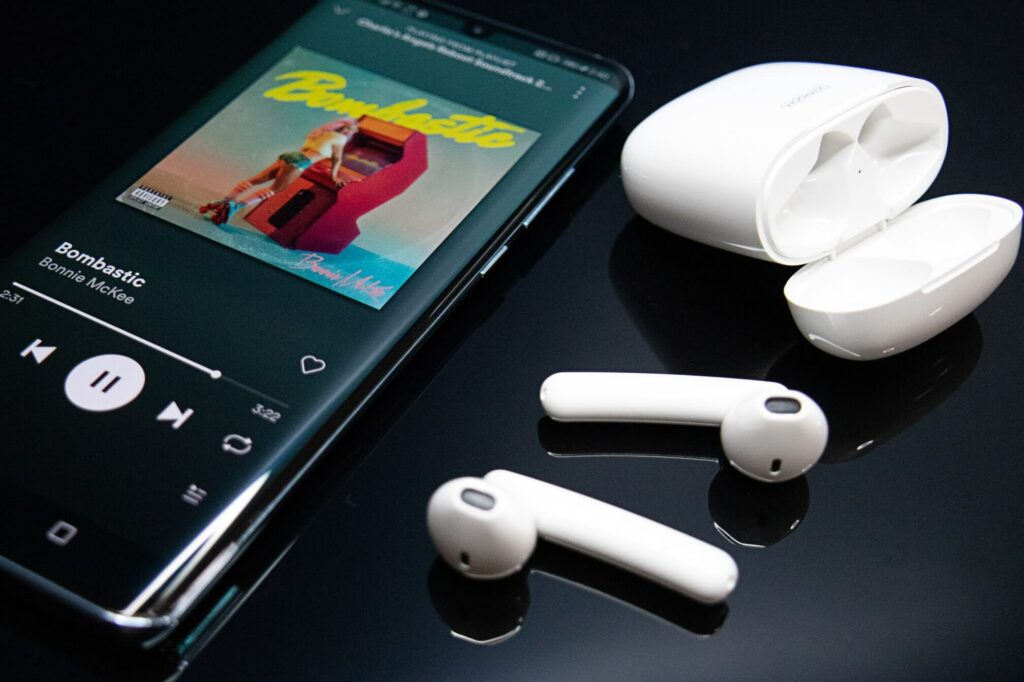 Straight out of the box, the JOYROOM JR-T04S TWS earbuds makes a great first impression. They come in a sleek glossy white polycarbonate finish charging case with 500mAh battery that can charge your earbuds for more than 11 times, a micro USB charging cable, and a user manual.
Design and Build Quality
From how it looks, most people's initial reaction to the JOYROOM JR-T04S earbuds charging case is slightly identical to the Apple AirPods but if you look at it closely, the JOYROOM is slightly bigger than the latter, although they both have the same polycarbonate material. At the front, you will see the brand logo while at the back you will see the details of its battery capacity with 500mAh for the case and 45mAh for each earbuds. If you do the math, you can charge the earbuds for up to 11 times. Below the case, you'll see the micro-USB charging port and the battery LED light indicator.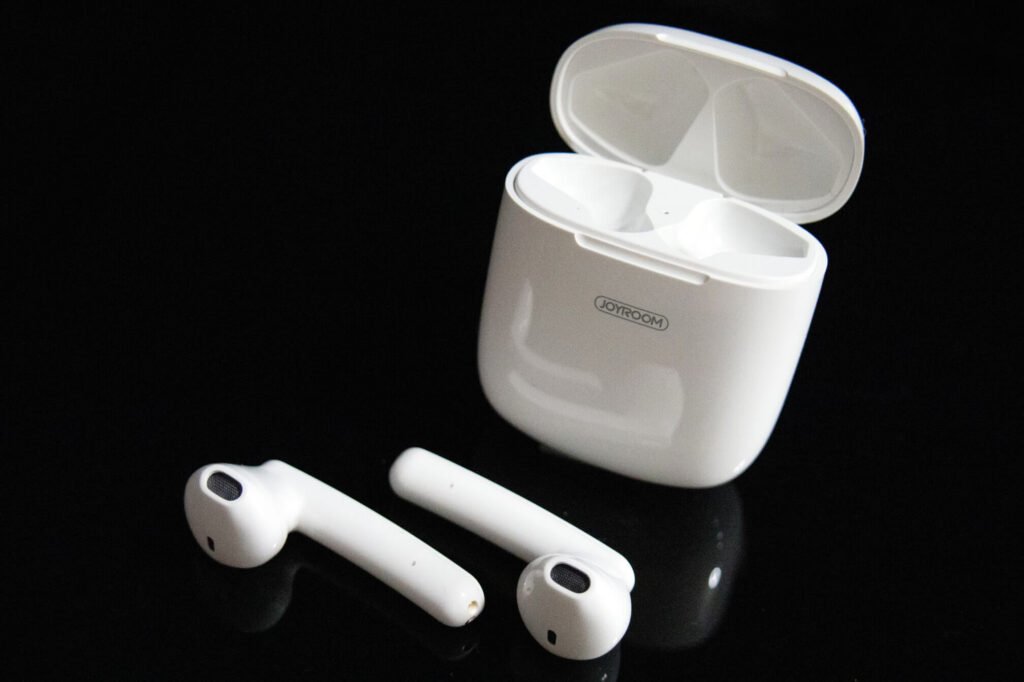 The earbuds both the left and right earpiece has its own pairing button with an LED indicator. Again, the design reminds me of the Apple Airpods with the long body for the microphone.
Speakers and Sound Quality
The JOYROOM JR-T04S can give you amazing audio experience especially for its price. The earbuds is at par with most entry-level HIFI wired earbuds. As we all know, wired earphones are often better than the wireless counterparts since wired connections has less noise than wireless audio transmission.
Another factor why it sounds really good is its use of a large 13mm dynamic driver that is bigger than most 10mm drivers found on in-ear monitors.
While some of the similarly priced wireless earphones may have a bigger bass response, they are not as clean as this, and the sound quality is not that overpowering.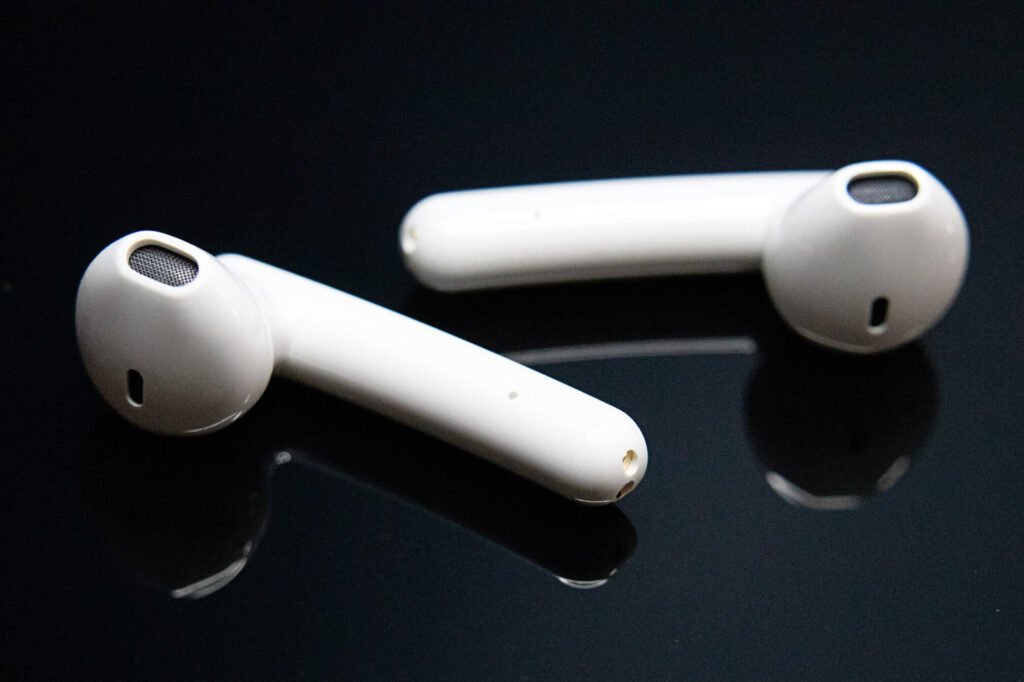 Overall, the JOYROOM JR-T04S is one of the best sounding earbuds in the market today for its price. It can even go up against some of the more expensive TWS earbuds in terms of audio quality.
Features
JOYROOM JR-T04S is very easy to use, and the pairing of the device is very easy and fast. All you need to do is to remove the earbuds from the case then connect via Bluetooth.
One feature I like about this device is that you can use it even if you don't use the other piece. Since either piece can work as your main buds. This is perfect when you are working and you still need to be aware of your surroundings. Just wait for the white and orange LED light to blink.
Once paired with your device, connecting it back is effortless. All you need to do is to remove it from the case and it will automatically connect to your paired device.
It also has the new Bluetooth 5.0 standard with good latency and stability. Audio lag rarely happens even if I'm a bit far from my source device. If you are under 10 feet from the source, it can pass through walls as well.
The functions of the single-button includes: double click L/R to use voice assistants like Siri and Google, long-press L/R to refuse calls, short press L/R to answer or hang up calls, short press L/R to play and pause music, long-press L for the previous song, and long-press R for the next song.
Unfortunately, it doesn't have a sensor to stop the audio when you remove the earpiece from your ears. There is no volume control on the earpiece as well.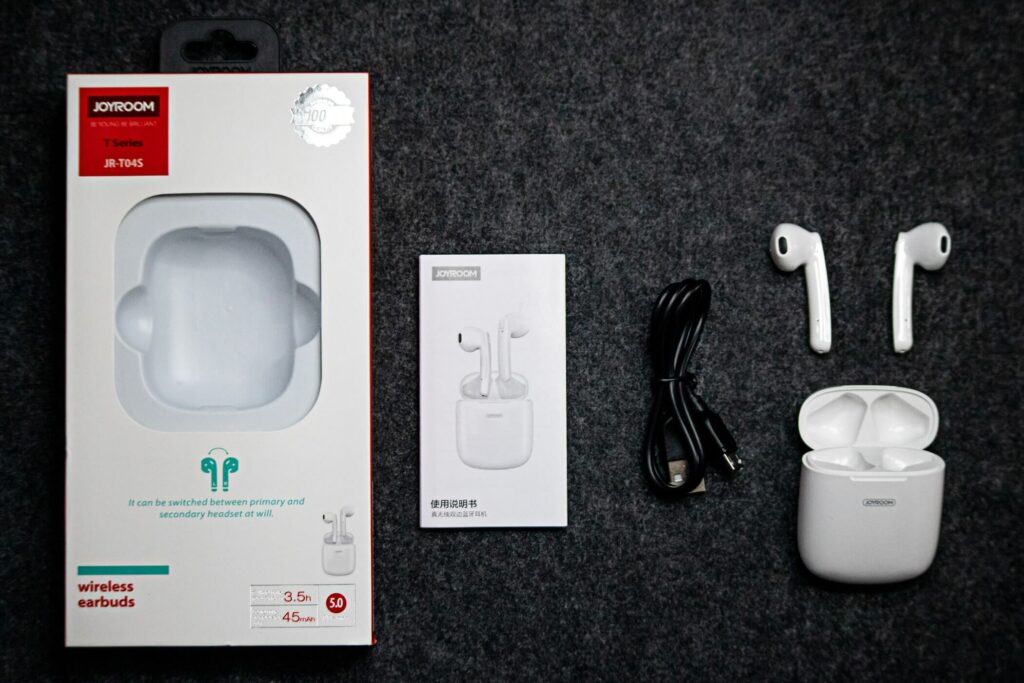 Battery Life
JOYROOM JR-T04S has 45mAh LiPol batteries per piece while the case has 500mAh. True to its promise, the earbuds can last for up to 3 hours per charge. The charging time per earbuds is 2 hours while the case can be charged using a 5V/1A charger for 3.5 hours.
PROs
✅ One-size-fits-all lightweight design
✅ close to lag-free connectivity
✅ fast reconnection speed
✅ excellent sound quality for its price
CONs
❎ I was not able to find any IP rating for water resistance
❎ slow charging for both the case and earbuds
❎ no sensor for stopping the audio when you remove the earbuds
Verdict
You won't be able to find a truly wireless earphones in the market today that is as affordable as this. Good thing, Digital Walker was able to release something as good and affordable as the JOYROOM JR-T04S.
JOYROOM JR-T04S Specs
Driver: 13mm dynamic
Frequency response: 20Hz to 20KHz
Impedance: 32 Ohms
SNR: 95dB ± 3dB
Distortion: <5%@1KHz, 1mW Sine wave
Microphone: Dual-mic
Bluetooth: 5.0
Battery: 500mAh (case), 45mAh LiPol (per earpiece)
Dimensions: 46.4 x 18.5 x 19.5 mm
Weight: 65 g
Price and availability
The JOYROOM JR-T04S TWS Bluetooth 5.0 budget earbuds is now available in the Philippines at OMG Feel Good Gadgets Store and Digital Walker stores for only PHP 1,390.
Leave a comment down below and share your thoughts with us!
Want more features like this? Please follow us on Facebook, Twitter, and Instagram to get the latest trends.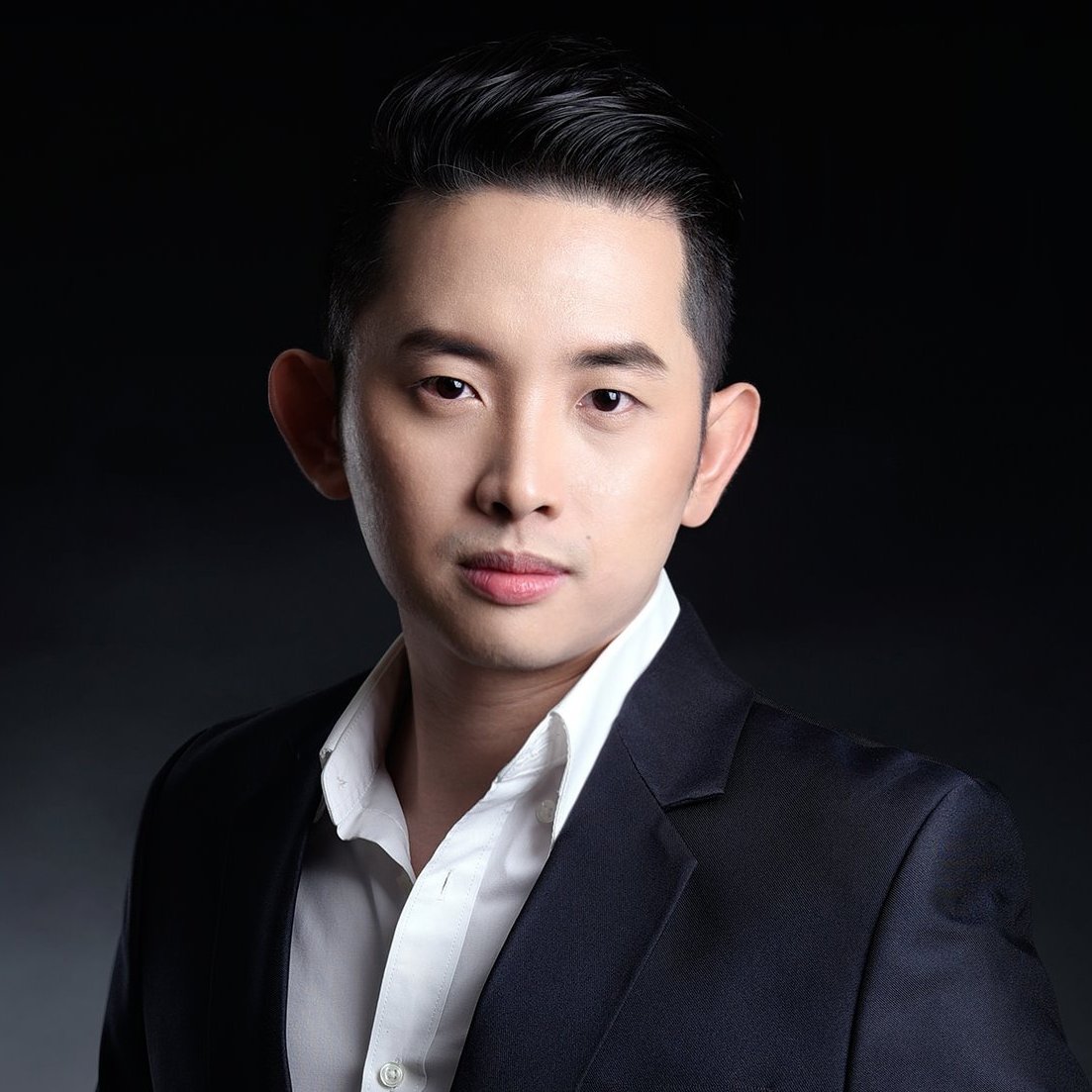 Editor in Chief at Iconic MNL
Blogger/Influencer
He finished Bachelor of Science in Computer Science and Information System at Centro Escolar University in Manila. During his academic years, He has been an epitome of what a servant leader is. He was very active engaging into various extracurricular activities and served as an officer in different organizations.