If you're looking for a bluetooth headset that will not only withstand the rigors of exercise, but also let you enjoy your music while keeping your ears open to anything–from the pleasant sounds of nature, to potential dangers and risks–this might be a product for you!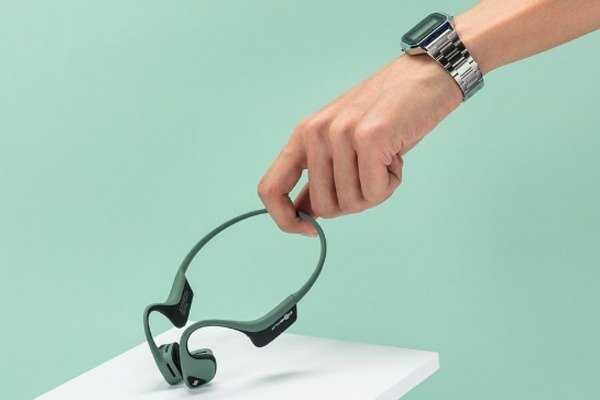 Bone conduction technology was first adopted by the military to enhance communications between soldiers, and now this technology has arrived at the consumer market.
We've seen people do it. You might even be doing it yourself listening to music through traditional earbuds while walking or running along the street. It may seem innocent enough, but that is an accident waiting to happen. When you have earphones on, you can't hear approaching traffic behind you.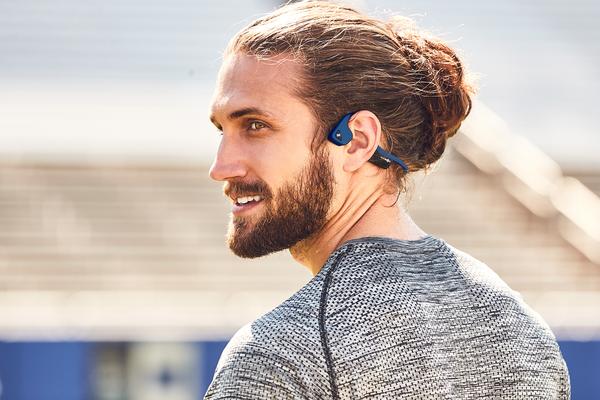 Unlike the traditional earphones that send sounds through your eardrums, Aftershokz Headphones send sound through the bones of your skull. Instead of speakers, AfterShokz headphones have transducers that send vibrations through your cheekbones to your cochleas, so your eardrums are free to take in your surroundings.
As mentioned, this feature allows you to be more aware of your surroundings and lets you listen to music just as well as with standard earbuds, but without shutting out everything else.
Introducing Aftershokz Headphones
Innovative headphones with functional, flexible, and lightweight open ear design that make them ideal for sports.
Aftershokz, the safest headphones for outdoor fitness, formally launches in the Philippines with a fun run on August 30, 4PM at R.O.X. Bonifacio High Street. Aftershokz is a bone conduction headphone brand that introduces the unconventional OpenFitTM design to headphones.
AfterShokz are wireless, open-ear sport headphones made to ensure safety—perfect for runners, cyclists, hikers, and outdoor enthusiasts. lts award-winning headphones deliver the ultimate level of comfort and situational awareness, without compromising on premium sound.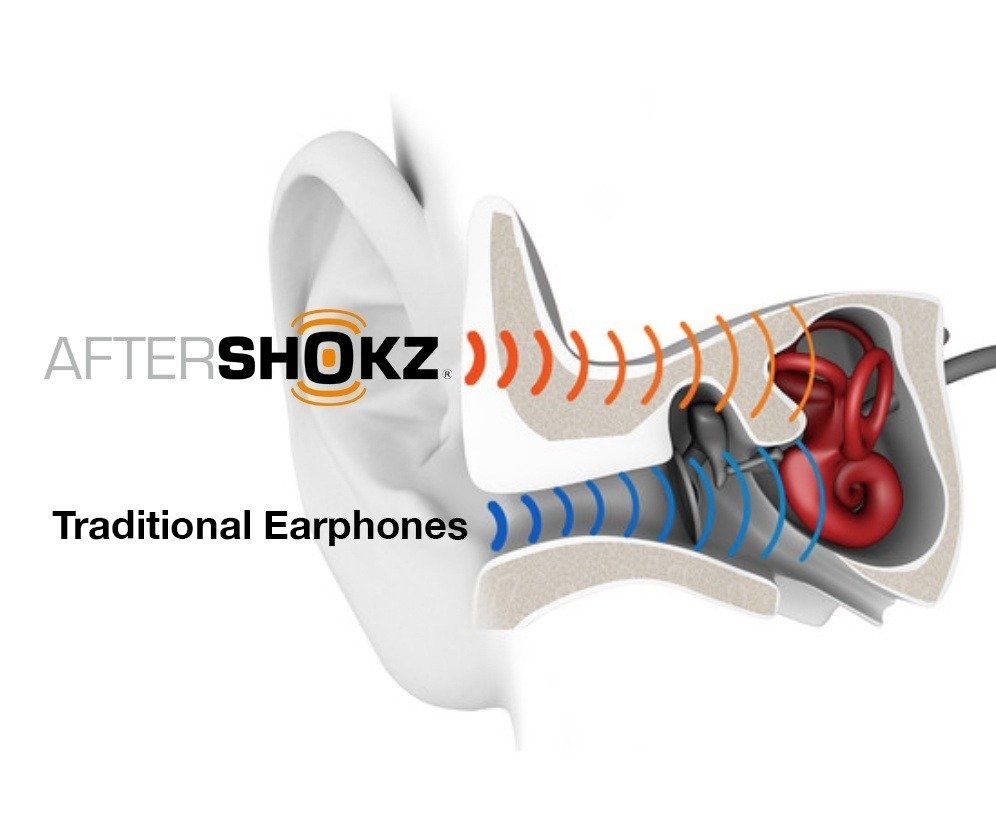 AfterShokz headphones use bone conduction technology to transmit audio waves to the inner ears through the skull, bypassing the eardrums completely. Place them on your cheekbones, just in front of your ears. This leaves your ear canals open, allowing you to remain alert and aware of ambient sounds while you enjoy your music. Bluetooth® connectivity gives you the ability to be free of wires and make and receive phone calls.
Aftershokz Trekz Titanium (Php5,690) headphones has won the CES Innovations Award and Red Dot Award for its outstanding design and engineering. The backbone of the industrial design is a premium titanium frame, an element chosen not only for its strength and durability, but also for its infinite flexibility.
AfterShokz Trekz Air (Php8,590) is the next generation in bone conduction technology and brand's lightest headphones, which delivers comfort and sound quality at the same time. Inspired by the demands of elite and aspiring athletes, the Trekz Air is 20% lighter than Trekz Titanium, weighing just 1.0602.
Both Headphones Feature:
OpenFitTM –

Promising uncompromised situational awareness and extended comfort in a revolutionary open ear design. That means you can tune in to your music or a call without tuning out the world around you

—

vital for staying safe and alert as you move through the day. its full titanium wraparound design provides infinite flexibility, a secure fit, and the ultimate level of comfort that can withstand the most rigorous of activities.

PremiumPitch+TM Sound

– Bone conduction audio has earned its bad reputation due to a blend of natural sound leakage and weak bass. PremiumPitch+

TM

technology optimizes the sound and includes additional features like LeakSlayer

TM

technology, which ensures music is directed exactly where it should be.

Titanium Frame:

The backbone of the industrial design is a premium titanium frame, an element chosen not only for its strength and durability, but also for its infinite flexibility, which will deliver maximum comfort, portability, and the very best sound.

Sweat Resistant:

Built to power through daily sweat sessions and wicked weather. IP55 rated to repel sweat, moisture and dust.

Six Hours of Music and Calls:

A single charge will reliably deliver six hours of music play and talk time. You can charge fully in 1.5 hours, but a quick 15-minute charge provides enough boost to get you through a long workout or marathon call.

Noise Canceling Mics:

Precisely placed dual noise canceling microphones exclude surrounding noise, effectively enhancing speech.

Voice Prompts:

Audrey Says

TM

seamlessly guide you through power, pair, play and talk, and everything in between.
About AfterShokz
AfterShokz brings patented bone conduction technology, initially developed for military special operations and law enforcement by Voxtech in 2001, to sport, mobile, and Bluetooth® headphones designed and priced for everyday use. Through a suite of proprietary audio technologies and the only completely open ear design, AfterShokz headphones deliver premium stereo sound and a promise of safety and comfort that is second to none. Since its inception in 2011, the company has been committed to innovating unconventionally and making situational awareness a priority.
Learn more about how the brand inspires users to #beopen and #hearitall at aftershokz.com.
Watch out for more updates and information on the latest Aftershokz news and join our #shoksquadph community.
Aftershokz is available at Astroplus, Beyond the Box, Digital Walker, E-Central Cebu, Glorious Ride Bikeshop, iCenrer Cebu, iLiberty Tech Gadgets and Accessories, JMB Albay Gadgets, Mobile 1, R.OX., Lazada and Shopee. For more information about the product, visit www.facebook.com/digitalwalkerstore or www.facebook.com/beyondthebox.ph
About Digital Walker
Digital Walker is the country's largest retailer of premium gadgets and accessories. These products are available on the following branches Alabang Town Center, Eastwood, Shangri-La, Robinsons Magnolia, SM Mall of Asia, Trinoma, Virra Mall, Powerplant Mall, Robinsons Place Manila, Greenbelt 5, Glorietta 2, Century City Mall, Circuit Makati, Gateway Mall, Conrad, Podium, Ayala Mall the 30th, SM North Edsa Annex, Vertis North, Abreeza, Cagayan De Oro, SM Cebu, Ayala Cebu, Nuvali.
For more information and updates, follow Digital Walker on Facebook @digitalwalkerstore and on Instagram and Twitter @digitalwalkerph.
About Digits Trading
Established in 2002, Digits Trading Corporation is the premiere gadgets and lifestyle product distributor in the Philippines, providing Filipinos with the most relevant tech brands of utmost quality.
Starting small with just 1 store in 1995 at San Juan that only sold Playstation games, it has evolved into a retail tech giant with several store brands such as Beyond the Box, Digital Walker, Baseus, and OMG. Now, with 56 nationwide stores, and more than a hundred brands under its distribution, Digits Trading Corp. ensures its customers of superior store and product selection that is curated, intuitive, and up-to-date.
Charles Paw, founder of Digits Trading Corporation is a self-confessed techie and gadget geek proving his success as an entrepreneur in the tech retail industry.