A few weeks after its new brand launch, Maya makes waves anew as it introduces new features to make it even easier for Filipinos to master their money.
The fresh updates from the country's all-in-one money app for June include a new savings feature called Personal Goals, new crypto coins, higher transaction limits, and exciting promos.
With the new features, Maya also stepped up its close collaboration with young Filipino artists and creators – starting with Shanti Dope, through a trailblazing music video that creatively incorporates an "easter egg hunt" for a chance to win a portion of P1-million in prizes.
"The customer response to our relaunch has been overwhelmingly positive, and our Early Access program was a smashing success. Maya's unique all-in-one money app, which seamlessly brings together digital banking services, crypto, and an e-wallet for the customer, clearly addresses the pent-up demand for world-class financial services" said Pepe Torres, Chief Marketing Officer of Maya.
Saving for specific goals? Maya's got you.
To further make it easier to save, Maya is launching Personal Goals, a Savings feature with a 6% interest rate* that enables customers to set aside money for specific purposes – whether it's for a new laptop for school, airfare for a long-awaited vacation, tickets for a music fest, down payment for a condo unit, an emergency fund, or starter fund for a small business. Personal Goals will be available within the month of June, so watch out for this!
With Personal Goals, you can create savings goals and personalize their names and target amounts. You can set up a Personal Goal for up to six months, and you can keep up to five at a time, allowing you to see how everything is progressing at a glance.
The Personal Goals complements Maya Savings, now available for all upgraded Maya customers. Maya Savings is the digital savings account with a 6% interest rate* that's as easy to use as an e-wallet, initially offered on early access mode during the Maya launch.
On top of offering Personal Goals, customers with Maya Savings will automatically be upgraded as Maya Power Users, allowing them to cash in up to P500,000 to their Wallet and quickly transfer it to their Maya Savings account. Best of all, Maya customers can enjoy 99.9% app uptime reliability, enabling access to their savings anytime.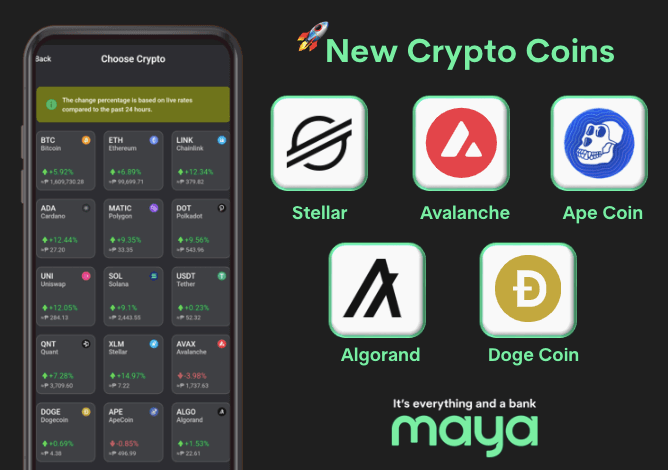 New crypto coins are here, plus new features ahead!
If you're planning to grow your money via crypto, here's some good news: Maya has added five new currencies to the app: Algorand, Ape Coin, Avalanche, Doge, and Stellar. Maya now offers 15 coins to help you diversify your portfolio. What makes Maya Crypto better is the seamless, integrated experience – no need to cash in/out or buy crypto using another app – it's an all-in-one experience with Maya.
Expect a more personalized experience with Maya, in the near future. Soon, you can set up your own @username that will serve as your Maya identity and let your friends easily send you money without using your mobile number or QR code. You will also enjoy all these awesome Maya features in dark mode!
1M hidden in a music video?
Taking control of your money is seamless with Maya – but who knew it could be exciting too? The all-in-one money app has blazed the trail through a creative collab with rap phenom Shanti Dope for the music anthem of this generation, entitled Maya.
The creative collab for the trending single was revealed last weekend through an easter egg hunt for P1,000,000 worth of cash prizes hidden in plain sight throughout the music video. All you need to do is watch the music video and look for the ten unique cash codes until June 9 for a chance to win prizes. Check out the Shanti X Maya Cash Code Hunt promo at www.maya.ph/shanti.
"Customers are connecting to our new brand's bold look, feel, and sound. This transformation would not have been possible without a world-class team of Filipino creatives who have brought our brand to life. The process reflects our culture and how we built Maya to be the first-of-its-kind money app for Filipinos," said Torres.
More creative collab with the new generation of Filipino creatives
According to Torres, Maya aims to build a brand that's as trailblazing as the app experience. The collab with Shanti Dope has paved the way for more co-creation with this generation's game-changers.
For example, Maya works hand-in-hand with sought-after photographer Shaira Luna to co-create Maya's photo library with a diverse range of talent that truly reflects the next generation of Filipinos. This creative approach will allow Maya to stand out in a saturated marketing landscape where it's not uncommon to see competing brands use the same stock photo models in their promotional materials.
Maya combines the power of an e-wallet with new features like crypto, credit, and an innovative digital banking experience powered by Maya Bank, to allow you to spend, save, grow, invest, and master your money — all in just one app. To know more about Maya, visit maya.ph or follow on Facebook, Instagram, Tiktok, and YouTube and on Twitter. Join Maya's Telegram community for Maya exclusives.
No Maya account yet? Download the app for free.