Peruse a Japanese dictionary and you won't find the delightful word "Botejyu". It's because Botejyu is a whimsical mishmash of "Bote" (the sound of a just-flipped okonomiyaki) and "Jyu" (the delightful sizzling sound as it cooks on tshe teppan grill)—an appropriate, poetic, and appetizing way to describe Japan's Pioneer Okonomiyaki and Okosoba Specialty Restaurant Chain.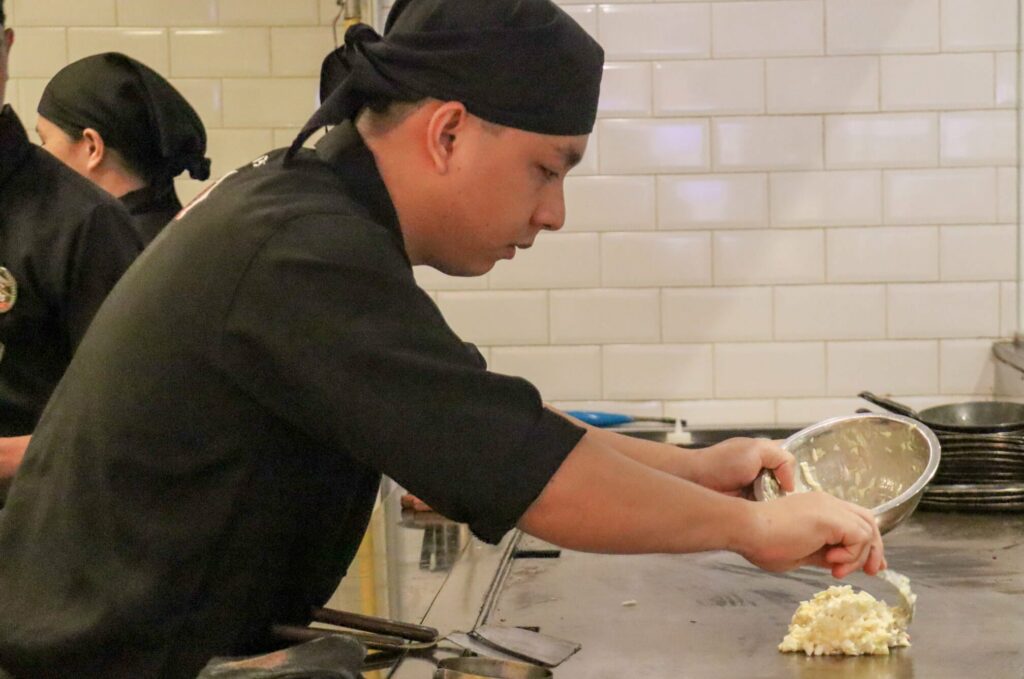 Botejyu has been in the Philippines since 2016, and is one of Viva International Food & Restaurants, Inc.'s franchises. The same company that has brought unique and winning brands such as Wing Zone, Pepi Cubano, Paper Moon Cake & Boutique Cafe, and Yogorino. Botejyu is staying true to its promise: to offer authentic Japanese cuisine with its signature Okonomiyaki, flavorful Ramen, delightful Takoyaki and Tempura. Its new sushi and sashimi menu items are guaranteed to be a new crowd favorite.
The Beginnings Of Botejyu
Established in Japan by Eikichi Nishino in 1946, Botejyu takes pride in its name. Botejyu was born in the gourmet city of Tamade, Osaka originally as a specialty okonomiyaki restaurant, which has been struggling to start over despite the harsh post-war aftermath. The emerging black markets in Osaka carried supplies and provision from the US and these included American flour which was then mixed with water to make pancakes as alternative basic nourishment.
Faced with food shortage, Nishino knew he had to be more innovative and enterprising so he developed this simple, easy-to-cook okonomiyaki, by throwing in whatever ingredients were available. He also set his eyes on mayonnaise, a condiment that until then was used only to flavor cold food.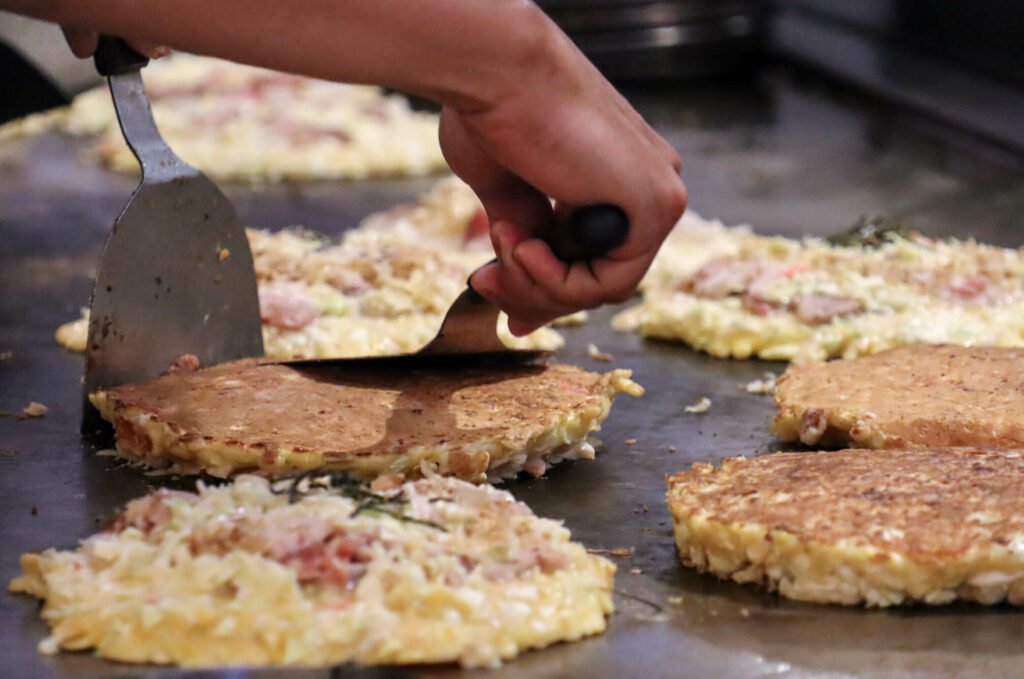 After much experimentation, Nishino managed to market mayonnaise as an okonomiyaki topping at his restaurant. The evolution of this nutritious recipe quickly spread in Osaka, making this flour-based food as a staple dish. Nowadays, okonomiyaki are dressed with mayonnaise, but it was Nishino and Botejyu who first came up with the concept.
When Japan underwent rapid economic growth, and to meet customer needs during this era, Botejyu developed new items including the "okosoba", which is basically okonomiyaki and yakisoba in one dish.
Over seven decades later, Botejyu still delivers authentic Japanese food in every single branch they open in Japan, Singapore, Korea, Taiwan, Vietnam, Thailand and in the Philippines.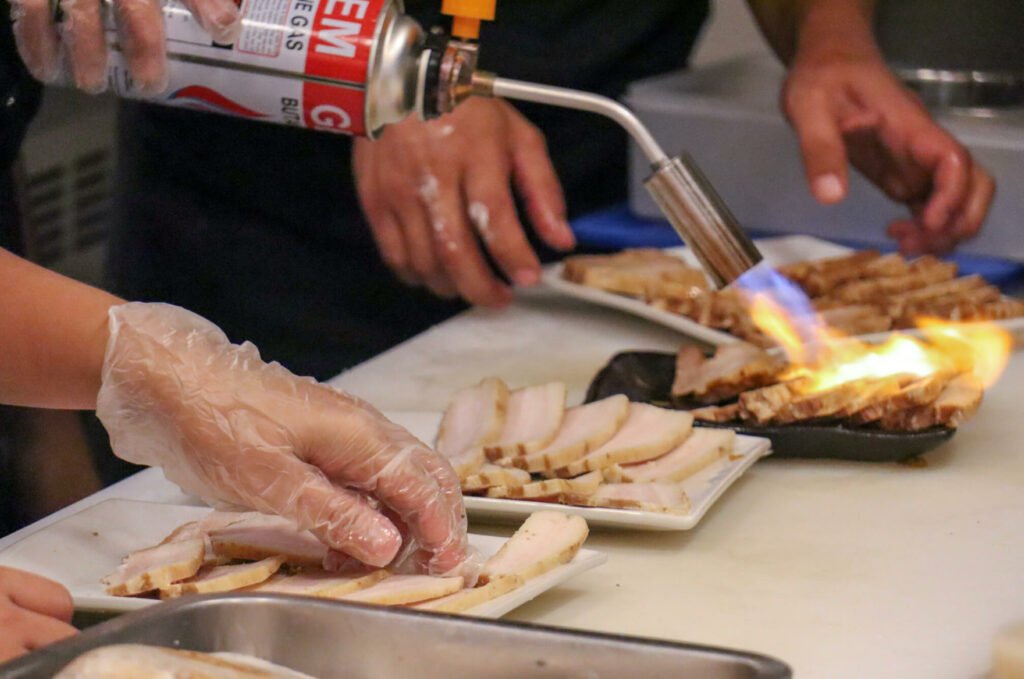 A bit of everything authentic Japanese…and beyond.
What makes Botejyu special is that it brings the authentic taste of local Japanese food to more people in full support of regional revitalization. Thus, reading through its interesting menu, one can find all of Japan's local specialty gourmet food from various regions throughout Japan.
To keep the original flavors consistent even to this day, Botejyu is particular about the ingredients that go into every dish. Botejyu in the Philippines, in fact, imports 70% of its ingredients—from meats to sauces.
"Aside from our specialty okonomiyaki and okosoba, we also have ramen, tempura, takoyaki, wagyu beef, oko, gyoza, katsu, don buri, yakisoba, teppan, plus other Japanese comfort under one roof," said Laine de Jesus-Vallar, Assistant Vice-President & Marketing Director for Viva International Food & Restaurants, Inc
Take note of some of their specialties:
Takoyaki takes center stage — if you can't decide which takoyaki flavor you want, go for the All-star Takoyaki (Php 255) and enjoy six different variants of these sumptuous crisp on the outside, tender and chewy ball-shaped goodies on the inside. The wheat flour-based batter is a proprietary Botejyu ingredient, and goes well with the fresh tako (octopus) bits. It comes with six individual sauces and flavors: umami sauce and mayo, tomato sauce, spicy mentai mayo, thick spicy sauce, and salt and garlic sauce.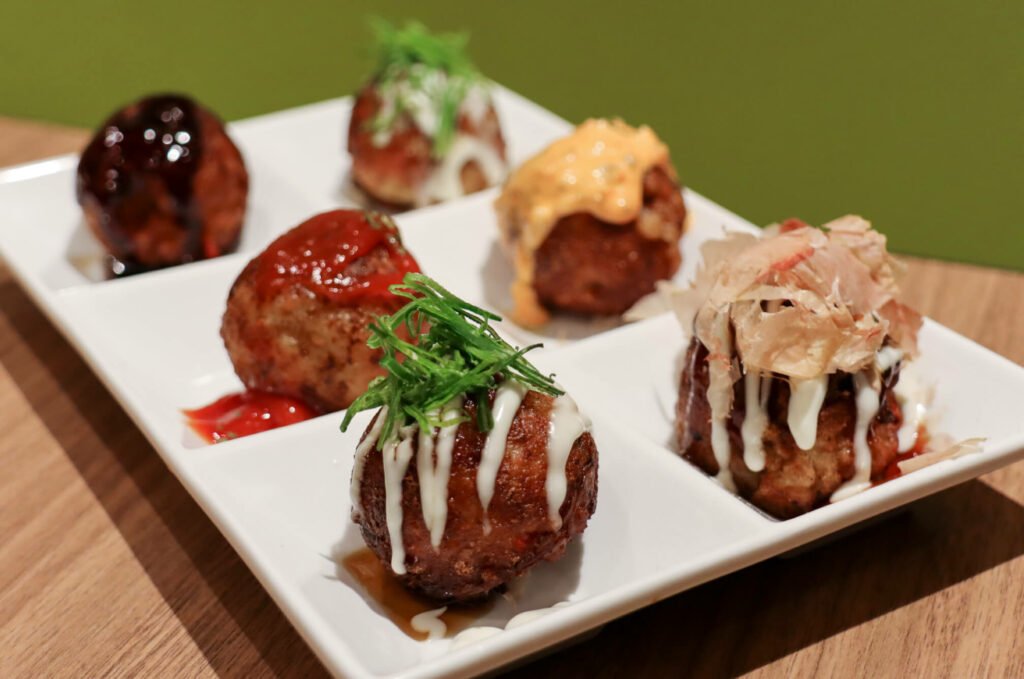 Move up to the mains and try Pork Tonkotsu Ramen with Char Siu pork (Php 475), a rich and delicious pork and noodle dish dashed with a trace of Botejyu's magical oil that adds soul to the soup.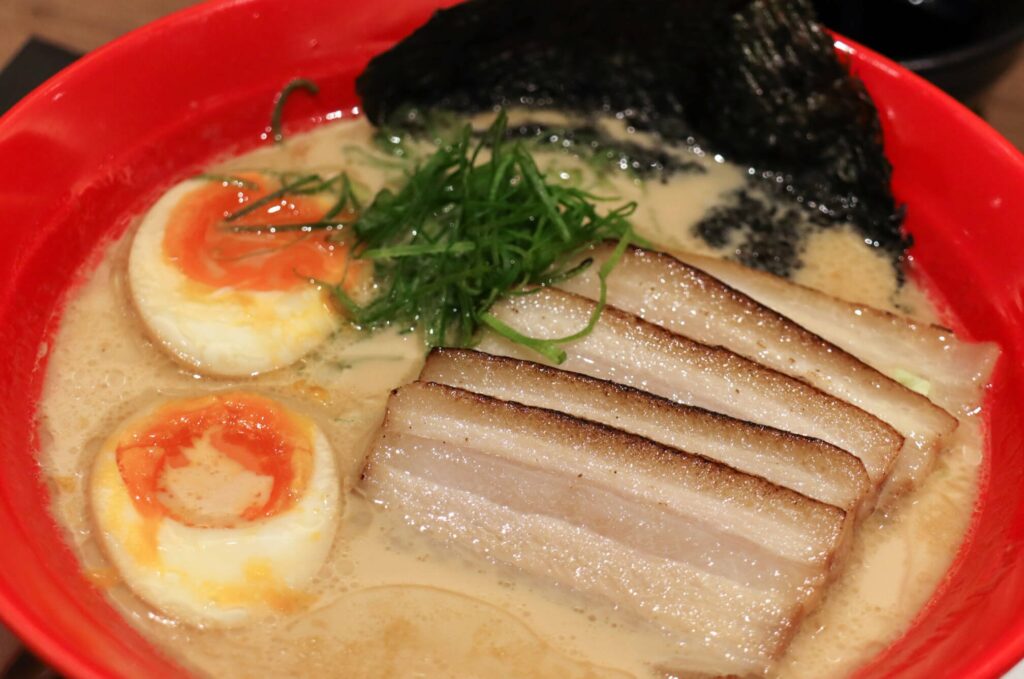 The Prawn Tempura Platter (3pcs Php 205/ 5pcs Php 340/ 10pcs Php 650) is also one of their best-selling dishes, a testament to the Filipino love for fried food. The batter is light and crunchy, with hints of natural umami flavors.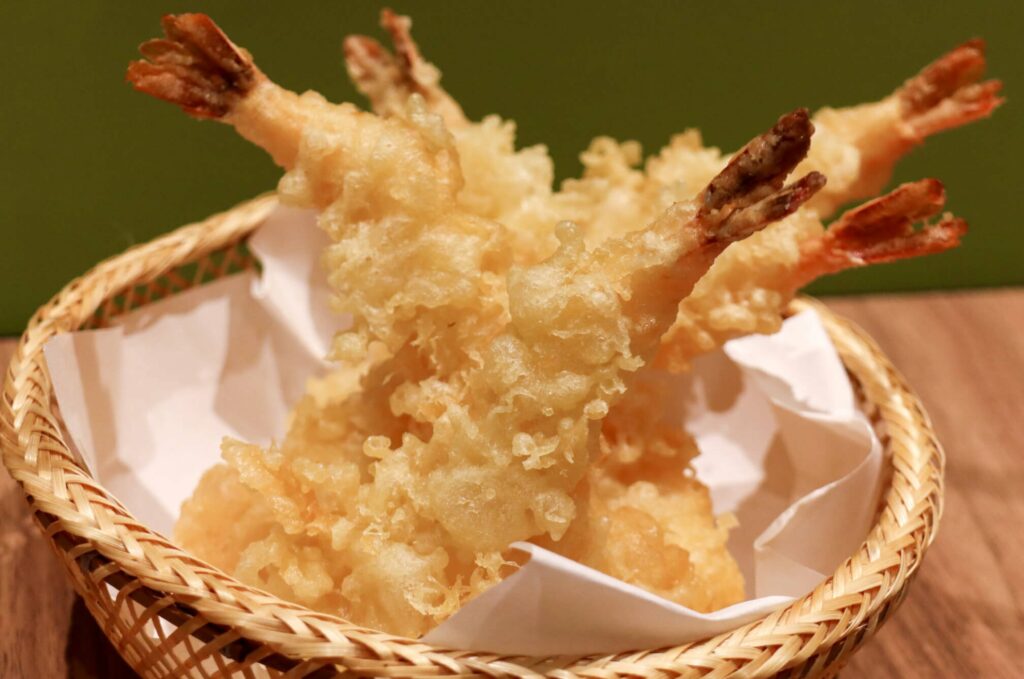 If you want something heavy and hearty, the Grilled B-B-Q pork rice bowl Hokkaido Style (Php 325) beckons. A local specialty of Hokkaido, this rice bowl topped with thick grilled pork slices and a special soy sauce that lends a sweet-savory flavor.
Botejyu's Okonomiyaki, an original concept by its founder, is well-balanced and nutritious, having generous amounts of shredded fresh cabbage, and other ingredients melded into the house batter mix.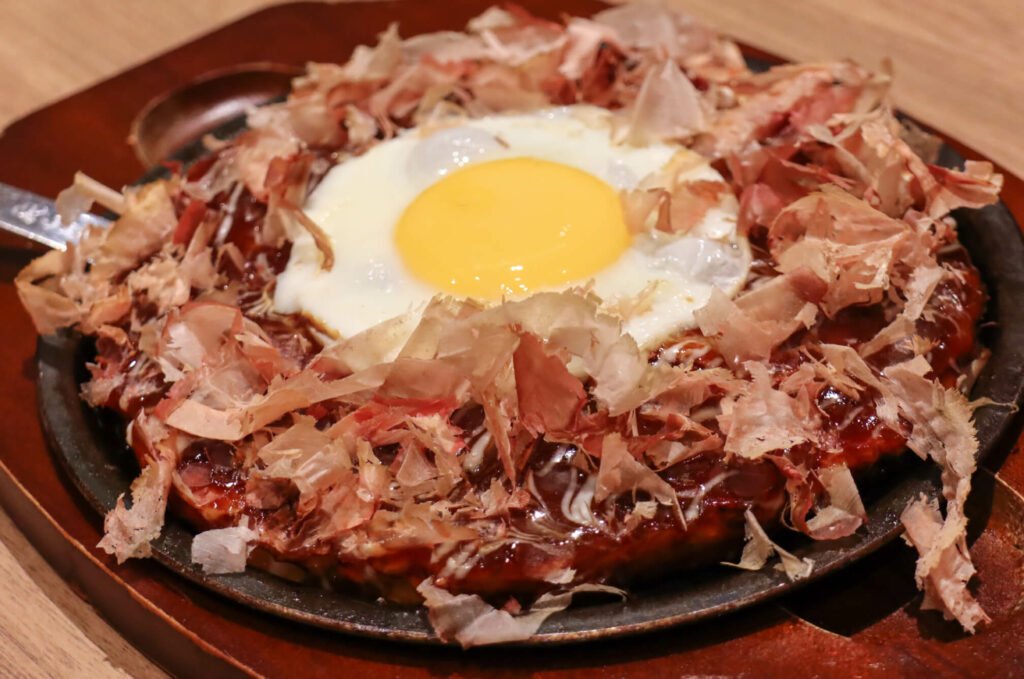 The Premium Mix Moonlight-Egg Oko (P410), in particular, has caught everyone's weakness for great okonomiyaki with its substantial mixture of beef, pork, shrimp, squid and fried egg cooked in a teppan grill and topped with signature secret sauces and white mayonnaise to produce okonomiyaki that's crispy on the outside but light, fluffy, and flavorful on the inside.
You may choose from other flavors like Mochi & Gouda Cheese (Php 350), Pork Belly (Php 250), Shrimp (Php 305), and Seafood Mix (Php 360). The light and creamy Original Osaka mayonnaise that can be found on top of the okos is a Botejyu house formulation.
Always say yes to their yakisoba and get warmed by their Premium Mix Moonlight-Egg Yakisoba Fried Noodles (Php 450), Seafood Mix Yakisoba Fried Noodles (Php 415), Sukiyaki Beef Yakisoba Fried Noodles (Php 420), and the Pork Belly Yakisoba Fried noodles (Php 315) flavors.
Botejyu's Karaage, meanwhile, is the number one karaage in Japan, and has become the favorite of chicken-loving Filipino foodies as well. Other famous dishes include the Teppan Pork Gyoza (5pcs Php 210/ 10pcs Php 400), Bacon and Cream Cheese Spring Rolls (3pcs Php 150/ 6pcs Php 295) Sukiyaki Beef Teishoku (Php 540), Omusoba (Php 450), and of course, the other original concept, their Okosoba (Php 450). Also called "modern-yaki" by Nishino, this hearty dish is made with their house yakisoba noodles and cabbage that is packed in between the special batter and egg, a truly comforting dish.
New Premium Selection
"With the opening of our first flagship store, we've started offering new premium dishes that continue our founder's mission of bringing the true taste of authentic traditional Japanese cuisine to more people," Vallar explained. "Our new sushi and sashimi selection will surely delight our regular guests, and attract new ones."
The Seattle Roll (Php 315), a delicious combination of avocado, cream cheese, salmon, lettuce, and their original Botejyu mayo is one of our current bestsellers. The premium Pressed Unagi Sushi (Php 995) brings delicately subtle flavors, highlighting the unagi's freshness.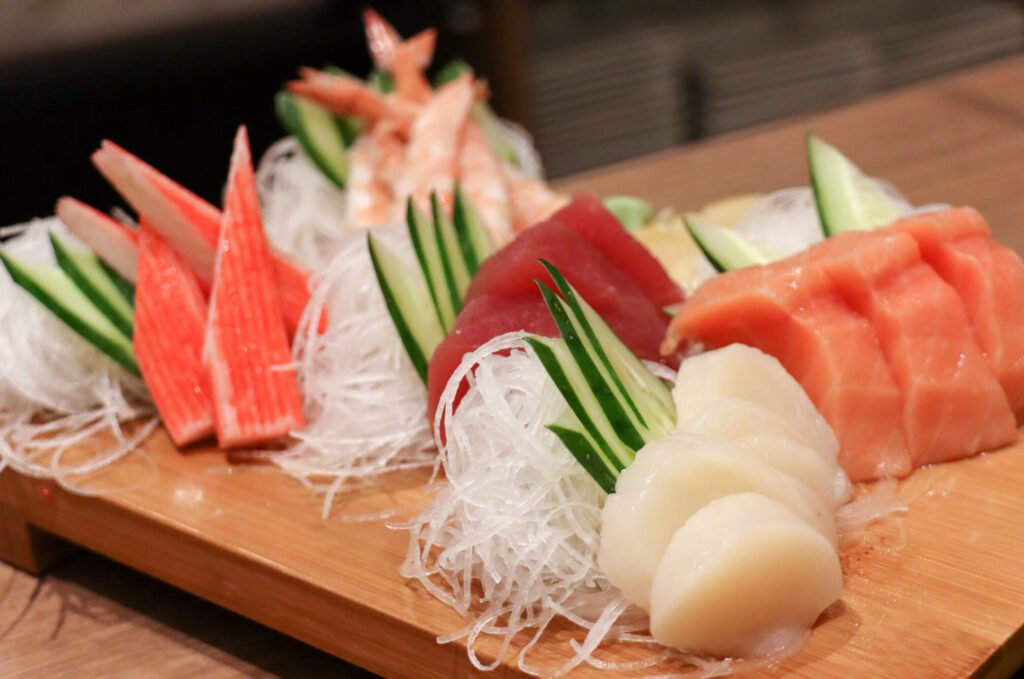 Other future favorites are the Assorted Sashimi Platter (3kinds Php 425/ 5kinds Php 695) for those wanting variety, and the Crispy Fried Prawn Mayo Roll (Php 320) for prawn lovers.

Visit Botejyu's other branches at the SM Mall of Asia, Festival Mall, SM City Dasmarinas, SM Megamall, Robinsons Galleria, Robinsons Magnolia, Ayala Malls Vertis North, Ayala Malls Trinoma, Ayala Malls Feliz, SM City Pampanga, Solenad, Greenbelt 3 and soon in O Square 2 Greenhills, Ayala North Exchange, and SM Fairview.
Follow Botejyu on social media: Facebook | Instagram | Botejyu website.
Have you tried something off of Botejyu's menu? Let us know in the comments below.