In Japan, there is a culture that skillfully utilizes limited space, and creates within it, a world of beauty. INAX developed the S600 LINE, inspired by Japanese living spaces, which balances the traditional Japanese approach to utilizing space with modern sensibilities. INAX has perfected the Japanese use of spatial design to bring beauty and new value to the modern bathroom.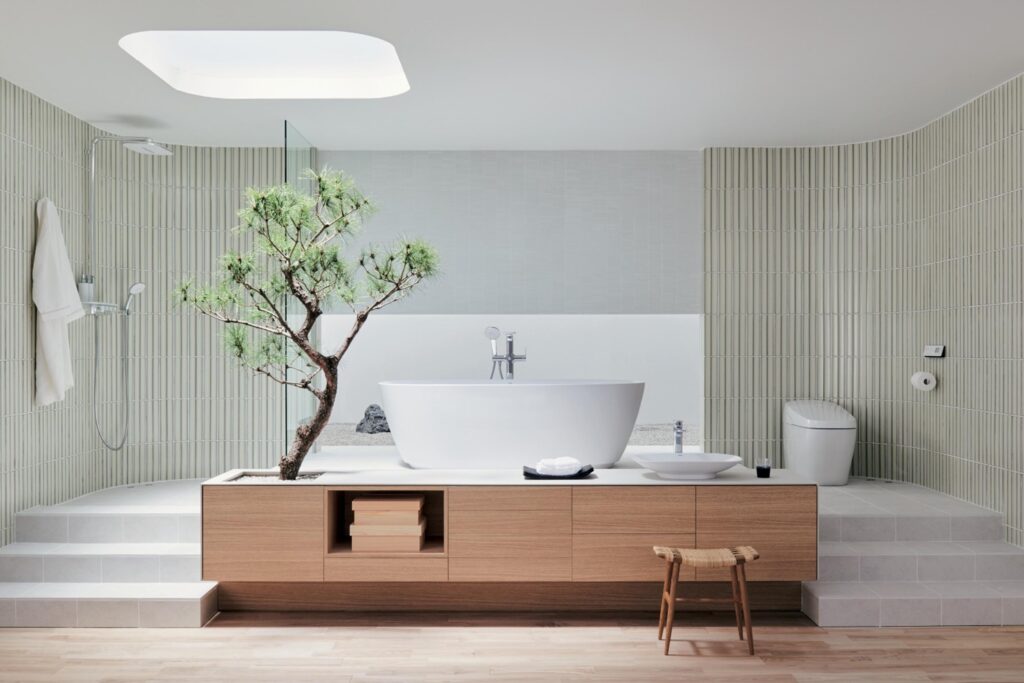 Inspired by Japanese water rituals and nature, the S600 LINE collection is defined by products that resemble art pieces that reflect the subtlety of Japanese hospitality to bring about tranquil moments in the bathroom. Developed around the brand's design values of Essence, Sophistication and Thoughtfulness, the S600 LINE embodies Japanese ideas, technologies, and culture in a single collection.
Essence pursues the essential values of the products to maximize spaciousness, while Sophistication marries aesthetics and functionality to fit beautifully with architecture. Thoughtfulness in design reflects the Japanese sensibility of being caring towards others. Through these, the S600 LINE offers a unique design value that illustrates the philosophies and values underlying the INAX brand, to transform your everyday life.
Japanese Innovative Ideas, Technology, and Its Culture of Cleanliness
Since the launch of the first made-in-Japan shower toilet in 1967, INAX has continuously innovated new technologies to bring comfort and satisfaction to people's lives. The SATIS G shower toilet by INAX offers true satisfaction for clean comfort – created not just to clean, but to stay clean without much maintenance.
SATIS G shower toilet is imbued with Aqua Ceramic technology by INAX, lifting waste with just the power of water and preventing lime scale build up. Powerful Air Shield Deodorizer prevents offensive odor from escaping and Plasmacluster®* ions are released into the bowl to effectively disinfect the air and reduce airborne bacteria and mold. Another ingenious innovation is the Foam Cushion – a 5-15mm thick, fine foam is automatically dispensed in the toilet bowl to capture urine splash and reduce unpleasant sounds. Twin nozzle sprays positioned at different angles are designed for a posterior and feminine wash, providing the most hygienic and effective cleansing experience. For those who have existing toilets but would like the hygiene and convenience that comes with a shower toilet, the PASSO shower toilet seat is a quick and easy-to-install option.
Mindful Design for Space Maximization
The Japanese are masters in composing natural-like environments for deeper levels of relaxation, even in confined spaces. Every fixture in the S600 LINE is mindfully designed to maximize bathroom space. The one-piece toilet sits like a piece of fine art and rightly so, having won both iF Design Award and Red Dot Product Award in 2020. Its full skirt narrows in at the base, making the toilet appear smaller and thus maximizing the bathroom space. The toilet's tank lid doubles up as a rimmed tray for placing small items without them falling off.  
Even the ultra-thin vessel wash basin makes a delicate statement in the smallest of space. Inspired by the traditional Japanese sake cup and accentuated by the shine of its glaze, Cerafine™ vessel basin is shaped with a new clay by INAX, which maintains its strength and does not deform during firing – a result of over three years of R&D and 800 prototypes. This beautiful wash basin is the recipient of Good Design Award 2019, iF Design Award 2020 and Red Dot Product Award 2020.
Translating Thoughtfulness into Intuitive Products
Thoughtfulness is synonymous with the Japanese. This attentive trait translates into intuitive details in the S600 LINE products to elevate user experience. Winner of the Red Dot Product Award 2020, the S600 LINE basin mixer has a holed lever to make handling easier and displays a signature INAX Blue color when the lever is lifted to the 'on' position.
The use of water in purification rituals has become an essential part of Japanese life. Calming onsens, rejuvenating waterfalls, and refreshing springs are all symbolic essences that give health, strength, and vitality while taking away the grime of daily life. The S600 LINE Intelligent Control Shower System was designed to emulate this very essence. Its large shower head offers two spray modes of either a luxurious spray or a cascade shower reminiscent of a Japanese waterfall. The hand shower infuses the air with water to give you a refreshing shower while conserving water at the same time. Control water volume easily by turning the dial around the push button. The faucet has a rimmed tray for easy access to toiletries.
Relax or rejuvenate with the S600 LINE freestanding bathtub, which won both iF Design Award 2020 and Red Dot Product Award 2020. Designed with a lower silhouette and anti-slip surface, it makes stepping in and out much easier. One can lie in and relax the western way or sit up with your legs stretched – Japanese style. The tub's apron design dips in at the bottom, making the bathroom feel spacious and luxurious. The freestanding shower mixer is also designed as a tray for placing a bottle of bath salts or tea lights for complete relaxation – a modern interpretation of water rituals to transform your everyday life.
*Plasmacluster® and Plasmacluster® logos are registered trademarks of Sharp Corporation.