The pandemic has dramatically changed our lives and relationships over the past year. While the physical world is on hold for the meantime, most of us spend our lives online and are forced to stay inside our homes. With all the social distancing protocols in place we've all learned to do nearly everything online.
It's been more than a year since the first ECQ but with the number of COVID-19 cases still going up with the new Delta variant it looks like online meetings are still going to be the norm for the next few months. So investing in a reliable work/study from home setup is crucial since it influences your productivity.
Logitech C922 Pro HD Stream Webcam
The built-in webcam on your computer will probably produce poor quality and might suffice most of the time if you're just doing video conference calls with your friends or colleagues. But if you're video calling often with clients or streaming online, it might be better to get a dedicated high quality webcam, especially if you're on a desktop.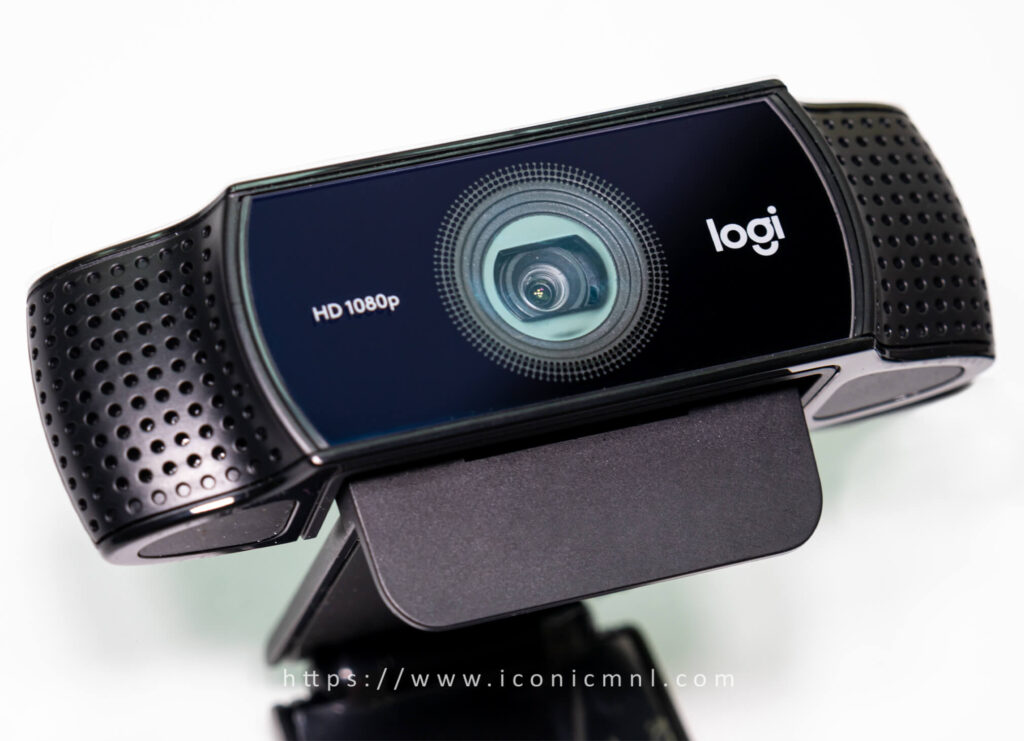 Unboxing/Accessories
The Logitech C922 Pro HD Stream Webcam arrived with Logitech's cyan green small box with the image of the camera seen in front along with its key features and the logitech logo on the bottom center of the box. Inside the box contains the Logitech C922 Pro HD webcam with a 1.5 metre USB Type A cable, a rugged mini-tripod with a swivel mount for the camera, paper documents and a 3 month premium xsplit license.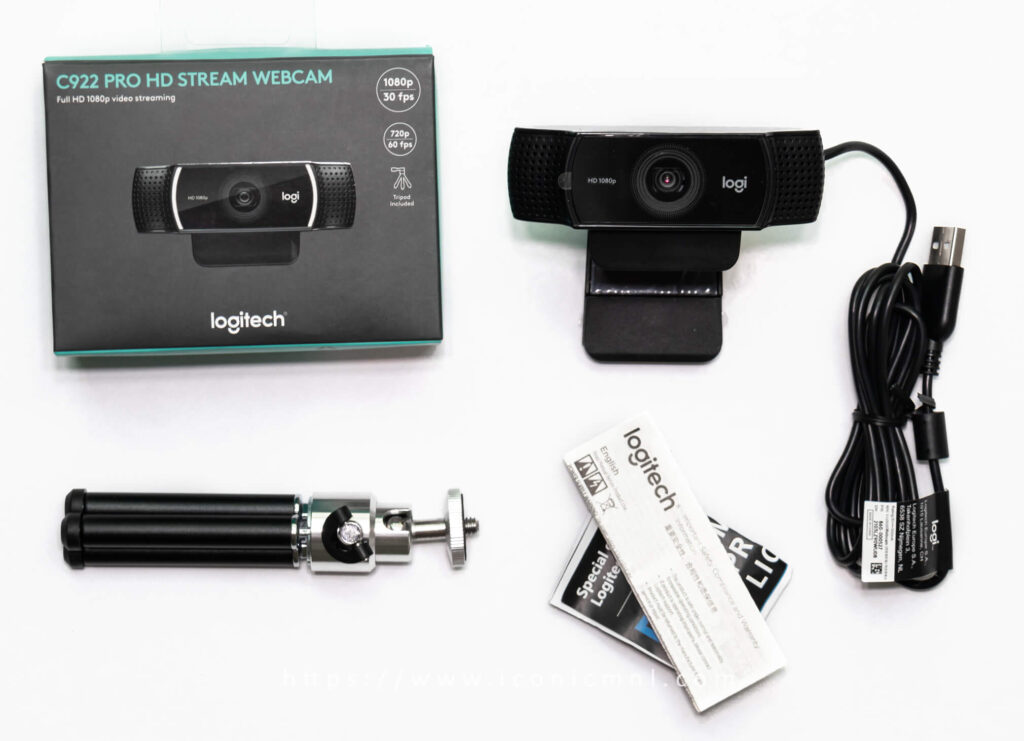 Build Quality/Design
The new Logitech C922 looked very similar to the older Logitech C920 model; the only noticeable difference with the new C922 is the new 2015 Logitech logo. The webcam itself is small and lightweight with a folding design that makes it more compact for convenient storage when travelling. The company still kept the amazing hinged mounting system from the previous model that I really liked as it can easily mount in a variety of ways on different sized monitors. Aside from that it also has a standard tripod thread at the bottom that helps you mount them directly to a tripod or any desktop mount.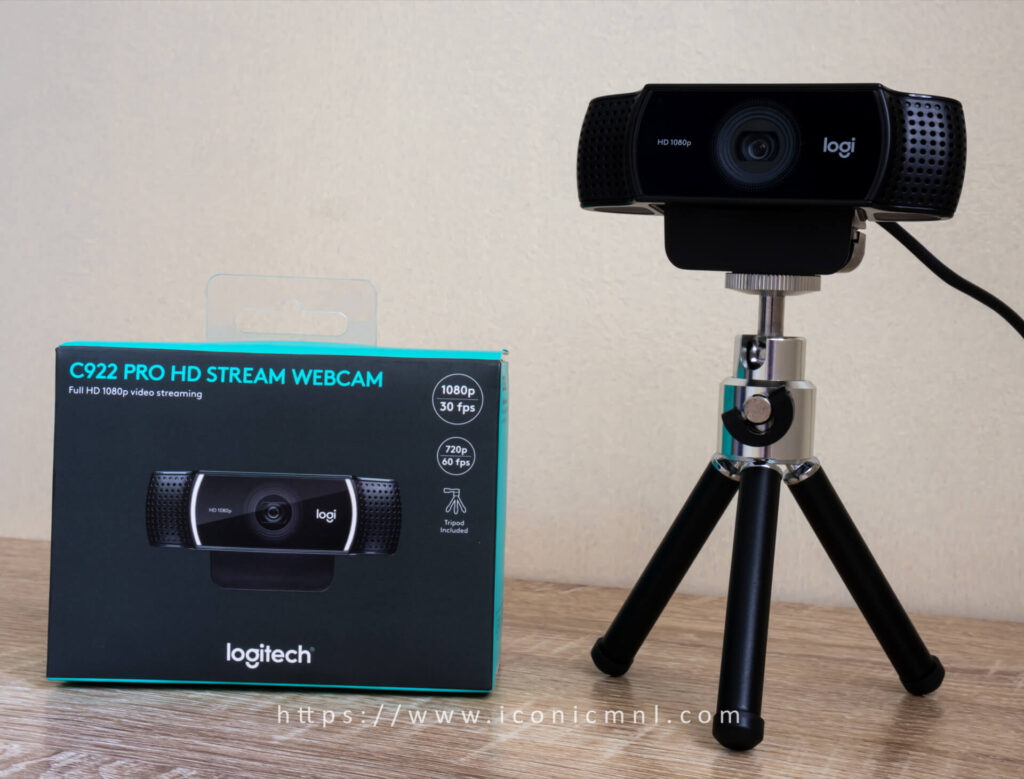 Logitech has also provided a rugged mini-tripod with a swivel mount that you can use to attach your C922 webcam. The tripod comes with retractable legs to adjust the height and for compact storage. This is very useful for people using laptops that can't mount the webcam on top of the screen and can also be very useful to position the camera in different angles for group meetings.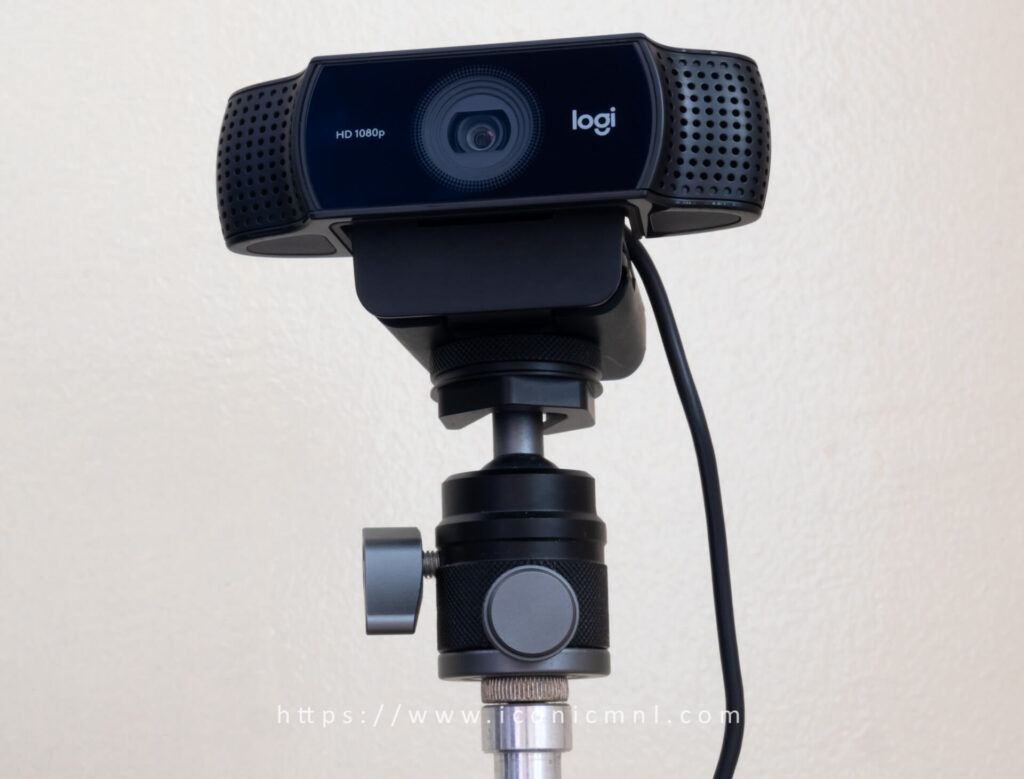 Performance
The Logitech C922 is plug and play and doesn't need any extra software to be installed, However, there is an optional software that can be downloaded from Logitech's website. The Logitech Capture software is used to fine tune the settings of the webcam. It also supports building composite video streams of up to two webcams/desktop/application windows and can easily switch between six different scenes like picture-in-picture or side-by-side modes.
Using the camera is super easy. All you need to do is attach it to your monitor or use the tripod and plug its USB connector into your laptop or PC.
The Logitech C922 Pro is a full HD webcam capable of recording and streaming video at 1080p resolution at 30 frames per second, or 720p resolution at 60 frames per second. This flexibility enables you to choose between higher image quality or more fluid motion in the video stream.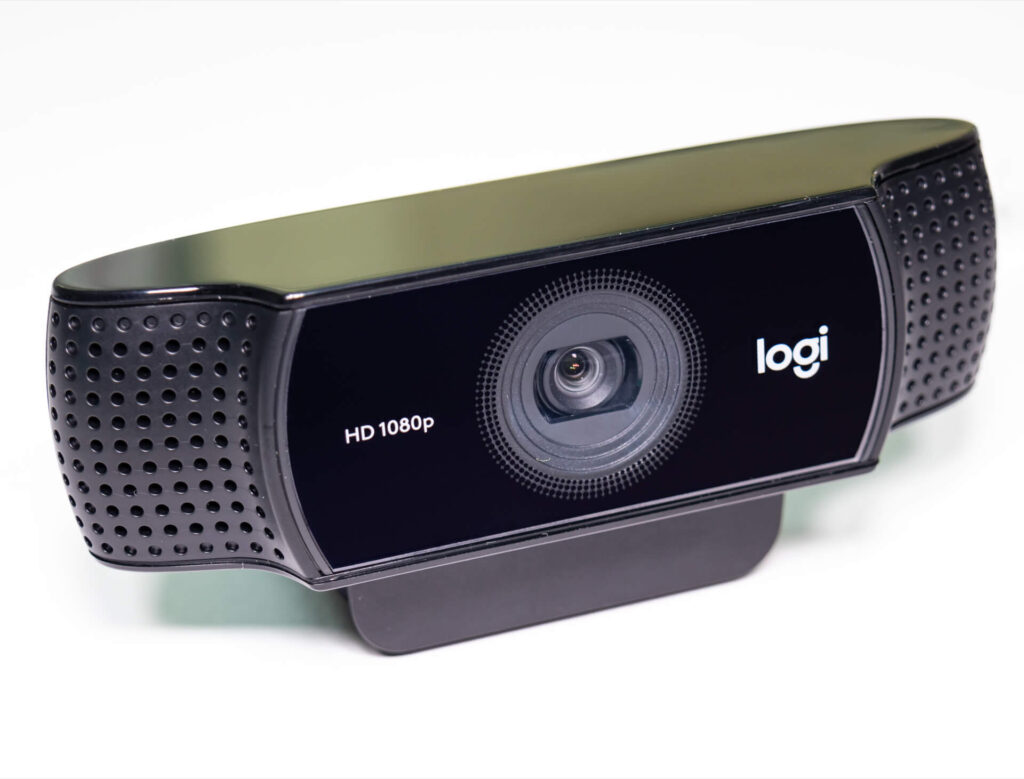 It has a 78° diagonal field of view, perfect for getting your whole family in frame for a Zoom call at a reasonable distance from the camera and the autofocus feature ensures that everyone is in focus and looking their best. It also has a light correction feature that alters the image to make sure the image is bright and clear to your audience.
I tried using it for my Zoom meetings and Facebook video calling one thing I noticed is that the video is more clear and has a wider field of view than the built-in webcam on most laptops. Removing the background from the video is also better than with the built-in webcam. So initially you will surely see a big improvement comparing it to your built-in webcam.
Logitech C922 Pro HD Stream Webcam Specs
Dimensions
Height: 44 mm
Width: 95 mm
Depth: 71 mm
Cable length: 1.5 m
Weight: 162 g
Technical Specifications
Max Resolution: 1080p/30 fps – 720p/ 60 fps
Camera mega pixel: 3
Focus type: Autofocus
Lens type: Glass
Built-in mic: Stereo
Mic range: Up to 1 m
Diagonal field of view (dFoV): 78°
PROs
The package comes with a free tripod

It can record in 1080p at 30 FPS and 720p at 60 FPS

Works well even in dim lighting conditions

Low light correction does a great job in low light environments

It comes with a 3 month premium XSplit license
CONs
Average sound recording quality
Verdict
The new Logitech C922 Pro HD webcam's integrated stand/clip with the free tripod are very solid and well designed. I guess that's one of the main reasons why the company maintained that design from its predecessor C920.
The new C922 worked perfectly even in a relatively dim environment with automatic low light correction. On the other hand, the built-in microphone is generally satisfactory but understandable for a webcam so I still would advise you to get a dedicated microphone or a quality headset mic like the Logitech H370.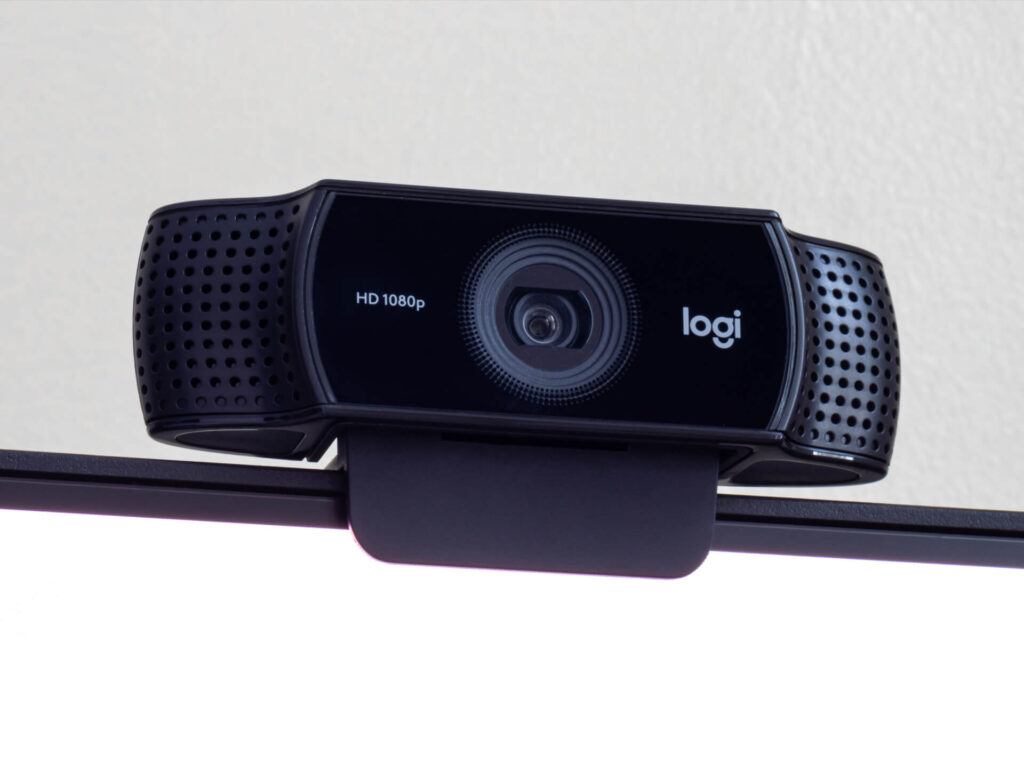 Now when it comes to the added feature like the automatic background removal the C922 uses a 3rd party software called Personify which analyzes the image and recognizes shapes to separate you from the background. We tried using this feature and we noticed that that software had a hard time removing the background especially if the background is busy or messy. It has a tendency to remove parts of the subject when they are moving in front of other things and has a tendency to insert stationary items from the background thinking it's also part of the subject. However, if you really need to remove the background I would advise you to get a dedicated green screen and a solid consistent lighting so it can easily remove the background without grabbing parts of the subject in the foreground.
Overall I'm very happy with this webcam. The Logitech C922 is a good webcam for everyday work/study from home use. So if you're looking for a good quality webcam for everyday use, we highly recommend the Logitech C922 Pro Stream.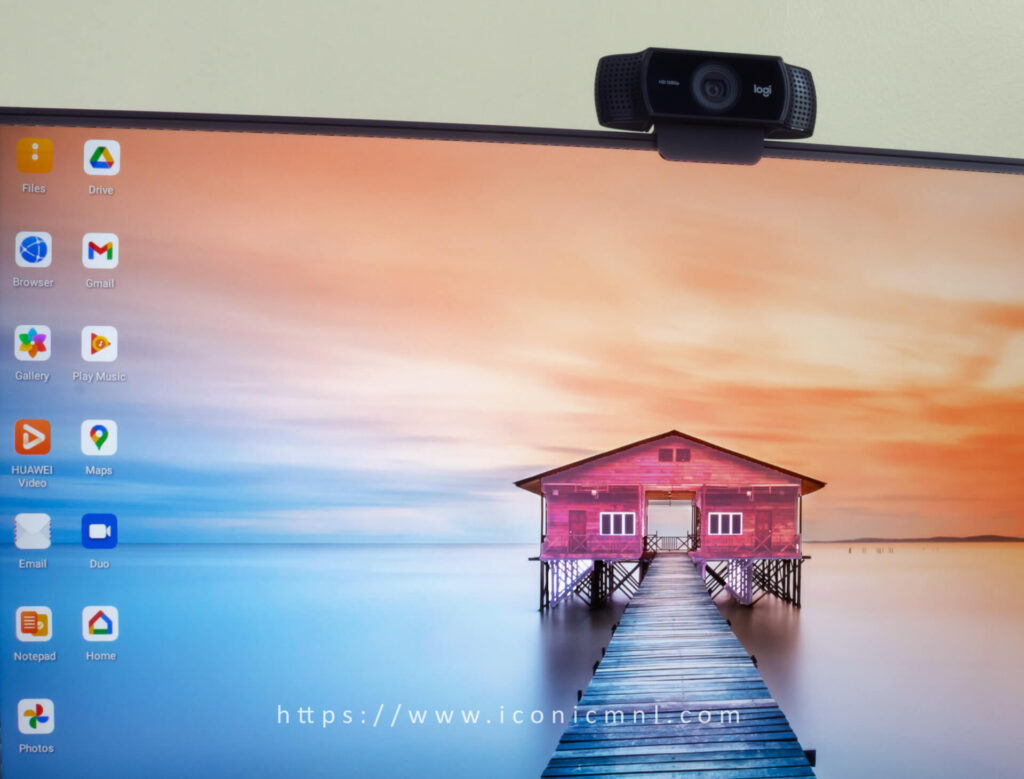 Price And Availability
The Logitech C922 Pro Stream has an SRP of Php 5,500 and can be purchased at any Logitech trusted resellers, or on various online retailers including Shopee or Lazada.
Considering what you get, the price is very competitive and unless you are on a tight budget, we'd recommend getting the Logitech C922 Pro rather than going for a cheaper model since personally I've already tried the cheaper unbranded webcams available online and they are a waste of money.
Logitech H370
A good headset is a great tool for any work from home setup but is mostly not cheap. Fortunately the Logitech H370 USB Computer Headset breaks the ice by providing us with a digital audio and Noise-Cancelling microphones for a very affordable price. As a work/study from home essential, a headset like the H370 offers a higher quality microphone and better audio output than those features built into your computer. As it helps isolate your voice to make it easier to hear other people on a call when working in noisy environments or shared office spaces.
Unboxing/Accessories
Logitech H370 USB computer headset arrived in a blue blister package instead of a box that slides easily off to reveal the headphones and some user documentation. At the back of the package, you will see some of the descriptions of its features and product details.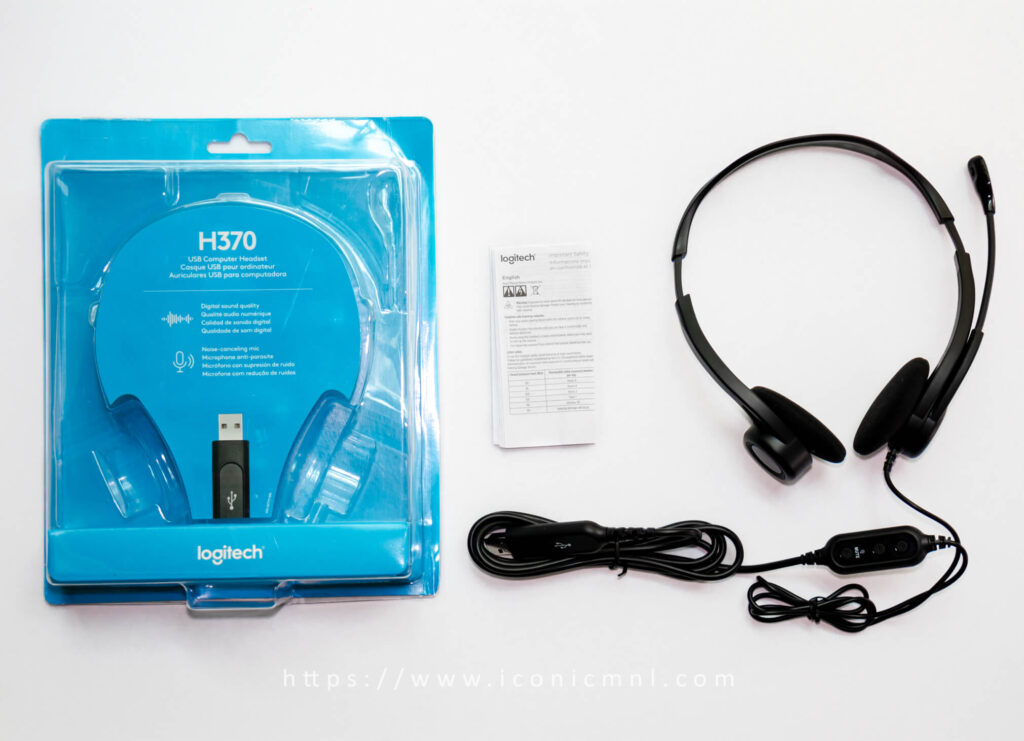 Build Quality/Design
The Logitech H370 USB computer headset comes in a matte black plastic material. It has an expandable headband that is very lightweight and a swivel-mounted foam ear cushions that provides a great fit and comfort in the ears. The headset features a USB-A connector that plugs right into your computer. The cable measures up to 240 cm which is long enough that you can use it while standing up and or stretching during long conversations without getting caught up in the wire. It also has an in-line control on the headset cord that lets you adjust the volume or mute calls without disruption.
On the left side of the headset is where the noise cancelling microphones are located. It can be easily positioned for better voice capture and background noise reduction.
Performance
The sound quality of the Logitech H370 USB computer headset is actually not bad. I tried using this headset during zoom meetings and it delivered clear and crisp audio quality while reducing ambient noise like electric fans, air-conditioning, and other background noise so you can focus on your voice calls.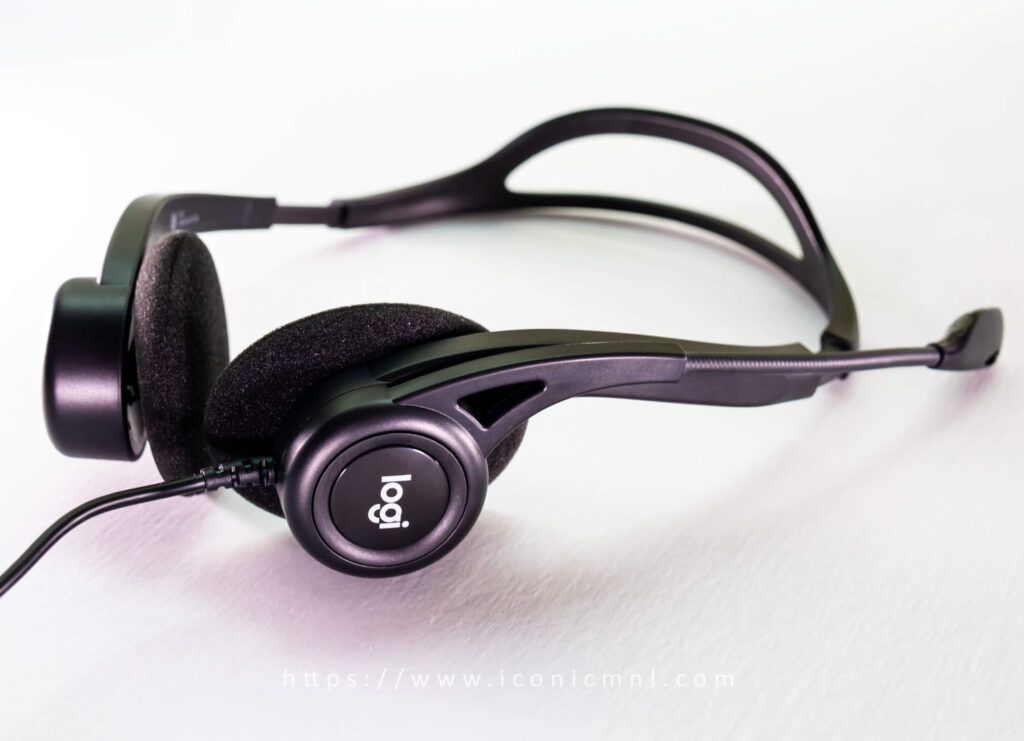 Logitech G560 Specs
Dimensions
Height: 200 mm
Width: 245 mm
Depth: 54 mm
Weight: 0.12 kg
Cable length: 2.4 m
Technical Specifications
Microphone Type: Bi-directional
Input Impedance: 32 Ohms
Sensitivity (headphone): 111 dBSPL +/- 3 dB
Sensitivity (microphone): -42 dBV/Pa +/- 3 dB
Frequency response (Headset): 100 Hz – 10 KHz
Frequency response (Microphone): 200 Hz – 6 KHz
PROs
The headset is lightweight

It has a good noise cancellation feature

clear and crisp digital audio
CONs
It looks a bit flimsy in my opinion
Verdict
Overall, the Logitech H370 USB computer headset would definitely make a great addition to your work/study from home setup. You can even use this when playing games online with your friends since it delivers good audio quality. The noise cancelling microphones does a great job in reducing ambient noise while delivering a clear and crisp audio quality.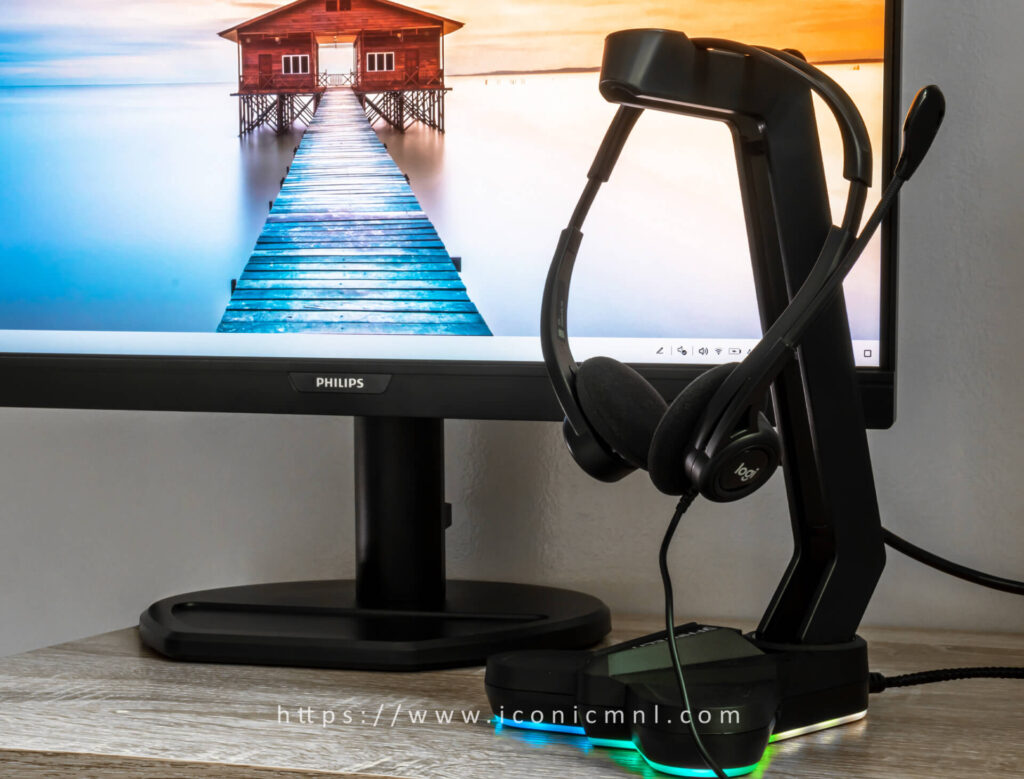 Price And Availability
The Logitech H370 USB computer headset has an SRP of Php 1,495 and can be purchased at any Logitech trusted resellers, or on various online retailers including Shopee or Lazada.
Leave a comment down below and share your thoughts with us!
Want more features like this? Please follow us on Facebook, Twitter, and Instagram to get the latest trends.