For esports competitions, gamers have been using Razer's high-quality, but often pricey, gear for a long time. The company has continued to improve its core lineup of gaming mice with high-quality sensors and ergonomics in mind to meet the needs of the most demanding players. The DeathAdder V3 Pro is one for, well, professional gamers, boasting enhancements both major and minor across the board, but we have to question if Razer's gradual improvements are beginning to seem like they're reaching a ceiling.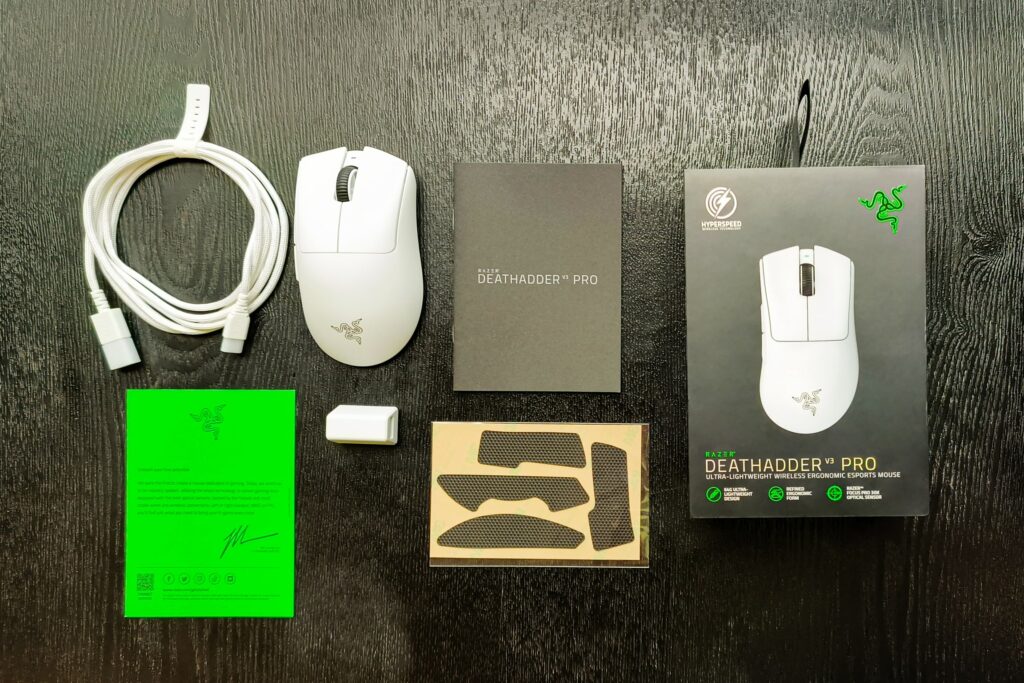 Specs
| | |
| --- | --- |
| Sensor Type | Optical |
| Sensor Model | Focus Pro 30K Optical |
| Sensitivity | 30,000 DPI |
| Polling Rates | 1,000 Hz (upgradeable to 4,000 Hz) |
| Lift-off Distance | Customizable |
| Programmable Buttons | 5 |
| LED Zones | N/A |
| Cable | 6-foot removable USB-C |
| Connectivity | 2.4GHz USB-A dongle (Razer HyperSpeed), USB-C |
| Battery Life | 90 hours |
| Measurements (L x W x H) | 5 x 2.67 x 1.73 inches / 128 x 68 x 44 mm |
| Weight (excluding cable) | 2.22oz / 63g (black); 2.26oz / 64g (white) |
| Software | Razer Synapse |
Design and Comfort
Since its debut, the DeathAdder brand from Razer has followed the same overall style, but with the DeathAdder V3 Pro, Razer is changing things up. It has been completely redesigned to make it lighter, easier to feel, and better for all mouse grips.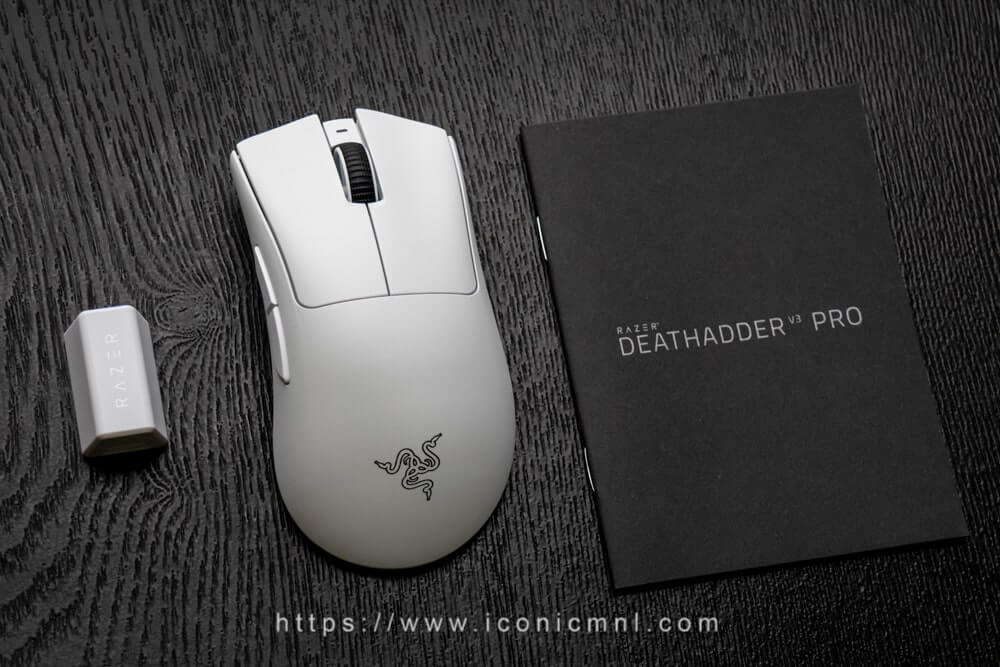 The DeathAdder V3 Pro has a more compact shape than prior DeathAdders with less side flare, and it features a split key cover design rather than a unibody shell, so the makeover is obviously evident. There are just six buttons on the DeathAdder V3 Pro, five of which may be programmed, and it lacks Bluetooth and Chroma RGB.
Even though it's not the lightest mouse on the market, the DeathAdder V3 Pro's 2.22 oz (63g) weight places it firmly in the lightweight mouse category.

Along with a USB extender, a Razer HyperSpeed 2.4GHz wireless USB-A dongle, and a flexible, braided 6-foot USB-C to USB-A cable, the DeathAdder V3 Pro is packaged with these accessories.
During our test, we noticed that the side buttons and scroll wheel appear to be slightly higher than the previous one, and the body's hump has been raised to improve palm support. Additionally, because the natural tilting has moved closer to the middle of the mouse, your palm fits more comfortably along it.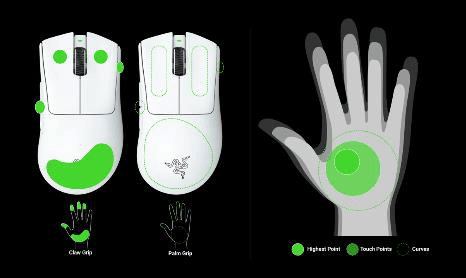 We like that Razer chose to give the DeathAdder V3 Pro a matte, textured appearance because it is comfortable to hold and appears to be simple to clean.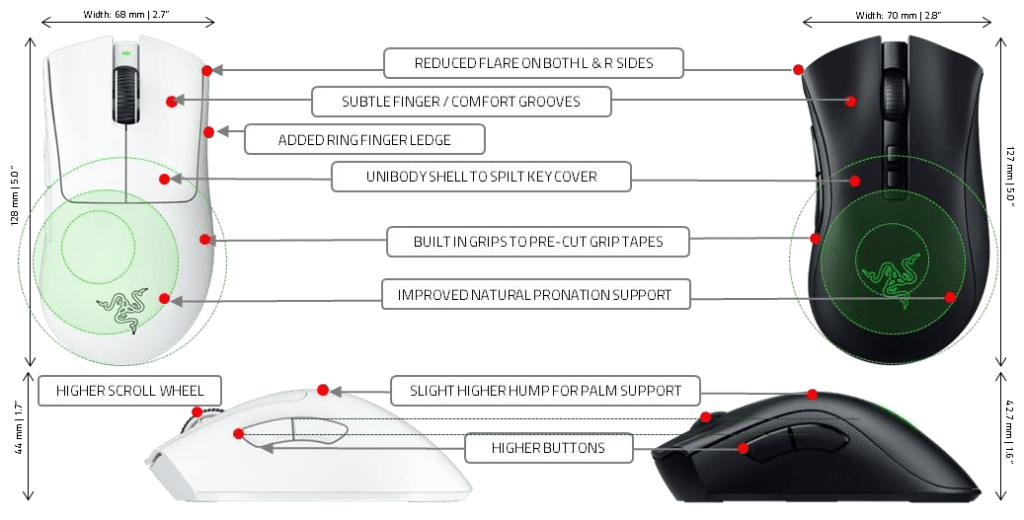 Performance
Since pushing the buttons on the Razer Deathadder V3 Pro is so pleasurable, we should probably just own up to the fact that we did it. That is thanks to the next generation of internal optical switches from Razer.
The company claims that these third-generation optical switches give more tactile clicks in addition to having a click lifespan rating of 90 million. We can confirm that the buttons are exceedingly quick and need very little effort to press, but we obviously cannot vouch for their lifespan.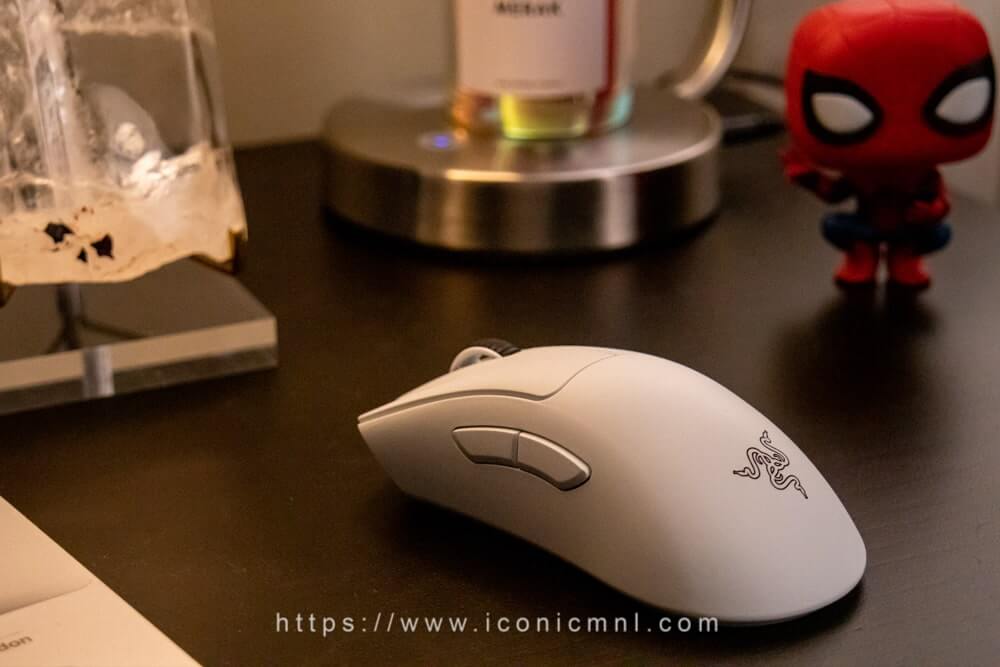 The Focus Pro 30K optical sensor, which has a maximum acceleration of 70g and a maximum speed of 750 IPS, is undoubtedly formidable as well. It is also highly accurate and quick. This mouse is the stuff of competitive gaming fantasies, especially when used with Razer's new Hyperpolling wireless dongle, which raises the polling rate from 1,000Hz to 4,000Hz.
The palm grip-friendly design has always been our favorite feature of the DeathAdder range. The V3 Pro is, as we already mentioned, by far the most palm-grip-friendly mouse we have ever used. This results in a very comfortable experience.
Of course, we're not esports professionals, so we lack their level of sophistication. To be sure, this mouse is more than quick enough for the average gamer.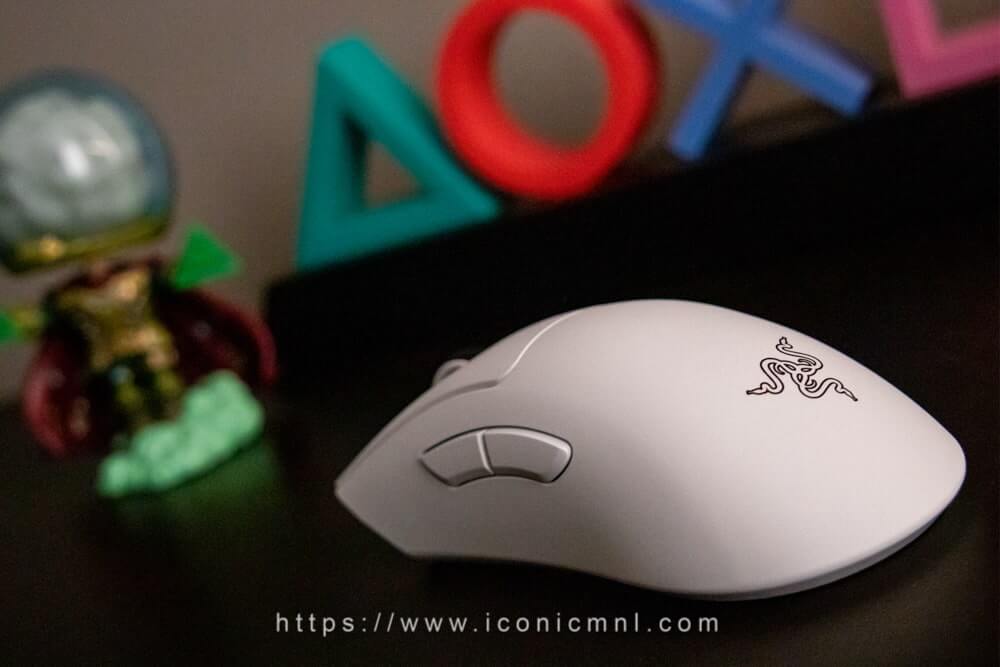 Additionally, it claims a battery life of up to 90 hours, which is a significant improvement above its predecessor's rating of 70 hours. You can go a week without charging this mouse if your gaming sessions run an average of 8 hours per day. In reality, after the initial charge, we haven't charged it once while testing.
The Razer Deathadder V3 Pro, the mouse that dominates all other gaming mice, is excellent in so many ways that it is difficult to criticize it.

Editor's View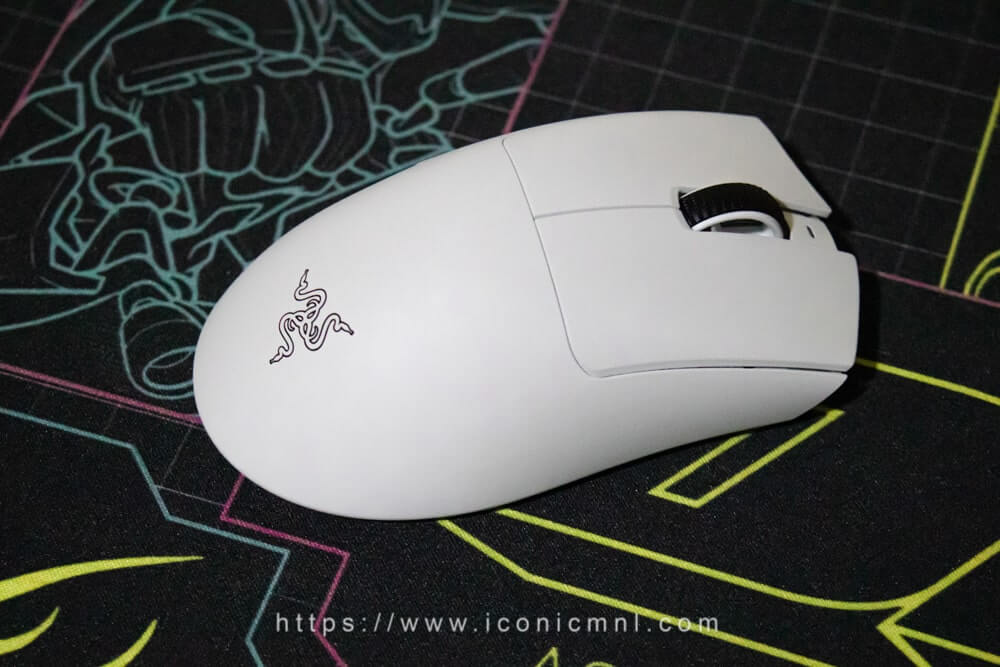 Actual Experience
We played all of Diablo: Immortals, Elden Ring, and Paladins throughout a week of testing. The mouse was also used for work-related activities like blogging and web browsing. We experienced no tracking or responsiveness concerns during the entire process. It was a solid experience from beginning to end.
HyperSpeed Wireless is a crucial component on which we have grown to rely. Similar to the V2 Pro, HyperSpeed virtually eliminates the ability to distinguish between wireless and wired connectivity. And don't worry if the battery runs out abruptly in the middle of a game. The top LED will turn red to give you plenty of advance notice if the battery is getting low, and if it does, you may use the wired version by connecting the supplied Speedflex connection. Even when your battery is being recharged, it is soft and light enough to seem practically wireless.
In addition, this mouse also features PTFE feet for smoother operation, the industry's best optical switches for rapid inputs, and the ability to add grip tape for the utmost control.
When it comes to high-performance gaming mice with minimal features, this is the new standard to beat. If you're searching for the current gold technical standard in performance gaming mice, this is it.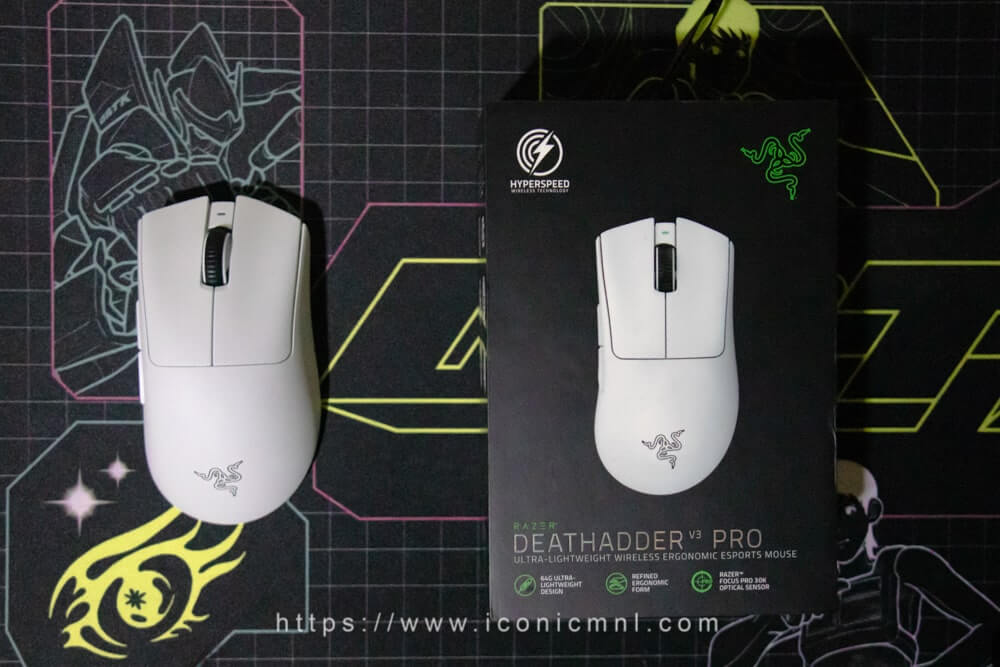 Final Thoughts
A great gaming mouse is the DeathAdder V3 Pro. In addition to having an almost flawless physical appearance, it is also exceedingly adaptable, configurable, and functional right out of the box. Even though it doesn't have RGB lighting, we're glad we don't have to deal with the Chroma feature in Razer's Synapse software again.
The Razer Deathadder V3 Pro appears to be flawless in every aspect, from performance to design. Not only is it lightweight, but its design and button placement also serve a functional purpose. Although it may be for gaming, we also enjoy using it for work. Fortunately, it appears sophisticated and fashionable enough for an office environment.
But honestly, just save your money and get it. Although it is pricey, it offers great value in the long run.