The realme Buds Q is the first in-ear True Wireless Stereo (TWS) from the brand. Poised to be the most stylish entry-level TWS yet, the realme Buds Q sports the genius design of José Lévy, the cooperated designer of Hermès and the art director of the realme Design Studio. The Buds Q case is designed like cobblestones found along the shores of Normandy beach. He and the realme team crafted the design for over 200 times, fine tuning the curvature of the G3 curve just to give the users a cobblestone-like design that is mellow and comfortable.
Related Article: realme Buds Q Unboxing and First Impressions
The case looks simple yet elegant and the soft-touch plastic really feels nice to touch when you pick it up. There's also a LED light at the front of the case which blinks red when you plug the charger and turns green when the earbuds are fully charged.
The earbuds themselves also looked like small pebbles while earpieces are tiny though, fitting in most ears comfortably. These earbuds are quiet light at 3.6 grams (per earbud) and sit very comfortably in our ears. While the charging case weighs only 28.2 grams. When you wear them, the earbuds doesn't stick out of the ears awkwardly like some TWS earbuds in the market.
Pairing the Buds Q is really easy, you just need to take the earbuds out from the charging box for auto-pairing thanks to its R1Q chip that supports bluetooth 5.0 technology. Aside from that you can also make use of the new realme Link App, which lets you add Buds Q to realme's AloT ecosystem.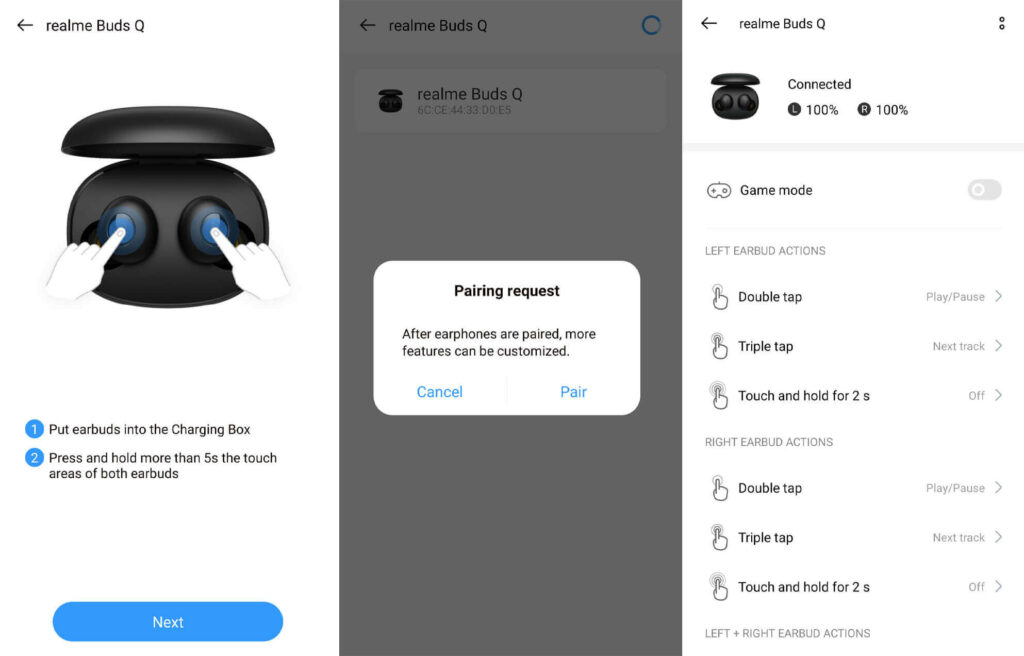 Users can customize their Buds Q with the realme Link App. Once users open the app, they are free to customize the touch controls of their audio device.
Initially, the realme Buds Q is only available in Quite Black colorway, but watch out for its two other colorways: the Quite White and Quite Yellow.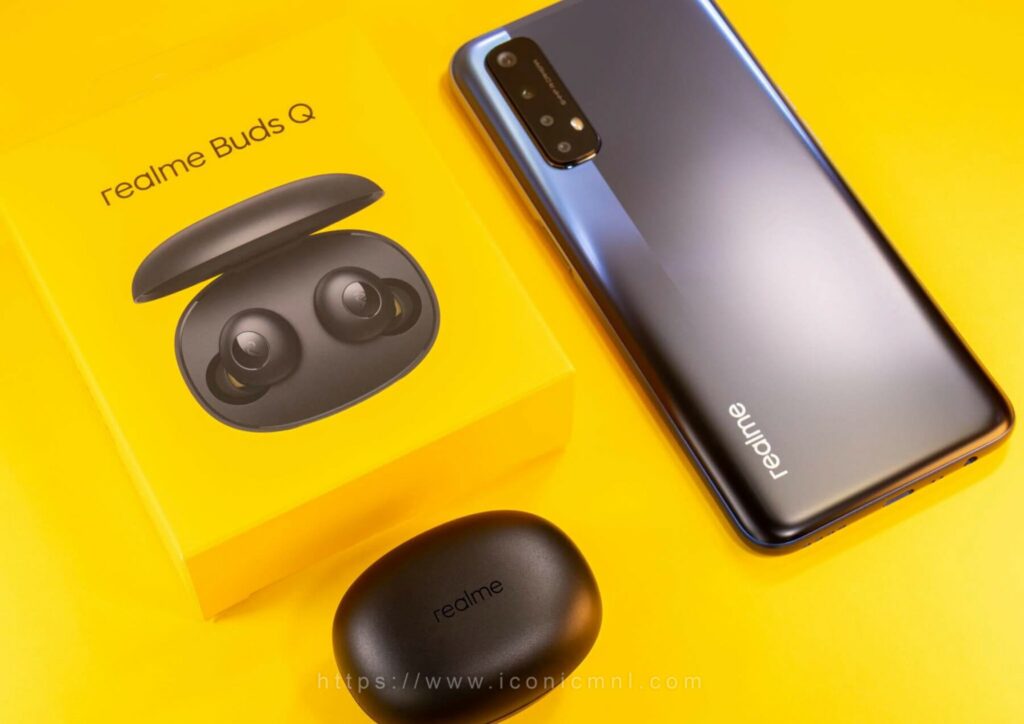 Unboxing/Accessories
Straight out of the box, you'll find the realme Buds Q charging case with the earbuds inside, a (short) microUSB charging cable, user guide, and two more eartips in different sizes (comes in small, medium, and large).
Design And Build Quality
The realme Buds Q cobblestone-inspired charging case looked very simple yet elegant and is made from a matte polycarbonate material. The case is so compact that it can fit in the palm of your hand and would easily slide into your pocket. As far as fit goes, personally it's by far one of the best-fitting earphones I've tried in this price range. The fact that these earbuds weigh barely 3.6 grams made me forget that I was wearing them at all.
Now in terms of the build, both the earbuds and the case feels sturdy. Silicone tips in four different sizes are also included in the bundle.
Each earbud is equipped with a large 10mm dynamic driver to produce the bass boosted sound signature that most listeners tend to prefer.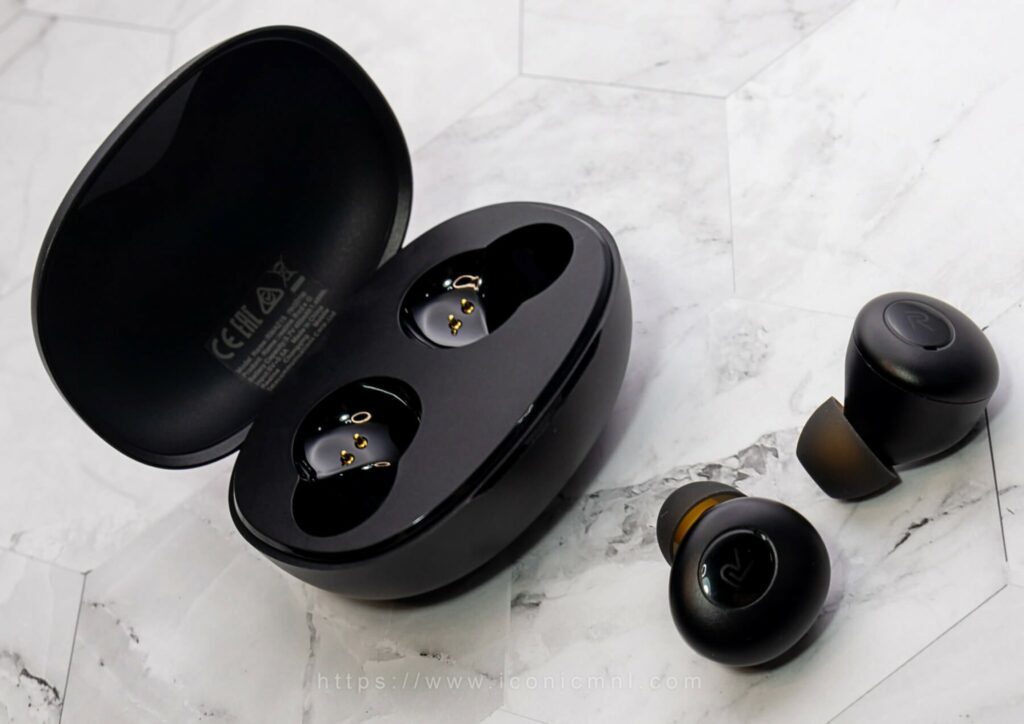 Battery
In terms of battery life, each earbuds comes with a 27mAh battery that usually gets around 4 hours of usage while the case comes with a 400mAh battery for an extra 17 hours of playtime. Charging the device takes around 2 hours from 0 to 100 percent.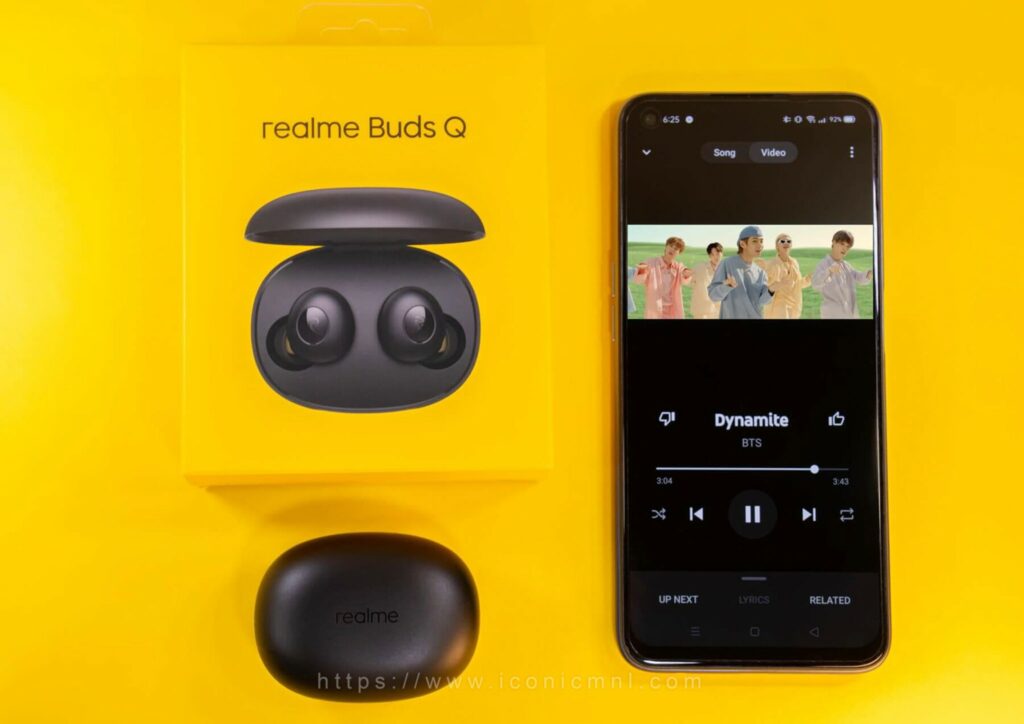 As per realme, "20-Hour Total Playback Non-stop Music, 4.5 hours continuous music listening time, 5 hours continuous gaming time, 3 hours continuous calling time, and 6 hours video watching time".
One thing that kind of disappointed me is that it still uses the regular microUSB. Although this is still acceptable given its price point.
Verdict
I've been using this device for a week now, and I was really surprised with the sound quality considering its price range. It was very comfortable even with long use because it has a good battery life. It is the ideal earbuds for listening to your favorite audiobooks or music. So if you're looking for a truly wireless earbuds and if your budget is below PhP 1,500 then the realme Buds Q is one of the best options for you especially if you are a realme smartphone user.
PROs
✅ sweat resistant earbuds to keep up with your active lifestyle while working out
✅ Small and lightweight
✅ Decent sound with loud enough maximum volume
✅ They fit securely in my ear even when I do sudden movements.
CONs
❎ No indicator lights on the earbuds
❎ touch sensor doesn't always respond
❎ No sensor for stopping the audio when you remove the earbuds from ears
realme Buds Q Specs
Driver: 10mm Dynamic Bass Boost
Microphone: Yes
Battery: 27mAh (per earbud), 400mAh (charging case)
Sensors: Touch sensors
Connectivity: Bluetooth 5.0, SBC, AAC
Others: IPX4 water resistance, double-tap control, press and hold, touch control customization, micro-USB.
Colors: Quite Black, Quite White, Quite Yellow
Dimensions: 19.8 x 17.55 x 22.5 mm (per earbud) 59.8 x 45 x 29.9 mm (charging case)
Weight: 3.6 g (per earbud), 28.2 g (charging case)
Price and availability
The realme Buds Q is officially available in all realme stores, kiosks and partner mobile stores nationwide starting today for PhP 1,490.
Also as a special offer for today ONLY September 30, it will be priced at just PhP 990 (PHP 500 off) via Realme's official store on Lazada.
Leave a comment down below and share your thoughts with us!
Want more features like this? Please follow us on Facebook, Twitter, and Instagram to get the latest trends.