Xiaomi today held its Lei Jun Annual Speech | Xiaomi Launch 2023 at the China National Convention Center, where the company launched many new products, from smartphones to ecosystem products and even innovative robotics. Specifically, these included Xiaomi MIX Fold 3, Xiaomi Pad 6 Max 14″, Xiaomi Smart Band 8 Pro, Redmi K60 Ultra, and CyberDog 2. Lei Jun, Founder, Chairman, and CEO of Xiaomi Group, also gave his annual speech, sharing key experiences and insights over the past 36 years. At the same time, he announced Xiaomi's core philosophy for the future.
Announcement of Xiaomi's core philosophy: Investment in technologies to benefit humanity
Facing a new round of immense industrial and technological change, and with eyes on the future, Xiaomi officially announced an upgrade to its technology strategy, proclaiming its core philosophy: continuously investing in technologies that will benefit humanity.
"We focus on long-term value and adhere to long-term investment. Only in this way can we build core competitiveness and a rampart around us, and truly become a great technology company." Lei Jun, Founder, Chairman, and CEO of Xiaomi Group, said that Xiaomi's exploration into technology not only has to be of benefit to the lives of mankind today, but also needs to contribute to the creation, progress, and development of the future of humanity.
Xiaomi has disclosed four key paths and principles for its strategic upgrade: deep cultivation of underlying technology, continuous and long-term investment, and the deep integration of hardware and software empowered by AI.
The proposed upgrade to Xiaomi's strategy further clarifies the company's steadfast adherence to being "technology-oriented" and its core direction of being firmly invested in the future.
The series of breakthroughs Xiaomi has enjoyed in self-developed technologies could not have been achieved without its continuous investment in research and development. Its compound annual growth rate of R&D investment during the past six years (2017-2022) has reached 38.4%. Moreover, Xiaomi's total R&D investment for 2023 is expected to exceed RMB 20 billion, and R&D investment during the next five years (2022-2026) will exceed RMB 100 billion.
Xiaomi MIX Fold 3 comes as the company's latest innovation in foldable flagship smartphones, continuing the previous generation's slim and lightweight design while offering an all-around powerful product experience in imaging capabilities, performance, and reliability. It sets all-new standards for foldable and consolidates Xiaomi's leading position in the premium foldable smartphone market.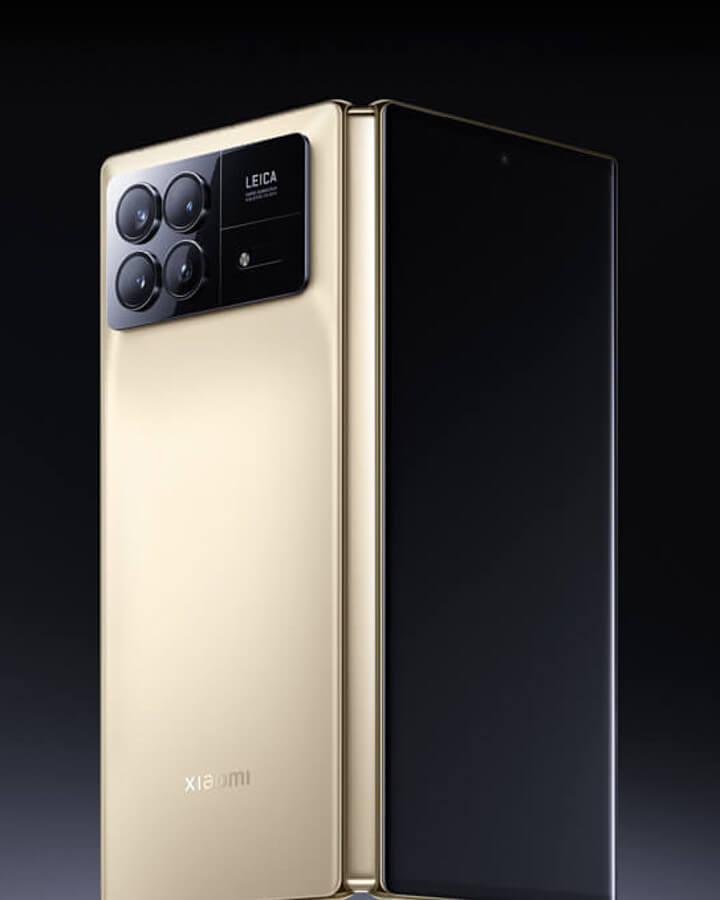 Slim, lightweight, and highly durable: Xiaomi's proprietary hinge sets new records in the reliability of foldable smartphones.
To preserve our commitment to redefining boundaries, Xiaomi MIX Fold 3 remains steadfast in its pursuit of slim and lightweight elegance, measuring just 255g, 10.86mm thick when folded, and opening to the ultimate slimness of just 5.26mm. This can mainly be attributed to its Xiaomi proprietary hinge, which compared to the Micro Waterdrop hinge in the previous generation, is 8.6% slimmer when folded and 12.5% slimmer unfolded. The hinge is also 8% narrower4 and takes up 17% less space. All of this contributes to making the entire smartphone slimmer and lighter and leave more stacking space within the confined area of the smartphone body to create a slim and lightweight device that is highly versatile.
Applying the Xiaomi proprietary hinge to Xiaomi MIX Fold 3 has greatly enhanced the reliability of the entire device: it adopts a 3-element connecting rod structure and has up to 14 micro-hinges, significantly improving the degree of freedom of the hinge and perfectly enabling the curvature of the display. It effectively addresses any change in the shape of the display and reduces the risk of damage to the display if dropped. The main structure of the hinge is made of ultra-high strength steel, which has a yield strength of up to 1800MPa. This, combined with the ultra-durable carbon ceramic steel rotating mechanism, further enhances the hinge's reliability.
Both displays on Xiaomi MIX Fold 3 have comprehensive protection: the inner display utilizes UTG (Ultra Thin Glass), which is 2.25 times stronger than traditional colorless polyimide (CPI). The outer display consists of Corning® Gorilla® Glass Victus®️ 2 to achieve a 50% improvement in drop resistance compared to the previous generation.
Besides, Xiaomi MIX Fold 3 also offers a special edition, implementing Xiaomi composite fiber. This Xiaomi self-developed composite fiber integrates high-strength aramid and ceramic fibers, greatly enhancing drop resistance.
With this stellar combination of innovations in both materials and structure, Xiaomi MIX Fold 3 demonstrates excellent reliability overall. It has successfully achieved the TÜV Rheinland Extreme Folding certification for up to 500,000 folds.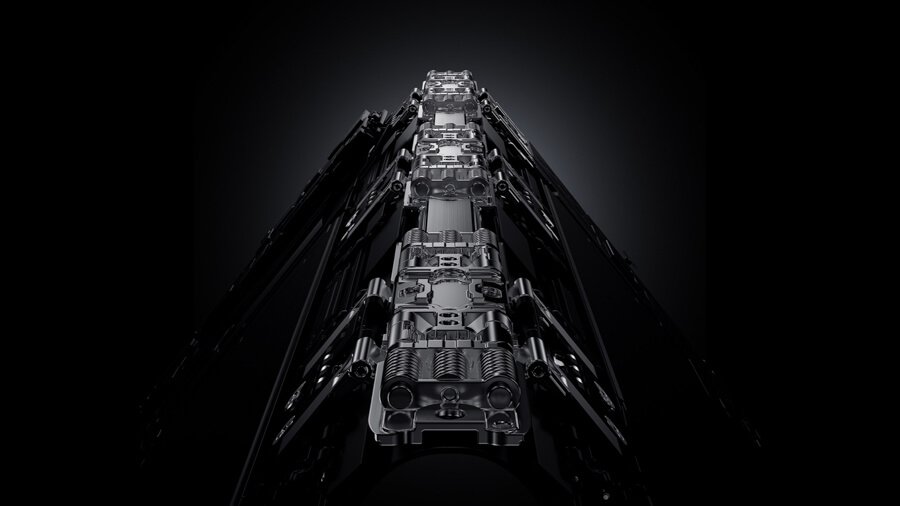 Slim and lightweight with exceptional imaging capabilities: Quad camera system with Leica optical lens to reach new heights in photography among lightweight and slim foldable
Besides being slim and lightweight, strong camera performance is also key. Due to increased stacking space with the new hinge design and the miniature optical system co-engineered with Leica, Xiaomi MIX Fold 3 has successfully contained its quad-camera system with a Leica optical lens in an extremely light and slim body. It covers focal lengths ranging from 15mm (ultra-wide), 23mm (main), 46mm (main), and 75mm (telephoto) to 115mm (periscope) to achieve a full focus range of 0.6x to 5x, setting new benchmarks in photography among slim and lightweight foldable.
Xiaomi MIX Fold 3's combination of four cameras and five focal lengths comprehensively enhances imaging performance. Of these, the 23mm ƒ/1.77 wide aperture main camera introduces an ultra-low color dispersion glass lens to the quad camera system with Leica optics for the first time, effectively eliminating color discrepancies and providing more precise, clearer images to offer professional, unparalleled image quality; the 15mm ultra-wide offers an ultra-wide field of view up to 120°; the 75mm telephoto and 115mm periscope each excel in their respective fields, significantly improving users' freedom of composition; and the 115mm periscope also realizes 30cm super-macro shooting in a very small space, making Xiaomi MIX Fold 3's camera suitable for even more scenarios.
Following Xiaomi's previous smartphones with flagship imaging capabilities, Xiaomi MIX Fold 3 adheres to the pursuit of natural color science and classic tones depicting a Leica style, rather than overly sharpened images or those that are over-processed so that they lack light and shadow texture. The Leica two photographic styles offer more creative choices, and in Pro mode, Leica custom photographic styles are also offered, enabling professional users to take photos that reflect their own personal style.
Thanks to its large inner display and all-new hovering capabilities, Xiaomi MIX Fold 3 also features a series of unique features, adding to photography efficiency and entertainment. These include the ability to shoot and view simultaneously when taking photos from the inner display. That is, the finished image can be displayed in real time on the left half of the display without needing to click into the photo album to view it. Xiaomi MIX Fold 3 also offers rear camera selfies, making use of the outer screen for real-time preview when the smartphone is unfolded to fully leverage the excellent quality of the main camera with Leica optics, thereby enjoying even higher quality selfies than those taken on the front camera. This foldable smartphone also supports waist-level photography in hover mode for easy low-angle shooting, and the newly added front-facing camera on the inner screen can be used for selfies and video conferencing.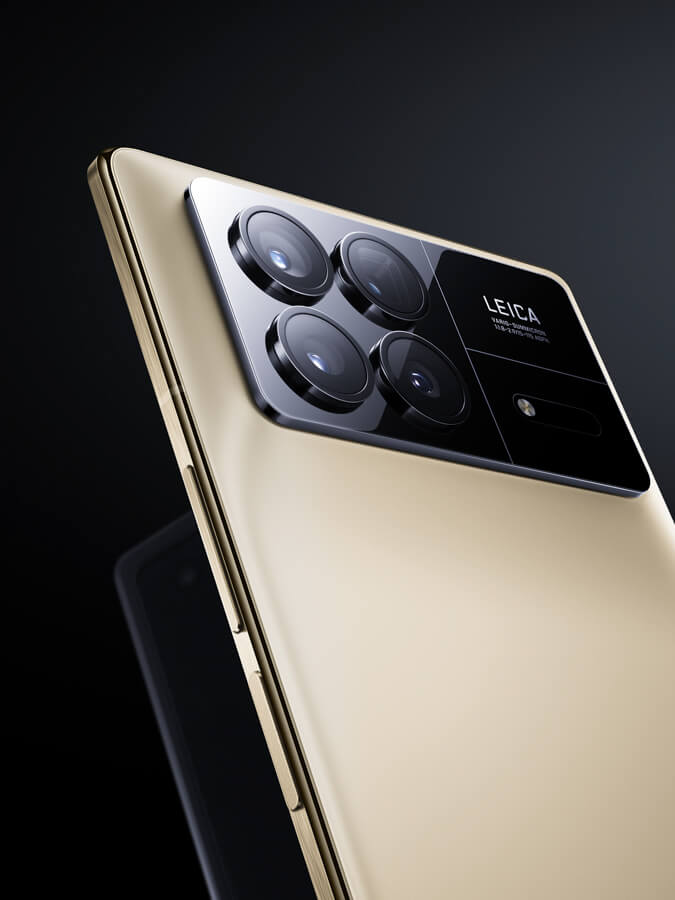 Slim and lightweight with a long-range battery: Xiaomi Surge battery and large, low-power display bid farewell to battery anxiety
In response to battery life challenges with foldable smartphones, Xiaomi has relied on technological innovation to find a solution with Xiaomi MIX Fold 3. Xiaomi MIX Fold 3 is equipped with a dual Xiaomi Surge battery structure and a new generation of silicon-carbon negative electrode technology combined with multiple optimizations, achieving an additional 10% increase in capacity within the same size and a total capacity of 4,800mAh.
Its Xiaomi Surge battery management system consists of a dual Xiaomi G1 Surge battery management chipset, fully enhancing battery use efficiency. Equipped with the Xiaomi Surge P2 charging chip, it supports 67W wired turbocharging and can charge up to 100% in as little as 40 minutes. It also offers 50W wireless turbocharging, rarely seen in slim, lightweight, foldable smartphones. With the Xiaomi Surge battery management system, Xiaomi MIX Fold 3 can achieve more intelligent charging and discharging control, ensuring the health and safety of the battery.
Xiaomi MIX Fold 3's 6.56″ outer display and 8.025″ inner display are made of the latest E6 material, offering optimized power efficiency control. The inner display utilizes advanced Pol-less Plus display technology, combined with a low-power Panel design and a newly upgraded Display Driver IC (DDIC), to achieve excellent power control and a 52% increase4 in battery life on the large display. According to data from Xiaomi Internal Labs, Xiaomi MIX Fold 3 offers a DOU of up to 1.34 days, whether using the inner or outer display. This is a significant breakthrough for Xiaomi in foldable smartphone battery life and alleviates battery anxiety for smartphone users.
Slim, lightweight, and a true flagship: Comprehensive hardware upgrades merge with impeccable details
Xiaomi MIX Fold 3 is equipped with Qualcomm's latest flagship Snapdragon® 8 Gen 2 Leading Version chipset, which further improves performance compared to Snapdragon® 8 Gen 2. To ensure maximum performance, Xiaomi MIX Fold 3 also utilizes a carefully designed cooling system with a total area of 10,943mm. The smartphone's slim and lightweight body contains an ultra-thin stainless-steel VC to further enhance heat dissipation capacity.
Meanwhile, its MIUI Fold operating system has been significantly optimized for large display use, offering innovative, fun features with the folding display, including video conferencing and viewing in Hover mode, as well as floating windows and split screen, further meeting users' increasing needs for large displays.
Furthermore, multiple details have been optimized in Xiaomi MIX Fold 3, such as a 3-microphone array, symmetrical dual speakers, and a brushed metal frame to provide users with an all-around flagship experience.
Xiaomi MIX Fold 3 sets new benchmarks in the industry in all aspects, providing users with a flagship foldable smartphone experience that exceeds expectations. All in all, the launch of this smartphone takes Xiaomi's technological innovation in foldable smartphones to greater heights.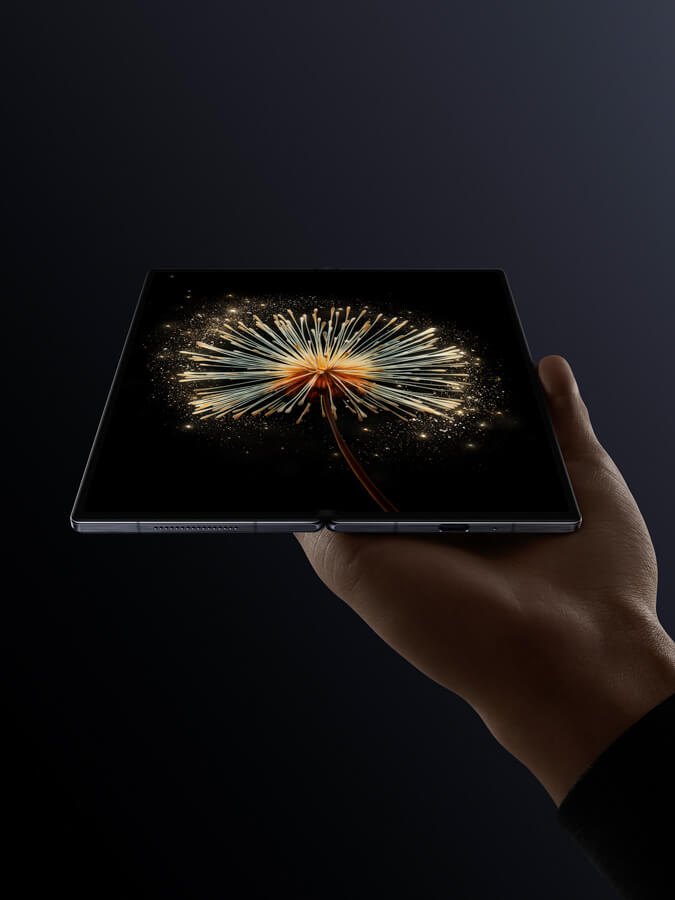 Pricing and availability
Xiaomi MIX Fold 3 will be available in three colors: Gold, Black, and Xiaomi composite fiber, as well as three storage variants:
12GB+256GB – Priced from RMB 8,999
16GB+512GB – Priced from RMB 9,999
16GB+1TB – Priced from RMB 10,999
Also launched alongside Xiaomi MIX Fold 3 is Xiaomi Smart Band 8 Pro, which will be available for sale starting from RMB 399 via Xiaomi's official channels.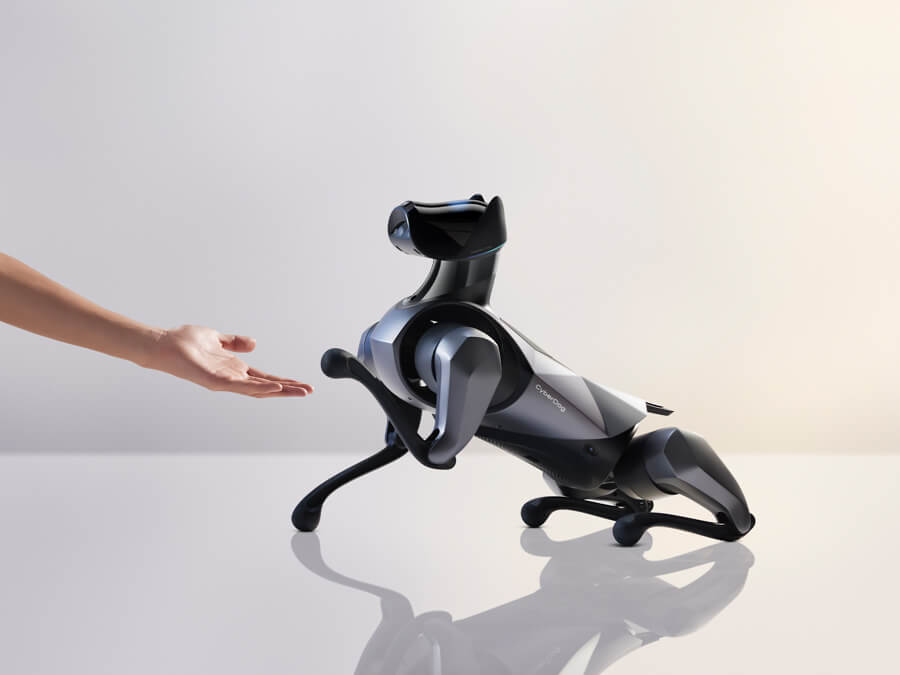 Xiaomi launches CyberDog 2
Also unveiled at the event was the bio-inspired quadruped robot, CyberDog 2, which is even more intelligent and lifelike. Weighing just 8.9kg, approximately the size of a Doberman, it is also smaller in size than the previous generation. CyberDog 2 is equipped with Xiaomi's self-developed CyberGear Micro-actuator, further enhancing the robot's mobility and supporting high-difficulty maneuvers, such as continuous back flip and fall recovery. It has more precise control and will remain intact, even if continuously touched. Besides, CyberDog 2 is equipped with a fusion sensing and decision-making system, offering 19 sensors for vision, touch, and hearing.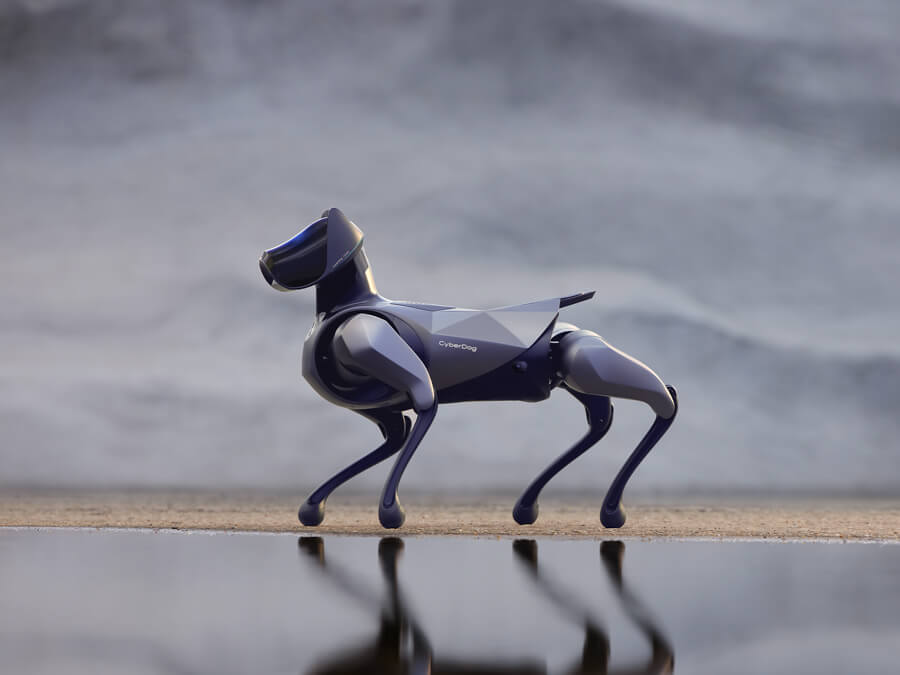 In addition, CyberDog 2 has been made as open-source as possible, from coding to structural drawings, as well as providing graphical programming and the modular processing of various sensing capabilities. With its continuous open-source ecosystem, the CyberDog family will attract more developers to take part, while continuously promoting the progress and enhancement of bio-inspired robots to truly benefit people's lives in the future.
Xiaomi MIX Fold 3 Quick specs
Xiaomi MIX Fold 3
Design
l Xiaomi composite fiber variantThickness: 10.86mm folded and 5.26mm unfoldedWeight: 255gColor: Black5-layer composite fiber back coverl Glass variantThickness: 10.96mm folded and 5.26mm unfoldedWeight: 259gColors: Black, Goldl Xiaomi proprietary hingeMulti-level hinge designTÜV Rheinland Extreme Folding up to 500,000 folds
Display
Outer display | 6.56″ AMOLED displaySamsung E6 material2,520×1,0802600 nits peak brightnessDCI-P3 Color gamutDolby Vision®, HDR10+ support120Hz refresh rate, 240Hz touch sampling rateCorning® Gorilla® Glass Victus® 2Inner display l 8.025″ Eco² OLED Plus™ displaySamsung E6 material120Hz LTPO2,160×1,916Pol-less Plus display technologyDCI-P3 Color gamutDolby Vision®, HDR10+ supportl Flexible Ultra Thin Glass
Camera
l 50MP wide cameraIMX80023mm equivalent focal length2.0 μm 4-in-1 Super Pixelf/1.77, 1G+6P lens, SMA actuators for OISl 12MP ultra-wide camera15mm equivalent focal length6, 120° FOV, f/2.2, 5P lensl 10MP telephoto camera75mm equivalent focal length, f/2.0l 10MP periscope camera115mm equivalent focal length, f/2.92l 20MP front camera
Performance
l Snapdragon® 8 Gen 2 Leading Version4nm power-efficient manufacturing process, up to 3.36GHzl LPDDR5X + UFS 4.0 storage
Battery & Charging
l 4800mAh batteryl 67W wired turbochargingl 50W wireless turbocharging
Audio
l Dual speakersl Dolby Atmos
Connectivity
l Multifunctional NFC
Operating System
l MIUI Fold 14 based on Android 13