One of the most exciting aspects of seeing flashy features on high-end laptops is the possibility that those features will eventually be available on less expensive laptops. At least when looking at Asus, this year has been the year of the inexpensive OLED screen. The new Vivobook S14 OLED (K3402) is another example of how the company has been slapping unique screens onto ordinary budget laptops for years.
The Asus Vivobook S14 is the Vivobook S series' 2022 model, bringing a laptop with a display that is prioritized over performance. While the Zenbook 14X OLED Space Edition made headlines for its innovative appearance, its less well-known brother, the Asus Vivobook S14, has enough glitz to stand out and create a strong impression.
This brand-new Vivobook is no slouch, either. It has a 2.8K OLED screen and twelve-generation Intel CPUs.
Asus Vivobook S14 OLED Unboxing
ASUS sticks to its standard box design and has nothing fancy to it. Inside the box, you can find the following items:
User guide
Warranty card
90W USB-C charging brick
The ASUS Vivobook S 14 OLED laptop
Build and Design
The aluminum frame of the ASUS Vivobook S14 provides the laptop with a sturdy feel. The laptop is easy to take around in a backpack because of its 1.5 kg weight and 18.9 mm thickness, which is neither too heavy nor too light. A basic finish would not be as attractive as the distinctive Vivobook symbol on the back.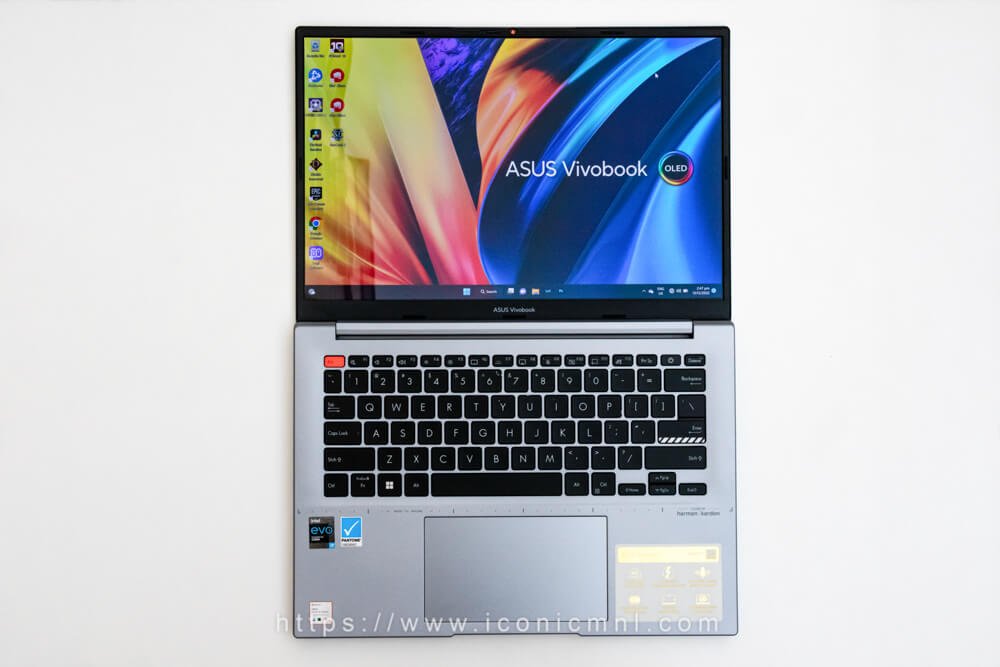 The Vivobook S14's strong hinge delivers positive feedback when opening and closing the lid. A single finger may be used to open the lid very effortlessly. The entire sensation of the laptop's structure is quality, durability, and comfort.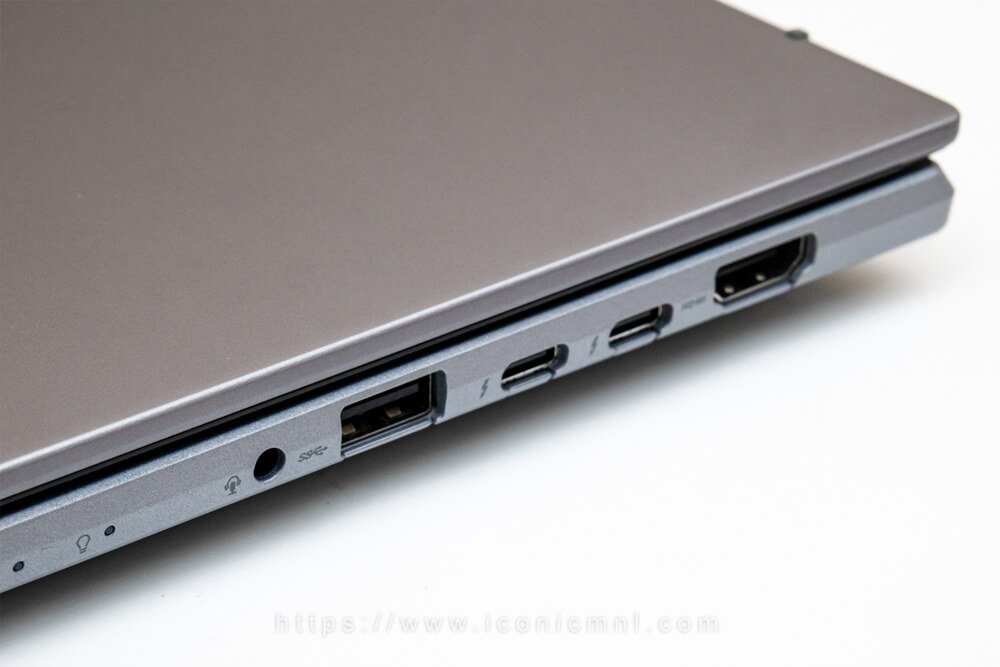 Display
One highlight of this laptop is its display. The 14-inch, 2.8K OLED display of the Vivobook S14 has a refresh rate of 90 Hz. The colors on this panel appear to be incredibly vivid and realistic.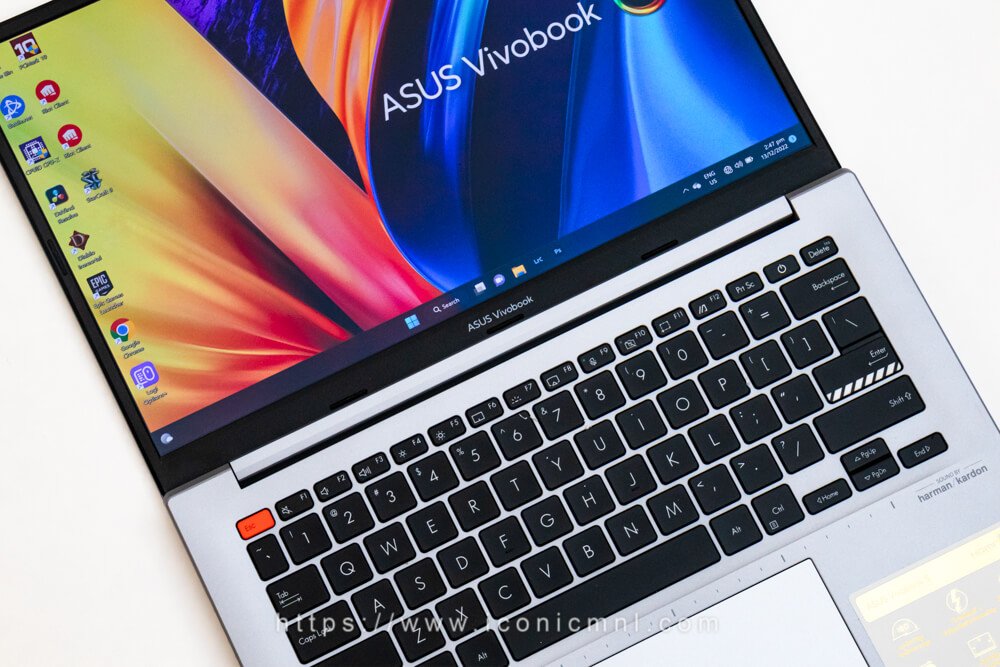 The display is 100% DCI-P3, Pantone validated and has DisplayHDR 600 True Black certification for intense on-screen blacks and the kind of vibrancy and color rendition only OLED displays can render. ASUS has ensured that the display is exceptionally color-accurate to professional standards in this area. As a result, this panel won't let you down if you work with colors, such as color-adjusting photographs.
Although not very noteworthy, the 90 Hz refresh rate is a welcome feature. This panel's colors speak for themselves, and we were pretty satisfied with the display. Reading text on this gadget produces incredibly sharp text, and the viewing angles are superb. After working with an OLED panel, switching back to an LCD screen is quite tricky.
Given that it is an OLED display, the screen is glossy. The shiny screen might annoy you a little bit if you use the laptop in a space with a window or a strong light source behind it. The ASUS Vivobook S14's display is fantastic and is a great place to watch a variety of media.
A fairly standard HD webcam and a privacy screen slider are located at the top of the display instead of using stickers on your webcam. Additionally, it has some fancy 3D noise-reduction technology to make video chats clearer in dim circumstances.
Performance and Benchmarks
Under the Hood
Our Vivobook S 14 comes with a 512GB PCIe Gen 4 SSD, 16GB of LPDDR4 RAM, and an Intel Core i7-12700H processor. To handle graphics-intensive activities, it also contains an Intel Iris Xe GPU. A single fan is used to cool the chipset, and it is mounted on the left side of the computer. The laptop is incredibly powerful compared to other laptops in the same product category based only on specifications.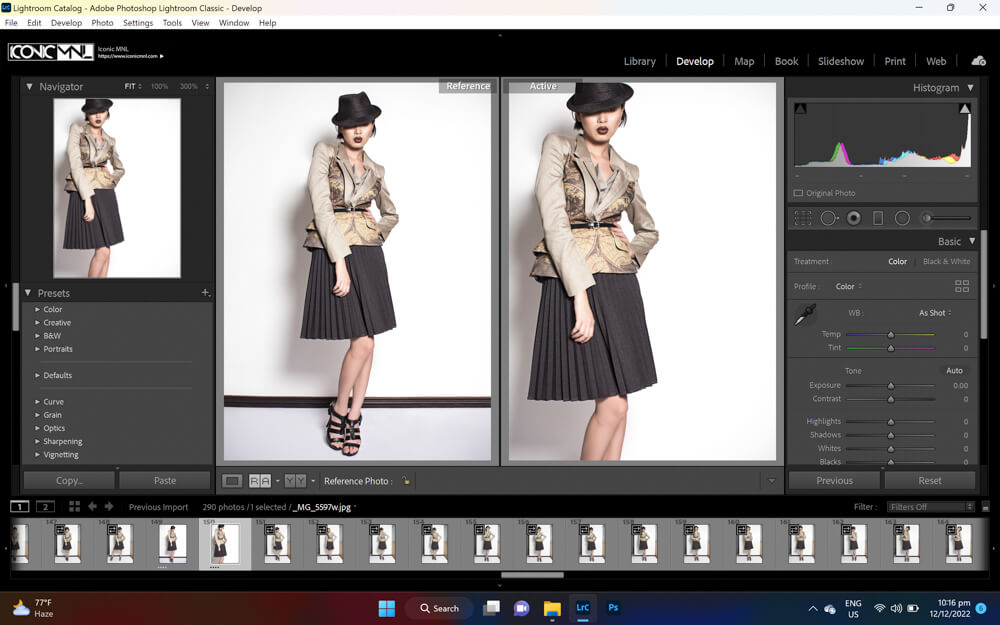 We put the Vivobook S14 through its paces while browsing, typing, checking email, streaming video, and using Adobe Photoshop. When used frequently, the Vivobook S14 accomplishes your chores without breaking a sweat. However, the trackpad area can feel a little heated after extended use. The warm air flowing from the left side can be felt on the palms as soon as the fan begins to operate. However, it's not a deal-breaker because a software or BIOS update can quickly resolve this issue.
Gaming with Intel Iris Xe
Iris Xe allows playing these AAA games on regular consumer laptops, even if it cannot compete with Nvidia or AMD's mobile gaming GPUs.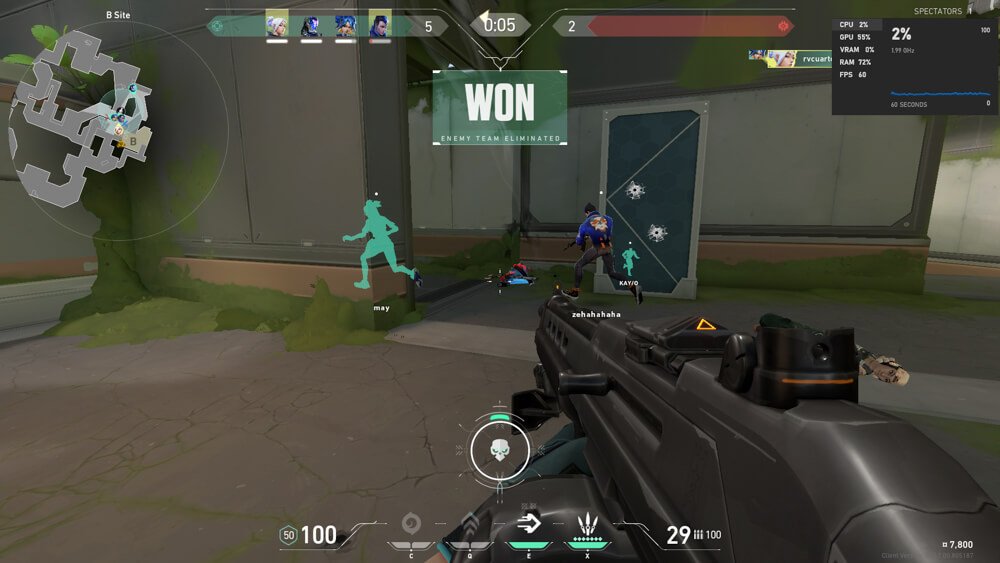 We played Valorant, and it was fantastic. Though loading the game requires some patience, everything appeared to work properly. There are no jittery graphics or anything else. It was incredibly smooth. The game's FPS played at a respective score of 60 and up, and it was consistent at 60 fps. Intel has done an impressive job with its new Iris Xe graphics, which can perform similarly to some entry-level dedicated video cards like the Nvidia GeForce MX series.
This could be a significant step forward for the business by attracting new gamers who only require a laptop for work or school without having to fork additional money for a dedicated gaming system. These players are probably already unworried about using the highest frame rates and settings, making them an ideal fit. It adds a lot of value if you can use the laptop your parents bought you for school or the one you bought for yourself to perform light word processing and online browsing to play the hip new game.
We played Valorant and the Asus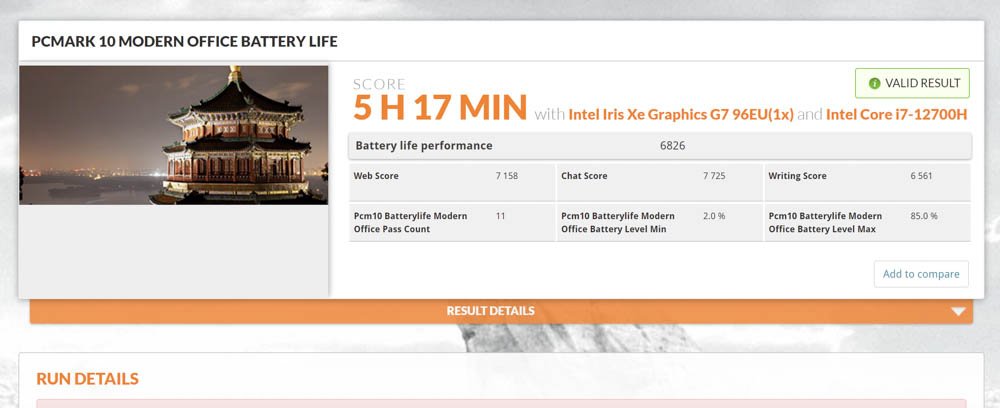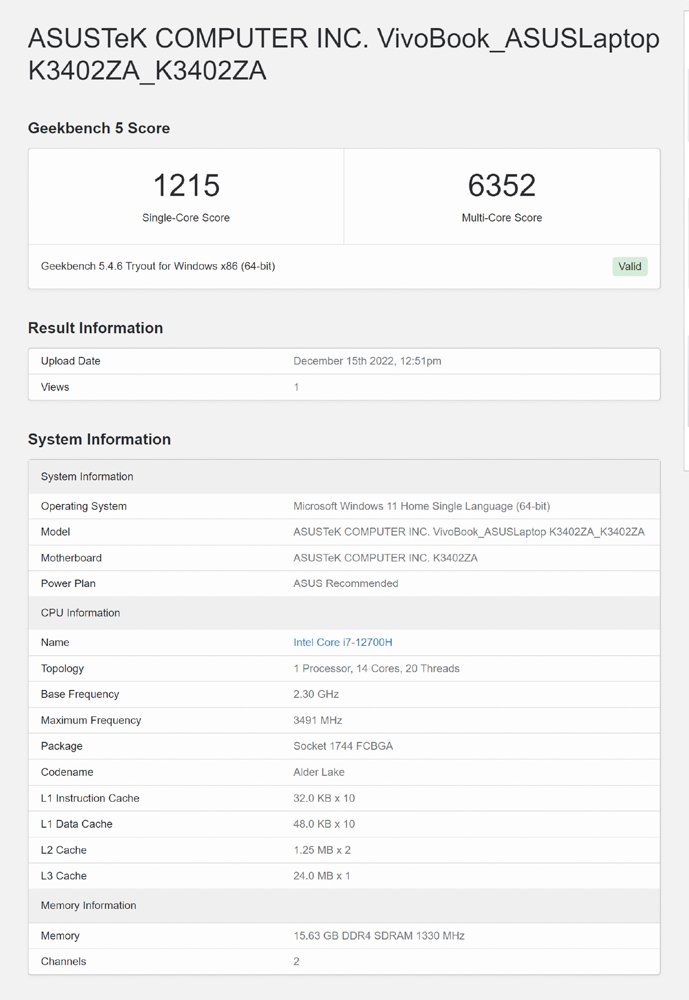 Keyboard and Touchpad
Typing is enjoyable, thanks to the keyboard's excellent feedback and reasonable travel. Although I occasionally noticed my fingertips slipping, I would have liked slightly higher keys or ones with some grip. Without the row of navigation keys over on the left, it's pretty tiny, but more importantly, it feels good to type on.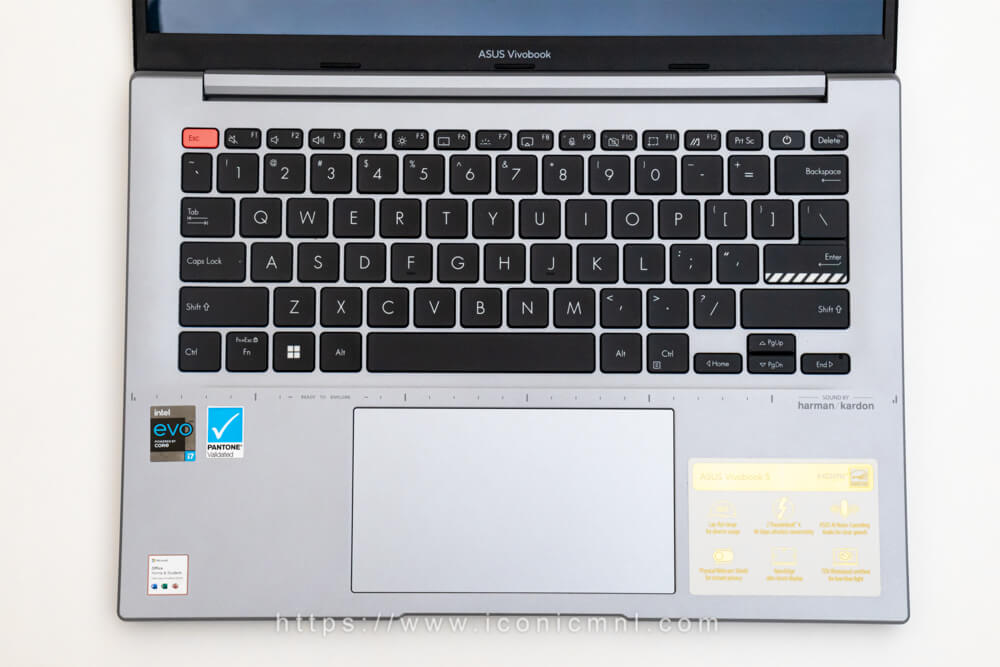 It lacks the silky smooth glides of more expensive glass-covered trackpads, so it doesn't feel as high-end. However, I must say that it is sufficiently accurate, and the clicks have good tactility. This could be the Antibacterial Guard system from ASUS. The laptop's keyboard, touchpad, palm rest region, and fingerprint sensor have a special silver-ion coating applied to the most touched areas.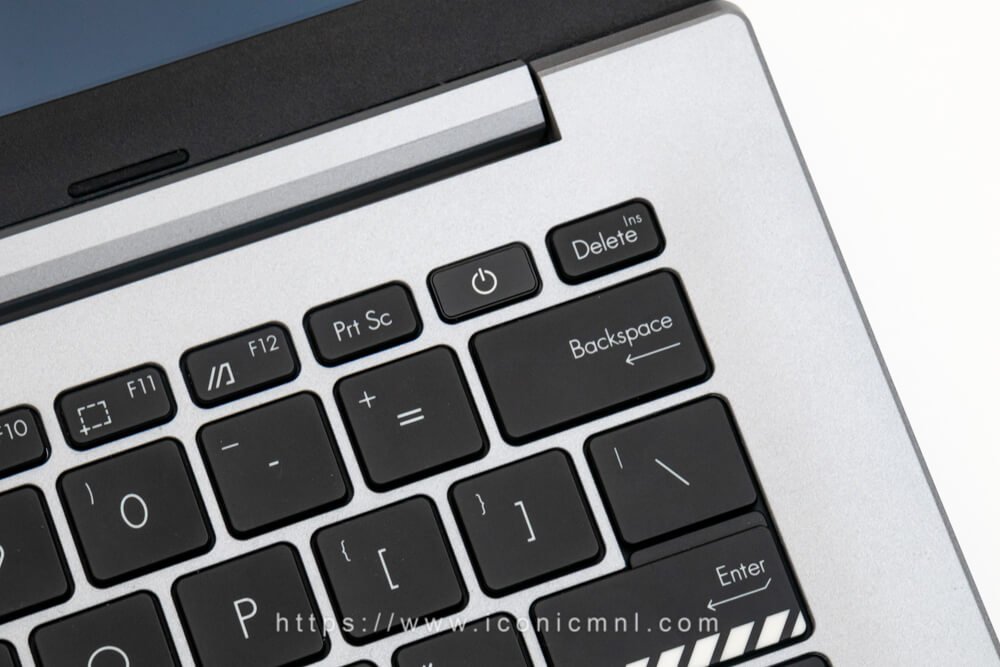 Tuned by Harman Kardon
Although the two speakers are equipped with ASUS' Smart Amp technology, Harman Kardon's tuning, and DTS Audio Processing on the software side, they don't reasonably produce the booming bass I want to appreciate in action movies. Overall, the audio experience is decent in most scenarios.
In the world of laptops, the Asus Vivobook offers something special. There is nothing wrong with Asus' attempt to be a superb entertainment and productivity machine when all laptops either aspire to be the most powerful or the slimmest.

The Vivobook S14 provides the highest-quality screen in a small laptop for general computing tasks. It is an excellent option for professionals and students looking for a reliable laptop thanks to its Intel Evo-certified hardware and stunning 14-inch OLED display in a small chassis.

Editor's View
Battery
The laptop is powered by a battery that has a capacity of 70 Whr, which is a sizable battery. Nevertheless, on most days, it lasted 7 to 8 hours before I needed to call for the charger, depending on how much I used it. A strong i7 processor affects battery performance, yet it still lasts longer than usual. But if you want to spend the entire day outside, put all the battery-saving advice into effect. Otherwise, you might find yourself hoping for a charging port.
It shouldn't take an hour and a half to charge fully, and you can also use a compatible 90W USB-C charger if you forget the out-of-the-box power adapter.
Verdict
One thing that makes the Vivobook S 14 OLED stand out: is its screen. Seeing that this good screen can be had at such a modest price is lovely. It is even more notable that it is combined with an H-series processor. But I seriously doubt the intended audience—how many individuals who want an H-series processor and are prepared to forgo mobility in exchange for its performance are satisfied with just integrated graphics?
I can best describe this category as those who fervently desire a cheap OLED for media consumption. This would be an excellent choice for a college student majoring in film studies or multimedia.
Despite extended work periods, the device's performance may be sustained due to its high power. If you want an OLED notebook that doesn't skimp, the ASUS Vivobook S14 is a solid option because of its compact size and long battery life.
Pricing and Availability
Starting at PHP 59,995, you can purchase the ASUS VivoBook S 14 OLED (2022) at Asus-authorized retailers and resellers. The Vivobook K3402 is priced at PHP 68,995. Four variants are available, and each has a 14.0-inch 2880 x 1800 OLED display, 512GB of PCIe 4.0 NVMe SSD storage, and Intel Iris Xe graphics.
A lifetime license for Microsoft Home & Office 2021 and a free trial of Adobe Creative Cloud for one month are included. You can get
Asus Vivobook S 14 OLED K3402 Specifications
CPU
Intel Core i7-12700H Intel® Evo™ Platform
RAM
Total system memory upgradeable to:16GB
8GB DDR4 on board
8GB DDR4 SO-DIMM
Graphics
Intel Iris Xe Graphics
Storage
512GB M.2 NVMe PCIe 4.0 SSD
Connectivity
2x Thunderbolt 4 USB-C
1x USB 3.2 Gen 1 Type-A
1x USB 2.0 Type-A
1x Full-sized HDMI 2.0
1x 3.5 mm Audio combo jack
Display
14.5" 16:10 (2880 x 1800) @ 90 Hz OLED, Up to 550 nit brightness and 100% DCI-P3 color gamut, Certified DisplayHDR 600, True Black, PANTONE Validated, and TÜV Rheinland
Audio
Certified by Harman Kardon
AI Noise Canceling Audio
Power
70Wh Lithium-polymer battery
90W Type-C power adapter
Dimensions
316.4 x 224.5 x 18.9 mm
Weight
1.5 kg