Think pumpkin spice lattes, orange-brown foliage, glowy sunsets and cosy layers as we transition from summer's embrace to autumn's reverie. Love, Bonito's newest Fall/Winter collection features multi-way essentials, textured layering, and outerwear pieces. Each thoughtfully designed piece will inspire you to sing, dream, dance, savour and bask in the autumn sun as you experiment with layering.
Multi-way Dressing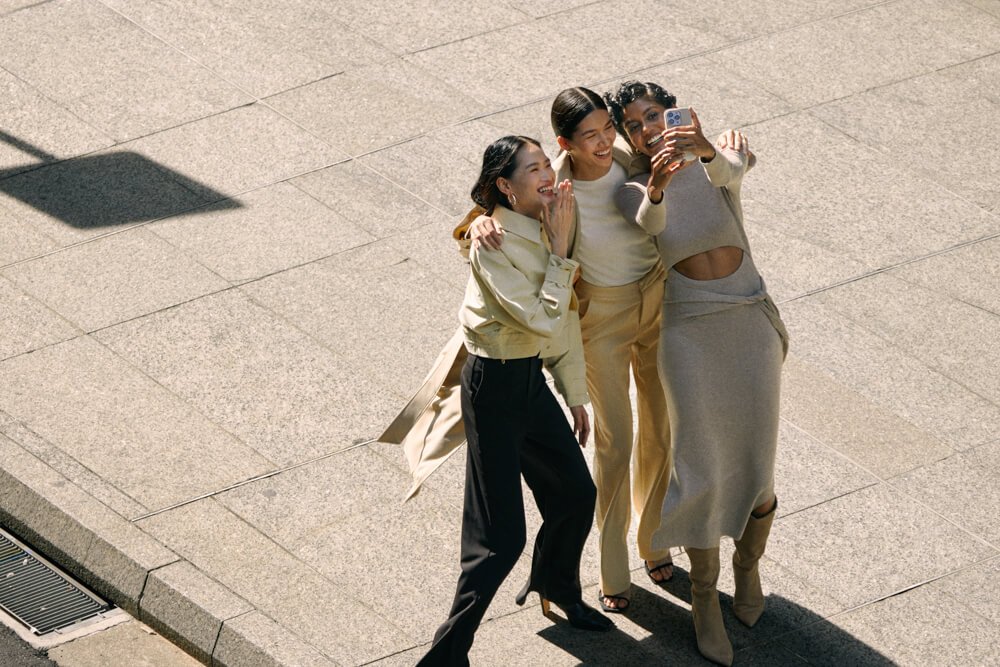 Left to Right: Mica Collared Crop Trench (Popcorn) & Pvara Regular Flare Pants (Black); Evita Fitted Knit Top (White), Dottie Button Down Midi Trench Coat (Khaki) & Francey Pleather Straight Leg Pants (Sand); Issie Knit Column Midi Dress (Clay)
There's no need to compromise when you can have the best of both worlds. Our multiway essentials will be the perfect hack for stylish yet comfortable looks across various occasions.
Rock a variety of looks with our versatile duo necklines, designed for added fun for you to wear either front or back. The Evita Fitted Knit Top is designed with both a V-neck and a boat neck, while our Issie Knit Column Midi Dress has a round and V-neckline. Whether you're off to people watch at a cafe or conquer your emails, both pieces are crafted from stretchy knit to offer a form-fitting wear without movement restrictions.
The Dottie Button Down Midi Trench Coat is a triple threat with its 3-in-1 functionality. Designed to wear as a full trench, a cropped outer, or sleeveless, layer up with any version of her for both cold and humid weather.
Fall Travel Essentials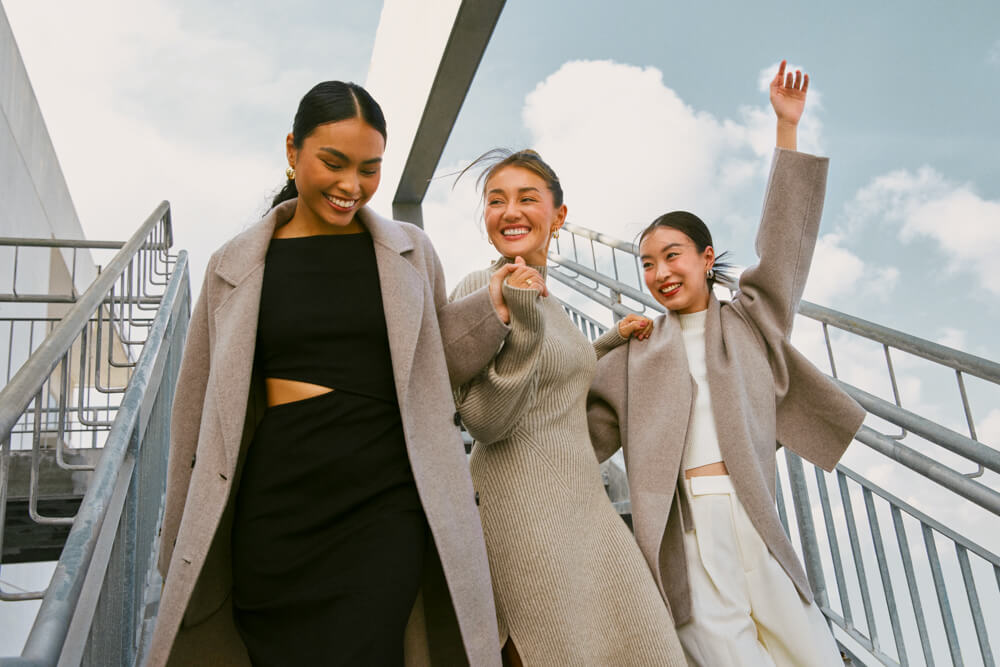 Left to Right: Alitha Double Breasted Wool Coat (Clay), Leoda Jersey Column Maxi Dress (Black); Katrin Turtleneck Midi Dress (Oat), Delphia Cropped Knit Cardigan (Oat); Marthie V-neck Wool Jacket (Clay), Alayna Knit Turtleneck Crop Sweater (Ivory)
For your upcoming fall travels, the Alitha Double Breasted Wool Coat and Marthie V-neck Wool Jacket will come in handy through the fickle weather. These luxurious but ultra comfy outerwear come with a removable sash or scarf for endless styling.
The Delphia Cropped Knit Cardigan is a cropped batwing cardigan that offers warmth without the weight of heavy fabrics. Wear it on its own for a relaxed vibe, or style it with the Katrin Turtleneck Midi Dress to instantly transform your look.
For your casual girls' day out, opt for the cosy Alayna Knit Turtleneck Crop Sweater. This turtle neck top is designed with a fitted silhouette, stretchy knit, and cropped, so you can still feel chic while wrapped in comfort throughout the day.
Embrace the changing seasons and soak in the festivities of fall with Love, Bonito's Fall/Winter Collection. The collection is sold online at lovebonito.com/intl.